It's all coronavirus, all over Alaska. Unless you are part of the legislature, where besides the public ban it's basically business as usual. Some legislators have a sense of urgency to get out of here while seem to be more about playing the usual games. It will be interesting to see what happens in the next week in Juneau.
A friendly message and reminder to all our readers, the Landmine is made possible by myself and a team of awesome Alaskans. It takes a lot of work to provide the content we do. I'm in Juneau for session which adds additional costs. If you enjoy the content we provide, please consider making a one time or recurring monthly donation. You can click here to donate. We have a donation system that makes it super easy. We would really appreciate it. And thanks to everyone who has been supportive!
COVID-19
Governor Mike Dunleavy (R – Alaska) has been holding press conferences all week on COVID-19. They have included DHSS Commissioner Adam Crum and Alaska's Chief Medical Officer Dr. Anne Zink, who is quickly becoming Alaska's favorite person. Yesterday he announced via social media that there were seven more confirmed cases, bringing the total to 21 in Alaska. As of this writing another DHSS alert came out listing ten more cases, including one in Juneau. This brings the total in Alaska to 32. DHSS held their own press conference this week which turned out to be a bit of a mess. Reporters were given almost no warning and the audio on the call was horrible. The first question from a reporter was, "Can you please repeat everything you just said."
Anchorage Mayor Ethan Berkowitz has asked all Anchorage residents to "hunker down." The state has issued other mandates and guidelines as well. This ADN article goes into more detail. Berkowitz held a press conference this morning at the Port of Alaska in Anchorage with business leaders. You can watch it here. He assured people that supplies are coming in as normal and asked people not to hoard.
The City and Borough of Juneau Assembly held a special meeting this morning on COVID-19. They placed travel restrictions for non-essential travel into Juneau effective midnight tonight. This KINY article goes into more detail. Members of the legislature are exempt under Article 2, Section 6 of the Alaska Constitution (see below). However, the legislature has imposed quarantine guidelines for members who have traveled out of state.
Legislators may not be held to answer before any other tribunal for any statement made in the exercise of their legislative duties while the legislature is in session. Members attending, going to, or returning from legislative sessions are not subject to civil process and are privileged from arrest except for felony or breach of the peace.
The Legislature
While much of Alaska is working from home or sheltering in place, the legislature has been holding committee meetings on bills about transportation of live crab, dentist's licenses, road service areas, and a bunch of confirmation hearings for Governor Dunleavy's appointees to boards and commissions.
On Wednesday the Senate passed Governor Dunleavy's supplemental budget 16-0. They added $61 million to the bill that included funding for COVID-19 and community assistance. They also added the reverse sweep, which some House Republicans did not like. The House concurred with the Senate's changes but failed to get the 3/4 vote (30) to draw from the Constitutional Budget Reserve (CBR) and reverse the sweep. The vote was 28-10, two votes short. This article I wrote summarizes the whole situation. Basically the House concurred with the changes but failed to fully fund the bill. It creates a weird situation. The article I referenced above lists a bunch of possible scenarios.
The operating budget is the big issue now. There is definitely a sense from leadership to get it done this week. The Senate Finance Committee held a brief hearing on it yesterday. Their version is about $4.5 billion. It was read on the Senate floor today. So debate will begin in the Senate tomorrow. The Senate Finance Committee version includes a $1,000 dividend, but that amount could change on the floor depending on how the votes go. Whatever they end up passing will go to the House. Who knows what will happen there. If either the House or Senate sticks the supplemental budget into the operating budget, a 3/4 vote will be needed for the CBR draw and the reverse sweep. Some members of the House Minority want concessions on a spending cap and/or abortion restrictions. I say just let House Republicans block everything and shut it down. Then Alaskans can choose to hold them accountable or not in the upcoming elections. The problem with negotiating with a zealot is you can never win.
Here's one for everyone. A few hours ago I got a tip that there was some kind of meeting happening the the Senate Finance Committee room with many senators. I rushed over from the Driftwood to see what was happening. I thought it was odd considering that Finance Committee meeting today had been cancelled. When I arrived I came across a sign on the door that said "Private Conference Call." I was puzzled because I saw many senators in the room and Senator Natasha von Imhof (R – Anchorage) looking like she was running a meeting. I stood there for a few minutes and no one would tell me what was happening. Then Senator Bert Stedman (R – Sitka) came out and looked at the sign. He did not look happy. He came back a few minutes later, tore down the sign, crumpled it up, and said, "This is a public room." Then he let me in.
The meeting was all of the Alaska Native Regional Corporation CEOs calling in. You can see it all on the Twitter thread below. They were mostly talking about the state's fiscal situation and the PFD. Several of them said, "I'm not a fan of a large dividend." It felt just like a hearing. Senate President Cathy Giessel (R – Anchorage) along with Senators John Coghill (R – North Pole), Josh Revak (R – Anchorage), Click Bishop (R – Fairbanks), Tom Begich (D – Anchorage), Elvi Gray-Jackson (D – Anchorage), Jesse Kiehl (D – Juneau), Bill Wielechowski (D – Anchorage) (Wielechowski left shortly after it started), Donny Olson (D – Golovin) (Olson showed up towards the end), and Stedman and von Imhof.
Here is where it got very loose. At one point von Imhof, who was visibly upset about my presence, said, "We have a BLOGGER in the room! This was supposed to be a private meeting. He is tweeting everything you are saying. I am so very sorry." She must have said blogger three or four times. It was so loose! Everyone in the room was super awkward when she was saying all of this. While she was saying all of that I was tweeting it all. The irony. I really wanted to say, "This meeting is private like Campbell Lake is private now." I guess she failed to see that Stedman let me in the fucking room. Maximum loose. It must be nice for Native Corporation CEOs to get access to half the State Senate and be able to talk for 5-10 minutes when regular Alaskans are only allowed two minutes. I wonder if that meeting complied with the the State of Alaska's Open Meetings Act before Stedman tore the sign off the door? If you did not see this article I did in December about the salaries of Native Corporation executives, now seems like an appropriate time to share. Let them eat cake.
The House and Senate passed HB 308, a bill about unemployment benefits related to COVID-19. The Senate passed it 19-0 today. It now goes back to the House for a concurrence vote. It passed the House 38-0 on Thursday (3/19/2020) so they will likely concur with the changes. Then it will go to Governor Dunleavy. I sat in on some of the hearings. Alaska has not changed our unemployment benefits in over a decade. Currently we are in dead last when it comes to replacement income, even behind Puerto Rico and the U.S. Virgin Islands. We pay $370/week right now. The bill does not raise the benefit but it shortens the time you can receive benefits and allows you to collect benefits if you got laid off due to COVID-19.
Jamie Allard, who is running for one of the Eagle River seats on the Anchorage Assembly, had a confirmation hearing this week in the House State Affairs Committee. Governor Dunleavy appointed her to the Commission for Human Rights. It got real loose. Allard refused to answer questions on whether or not she felt sexual orientation was a protected class. She just kept reading the statues. But where it got real loose is when Representative Zack Fields (D – Anchorage) asked Allard if she was asked to resign her job from the Department of Military and Veterans Affairs (DMVA). Allard said she was not, just like what is on her website. Problem is that is not true.
Dunleavy appointed Allard as some kind of special assistant to the commissioner after he was elected. I spoke with several people who worked with Allard at DMVA. They said Allard, "Came in like she owned the place." She insisted on having her own office and at one point tried to kick a federal employee out of their office so she could take it. She routinely told people that she was "good friends with Amy Demboski" (who was then Dunleavy's deputy chief of staff) and that she had a direct line to the governor. She also tried to give orders and directives to people who were not under her. It all sounded very loose. My sources at DMVA say someone made an HR complaint against Allard. Allard was given the choice to resign or be let go.

Cachet Garrett had a confirmation hearing this week in the Senate Finance Committee. You may remember her from her confirmation hearing in the Senate Finance Committee a month ago. She did not let down in this one either. Garrett was appointed by Governor Dunleavy to the Board of Regents as the student regent. You can watch the recent hearing here. She does not disappoint. The best part is when she talks about how she is cultivating her greatness. Check out this text that was going around to students after her last hearing. She seems like a great choice…

Other Happenings
The Department of Labor held a stakeholder meeting on proposed changes to the apprenticeship program on Monday. This comes after they abandoned their first attempt when they talked to none of the stakeholders and changed public comments to be categorized as unsure when they said things like, "I oppose this legislation." The best part was when public comment started. One person said, "Why are we even having this meeting right now?"
I'm still not being invited to Dunleavy's press conferences. Jeff Turner has not returned any of my emails asking why. However, Mollie Barnes, who is now writing for the Landmine, has been given a green light. Maybe Jeff is mad at me because he used to work for Charisse Millett…
Governor Dunleavy is looking for a deputy press secretary. They probably realized it's good to have a press and comms team in place during a major crisis. I doubt this was intended for me. Plus, they can't have two Jeffs on the press team!
Shout out to Senate Majority Press Secretary Daniel McDonald and his wife Christa on a baby boy on the way!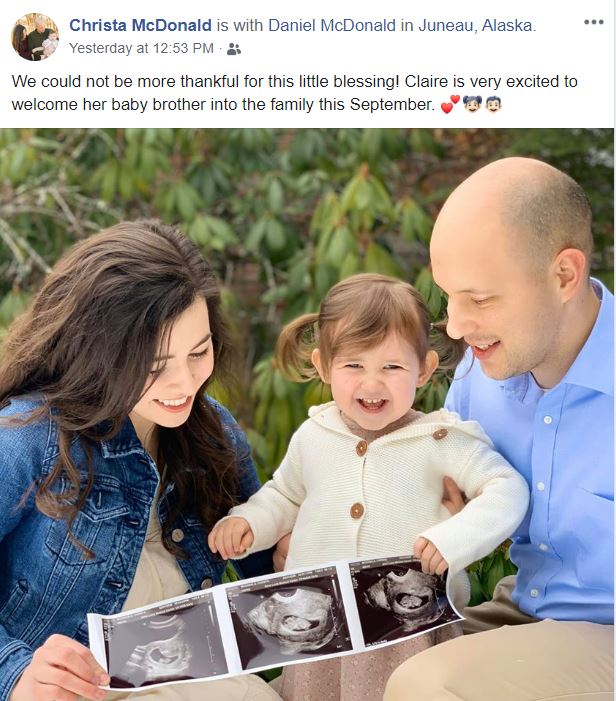 If you missed Senator Mike Shower's (R – Wasilla) appearance on the Michael Dukes Show this week, then you missed this gem.
The Recall Dunleavy people have launched a "Sign at Home" method for signing the recall amid COVID-19. I guess they mail a booklet to your house. Super loose. Gotta give them an A for creativity.
Remember Jamie "I was not forced to resign" Allard. Check out a recent Facebook post of hers. She will make such a great addition to the Anchorage Assembly… At least the meetings will be fun.
Ed King announced on Facebook that he filed a letter of intent to run for the State House. He lives in Representative Andi Story's (D – Juneau) district. Apparently he's sad no one listens to him. Hey, whatever floats your boat, Ed.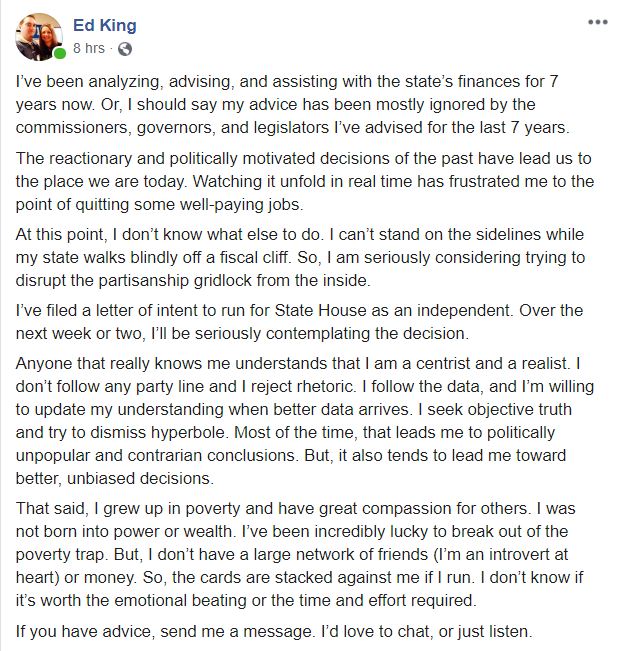 This Week's Loose Unit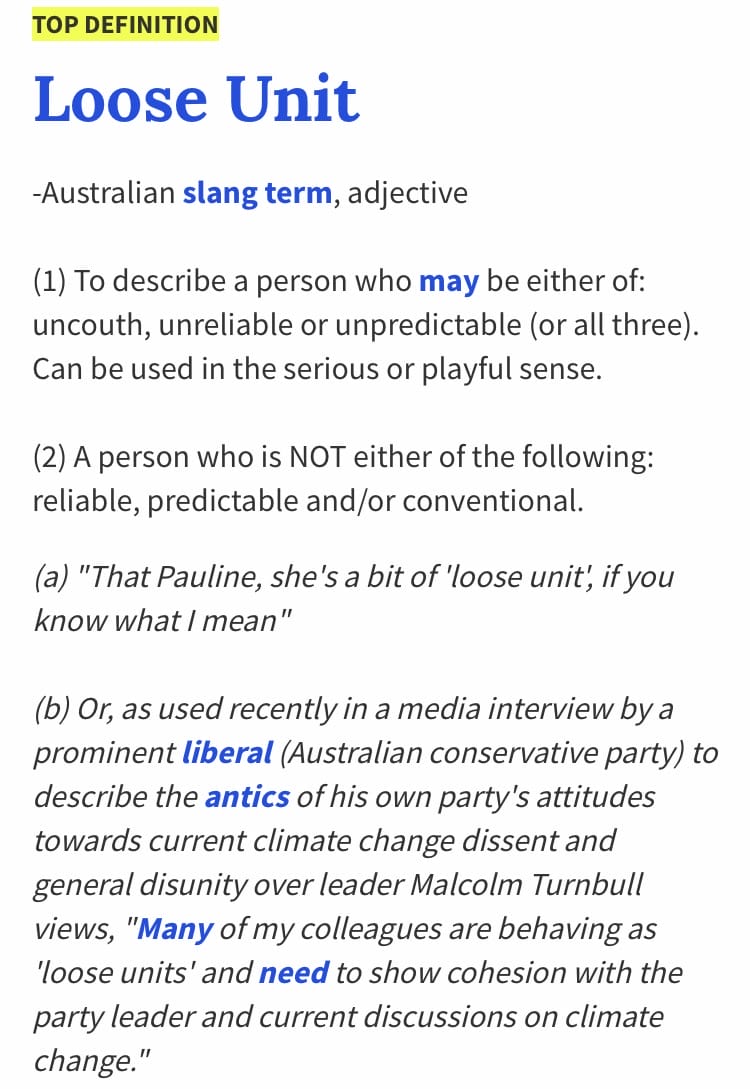 You may be wondering why Senator von Imhof is not this week's Loose Unit after the awesome exhibition she put on at the not hearing earlier today. Almost any other week she would be. But something so loose occured this week that no one was going to change the outcome. This week's Loose Unit is Dunleavy's Chief of Staff Ben Stevens. Here is how it all started. On Wednesday Governor Dunleavy requested a meeting with all of the members of the House Minority to talk about the supplemental budget. Someone sent me the email from his Legislative Director Suzanne Cunningham that listed the time and place. He was calling in via video teleconference as he's in Anchorage. It was in the Governor's conference room on the third floor at 1:30 pm. So at 1:30 pm I headed over there. This only thing I tweeted out about I heard was this positive tweet: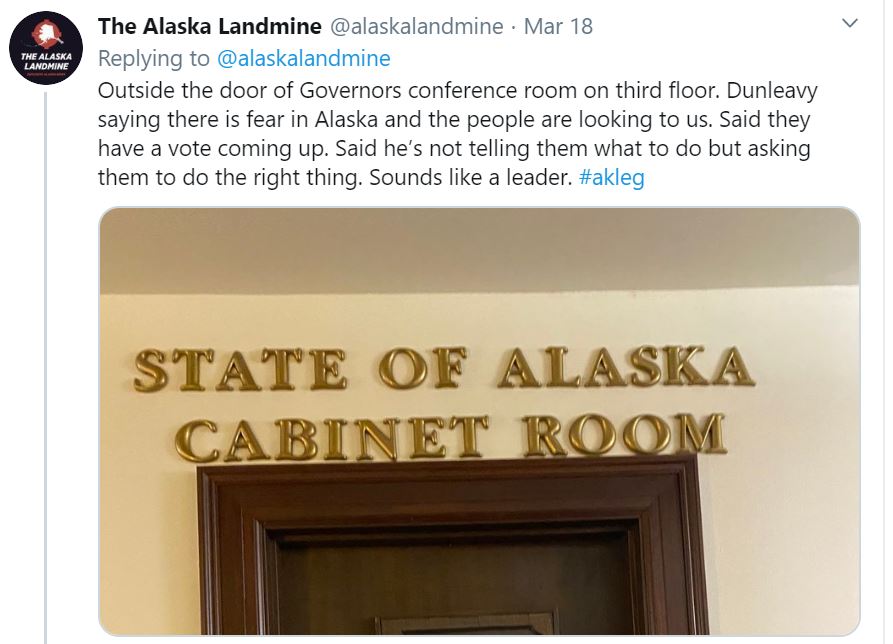 Not long after that tweet a staffer for the House Minority peeked around the third floor doors. A minute later the door opened. It was Suzanne Cunningham! She was not happy. She told me to leave. I told her no, and added that it's a public building and a public corridor. After some back and forth, I agreed to stand by the elevators but not leave as I wanted to see who was coming and going. Not long after that another Dunleavy staffer came out and started talking to me. After a few minutes I asked her if she was there to distract/monitor me. She said she was. So for the next 45 minutes or so I just hung out and waited for the meeting to end. And then it got loose! You have to read the entire Twitter thread. It's amazing.
Ben Stevens comes out of the Governor's Office, looks at me, and tells me, "Get out of here. You can't be here." I told him. "No, this is a public area." He got visibly agitated that I did not comply with his request. He then approached me and in an aggressive and angry tone told me, "Leave right now or I'm calling the fucking Capitol police." So loose! I said, "Fucking call them. I'm not going anywhere. This is a public area." He then got within about two inches of my face and just stared at me for three or four seconds. Loose! He then pointed to the person at the admin desk and said, "Call the Capitol police right now." Classic Loose Unit. He then again tried to persuade me to leave. I told him I had already told Suzanne I would not go past the elevators. I asked him where he wanted me to stand. He pointed to the female bathroom and grinned at me. It was so weird and so loose. I told him I was not going to stand there. He then said it's not a public area because the building was closed to the public and my press pass does not work on the third floor. He then told me I could stand outside the doors to the third floor. After I was outside the doors he closed the doors to the third floor! So loose.
A few seconds later a Capitol security agent came up and asked what was going on. I told him they called him. He went in and went out. So loose. The doors remained closed for hours. I was standing outside the entire time. Another reporter, who had no idea any of this went down, went to the third floor on the elevator to do some filming and was also asked to leave. It's getting real Soviet on that floor. About 15 minutes after Psycho Ben Stevens freaked out on me he came out and apologized. I told him that was fine but I did not appreciate being treated like that. He then shook my hand (so much for social distancing) and said, "I don't want to destroy what we have." I was like what the hell do we have. It was so loose.
If you have a nomination for this week's Loose Unit, or if you have any political news, stories or gossip (or any old pics of politicians or public officials) please email me at jeff@alaskalandmine.com.