On January 24th I published a story, "Lawmakers and industry push back on proposed changes to labor regulations" about the Alaska Department of Labor's (DOL) proposed changes to labor regulations. The story included a document that included public comments, which summarized them as for or against. The document, produced by DOL, showed 377 public comments. All but a few were against the proposed changes. DOL did not give any of the stakeholders, union and non-union, a heads up about the proposed changes.
This is what was included in the first story:
Public comment was totally against the proposed changes. According to the Department, 377 comments came in. 375 were against the changes to the apprenticeship program. Two dealt with other proposed changes. The amount of public comments submitted was much higher than previous public comments the Department of Labor has received in the past.
DOL sent out an updated version of the public comment document to those who had requested it. This is where it gets loose. The new document now shows 176 "Against" and 172 "Unclear." Now it's balanced!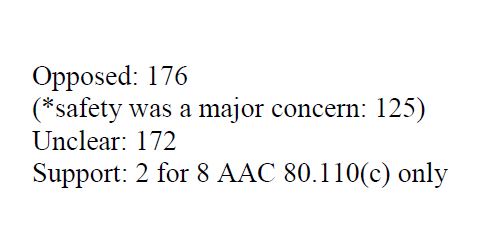 Let's take a look at some of the now 172 "Unclear" comments:
The proposed changes/elimination of Electrical and plumbing/pipe-fitting apprenticeships is unacceptable.
Apprenticeship is the foundation of expertise for skilled craft workers. Please to not eliminated this requirement.
I'm against the Proposed Regulations to weaken apprentice standards.
These so-called regulations will place workers at greater harm. Please put a stop to these efforts.
Both the proposed changes in apprenticeships and licensing are ridiculous and will only hurt the state in the long run. It's obvious that whoever came up with this idea has no clue what they are doing.
Protect Alaskans and Jobs – Say No to Proposed Regulations.
This change is a terrible idea, Alaska's work place is dangerous enough. Keep the existing system intact.
I oppose this legislation.
This is a terrible idea for skilled professions and trades, especially in the dangerous electrical field.
I do not approve of these Labor changes that Governor Dunleavy is trying to pass, it is a slap in the face to all skilled labor forces and should not be passed!
Those are just a few. I recommend going through all of the comments and reviewing which ones they have now labeled "Unclear."
Here is the new document:
MI Regulations Comments and Questions (With List)
Here is the original document: