COVID-19 has consumed Alaska, like most of the world. Schools are closed, the Capitol has been closed to the Public, and all kinds of events have been cancelled. As most of us do what we can to flatten the curve, some still do not seem to appreciate what a full blown outbreak in the United States would look like. Amid all of the coronavirus news this week there was still plenty happening in Alaska politics.
A friendly message and reminder to all our readers, the Landmine is made possible by myself and a team of awesome Alaskans. It takes a lot of work to provide the content we do. I'm in Juneau for session which adds additional costs. If you enjoy the content we provide, please consider making a one time or recurring monthly donation. You can click here to donate. We have a donation system that makes it super easy. We would really appreciate it. And thanks to everyone who has been supportive!
COVID-19
During a press conference on Thursday, Governor Mike Dunleavy (R – Alaska) announced the first case of COVID-19 in Alaska. While they initially described the person as some kind of mystery traveler it was later revealed by sources that it was a cargo pilot. Everything I have read about past situations like this is that our leaders should always tell the truth to the public, even if the truth is not something people want to hear. It's better to hear it first then learn it later. In this case just saying it was a cargo pilot up front would have been better than being vague about it.
The next day Dunleavy announced that schools in Alaska will be closed until March 30. Although the virus does not seem to affect children everyone is erring on the side of caution in order to prevent a wide spread infection. Although we have only identified one case in Alaska it's likely that many more people here have been infected. As of late this week only a few hundred people have been tested in Alaska. And it's not that easy to get tested. You have to be showing symptoms, been in an exposed area, or been around someone who is infected. This ADN article goes into more detail.
Considering all the people who came up from Lower 48 for Iditarod, the fact than an Alaska Airlines gate agent in San Francisco tested positive this week, and all the people who travel back and forth between Seattle everyday, it's very likely there are more cases in Alaska. This is why it's important we all practice social distancing in order to slow the growth. The major concern with a large outbreak is hospitals being overwhelmed. In Italy they are so overwhelmed that healthcare workers have resorted to the kind of triage designed for battlefield medicine. Read what Newt Gingrich, who is living in Italy, had to say about it.
Many other events around Alaska have been cancelled or postponed. In Anchorage, there are plans underway to turn the Ben Boeke Ice Rink into a homeless shelter. It's important that we don't panic but that we also treat this with the seriousness it deserves. I had plans to fly to California tonight to do a series of podcasts with former Alaska Senator Mike Gravel. I decided to postpone that so I don't risk getting infected and bringing it back to Alaska. Plus if I brought that to the Capitol everyone would REALLY hate me.
Here are some of the events that have been cancelled:
Alaska Republican Party state convention, scheduled for April 2-4 in Juneau. They are planning on conducting critical business electronically.
The Unalaska reception in Juneau scheduled for tomorrow (3/16/2019).
The Alaska Miners Association scheduled for March 30 – April 4 in Fairbanks.
All Anchorage public library events from March 14-31.
Update: Senator Dan Sullivan's (R – Alaska) address to a joint session session of the legislature scheduled for Tuesday (3/17/2020) was cancelled.
This ADN article lists several others.
The Legislature decided this week to close the Capitol to the public until further notice. Those allowed in are lawmakers, staff, and credentialed press. Don't worry Landmine readers, I have a press pass. The one group most upset about the decision to close the Capitol to the public are the lobbyists. In totally unrelated news, I just brought on 19 new reporters, who also happen to be lobbyists (joking).
And to wrap up this section, several of our elected officials and leaders have changed their tune or posted varying opinions based on the political party of who is making the decisions. Let's take a look at a few.
Senator Lora Reinbold (R – Eagle River) started out the week by posting a link to a great podcast Joe Rogan did with infectious disease expert Michael Osterholm. Then she posted an article about the seriousness of what is happening in Italy. Then she went full Reinbold and posted a scathing attack on California Governor Gavin Newsom (D – California). She asks if we are in communist China because he has asked for bars and wineries to close. What do you think she would say if Dunleavy or President Trump said the same thing?
Senator Reinbold should take note of this tweet.
Then we have Dunleavy hype man Dave Stieren. He had made several posts making light of coronavirus before finally making a post today saying how serious it is. I think Dave got a little talking to.
Other Happenings
The annual Thanksgiving in March event at the Imperial in Juneau was held this week. Proceeds benefit the Southeast Food Bank. They raised $46,000! Many of the pies auctioned off for several thousand dollars. A big shout out to all the lobbyists who helped put the event on and who spent money bidding on those pies. I have to admit I was a bit of a Loose Unit. I had been bidding for a dinner for 4 on a cruise ship for the silent auction. I may or may not have tried putting in a bid just a few seconds after it closed. A staffer, who was in a bidding war with me, spotted me! She made it real clear that the bidding had closed. Very loose.
Former Senator Pete Kelly was spotted this week in the Capitol. He is now working as a lobbyist. Sources confirm he is now sharing an office with lobbyist Eldon Mulder at the Rainbow Swamp across from the Capitol.
Lucinda Mahoney, Governor Dunleavy's pick for Revenue Commissioner to replace Bruce Tangeman, had a confirmation hearing in the Senate Finance Committee this week. She was questioned about her role in the Anchorage SAP debacle, her husband's role as an oil and gas attorney, and her involvement in marijuana businesses. Here's an article that talks about her role in a Nevada cannabis business. She said she has sold her interests in cannabis businesses.
The price of oil continues to drop. Not good for Alaska.
The State Medical Board has had a 100% turnover since February. 7/8 of the members since early March. Dunleavy definitely got the political registrations on the board realigned!
Worth noting that amidst #COVID19 the State Medical Board has had a 100% turnover since February, 7/8 new members since March. @GovDunleavy let 3 go, 3 were not reappointed, 1 resigned and 1 termed out. Also, no one now from Judicial District 2, 6/8 are Republican. #akleg pic.twitter.com/eidi1ZWo74

— The Alaska Landmine (@alaskalandmine) March 13, 2020
Senator Lisa Murkowski (R – Alaska) introduced a private bill to help a Bethel wife and mother who the government is trying to deport. Senator Dan Sullivan (R – Alaska) co-sponsored the bill. The Landmine broke this story. Here is the link to the original story.
Lobbyist Dave Parish has terminated his contract with lobbyist Sonia Henrick, who he was paying $90,000 a year to work for him. Henrick recently registered the Municipality of Anchorage for $60,000 a year. Lobbyists Wendy Chamberlain and Kim Hutchinson had the MOA for years. Last week I wrote that Henrick has been picking up clients that longtime lobbyists Kent Dawson and Ashley Reed used to have. Last Sunday I wrote that one lobbyist commented, "She's not well equipped to play in the deep end of the pool." Sources report that someone sent Henrick a pair of shark floaties. Savage!
Sources report that before former Budget Director Donna Arduin was let go she had some real interesting folks scheduled to come testify before the Senate Finance Committee. They included Arthur Laffer, Stephen Moore, former Florida Governor Jeb Bush, and, GET THIS, former California Governor and the man himself Arnold Schwarzenegger! Arduin is business partners with Laffer and Moore and used to work for Bush and Schwarzenegger. Honestly I would have been cool with her staying six more months if it meant Arnold would have been in the Capitol.
Senator Reinbold got real loose this week. During a confirmation hearing in the Senate Judiciary Committee for Public Defender Samantha Cherot, Reinbold accused her of hiring someone with "ties to terrorism." This Landmine article goes into the details of just how loose it got. Then she got real loose! Check out this post.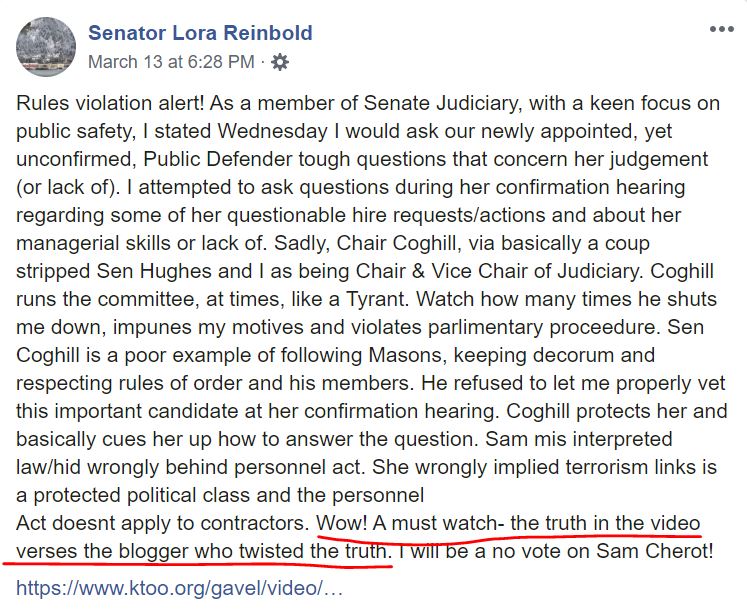 The Bottom 40 list has been delayed until the end of the month. Stay tuned!
This Week's Loose Unit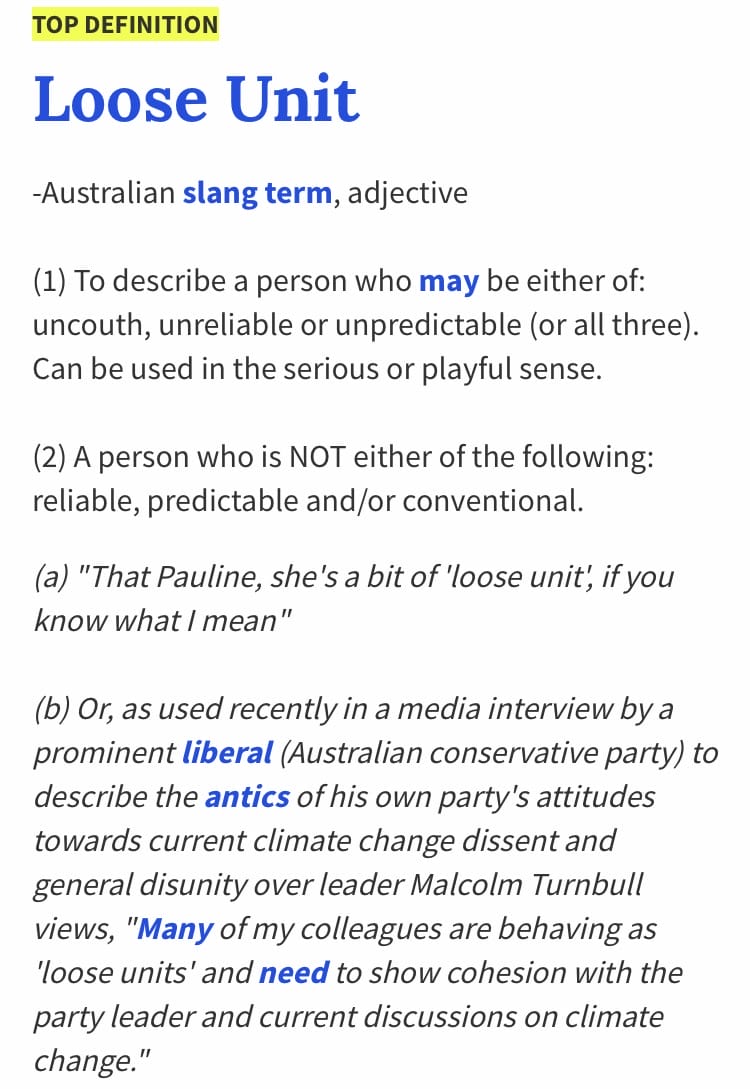 Reinbold was a shoo-in for this week's Loose Unit, that is until Friday. This week's Loose Unit is Representative Gabrielle LeDoux (R – Anchorage). On Friday Attorney General Kevin Clarkson announced that LeDoux, along with her campaign worker and former staffer Lisa Simpson (formerly Lisa Vaught) and her son, were being charged with felony voter misconduct. Super loose! This all stems from the 2018 election where LeDoux's race got real weird. Check out this text message that is in the charging documents! So loose.
Check out this video from Vaught's State House campaign in 2012. Funny enough I had originally filed to challenge Representative Chris Tuck (D – Anchorage) in 2012. When Vaught entered the Republican primary I switched to challenge then-Senator Lesil McGuire in the Republican primary. Charging Simpson (Vaught) and her son is likely a tactic to get them to flip on LeDoux in exchange for immunity or reduced charges.
In classic LeDoux fashion, she was in the House Judiciary Committee after the charges were announced. So loose. They happened to be hearing a bill about alternatives to arrest. So loose.
And last but not least. Check out this statement that LeDoux released:
Earlier today, I learned of the charges from the Department of Law. Because this is a pending legal matter, I cannot comment about the details other than to state that I am innocent of all charges and look forward to clearing my name in a court of law.
So loose! This whole thing is going to be lit! My bet is LeDoux fights it all the way to the end. Stay tuned for maximum looseness.
If you have a nomination for this week's Loose Unit, or if you have any political news, stories or gossip (or any old pics of politicians or public officials) please email me at jeff@alaskalandmine.com.