Yesterday was the Summer Solstice! Today marks the day where we will start losing sunlight. Alaskans all around the state are enjoying the solstice, albeit aware of the rise in COVID cases around the state. The August 18 primary is less than two months away. As usual, many legislative races will be decided in the primary. And problems persist with the federal COVID aid and grants to Alaska businesses.
A friendly message and reminder to all our readers, the Landmine is made possible by myself and a team of awesome Alaskans. It takes a lot of work to provide the content we do. If you enjoy the content we provide, please consider making a one time or recurring monthly donation. You can click here to donate. We have a donation system that makes it super easy. We would really appreciate it. And thanks to everyone who has been supportive!
The Legislature
Problems persist with the federal COVID aid Alaska received. $290 million was meant to be used for grants to Alaska businesses, but getting it out has not been easy. The House Finance Committee met this week to discuss the issue. When the program was created Alaska businesses that received any federal money were not eligible. Turns out a lot of Alaska businesses were ineligible. Who knew! They have made some changes to the program to increase eligibility but it's still a mess. This Midnight Sun article provides more detail. Some legislators want to go into a special session but at this point that seems unlikely. To call themselves into a special session requires 40 votes as well as support from legislative leadership. Alternatively, Governor Mike Dunleavy (R – Alaska) could call them into a special session. He could say that there are problems with the program that need to be fixed and that the legislature needs to do that. If he calls them back he would likely be attacked by many legislators because he was the one who originally allocated the money. But at this point they just need to find a way to fix the problem and not point fingers. The closer we get to the primary the less likely it is there will be a special session.
Other Happenings
Congressman Don Young (R – Alaska) held a fundraiser on Monday at the home of Mead Treadwell. It was organized by Bernadette Wilson. I was told over 100 people showed up, including many young people. Yes, that's a pun. The crowd sang him Happy Birthday (he turned 87 on June 9) and also Forever Young. He is holding another fundraiser tomorrow at Little Italy in South Anchorage. Check out Akis, whose family owns Little Italy, in the background! There are some big names on there.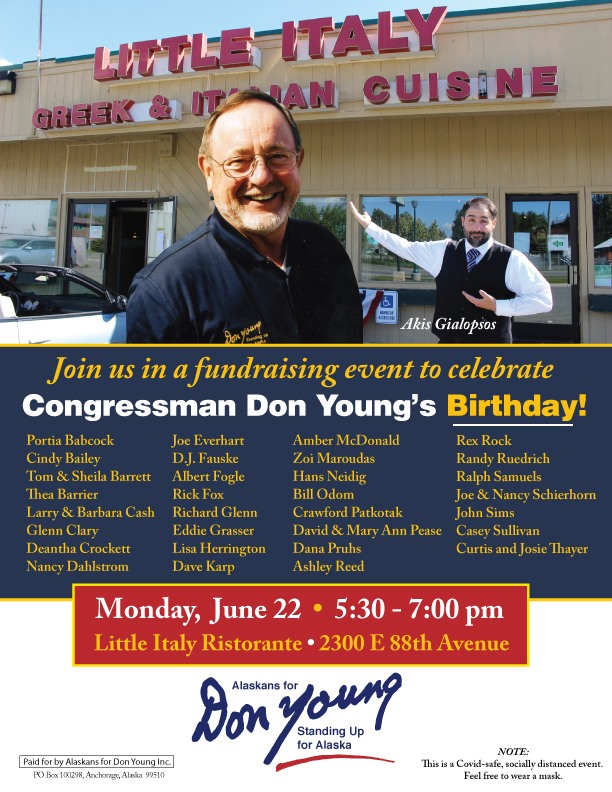 If you have traveled on the Seward Highway at all in the last week you probably dealt with some major traffic issues. Last Sunday someone reported a major traffic jam to me. I posted about it and heard from dozens of people who had problems. You can see some of the comments on this Twitter thread. The traffic issues have persisted this week. It sounds like one of the construction companies had a long section of dirt road that caused the traffic issues. One person told me it took two and a half hours to go ten miles. Yikes!
The infamous McCandless bus was removed this week by the Alaska National Guard. It has been reported by news outlets all over the world. Check out the Landmine take from our own Paxson Woelber. I did a poll about this in February. People were not interested in the Landmine removing the bus. I wonder how the public feels about the state doing it? We have heard from some that have said they wish there would have been some public comment. But the bus was on state land and did create a lot of problems. What do you think? You can vote on this Landmine Twitter poll.
Linda Hobert, who filed to run against Representative Andy Josephson (D – Anchorage) in the Democratic primary withdrew this week. This gives Josephson the win as there is no one else running for that seat. This makes nine legislators who are running unopposed, only two of which are Republicans – Representatives Laddie Shaw (R – Anchorage) and Mike Prax (R – North Pole). The deadline to withdraw from the primary is June 29.
Governor Dunleavy signed a proclamation this week honoring Juneteenth Day in Alaska.
There was a candidate forum held in the Valley on Thursday night. It was a real doozy. You can watch it here, courtesy of Politidick. Senator Mike Shower (R – Wasilla), who is not up for reelection this year, made a cameo. It was loose! It starts at 1:28:00. I think maybe the weirdest thing was a comment by Jesse Sumner, who is running against Representative David Eastman (R – Wasilla) in the primary. Sumner has been described as the "normal one" in the race. When asked a question about ending abortion, Sumner (who says he is pro-life) joked about Supreme Court Justice Ruth Bader Ginsburg dying soon, to which the crowd laughed. The irony is incredible. You can watch it here:
Campbell Lake public access continues to be an issue despite the State of Alaska and Municipality of Anchorage affirming that it is a public lake with public access. Check out our latest article on the situation here.
This Week's Loose Unit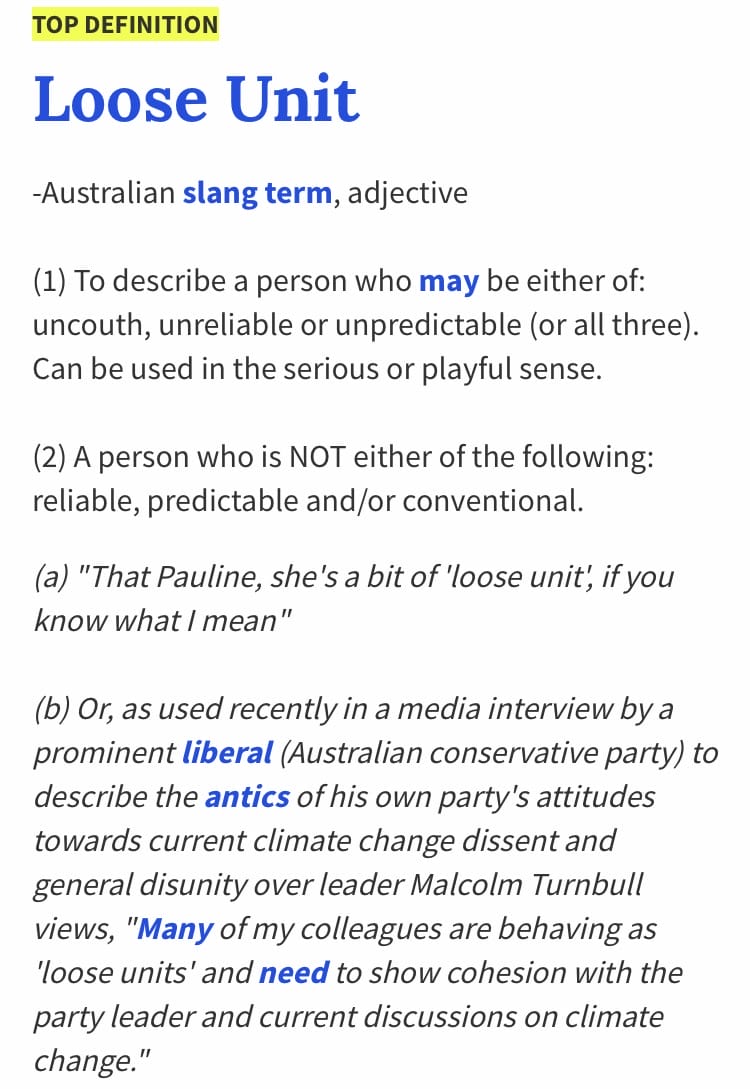 This week's Loose Unit was REALLY easy. This week's Loose Unit is the District 30 Republicans, which is chaired by Randy Daly. They came out and endorsed Ron Gillham this week in the Republican primary. Gillham is one of three Republicans running in the primary, along with Representative Gary Knopp (R – Soldotna) and former Representative Kelly Wolf. The endorsement of Gillham itself is not all that loose as many party types are unhappy with Knopp. But what is loose as what the District 30 Republicans had to say about Gillham not even two years ago. Gillham nearly beat Senator Peter Micciche (R – Soldotna) in the 2018 Republican primary. He went on to run as a write-in against Micciche in the general. The District 30 Republican Party ran a radio ad that hit Gillham hard.  It was actually voiced by Tom Wright. I have tried hard to get a copy of the audio but have been unable to get it. But I have the text! Check this out:
This is paid for by the District 30 Republican Party, Neil DuPerron, chair 204 Lawton Drive number 3, Kenai. Ron Gillham, District O write-in candidate, claims to be your PFD protector. Really? Are you sure? Here's some facts: in 1989, Ron Gillham lied on his resident hunting license application. Later that year, Gillham killed a moose and a black bear while pretending to be an Alaska resident. In 1990, Ron lied again on his resident hunting license application, and later that year, he killed a Dall sheep and a caribou while pretending to be an Alaska resident again. Ron Gillham was convicted for taking big game while claiming to be an Alaska resident. In court, Ron admitted he knew he wasn't a resident, but he applied for a resident hunting license. And to top it all off, in 1991 Gillham applied for a dividend. PFD protector? I don't think so. How can Ron Gillham get a PFD when he can't qualify for a resident hunting license?
Loose! I guess since Neal DuPerron has left and Randy Daly has taken over they have had a major change of heart on Gillham. I wonder how Senator Micciche feels about this? Talk about loose!
If you have a nomination for this week's Loose Unit, or if you have any political news, stories or gossip (or any old pics of politicians or public officials) please email me at jeff@alaskalandmine.com.