According to a June 18, 2020 post on Facebook by user Liz Reeves de Ramos, the "Fairbanks 142," widely known as the site where Christopher McCandless perished of starvation on the Stampede Trail in 1992, has been airlifted back to the road system. De Ramos' post appears to show the Fairbanks 142 slung from a helicopter and placed on the bed of a semi truck. As this writing, the post has been shared on Facebook over two thousand times.
In 1992, McCandless made his way down the Stampede Trail in an apparent attempt to live off of the land for several months. He carried limited quantities of food and few supplies. When he stumbled across the Fairbanks 142, an abandoned bus used as a backcountry shelter by backpackers and hunters, he decided to stay. In September, his decomposing body was found on a cot in the bus. McCandless appears to have starved, though the precise cause of his death has been a topic of persistent curiosity and debate.
McCandless' journey across America and death at the Fairbanks 142 became the subject of Jon Krakauer's 1996 book Into the Wild, and Sean Penn's 2007 film of the same name. Krakauer's book and Penn's film portrayed McCandless as an intelligent and rebellious hero in search of transcendental experience and undone by a single tragic mistake. Other writers have criticized these depictions as naive and dangerous, pointing to McCandless' lack of preparation and questions about his mental state.
The popularity of McCandless' story drew thousands of would-be visitors to the bus from around the world. However, reaching the bus by foot required crossing the Teklanika, a swift, cold river originating from several glaciers in Denali National Park. Multiple groups attempting to visit or return from the bus have required rescues at the river, and in separate incidents two hikers attempting to cross "the Tek" drowned. Many Alaskans, particularly those living in Healy, near the Stampede Trail, grew to regard the bus a a dangerous attractive nuisance.
Over time, the bus became severely decrepit and the site itself became an additional problem. As of late last summer, the bus's windows were all shot out or broken, the "142" on the side of the bus was removed with a shotgun blast, and the site around the bus was littered with trash.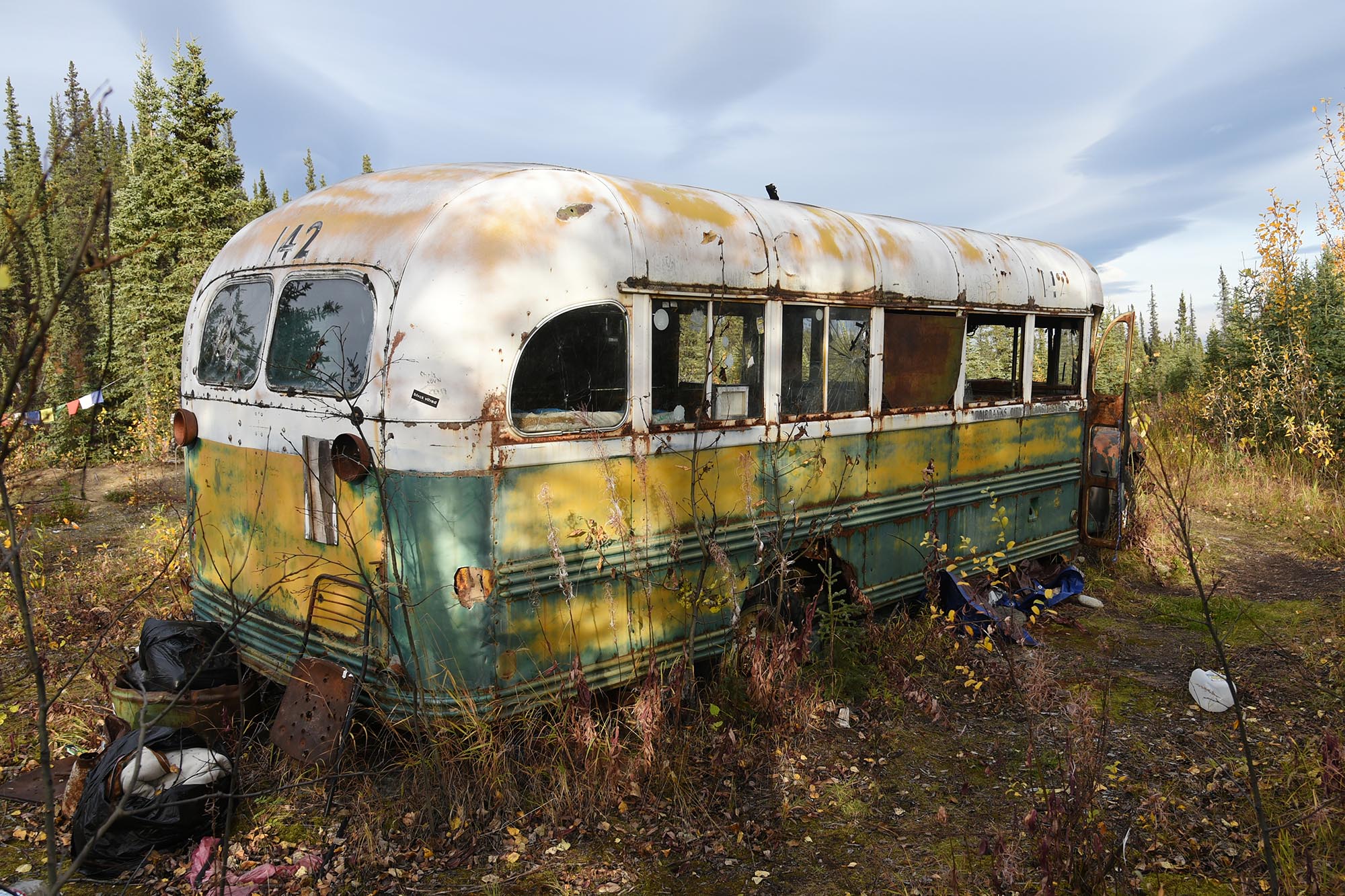 Photo of the "Fairbanks 142," taken September 7, 2019. Photo: Paxson Woelber
The removal of the bus was not announced to the public. The Alaska Landmine is working to find more details on who authorized and paid for its removal.