What a week in Alaska politics. The scandal with Anchorage Mayor Ethan Berkowitz and reporter Maria Athens went from a weird thing in Anchorage to an international incident in four days. I feel like I'm coming off a week-long 1970s Alaska pipeline style coke bender. So much has happened it's all a big blur. I don't know how people in business or politics operate on that kind of mental level for a sustained period of time. I'll do my best to recap the events of the week. One important note, early voting in Alaska starts tomorrow. The November 3 general election is just over two weeks away. And one more thing. October 22 marks three years since the launch of the Alaska Landmine. Time sure does fly by. The Landmine would not be possible without our amazing team, readers, advertisers, and supporters. A big thanks to everyone for making the Landmine possible.
A friendly message and reminder to all our readers, the Landmine is made possible by myself and a team of awesome Alaskans. It takes a lot of work to provide the content we do. If you enjoy the content we provide, please consider making a one time or recurring monthly donation. You can click here to donate. We have a donation system that makes it super easy. We would really appreciate it. And thanks to everyone who has been supportive!
Election Stuff
Evan Eads, one of the Independents running in Senate District B, withdrew from the race this weekend and endorsed the other Independent, Marna Sanford. Because Eads did this well after the August 31 general election withdrawal deadline, his name will still appear on the ballot. Sanford faces Republican Robb Myers, who narrowly defeated Senator John Coghill (R – North Pole) in the August primary. There is no Democrat in the race. The Landmine did a profile on this race last month, so it is of particular interest to me. This is a crucial Senate race. If Sanford wins it will make a coalition in the Senate very likely. If Myers wins it will likely ensure that Republicans control the Senate.
The independent expenditure Council on Good Government dropped a big APOC report today. The Republican State Leadership Committee dropped $150,000 this weekend for five races. They are supporting Representatives Lance Pruitt (R – Anchorage), Sara Rasmussen (R – Anchorage) and Mel Gillis (R – Anchorage), as well as Republican candidates David Nelson and Kathy Henslee. Pruitt faces a rematch with Democrat Liz Snyder. Rasmussen faces Independent Stephen Trimble and Alaska Independence Party David Nees. Gillis faces "Independent" Calvin Schrage (Democratic nominee). Nelson faces Democrat Lyn Franks. And Henslee faces Representative Chris Tuck (D – Anchorage) and Alaska Independence Party Tim Huit.
Calvin Schrage posted an endorsement this weekend from former Representative Charisse Millett. Charisse talking about honesty and integrity is rich. And getting an endorsement from someone who was soundly rejected two years ago by voters in that district is a weird flex. Full disclosure, I am helping Mel Gillis with his campaign.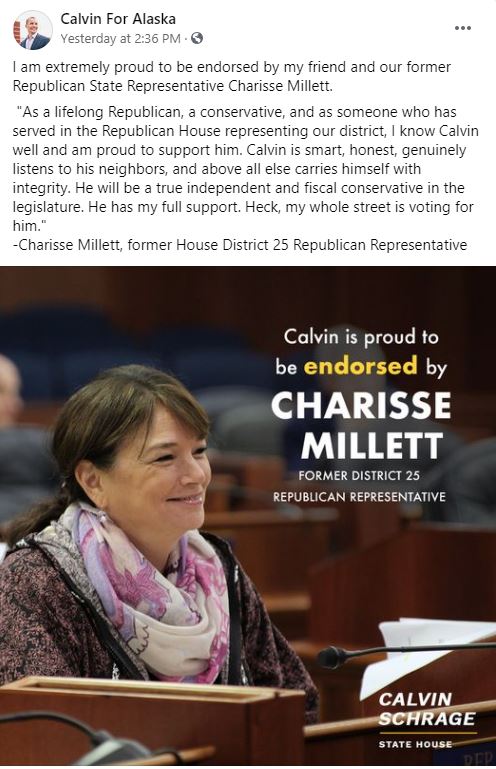 Adam Hykes, staff to Representative Sarah Vance (R – Homer), was arrested last week for assault. Oddly enough, when you call Vance's office phone in Homer it forwards to Representative Ben Carpenter's (R – Nikiski) office phone.
Update: Representative Vance sent me the following statement:
Legislative staff are held to a high standard and that is why I required my staffer, Adam Hykes, to immediately clear out his desk and submit a letter of resignation when he told me of his arrest.

Check out this gem. What an epic failure of an ad placement.
Other Happenings
The Alaska Federation of Natives held their annual convention this week. It was virtual due to COVID. Representative Bryce Edgmon (I – Dillingham) gave the keynote address. Other speakers included Governor Mike Dunleavy (R – Alaska), Senators Lisa Murkowski (R – Alaska) and Dan Sullivan (R – Alaska), and Congressman Don Young (R – Alaska).
The Legislative Consultants of Alaska are conducting a survey to gauge the influence of media outlets in Alaska. If you want to participate, you can click here. The Landmine made the cut!
The Resource Development Council held a debate this week between Congressman Don Young and Alyse Galvin. It starts to get real loose at 45:25 when they can ask each other questions. Young asks Galvin about how she would do a land transfer. She gives an ambiguous answer. Then Young gives her a 101 on how to pass a bill. Then Galvin asks Young why he is running such negative ads when he has said in the past he runs positive campaigns. Young starts by saying, "The truth hurts," and goes off from there. You can watch the whole thing here.
The Anchorage Assembly elected Austin Quinn-Davidson as the new chair at a special meeting on Friday. She will take over as acting mayor when Berkowitz's resignation goes into effect on Friday at 6 pm. Felix Rivera was elected vice-chair, he will revert to chair when Quinn-Davidson takes over as acting mayor. This Landmine article breaks it all down, including options for a possible special election. Bill Falsey, municipal manager and current mayoral candidate, needs to either quit his job or quit the race after all that has happened. I'm surprised he has not said anything yet. I think he should drop out of the race and stay on as municipal manager. He's very good at that job. At the end of the day he is part of the Berkowitz administration, which is now tarnished. We also need people in city government who are 100% focused on their job.
This Week's Loose Unit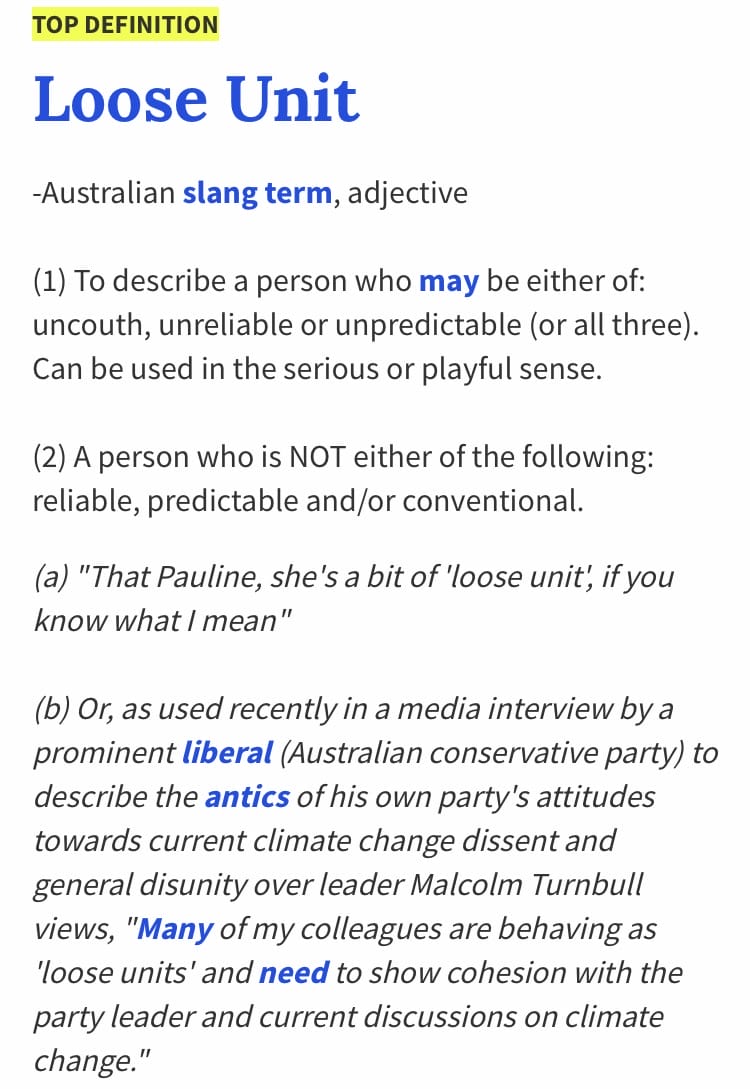 I had someone send in a nomination this week. It was pretty good. I told them under normal circumstances that person would be a real contender, but this week they are in about 12th place. I am too tired to do a write up on this week's Loose Unit. I will say it's a three-way tie between Ethan Berkowitz, Maria Athens, and Molly Blakeley. I will also say you need to read two articles if you already haven't:
The Alaska Landmine article by me and Paxson Woelber:
A booze-infused cookie business, a rogue reporter, and an escort: The downfall of Anchorage Mayor Ethan Berkowitz
This Defector article by Chris Thompson and Maitreyi Anantharaman:
Some Shit Is Going Down In Alaska, Man 
The Defector one starts off, appropriately, with:
We would like to share the story of an insane scandal, set in the darkening, far-flung town of Anchorage, Alaska. It involves a man named Ethan Berkowitz (above, center), who until very recently was the mayor of Anchorage and a presumptive contender for the governorship of Alaska; it involves a woman named Maria Athens (above, right), who until very recently was a reporter at a local TV station; it involves a local cookie-maker named Molly Blakeley (above, left), and Molly Blakeley's adult daughter. There are more characters and many moving parts, but those are the principals. This will take two of us, because frankly no single human brain can process all this and still be capable of human language at the end.
I still can't believe this all happened.
If you have a nomination for this week's Loose Unit, or if you have any political news, stories or gossip (or any old pics of politicians or public officials) please email me at jeff@alaskalandmine.com.