It's finally snowing in Anchorage again after the strange warm temperatures melted the snow that fell last week. Hopefully the snow is around to stay this time. Thanksgiving is this Thursday! I hope everyone has a great Thanksgiving with friends and family. Crazy to think that Christmas and New Years is just around the corner.
A friendly message and reminder to all our readers, the Landmine is made possible by myself and a team of awesome Alaskans. It takes a lot of work to provide the content we do. If you enjoy the content we provide, please consider making a one time or recurring monthly donation. You can click here to donate (or on the image below) via PayPal. We would really appreciate it. And thanks to everyone who has been supportive!
The Next Session
The upcoming legislative session is less than two months away. It begins on January 21, 2020. There has been a lot of talk about some changes in the Legislature. One of the things I have heard from several sources in the Legislature is that the Senate Finance Committee is going to go from nine to seven members. That Committee has historically had seven members but this year it was expanded to nine. Word is Senators Peter Micciche (R – Soldotna) and Mike Shower (R – Wasilla) are going to be removed. It sounds like Micciche will chair the Senate Resources Committee, that was formerly chaired by Chris Birch. I would also not be surprised Shower is removed as chair of the State Affairs Committee as well. He recently went on the Michael Dukes Show and again bad mouthed many of his colleagues and Senate leadership. Read about that here.
There is a good possibility of some type of reorganization in the Senate. Recall when Senators Shelley Hughes (R – Palmer) and Mike Shower ran away from the Senate floor to avoid voting on the budget. That was in late July. It seemed all but inevitable that they would be removed from the caucus and some type of reorganization would occur. But not long after all of that went down, Chris Birch passed away. That halted any type of reorganization in the Senate. The next several months were dominated by replacing Birch. Representative Laddie Shaw (R – Anchorage) was rejected by Senate Republicans. Eventually, now-Senator Josh Revak (R – Anchorage) was confirmed. It's clear that Revak is not the kind of hardcore pro-PFD person Dunleavy, and many of his supporters, thought he was going to be. So the Senate is essentially where it was right after the vote when Hughes and Shower ran away from the vote. It's very unlikely the Senate Majority, as it is now, will survive through the next session. Look for it to get loose.
Now that Representative Adam Wool (D – Fairbanks) is on the House Finance Committee, after Representative Tammie Wilson (R – North Pole) went rogue and left the House Majority – and with that her position as co-chair of the Finance Committee – Wool will likely need to be replaced as chair of the House Labor and Commerce Committee. I'm hearing that Representative Ivy Spohnholz (D – Anchorage) will be replacing him as chair. Spohnholz currently co-chairs the House Health and Social Services Committee with Representative Tiffany Zulkosky (D – Bethel). No word if Zulkosky will just chair the Committee alone or if someone will replace Spohnholz as co-chair.
I recently reported that Joe Plesha will be leaving Senator Mia Costello's (R – Anchorage) office to work for the House Majority Press office. Sources report that Drew Cason, who was working for Speaker's Office and then the House Majority Press office, is leaving to take a job with the Anchorage Home Builders Association. Congrats, Drew!
Sources also report that Representative Sara Rasmussen (R – Anchorage) has hired longtime staffer Edra Morledge. I guess Sara did not get around to reading my resume lol. Congrats, Edra!
Governor Mike Dunleavy (R – Alaska) needs to submit his budget by mid-December. December 15th is a Sunday so not sure if it will be out the 13th or the 16th. Friday the 13th seems appropriate. With Revenue Commissioner Bruce Tangeman on his way out, and still no permanent director for the Office of Management and Budget, things are far from ideal. Tangeman was one of the few, what I refer to as "the normals," left in the administration. It will be interesting to see who Dunleavy chooses to replace him. And there is still no communications director or press secretary. Big Mike better get moving on all of this, his budget is due out in three weeks and the session is just around the corner.
Other Happenings
The Resource Development Council held their annual conference this week in Anchorage at the Dena'ina Center. It was a packed event with some great speakers and panels. I offered to go partners with Representative Lance Pruitt (R – Anchorage) for the 7-day Holland America cruise for two. He laughed, but declined. Senator Jesse Kiehl (D – Juneau), who was nearby, jokingly commented to Pruitt, "That sounds more like punishment than a vacation!" Neither one of us won. However, Senate President Cathy Giessel (R – Anchorage) did win two round trip tickets on Alaska Airlines! Congrats, Senator Giessel! All the money from raffle ticket sales went to support the awesome organization Alaska Resource Education.
The Alaska Municipal League (AML) also held their annual Local Government Conference in Anchorage this week at the Hotel Captain Cook. Municipal officials from all around the state were in attendance. At one point, Fairbanks Mayor Jim Matherly criticized Governor Dunleavy for not ever showing up to AML. Yikes. The best part was at the end. Tim Navarre, the President of AML, spoke and delivered one of the most entertaining speeches I have ever heard. The man has range. He went from praising President Trump, to talking about how important it is to fully fund education, to singing "My Way" by Sinatra. It was legendary.
Check out this Facebook post from the Alaska Republican Party. I wonder what they mean by "look at this picture carefully." All I can see is a woman in the background that appears to be wearing a hijab. Talk about a weird post.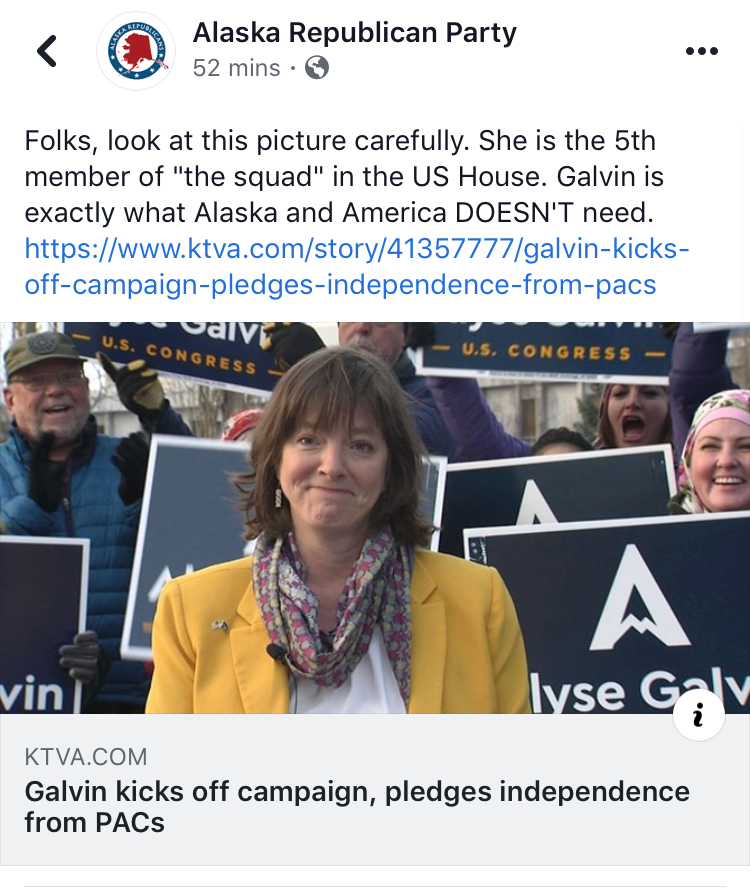 It was reported this week that ConocoPhillips is looking to sell some if its Alaska assets. It was also reported that Larry Persily has offered to give away the Skagway News to the right person who wants to move to Skagway and take it over. Hey Conoco, you should look at the Persily model. I'm sure you will have lots of takers!
This Week's Loose Unit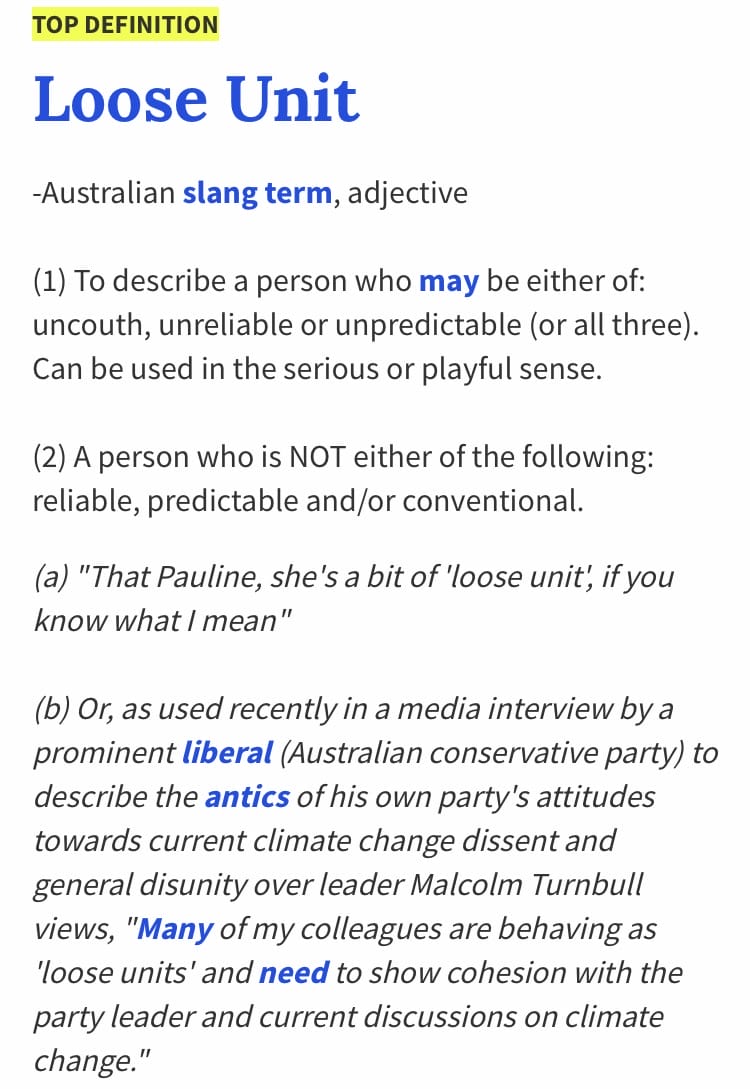 I had decided on this week's designee fairly early in the week. Senator Mike Shower's remarks on the Michael Dukes Show were about as loose as it gets. But a last minute development made this week's Loose Unit clear. This week's Loose Unit is Commissioner Kelly Tshibaka. Last night, I posted an article that questioned the independence of the newly formed Oversight and Review Unit. Yes, it is really called a unit! Then, earlier today Tshibaka took to her public figure Facebook page to criticize what I wrote. What has since ensued is the Commissioner of the Department of Administration arguing with me on Facebook. Very loose! My favorite part about her initial post is this. Love the all caps and hashtag at the end.

This all stems from the new Oversight and Review Unit having no statutory authority and being staffed by exempt employees, who can be let go anytime for any reason. Governor Dunleavy made that clear when he asked for all exempt State employees to turn in a letter of resignation and a letter stating they wanted to work for him. Those who did not were fired. The other super loose part about this unit, the review unit not the Loose Unit, is the lead investigator, John Lehe. He is the same guy Tuckerman Babcock hired, while he was chair of the Alaska Republican Party, to investigate the bizarre rumor that Dunleavy was living a secret gay life with the codename Prometheus. Lehe was hired to work for the Dunleavy administration not long after Dunleavy was elected. Tshibaka claims this guy is not a political appointee. So loose!
Tshibaka has been responding to a bunch of comments people left on the Landmine Facebook post with the article. Talk about a big Sunday night! She also responded to my comment on her initial post.
Then there was this comment, which she asked me to delete because I guess she was having an issue posting comments to my website. I did not delete, hide, or remove any comments from Facebook or the website. Talk about loose!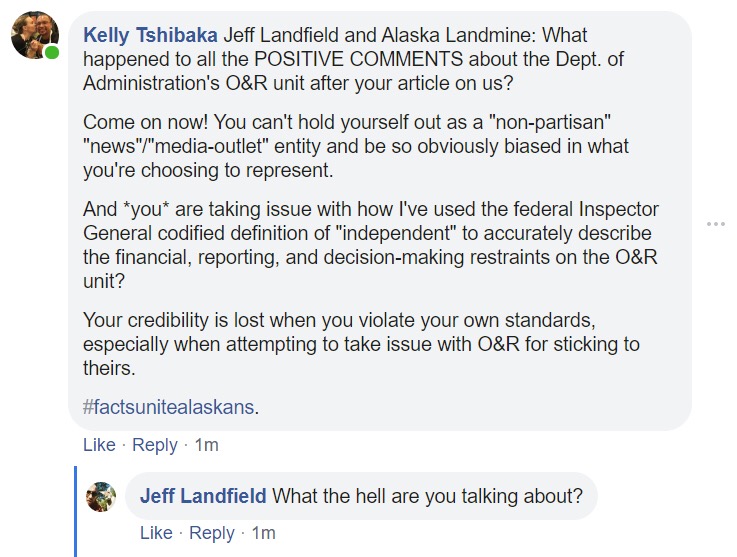 You would think someone in her position would have a thicker skin. Oh, there's one more thing. I'm not going to totally leave out Senator Mike Shower out this week. Check out this recent Facebook post from Shower. Gee, I wonder where he got that idea? So loose.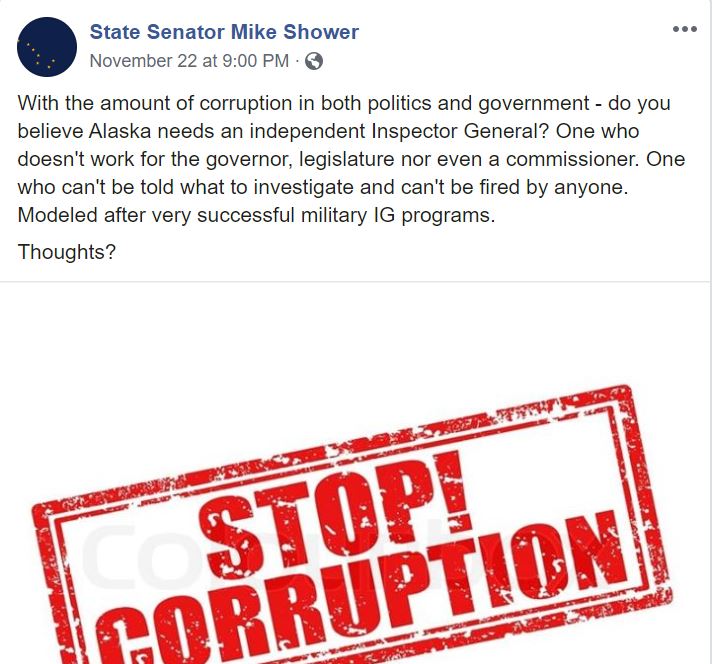 If you have a nomination for this week's Loose Unit, or if you have any political news, stories or gossip (or any old pics of politicians or public officials) please email me at jeff@alaskalandmine.com.