If you were lucky enough to be in Juneau this week, you would have enjoyed some beautiful, sunny weather. Governor Michael J. Dunleavy (R – Alaska) and his posse missed the great weather as they were out all week on their Americans for Prosperity – Alaska sponsored budget roadshow. As March concludes, we approach the "90-day" voter mandated session limit. That would be mid-April. No one thinks they will be done by day 90. Most legislators are expecting to be here until mid-May, which would be the 121 day Constitutional limit before having to call a special session.
A friendly message and reminder to all our readers, the Landmine is made possible by myself and a team of awesome Alaskans. It takes a lot of work to provide the content we do. There are now additional costs that I have temporarily located to Juneau. If you enjoy the content we provide, please consider making a one time or recurring monthly donation. You can click here to donate via PayPal. We would really appreciate it! And thanks to everyone who has been supportive.
The Governor
Governor Dunleavy spent the week traveling throughout the State on his Koch Brothers sponsored budget roadshow. It was basically the same script at every meeting. Ryan McKee, state director for Americans for Prosperity – Alaska, would kick off the meeting. Then, Jeremy Price, deputy chief of staff and former director of Americans Prosperity – Alaska, started out with a brief summary and then introduced the posse (Revenue Commissioner Bruce Tangeman, Budget Director Donna Arduin, Attorney General Kevin Clarkson) and then got to the "quarterback." Dunleavy spoke for a while about historical spending, the deficit, and his ideas on how to solve the deficit by matching expenditures with revenues. Then everyone else would weigh in and answer question that were submitted on notecards.
There was a major protest at the Anchorage event. It looked like there were more people at the protest outside 49th State Brewery than actually attended the event. Mayor Ethan Berkowitz, Assemblyman Forrest Dunbar, and many others spoke out against Dunleavy's proposed budget. There were also some protestors at the Nome event. See this week's Loose Unit. The Valley event, which was on Friday night, not surprisingly had the most receptive crowd.
I think there were two problems with this roadshow. First, it was about a month too late. It should have occurred after the budget was unveiled. The lack of messaging on the budget has caused uncertainty and panic for many Alaskans. Second, the initial concealing of the involvement of Americans for Prosperity – Alaska resulted in that overshadowing the entire thing. If they would have just been upfront about it, and not tried to hide it, it probably would have not been such a big deal.
After a meeting with Chief Justice Joel Bolger, Governor Dunleavy has relented and agreed to pick one of the two names sent to him by Judicial Council to fill the second Palmer Superior Court seat. To recap part of the letter Bolger wrote last week:
I believe the governor's office does not understand the constitutional requirements for these nominations. So I'm going to spend some time outlining the requirements of the constitution and the bylaws and procedures the council has adopted to follow the constitution.
Dunleavy failed to make the pick for that seat before the 45-day limit. It looks like Bolger made it very clear to him he was violating the law and Alaska Constitution. And that's kind of a problem considering the Oath of Office includes, "I do solemnly swear (or affirm) that I will support and defend the Constitution of the United States and the Constitution of the State of Alaska."
The Legislature
The House Majority released the following information summary from their statewide community budget meetings:
– 1,000. That's how many people provided feedback during community meetings in Anchorage, Bethel, Fairbanks, Kenai, Ketchikan, Juneau, Mat-Su, and Sitka.
– 5-to-1. Of the people who provided input on the budget, 990 voiced opposition to the governor's drastic cuts. 202 supported the governor's plan, leaving a 5-to-1 margin of opposition.
– 839. The leading topic of discussion statewide was K-12 education. Overall, 839 voiced opposition to Governor Dunleavy's proposed cuts to school funding.
– 611. Another common refrain was a push for a sustainable Permanent Fund Dividend, rather than the governor's proposal to double the PFD. 611 spoke to their desire for balance between the size of the PFD and the state's ability to provide critical services Alaskans rely on. 206 oppose reducing the dividend.
– 300+. More than 300 people spoke out in favor of preserving funding for Medicaid, the University, and Alaska Marine Highway System.
– 894. Nearly 900 people spoke in favor of the State of Alaska taking a step to diversify revenue.
The House Majority held a press conference on Thursday. It included Speaker Bryce Edgmon (I – Dillingham), Finance Co-Chairs Tammie Wilson (R- North Pole) and Neal Foster (D – Nome), and Rules Chair Chuck Kopp (R – Anchorage). Based on what was said, it appears the House Majority is considering using a portion of the proposed $3,000 dividend to fill the deficit. The feedback in those statewide meetings likely played a role in this. At this point, the dividend could be anywhere between $500-$3,000. It also depends on what the Senate does. Here is a link to the press conference.
On Wednesday (3/27/2019), the Senate Finance Committee had a long and robust discussion about the PFD. The discussion was led by Co-Chair Natasha von Imhof (R – Alaska). If you're interested, you can click here to watch it. Whether or not you like Senator von Imhof (I don't particularly care for her due to personal reasons) no one can deny she understands this stuff more than probably any other legislator. One funny thing, as von Imhof was about to gavel out of the meeting after a long speech about the size of government, the size of the PFD, and how it does not belong in the Constitution, Senator Bert Stedman (R – Sitka) reminded her about the PFD application deadline. After stating the deadline she joked, "Just put lemon juice in my eye."
Based on this discussion, and what the House Majority is saying, it is extremely unlikely there will be a $3,000 PFD, and even less likely the legislature will approve Dunleavy's repayment plan. It's one thing for the House Majority to suggest a smaller dividend, but when it's also the Republican controlled Senate, it's another. There's currently not the will to pass any broad based taxes in the legislature, and even if they did, Dunleavy would not sign it. This has all the makings of a big showdown between the legislature and Governor Dunleavy over the dividend.
Only in Alaska do people complain about NOT having to pay a statewide income or sales tax AND getting a reasonable dividend. This is what happens when you promise people thousands of dollars if they vote for you.
Other Happenings
Sources confirm the Department of Law approved the citizen initiative to move the legislative session from Juneau to Anchorage. Look for Lieutenant Governor Kevin Meyer (R – Alaska) to sign off on it this week. Once that happens, the organizers will need to gather enough signatures, statewide, for it to appear on the 2020 ballot.
The annual Thanksgiving in March fundraiser for the Southeast Alaska Food Bank took place this Tuesday at the Imperial in Juneau. The event raised a total of $38,318! One of the pies at the pie auction went for $3,600! If you want to see an epic recap of the event, check out Representative Laddie Shaw's (R – Anchorage) special order. You definitely want to watch this.
My good buddy Kati Capozzi has been named the new president and CEO of the Alaska State Chamber of Commerce. Congrats, Kati! She replaces Curtis Thayer, who left the role to lead the Alaska Energy Authority. Capozzi recently lead the very successful Stand for Alaska campaign, which opposed the Stand for Salmon ballot initiative. Before that she was the communications and projects manager for the Resource Development Council. Kati, I'm still waiting for you to accept my Facebook friend request I sent several years ago…
Kristina Woolston was spotted in Juneau this week. She was recently hired as the external affairs manager for Donlin Gold. Congrats, Kristina! She was previously the external affairs manager for Quintillion.
After a not so great ADN article, Joe Riggs has withdrawn his name from consideration to the Alaska Mental Health Trust Board of Trustees. Another one bites the dust. I was surprised he was named in the first place after the horrible anti-gay mailer he sent out during the primary. It was so bad this is what Tuckerman Babcock, then Chair of the Alaska Republican Party told me for this article, "The Joe Riggs mailer attacking Albert Fogle is a largely non-issue based hit piece that is really just a cheap personal attack. I am very disappointed in Joe Riggs' campaign tactics."
After Trevor Shaw's name was pulled for the Commission on Judicial Conduct, Dunleavy named Hank Bartos of Fairbanks to replace him. One small problem, everyone in Fairbanks knows this guy has a litany of issues related to his real estate license. Bartos declined to accept the appointment. In a letter to the Senate, Dunleavy wrote, "The following appointee was forwarded prematurely and has declined to accept the nomination." Honestly, what does Gina Ritacco, Dunleavy's Director of Boards and Commissions, do all day?
Legislative skits are coming up! The event will be held on April 6 at Centennial Hall in Juneau. They should prove to be epic this year.
Sources report that ConocoPhillips will be rejoining the Alaska Oil and Gas Association (AOGA) on April 1 (or this could be the most epic April Fools ever). They left AOGA in 2006. According to this article:
ConocoPhillips, whose predecessor companies had been AOGA members since the group's inception, said it was leaving AOGA because it has many of its own staffers working on the same regulatory and government affairs tasks that AOGA covers. While Crockett said AOGA is disappointed to see ConocoPhillips leave, there is hope that the company might rejoin some time in the future. She said no other departures are expected.
It only took 13 years! And they will now be the 13th member. AOGA will once again be one big happy family.
Ballots or the Anchorage Municipal Election are due on Tuesday. You can drop them at a secure drop box, return to an accessible vote center, or mail them back. You can find all the information here. The Clerk's Office is putting on an Election Central at their election headquarters in Ship Creek on Tuesday night. I'm told there will be food trucks!
Update: I was recently informed that there will NOT be food trucks at Election Central. DANG! There was some miscommunication on that. There will be live results, refreshments, activities, and door prizes.
School board candidate David Nees is really feeling that energy before the election.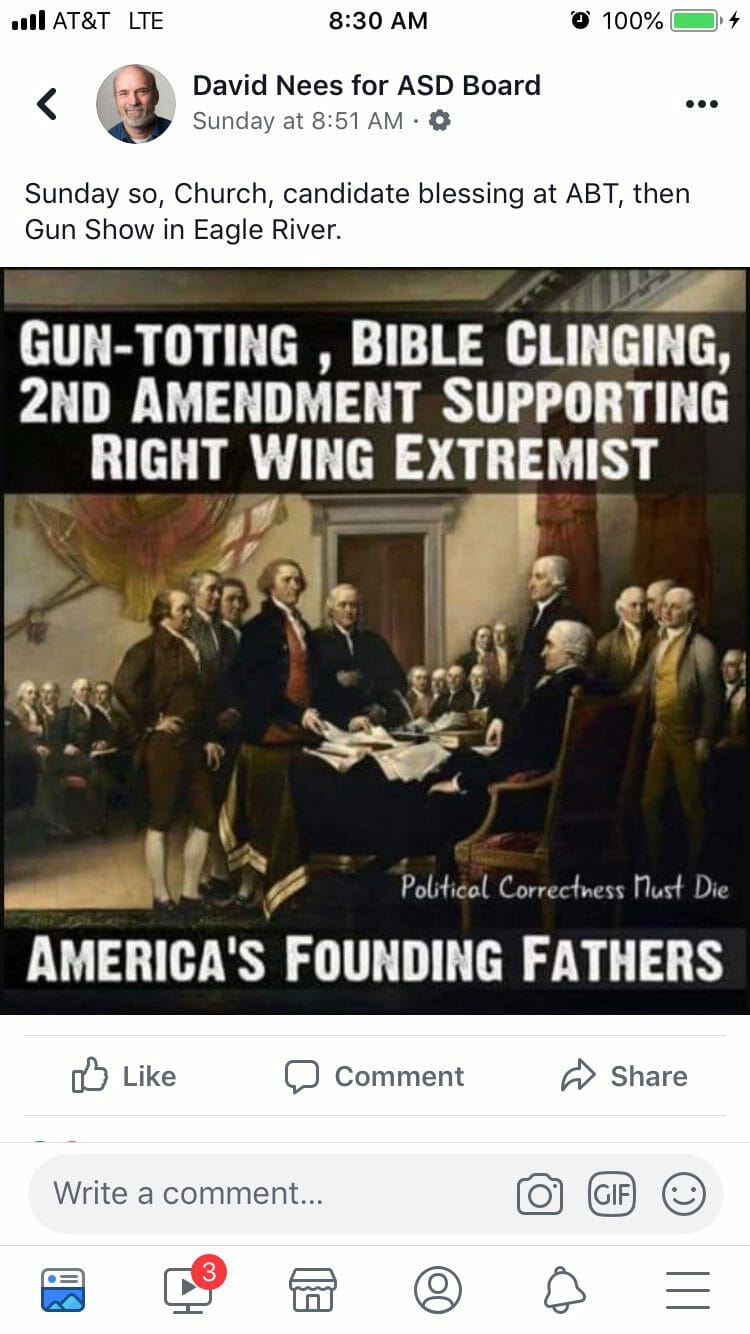 Al Roker was spotted on a flight to Utqiagvik yesterday. Word is he will be reporting live and talking about climate change for the Today Show this week. I love that guy!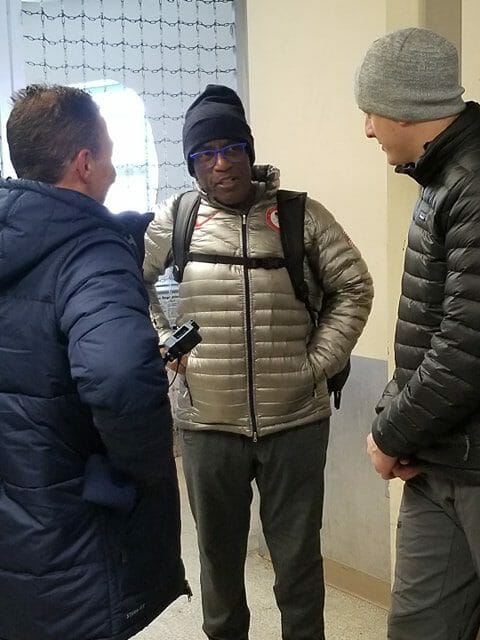 Judge Sharon Gleason overturned a Trump administration plan for a land swap that would have allowed for the long sought after King Cove road to be built. Part of the road would go through the Izembek National Wildlife Refuge and would lead to an airport in Cold Bay. Basically everyone is upset about it. Here is what Speaker Edgmon had to say about it:
The people of King Cove deserve reliable access to healthcare, and the fight to build a simple gravel road affording them that basic right has taken far too long. Today's U.S. Superior Court decision to invalidate the plan to allow a land exchange between the Interior Department and King Cove Corporation is disappointing and presents an unnecessary setback.
Video wizard Cale Green is in Juneau this week. We worked on a few video projects. Here is one about the proposed cuts to the Alaska Marine Highway System. And here is one about that abandoned tugboat in Gastineau Channel. A very bizarre story indeed.
This Week's Loose Unit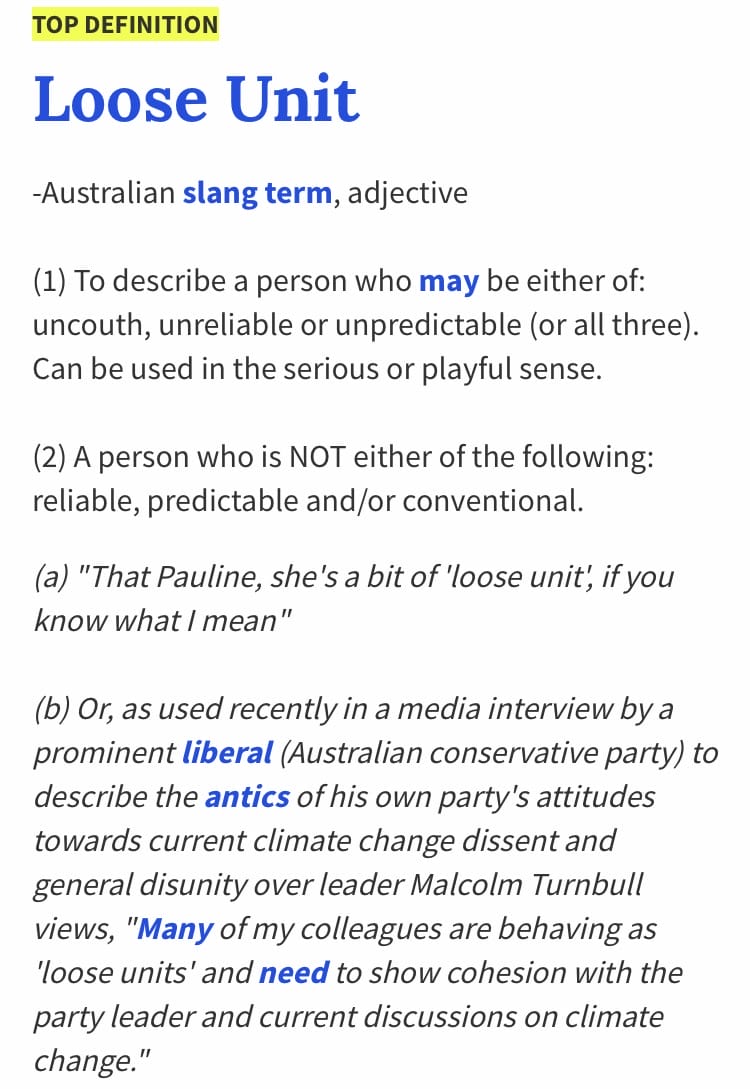 This week is kind of a weird one. I'm sure you heard about the arrest of a woman at the Nome airport who was protesting Governor Dunleavy when he arrived. Originally, this week's Loose Unit was going to be the Nome Police Department. But after witness accounts and the Police Report came out, this week's Loose Unit is Brenda Evak. Now I know there are a LOT of people unhappy with Governor Dunleavy and praised Evak for her protest. But according to the Police Report, "Brenda was pointing her finger and closing the distance to the Governor while balling her other fist." Very loose.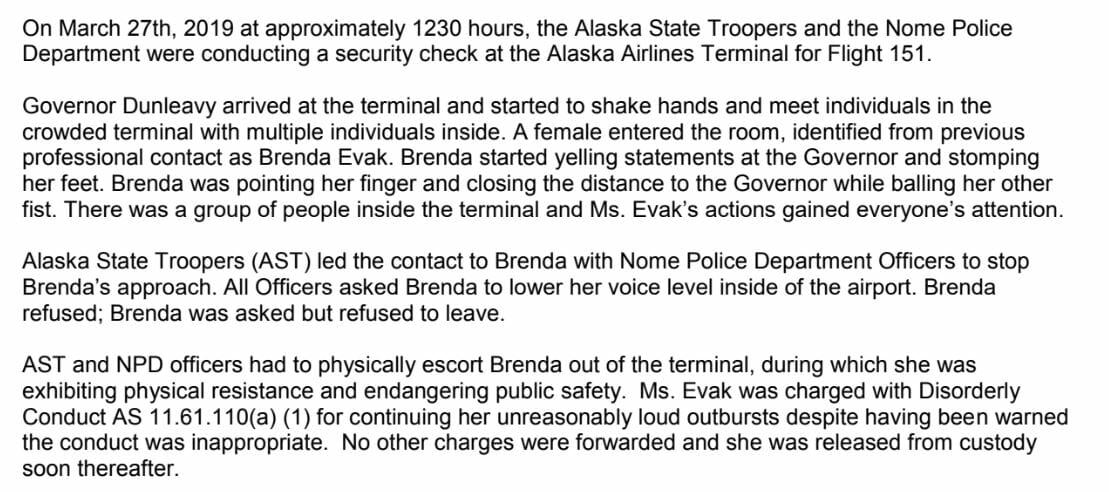 According to witnesses she was yelling, "What do we do when our lands are threatened? We stand our ground." Officers asked her to lower her voice and leave, but she refused. Also very loose. The good news for Evak is the district attorney in Nome and the Nome Police Department said no charges would be filed against her. Maybe go a bit easier next time, Brenda.
If you have a nomination for This Week's Loose Unit, or if you have any political news, stories or gossip (or any old pics of politicians or public officials) please email me at jeff@alaskalandmine.com.