March has finally arrived. We are just about halfway through the "90-day" legislative session. It's anyone's guess how long the session will go, but if this week is any indication my bet is we are looking closer to 121 than 90. The House spent the better part of the day on Friday debating a resolution on the Permanent Fund. Yes, a resolution, not a bill. Once the dividend discussion really heats up, which looks like will be delayed until the last possible minute, look for it to get very loose!
A friendly message and reminder to all our readers, the Landmine is made possible by myself and a team of awesome Alaskans. It takes a lot of work to provide the content we do. I'm in Juneau for session which adds additional costs. If you enjoy the content we provide, please consider making a one time or recurring monthly donation. You can click here to donate. We have a donation system that makes it super easy. We would really appreciate it. And thanks to everyone who has been supportive!
The Legislature
The newest member of the Legislature, Representative Mike Prax (R – North Pole) was sworn in this week. He replaced former Representative Tammie Wilson, who resigned to take a job with Health and Social Services. I'll be honest, I had an entirely different view of Prax before actually meeting him. That's one of the negatives of social media. So far he seems like a cool and reasonable guy. He might even do a podcast with me!
The House spent much of Friday debating a resolution on the Permanent Fund. You can see the resolution, and all of the amendments, on the below Twitter thread. The debate highlighted the deep divisions that remain on the PFD. Twelve reps were excused, although many were there when the floor session started. Many had to catch planes. The resolution will be voted on during Monday's floor session. At this point the legislature should just strike the statutory formula or add a clause that says the PFD can be reduced by the legislature if needed to fund government. If the legislature does that, and Governor Mike Dunleavy (R – Alaska) vetoes it, then it will become evident he's not serious about solving this problem. If he signs it, or just lets it become law, then it shows he's willing to compromise. The statutory formula has not been followed for five years. There is clearly not the will or votes to change the formula. The longer it sits on the books the longer, and worse, this battle will get.
After the floor session, members of the House Majority held a press conference. The biggest takeaway was a statement from Speaker Bryce Edgmon (I – Dillingham). In response to a question about the PFD and structured draw he said, "There will not be an overdraw of the earnings reserve. That's off the table. So we can set that aside." The House probably has the votes to change the formula or add a clause saying subject to legislative appropriation. The Senate, less so. And who knows what Dunleavy would do. It's a classic Mexican standoff.
The House Finance Committee passed the operating budget out of committee last week. It will be debated on the floor this week. It does not include a dividend. Look for the debate and amendment process to get fairly loose.
The Senate passed SB 52 this week 19-0. This is a comprehensive bill on alcohol regulations from Senator Peter Micciche (R – Soldotna). During floor debate Senator Jesse Kiehl (D – Juneau) made a good point about how the bill doubles down on the limited entry system. A compromise was made between the Alaska Cabaret, Hotel, Restaurant and Retailers Association (CHARR) and the Brewers Guild for distilleries, breweries, and wineries that allows for increased hours and activities such as concerts but only allows 1 per 12,000 people in a community for each one. Juneau already has four breweries with tasting rooms. One more than would be allowed. They are all grandfathered under the bill. So no more brewery tasting rooms for Juneau. For a comparison, restaurant beer and wine licenses are limited to 1 per 1,500 people. Bar and liquor stores are 1 per 3,000 people each. Imagine what those licenses will be worth in 20 years. The bill is now in the House. It does not appear that any representative wants to change the new brewery, distillery, and winery provision as CHARR  has made it clear anyone who does will be targeted. I would wear that as a badge of honor.
Senator David Wilson (R – Wasilla) cut off former Lieutenant Governor Loren Leman this week during a meeting of the Senate Health and Social Services Committee, which Wilson chairs. Leman called in to testify about a constitutional amendment that restricts abortion. Leman was invited to testify but Wilson cut him off after two minutes while he was still speaking. It was pretty weird. You can watch here.
Jeremy Price, former deputy chief of staff to Governor Dunleavy, had a confirmation hearing this week in the Senate Resources Committee. Price was appointed by Dunleavy last year to the Alaska Oil and Gas Conservation Commission (AOGCC). I thought all the Koch Brothers haters were going to call in to testify against Price. Price used to head up Americans for Prosperity Alaska. The hearing was extremely anti-climatic. Only one person testified, fellow AOGCC Commissioner Dan Seamount, who testified in favor of Price. I'll also note that Price had an informative and concise opening statement. During his opening statement he joked that Charles Wohlforth wrote a piece called "I agree with the Koch Brothers guy. How'd that happen?" Everyone laughed.
A joint meeting of the House and Senate Resources Committees this week heard testimony about BP's proposed sale to Hilcorp. Hilcorp came with an army of employees. Testifiers included DNR Commissioner Corri Feige, VP of Commercial Ventures for BP Damian Bilbao, Hilcorp Senior VP Dave Wilkins, and Hilcorp General Counsel Denali Kemppel. One of the big revelations is that Hilcorp will not be moving into the BP building in Anchorage. Did you know that when it was built it was designed to become a hotel? Condos anyone!
Many legislators love the phrase "follow the law." But some seem to have a hard time following the rules. Sources report that both Senator Mike Shower (R – Wasilla) and Representative Ben Carpenter (R – Nikiski) routinely bring their wives into the legislative lounge. Only legislators and former legislators who aren't lobbytists are allowed in the lounge.
Full Eastman
Things got very loose on the House floor on Wednesday. Representative David Eastman (R – Wasilla) tried to block funding in Governor Dunleavy's supplemental budget for a judgement to Planned Parenthood. It got very heated. Eventually his amendment was defeated 1-36. Not surprisingly, he was the only person to vote for it. But its gets way better! Sources confirm that before the floor session the House Minority met in Minority Leader Lance Pruitt's (R – Anchorage) office. In the meeting Eastman brought up his amendment and told his colleagues if they voted against it then the pro-life people would be coming after them. At one point Pruitt told Eastman to leave. After he did not comply Pruitt told Eastman, "David, get the fuck out of this office or I will call security and have them drag you out!" OMG.
After his amendment failed on the floor, Eastman tried to continually delay and obstruct the process. Eventually Speaker Edgmon told him if he did not stay on the topic of the supplemental budget, he had many ways to deal with him. Eastman did not relent. To get an idea of how loose it got, watch this. Representative Carpenter got real angry at one point because he said Edgmon didn't see his mic raised to speak. When Edgmon apologized and said sometimes he misses a mic, Carpenter replied, "Not my problem!" After it got real crazy and an at ease was called. Members of the Minority met on the sky bridge. There was wide discussion in the hallway about expelling Eastman. Article II, section 12 of the the Alaska Constitution includes:
Each is the judge of the election and qualifications of its members and may expel a member with the concurrence of two-thirds of its members.
When Eastman came up to the group, Pruitt yelled, "David, get out of here!' It was real uncomfortable. Eventually the House came back and Eastman stayed quiet. The supplemental budget was passed 35-2. Eastman and Representative Mark Neuman (R – Big Lake) were the no votes.
Other Happenings
The Recall Dunleavy folks started gathering signatures all over the state this week. They rented out the Sullivan Arena in Anchorage this weekend. They might have overestimated their need for space. Below are pics taken on Friday and Sunday of the parking lot at the Sullivan. I was told it was like that the whole weekend. Other groups have also formed that are opposing the recall. One is headed by Cynthia Henry, a well known Republican who is the National Committeewoman. John Binkley will also be forming a group that is opposing the recall due to the precedent it would set.
Sources confirm that Jason Hoke, Federal Co-Chair, Denali Commission, has been put on administrative leave pending the outcome of an Equal Employment Opportunity Commission. I have obtained a portion of the complaint and his response. He seems fun! This all stems from a raid on the Commission last year. I wrote about it last August. According to sources, it seems Mr. Hoke may have been the person who reported that some of the employees were embezzling with the intention of getting rid of them. Super loose.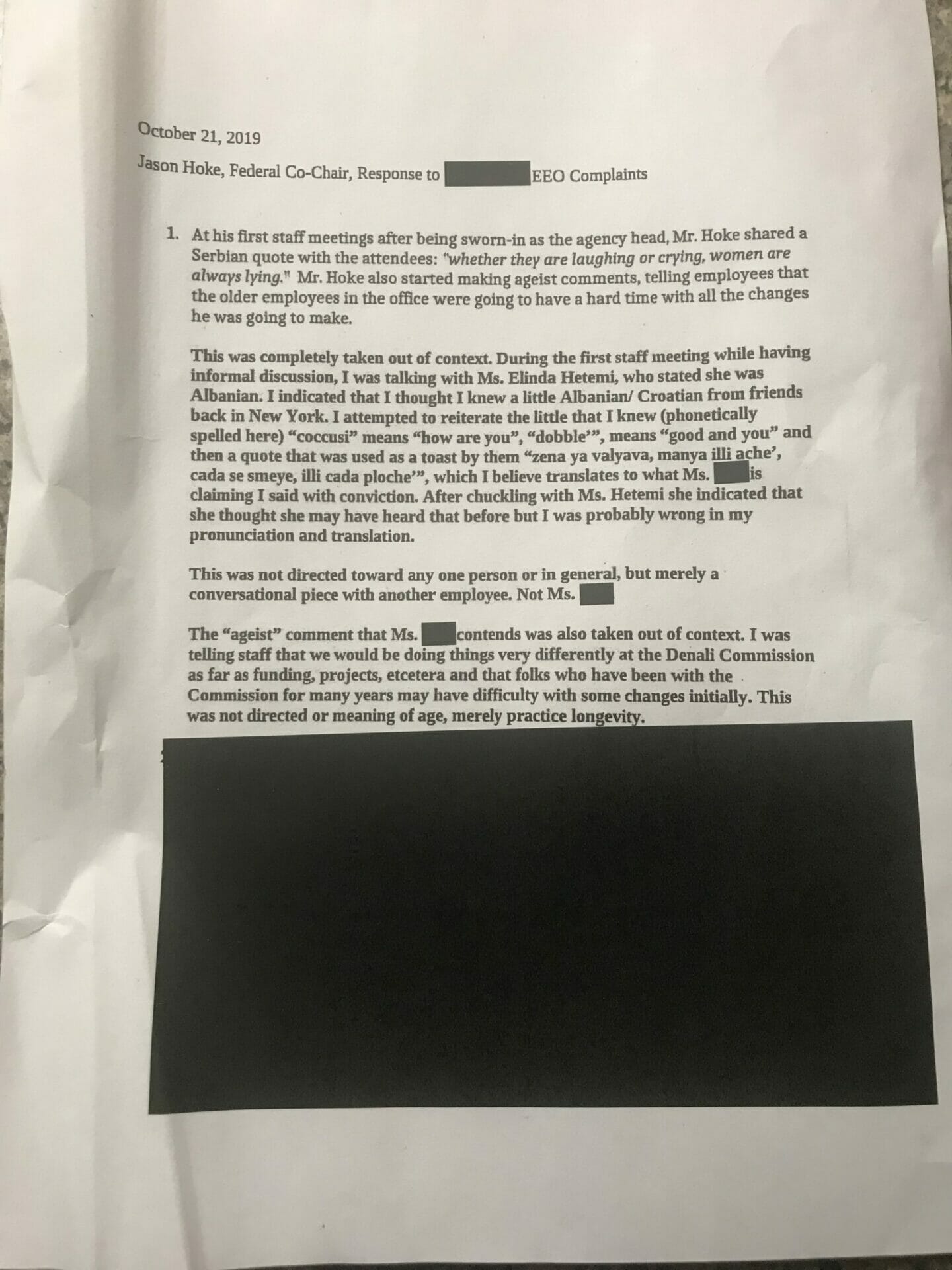 Check out this post from Jamie Allard. Allard is a member of the Human Rights Commision and a current candidate for an Eagle River seat on the Anchorage Assembly. She really knows her stuff!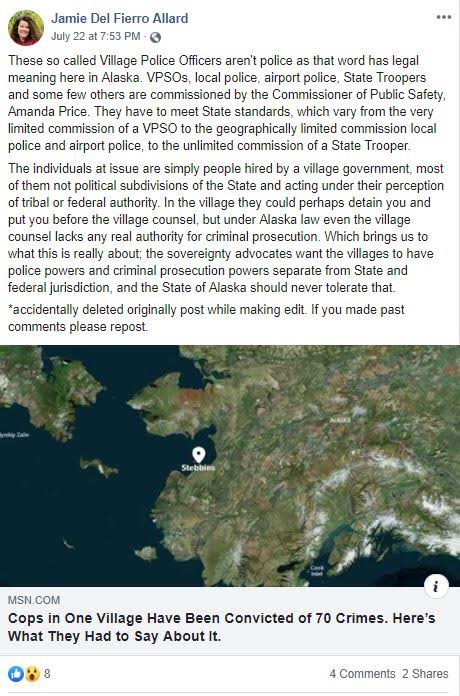 Keeping it in Eagle River. If you missed this bizarre post from Senator Lora Reinbold (R – Eagle River), here you go.
The Alaska Gasline Development Corporation board named Frank Richards as the new president, effective today. Richards succeeds Joe Dubler, who the board announced was retiring last week. According to the press release:
Richards currently serves as AGDC senior vice president of program management, responsible for the development and execution of the Alaska LNG project. A registered professional engineer, Richards joined AGDC in April 2012. He has contributed to the development of numerous large-scale infrastructure projects across Alaska, including the Red Dog Mine, the Bradley Lake hydroelectric project, and offshore North Slope oilfield development projects. He previously served as deputy federal coordinator for Alaska natural gas transportation projects and holds a Bachelor of Science in civil engineering from the University of Maine.
Sources report that Exxon had an epic party at 49th State Brewery in Anchorage on Friday night. Among those in attendance were several legislators, lobbyists, and government officials. I did not get an invite! DPS Commissioner Amanda Price was reported to "have a really good time!"
Kathleen Metcalfe has been posting a bunch of throwback pics on her Facebook page. Check this one out of Bill Ray, Ashley Reed, John Sackett taken in 1992. I call this the Ashley Reed lean back and listen approach.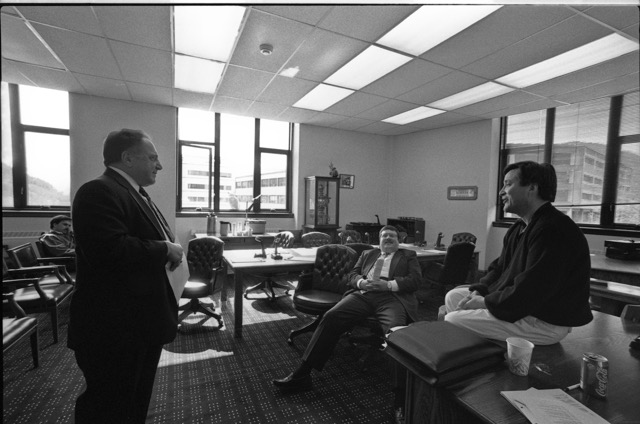 I tweeted out a pic of a note I got this week. I followed up by joking that I can confirm it was not from Amory Lelake. Check out the response from @DrankinDranks. The last time that account posted anything was 2012. For some reason this tweet reactivated that person. Check out their bio and last tweet. So weird. Also, check out their old tweets for some real entertainment.
This Week's Loose Unit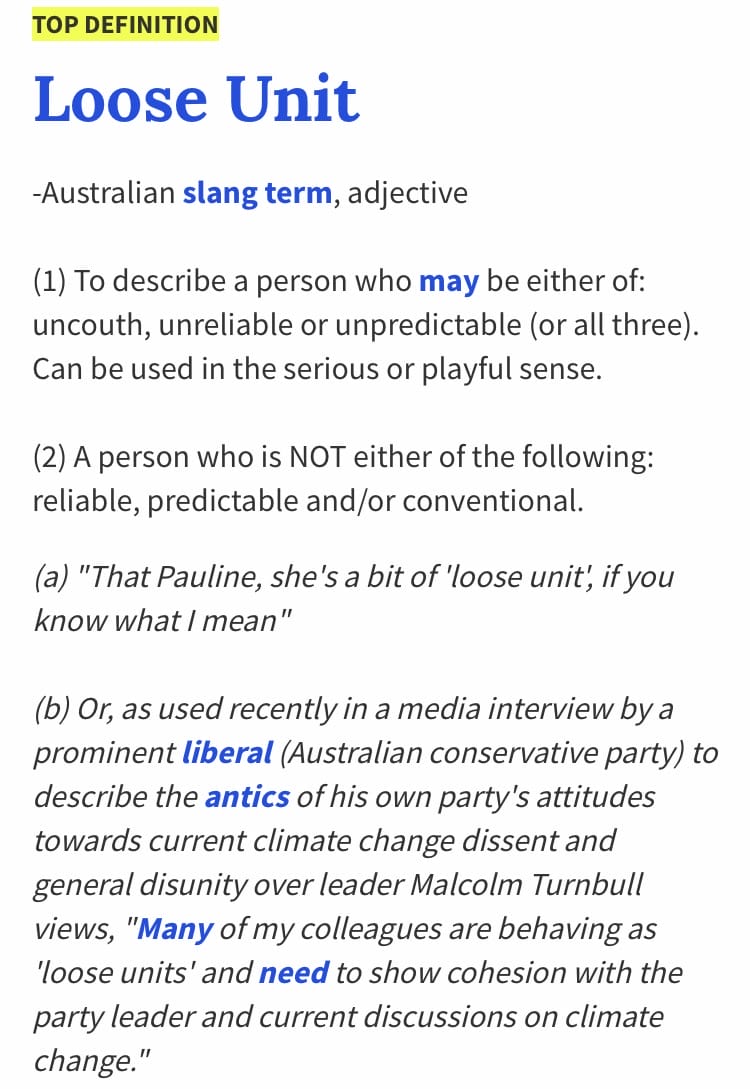 As usual, there was a lot of competition this week. But one person really stood out, and I mean REALLY stood out. This week's Loose Unit is Palmer City Councilmember Richard Best. Best is also a staffer to Representative Ben Carpenter. If you have not heard about this very loose incident you are in for a real treat. It was first reported by the Mat-Su Valley Frontiersman earlier this week. According to the article:
Best, a member of the Palmer City Council, made a cell phone call to the Palmer Police Department dispatch at 12:35 a.m. Jan. 10 while he was traveling from Kenai to Palmer. The Frontiersman obtained copies of both the audio file and the call log. Best made a request asking if a Palmer police officer could be dispatched to his home in Palmer, and if the officer could play the Peter Gabriel song "In Your Eyes" through the squad car's loudspeaker. The request mimics a scene from the film "Say Anything," when the main character, portrayed by John Cusack, hoists a boombox blaring the song outside the window of the love interest in the 1989 movie.
It gets so much better. First, I obtained a copy of the audio! It's so bizarre and loose. Take a listen. It is worth every minute. My favorite part is when he tells the dispatcher that he's not under the influence. Loose!
After the story was reported, Best took it to another level of loose. He posted the article on his facebook, tagged Carpenter, made light of the entire thing, and posted the most bizarre explanation. Keep in mind he told the dispatcher several times he's a member of the Palmer City Council. So loose. He should have called someone with an ice cream truck!
The Palmer City Council held a meeting on Tuesday. Three of the seven members made remarks about how his behavior was inappropriate. The other four did not say anything about it. Some members of the public also testified and were not at all happy about his behavior. Talk about a Loose Unit!
If you have a nomination for this week's Loose Unit, or if you have any political news, stories or gossip (or any old pics of politicians or public officials) please email me at jeff@alaskalandmine.com.