Several weeks ago I got a tip that the Department of Justice raided the offices of the Denali Commission in Anchorage. I have not had much luck confirming what happened or what they are investigating. The information I have been able to obtain leads me to believe they are investigating misappropriation of federal funds by an employee. As of this writing, no charging documents have been filed.
I called the U.S. Attorney's Office in Anchorage, as well as the FBI's Anchorage Field Office. Both would not provide comment, or confirm or deny the existence of any ongoing investigation.
I also contacted the Denali Commission. They would also not comment, but did not deny that an investigation is taking place. The person I spoke with was interested in knowing how I learned about the investigation and the names of who told me. I did not provide that. I was told they will be releasing some kind of statement in the next day or two.
The Commission was created by former Alaska Senator Ted Stevens. According to their website:
The Denali Commission Act of 1998 established the Denali Commission (Commission) to deliver services of the federal government in the most cost-effective manner by reducing administrative and overhead costs. As part of the act, the Commission's mission of providing job training and other economic development services in rural communities was established with a specific focus on promoting rural development, and providing power generation, transition facilities, modern communication systems, water and sewer systems and other infrastructure needs in rural Alaska.
Since its inception, the Denali Commission Act of 1998 has been updated several times expanding its mission to include the planning and construction of health care facilities and the establishment of the Denali Access System Program for surface transportation infrastructure and waterfront transportation projects.
According to their 2018 Financial Report, the Denali Commission's total budget authority was over $45 million.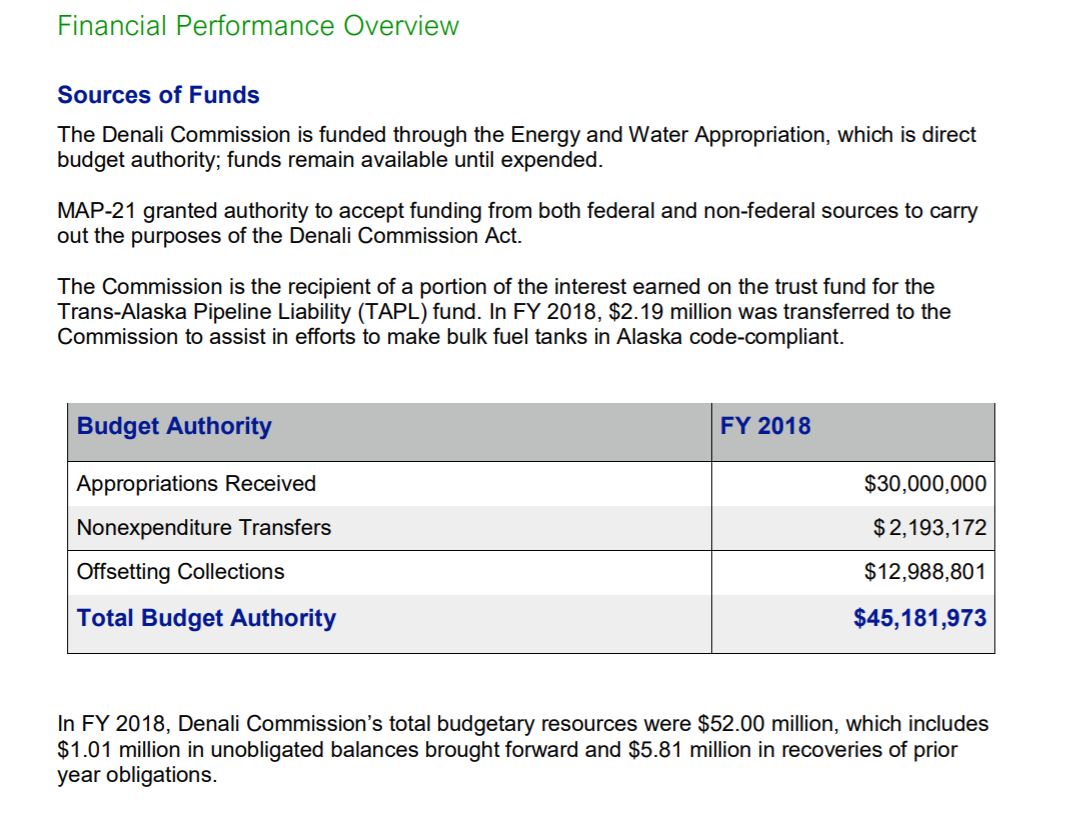 This is a developing story.
Update:
Jason Hoke, the Federal Co-Chair for the Denali Commission, released the following statement on August 6, 2019. The day after this story was first published.
As part of our fiduciary responsibility to protect federal taxpayer dollars, the Denali Commission's Office of Inspector General recently conducted the Commission's Annual Financial Audit. Upon review of the draft financial audit, the Inspector General decided to conduct further investigation into a staff member's conduct. The Agency is fully compliant with the IG inquiry and awaits the final determination.