Summer is really flying by! August is just one week away, meaning fall is just around the corner, unfortunately. Another special session is set to start on August 2, though that continues to be up in the air. The Legislature's fiscal plan working group has several meetings scheduled this week. Anchorage Mayor Dave Bronson and the Anchorage Assembly continue to square off over how to best deal with the homelessness issue.
A friendly message and reminder to all our readers, the Landmine is made possible by myself and a team of awesome Alaskans. It takes a lot of work to provide the content we do. If you enjoy the content we provide, please consider making a one time or recurring monthly donation. You can click here to donate. We have a donation system that makes it super easy. We would really appreciate it. And thanks to everyone who has been supportive!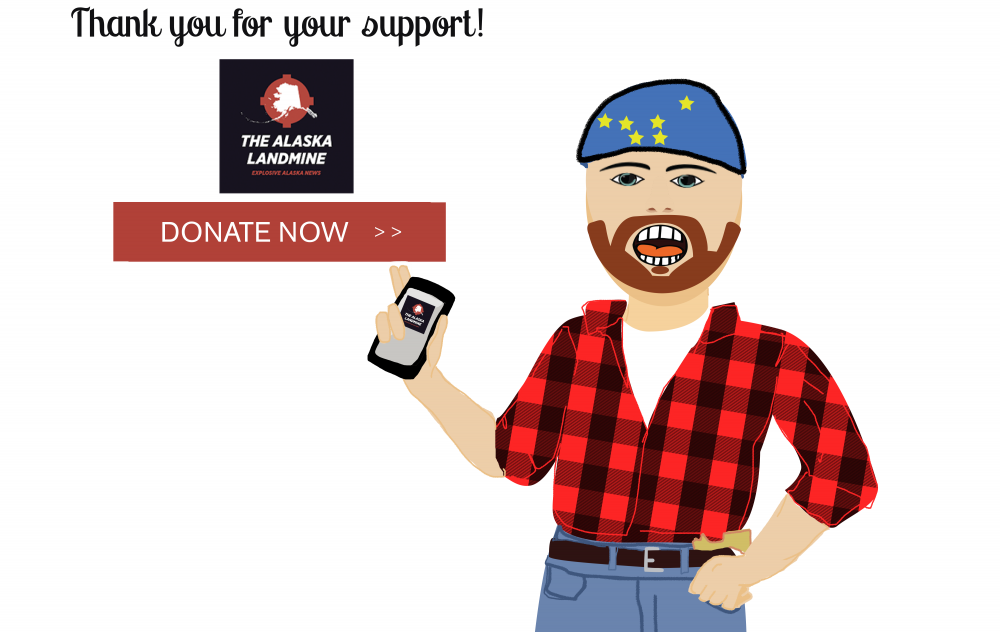 The Legislature
The fiscal plan working group has several meetings scheduled this week. Most of them are for public testimony. That public testimony is guaranteed to be lit, and entertaining. Here is a list of the upcoming meetings:
Monday, July 26: 3 pm at the Anchorage LIO. Invited testimony
Tuesday, July 27: 3 pm at the Anchorage LIO. Invited testimony
Thursday, July 29: 6 pm at the Anchorage LIO. Public testimony
Friday, July 30: 6 pm at the Mat-Su LIO. Public testimony
Saturday, July 31: 1 pm at the Fairbanks LIO. Public testimony
Monday, August 2: Senate Finance Room (Juneau). Public testimony 
They have only had four meetings since the group was formed. The first one was on July 7. You don't have to be a fortune teller to know the likelihood that this group produces some transformative fiscal plan is very low. And keep in mind, whatever they do come up with has to go through the regular legislative process as a bill. The Legislature is set to start another special session on August 2. This was called by Governor Mike Dunleavy (R – Alaska) back in May. The proclamation is below. Dunleavy has yet to introduce any revenue measures. It's also worth noting that Dunleavy is somewhere in the lower 48, though it is not clear exactly where, or when he will be back. According to the Keep Dunleavy website, he has a fundraiser with former President Donald Trump on July 28 in New Jersey (when you click "register" it says 404 error). This fundraiser was previously scheduled for June 25, which was postponed as it was right in the middle of the budget mess.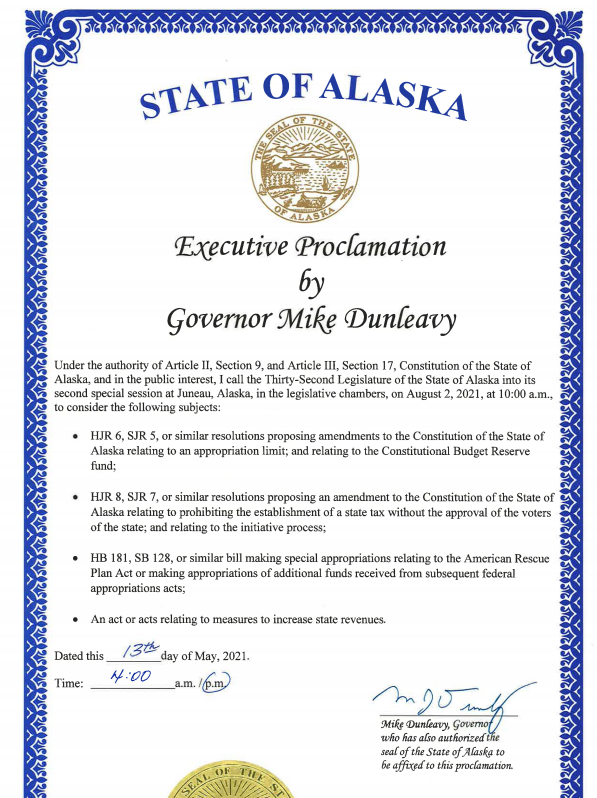 The working group has a meeting scheduled on August 2 in Juneau. So it seems some legislators are planning on being there for the special session. Many legislators, and even some people in the administration, have expressed a desire to delay it until the end of August or early September. Sources in the Legislature say they may just end up gaveling in on August 2 and not doing much until mid to late August. My bet is there is not much in the way of any kind of meaningful fiscal plan. But they will need to deal with the reverse sweep (which requires a 3/4 vote in both bodies) and the dividend – which is currently at $0 after Dunleavy vetoed the meager $525 the Legislature approved. Those two issues alone are going to take up a lot of the oxygen. Get ready for things to get loose!
According to this unofficial Landmine Twitter poll, only 16% of respondents think the odds of the special session starting on August 2 are 100%.
Other Happenings 
Defense Secretary Lloyd Austin was in Fairbanks this weekend. This was the start of a weeklong trip to the Pacific. Follow Landmine Twitter for those hot updates.
Garrett Boyle left his job as Senator Lisa Murkowski's (R – Alaska) deputy chief of staff to become the new federal co-chair for the Denali Commission. Congrats, Garrett! The new state co-chair is Dunleavy's Deputy Chief of Staff Tyson Gallagher. Gallagher replaced John Moller, who left his job with Dunleavy and his role at the Denali Commission without any explanation.
Boyle is replaced by Kate Williams Sterne, who came from the State of Alaska. Congrats, Kate! So while Garrett is coming to Alaska, Kate is headed to D.C.
Unfortunately, UAA /ISER Economist Mouhcine Guettabi is leaving Alaska after almost ten years. He is headed to North Carolina for a new job. This is a big loss for Alaska. I wish him all the best in his new job.
So far there has been little progress between Anchorage Mayor Dave Bronson and the Anchorage Assembly on how to best deal with the homelessness issue. To recap, Bronson nixed the Assembly's plan to buy the old Alaska Club building on Tudor. Then, Bronson failed to get the required three Assembly members to introduce his plan to build a shelter in East Anchorage. Federal funding for the temporary shelter at the Sullivan Arena is set to be reduced at the end of September, thought it could be extended. Sources confirm that Bronson and his administration have been in talks with legislators and the Dunleavy administration to try and get state funding for the East Anchorage shelter. But even if that were to happen, the Assembly would need to be involved. It seems very unlikely there will be anything new in place by winter. Needless to say, this Tuesday's Assembly meeting should be something to watch.
Bronson has other problems to worry about. Staff at the Alaska Public Offices Commission (APOC) have recommended a more than $50,000 fine for campaign reporting violations! This ADN story provides more detail. Some of it is really loose. I have never understood how candidates fail to properly report. It's really not that difficult if you have the right people doing it. Bronson can appeal the decision. And the final decision on the fine will be made by the Commission. One piece of advice to candidates and campaigns – never get on Paula DeLaiarro's bad side.
If you missed the follow up story on U.S. Senate candidate Kelly Tshibaka's "Fish Camp" video, check it out here, "U.S. Senate candidate Kelly Tshibaka illegally obtained resident sport fish license in 2019." It never ceases to amaze me the stuff candidates think will never come up.
This Week's Loose Unit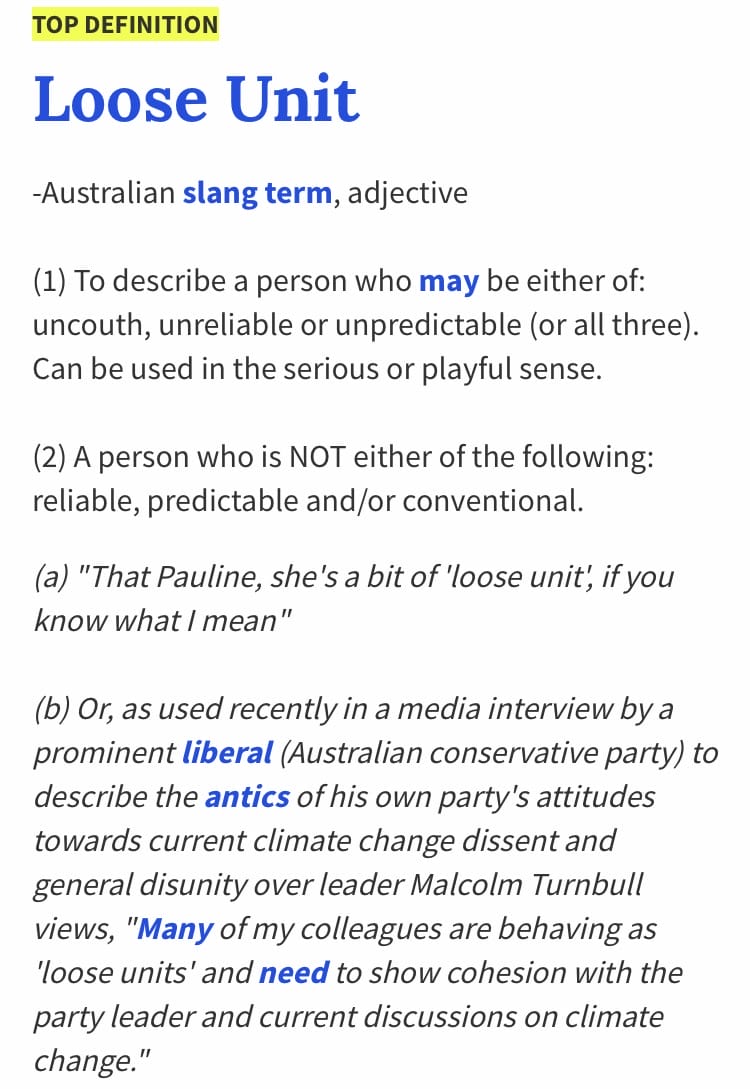 There was definitely some competition this week. Between APOC staff recommending a more than $50,000 fine to Dave Bronson, to Kelly Tshibaka (Chewie) illegally obtaining a resident sport fishing license in 2019, it was not an easy choice. But a statement made on Tuesday locked up this week's designee. This week's Loose Unit is Representative Ben Carpenter (R – Nikiski). At the conclusion of the fiscal plan working group's meeting, Carpenter went maximum loose when he dropped the f-bomb into the record! It was in response to Representative Jonathan Kreiss-Tomkins (D – Sitka) talking about the topic of the next meeting. Carpenter was frustrated he did not know the topic, and kept asking Kreiss-Tomkins about it. Then, he muttered what sounds like "little fuck" on a hot mic! Extremely loose. You can listen below. So much for Senate President Peter Micciche's (R – Soldotna) plan for the working group to be all kumbaya.
If you have a nomination for this week's Loose Unit, or if you have any political news, stories or gossip (or any old pics of politicians or public officials) please email me at jeff@alaskalandmine.com.