Documents obtained by the Landmine show that U.S. Senate candidate Kelly Tshibaka, who is challenging Senator Lisa Murkowski (R – Alaska), illegally obtained an Alaska resident sport fishing license on August 22, 2019. The documents were obtained via a records request submitted to the Alaska Department of Fish and Game by the Landmine following the release of Tshibaka's "Fish Camp" video on July 15.
The video, which was filmed in Ninilchik, depicts Tshibaka pulling fish from a commercial net and placing them into a brailer bag, which is then sold to a tender. According to the documents obtained by the Landmine, Tshibaka does not hold a commercial crew license, which is required by law to work at a commercial fish site. The Landmine story "Kelly Tshibaka stages 'fish camp' video featuring Lisa Murkowski supporter's boat" provides more background on the video. Multiple sources have told the Landmine that Tshibaka could face a citation for illegally fishing on a commercial net.
In addition to the commercial license violation, the records request also revealed that Tshibaka illegally obtained a resident sport fishing license in 2019, while serving as commissioner for the Department of Administration.
Alaska Statute 16.05.415(a), which is part of the Fish and Game code, states:
a person, except as provided in (c) – (f) of this section, is a resident if the person
(1) is physically present in the state with the intent to remain in the state indefinitely and to make a home in the state;
(2) has maintained the person's domicile in the state for the 12 consecutive months immediately preceding the application for a license;
(3) is not claiming residency in another state, territory, or country; and
(4) is not obtaining benefits under a claim of residency in another state, territory, or country
Tshibaka was appointed commissioner by Governor Mike Dunleavy (R – Alaska) on January 31, 2019, after Dunleavy's original nominee, John Quick, resigned due to controversy surrounding his resume. According to her resume, Tshibaka worked at the U.S. Postal Service Office of Inspector General in Arlington, Virginia until January 2019.
Tshibaka and her family appear to have left Virginia and arrived in Alaska sometime in late January or early February 2019. Tshibaka's $81,000 moving expenses were paid for by the State of Alaska, and were widely reported on by the Alaska media.
Tshibaka first appeared before the Legislature at a Senate Finance Committee confirmation hearing on February 27, 2019. She had been scheduled to appear before the Senate State Affairs Committee for a confirmation hearing on February 21, 2019, but that hearing did not take place.
Tshibaka's 2019 public official financial disclosure (POFD), which covers January 1, 2018 to December 31, 2018, and which was filed on February 8, 2019, lists an Anchorage PO Box as her address. Her 2020 POFD, which covers January 1, 2019 to December 31, 2019, specifies her current Anchorage address. According to Anchorage property tax records, she and her husband purchased their Anchorage Hillside home on April 25, 2019.
Maryland property tax records show that the Tshibakas sold their Maryland home on June 27, 2019. The sale price is listed at $0 in government property records, but according to Zillow the home sold for $500,000.
It is unclear where Tshibaka and her family lived when they arrived in Alaska in early 2019 until they bought their Anchorage home in April 2019. Regardless of the exact move date and circumstances, all available evidence indicates that Tshibaka had not maintained a "domicile in the state for the 12 consecutive months immediately preceding the [Alaska resident sport fishing] application," thereby violating Part 2 of Alaska Statute 16.05.415.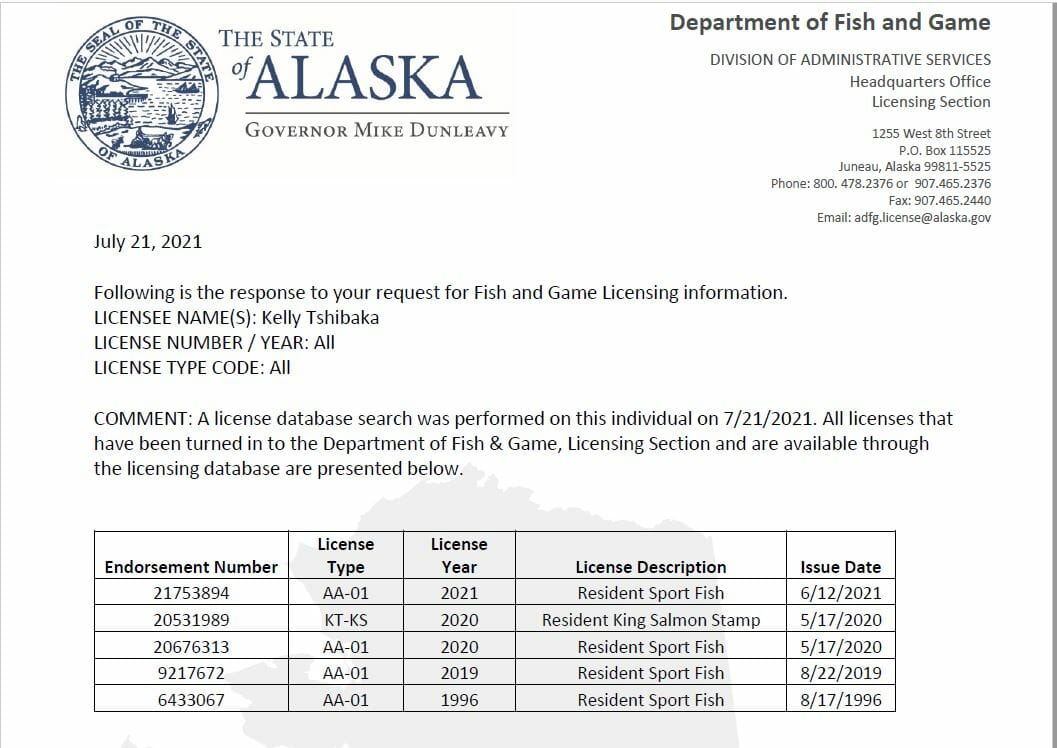 Records obtained from the Alaska Division of Elections list Tshibaka's original Alaska voter registration date as April 25, 2019 – the same day as the purchase of the family's Anchorage home. However, according to the Maryland State Board of Elections, Tshibaka is still registered to vote in Maryland, thereby making her registered to vote in both states. This occurs frequently when individuals move to another state and forget to cancel their voter registration in the state they left.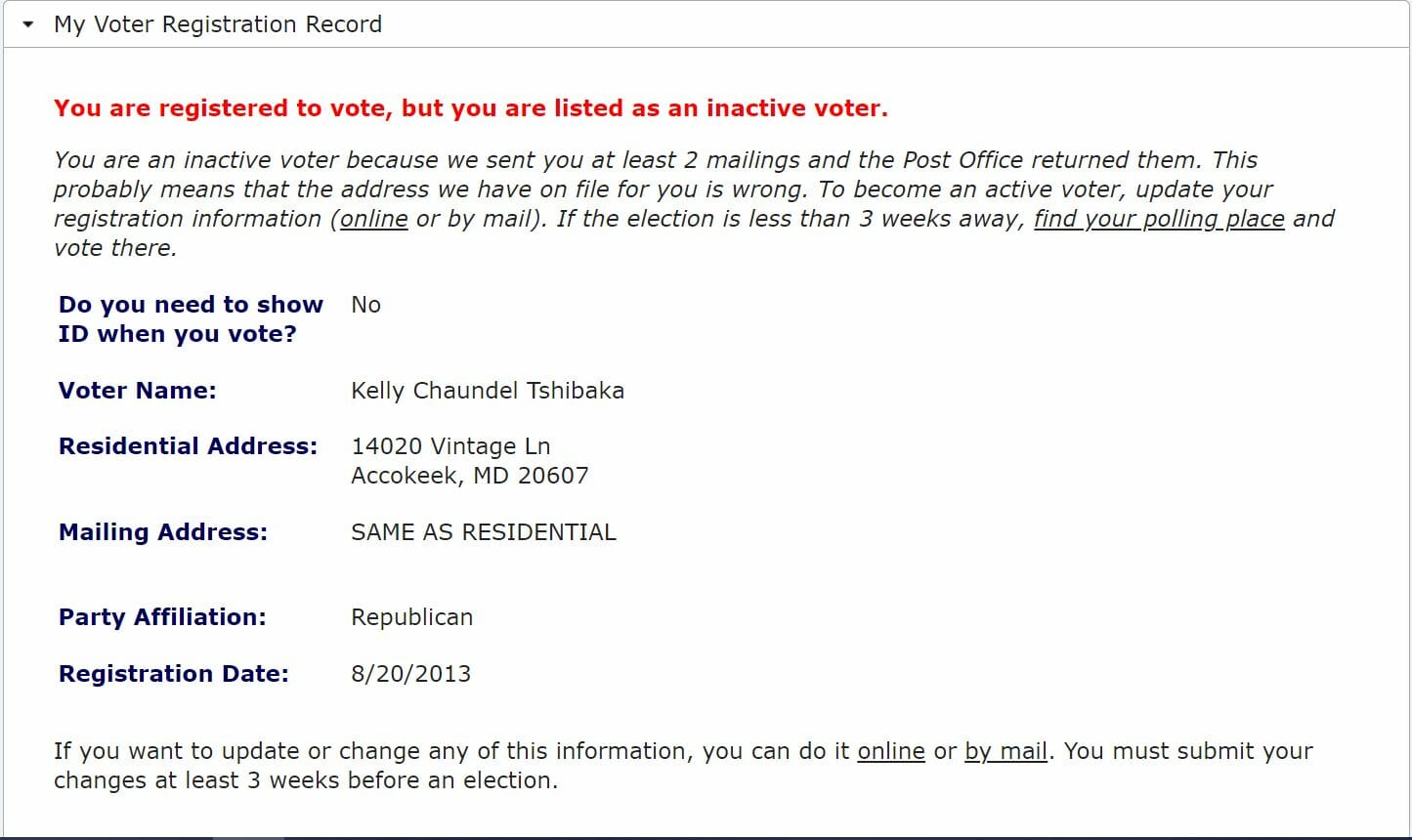 Tshibaka, who graduated from Harvard Law School in 2002, is listed in the Maryland Bar directory as an active attorney. She is not listed as an attorney in the Alaska Bar directory.
Tshibaka was born and raised in Anchorage. She graduated from Steller Secondary School in 1995, and left state to attend Texas A&M and Harvard Law School. Tshibaka is the first major conservative challenger to Senator Murkowski, who has served in the U.S. Senate since she was appointed by her father, Governor Frank Murkowski, in 2002. Tshibaka has been endorsed by former President Donald Trump and the Alaska Republican Party.