We are already two weeks into the legislative session. Governor Mike Dunleavy (R – Alaska) gave his fourth annual State of the State address this week in Juneau. It was a far cry from his first State of the State address in 2019 where he called for full PFDs and backpay. The Legislative Budget & Audit Committee approved $100,000 for an investigation into the firing of Angela Rodell. And the field is set for the April Anchorage Assembly and School Board races.
A friendly message and reminder to all our readers, the Landmine is made possible by myself and a team of awesome Alaskans. It takes a lot of work to provide the content we do. I am back in Juneau to report on the Legislature. Living in Juneau for session is not cheap. If you enjoy the content we provide, please consider making a one time or recurring monthly donation. You can click here to donate. We have a donation system that makes it super easy. We would really appreciate it. And thanks to everyone who has been supportive!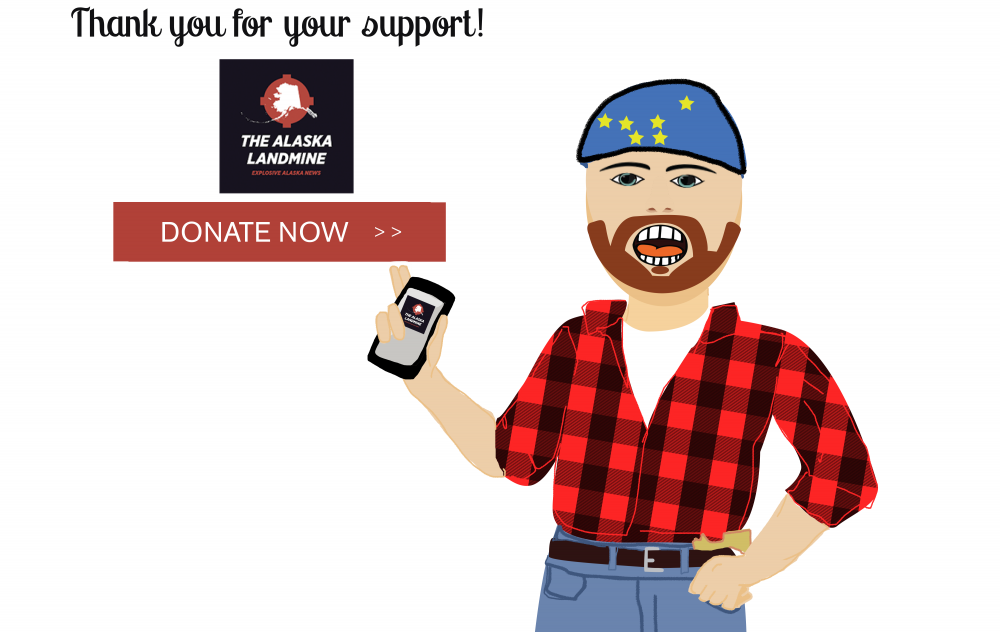 State of the State 
On Tuesday (1/25/2022), Governor Dunleavy gave his fourth annual State of the State address to a joint session of the Alaska Legislature. It lasted almost an hour, nearly double the time of his first one in 2019. The tone and content between the 2019 address and the one this week were starkly different. In 2019, Dunleavy opened by saying, "We're going to get our spending in line with our revenue. This has to be done. We're going to protect Alaskans PFDs. We're going to grow our economy and put Alaskans back to work. And finally, we're must restore public trust in government and elected officials." He spoke of two bills he had introduced for backpay of previous vetoed dividends, an honest budget, and that no change should be made to the dividend without a vote of the people. He also said, "Kicking the can down the road for years, wiping out billons from savings, and then taxing the PFD. And all the the while just hoping for another oil boom, it simply doesn't work. The days of creating a wish list budget where Alaska's more like a reality show – make a wish, have your dream come true. That just isn't real life."
Four years later, it would be hard to believe the two speeches came from the same guy. After the chaos that ensued when Dunleavy tried to make his vision a reality in 2019, things have changed quite a bit. Dunleavy's current proposed budget could easily be described as a wish list budget. There are few proposed cuts, and spending increases for the Department of Public Safety. The combination of higher oil prices and hundreds of millions of dollars in federal COVID funds (hoping for an oil boom…) has allowed Dunleavy to propose a budget with no new revenues. Which is great for an election year budget. And that full dividend, well, now he's backing the 50/50 plan.
Times and circumstances change, and there's nothing wrong with changing your mind. As Winston Churchill said, "Those who never change their minds, never change anything." But in Dunleavy's case he's done a complete 180 since he was elected. This is the problem with promising the moon when running for governor. When you get elected it becomes impossible to deliver. It will be interesting to see how Dunleavy campaigns this year compared to 2018.
At the conclusion of the State of the State, Dunleavy invited everyone in the room to a party at the Governor's Mansion. Miss America and Miss Alaska Emma Broyles was even in attendance! I headed over but was not allowed in. Pretty loose. You can read about it here.
Despite last year's turmoil, Senate's mostly-Republican majority maintains optimistic face
The following is an excerpt from this week's edition (1/27/2021) of the Alaska Political Report. You can click here for more information about the Alaska Political Report. A subscription is $1,299/year per organization. Discounted pricing is available for non-profits and government entities. We will be providing extensive election coverage this year in addition to our session coverage. If you have any questions or would like to subscribe, please email jeff@akpoliticalreport.com.
As much as they'd like to say otherwise, Alaska's Republican-led majority has problems.
Or, at least one big problem, which is that its members have widely diverging views on the Permanent Fund dividend and the budget — which are two of the most important issues for the Legislature to address each year.
Last June, Wasilla Republican Sen. Shelley Hughes, the majority leader, and Anchorage Republican Sen. Mia Costello both voted against the conference committee report on the budget. It passed with a bare minimum 11 votes in the 20-member Senate. Three other Republican majority members, Eagle River Sen. Lora Reinbold, North Pole Sen. Robb Myers and Anchorage Sen. Roger Holland also voted no. Wasilla GOP Sen. Mike Shower, who was excused, would have also likely voted no.
Lacking support from several of its own members, the only way the Senate majority could pass the budget was with minority Democrat votes. This is not normal, but the problem stems from pressure from Shower and other conservatives about ending the "binding caucus" rule. This requires members of a majority caucus to agree to vote for the final version of the budget. Due to the pressure by Shower and others, the Senate majority agreed to be a non-binding caucus, meaning members are not compelled to vote for the final version of the budget.
After GOP Gov. Mike Dunleavy's State of the State address Tuesday, Senate majority leadership held a press conference, where they were optimistic about Dunleavy's speech and the session. Soldotna GOP Senate President Peter Micciche opened by saying, "We either succeed together, or we fail together, and I'm certainly hoping for more of a team effort this year where legislators spend a lot more time with the administration on trying to get some of those solutions across the finish line." Micciche was referring to a long term fiscal plan for the budget and dividend. Sitka GOP Sen. Bert Stedman, who co-chairs the Senate Finance Committee, later said that the state is "financially improving," and that the governor's budgets are "fairly flat."
"All in, we're just running horizontal," he said.
Kodiak GOP Sen. Gary Stevens praised Dunleavy's speech, saying Dunleavy's "come a long way since his first budget." Hughes and Costello also lauded the speech and Dunleavy, with Costello saying she wanted to "give the governor a high-five for the speech tonight."
"He set the tone for the session," she said.
At first glance, it appeared the Senate majority is unified on working with Dunleavy, and each other, on passing a budget, resolving the dividend problem, and getting out of Juneau on time.
But when the Political Report asked the majority's plans for passing a budget and dividend this year — given that last year, they lacked enough majority votes — things got tense, and Micciche, the president, interrupted.
"Thank you, but tonight's press conference is about the governor's State of the State speech. Do you have a question on that?" he asked. In response, we asked how his caucus planned on passing a budget if minority Democrats do not vote for it like they did last year.
"We work with the entire Senate. Our caucus is communicating. In relation to the governor's speech tonight – which is what this press conference is about – I think you heard some common themes, where we're united," he said. "My prediction is that we're going to be successful."
No other majority member responded to the question.
At the conclusion of the press conference, Stedman pulled us aside and said: "We will get 11 votes for the budget." We responded: "Eleven majority votes?" Stedman, without hesitation, said, "Eleven votes."
This situation gives Anchorage Democratic Sen. Tom Begich, the minority leader, and his six-member minority a disproportionate amount of influence. In the past, the minority's leverage was limited to its votes being needed to hit a three-fourths majority threshold required to draw from the Constitutional Budget Reserve, and for the reverse sweep. Now, the majority has to rely on the minority to just pass a budget.
In an interview with the Political Report, Begich said his caucus has a "good working relationship with the (finance committee) co-chairs and Senate president."
"I plan on my caucus having an active role in the operating and capital budgets," he said. "I've built good relationships with members of this majority, as well as the previous majority."
Anchorage Assembly and School Board Races 
Friday (1/28/2022) was the final day to file to run for the Anchorage Assembly and School Board. A last minute shuffle changed the makeup of the candidates in the open Eagle River/Chugiak Assembly seat. This Landmine article explains what happened.
Here is a summary of the candidates for the five Assembly seats that are up.
District 2 – Seat A – Eagle River/Chugiak
Incumbent Assembly member Crystal Kennedy is not seeking re-election.
Kevin Cross (conservative endorsed by Mayor Dave Bronson and Assembly members Jamie Allard and Crystal Kennedy)
Gretchen Wehmhoff (progressive who briefly served on Assembly when she was chosen to vacate Amy Demboski's seat when Demboski went to work for Dunleavy in 2018)
Vanessa Stephens (supports Eagle Exit)
District 3 – Seat D – West Anchorage
Kameron Perez-Verdia (incumbent, progressive member of the Assembly)
Nial Sherwood Williams (nuisance and all around Loose Unit)
Nick Danger (ran in 2020 against Assembly member Austin Quinn Davidson, got almost 30%)
Liz Vazquez (former one term Republican representative, Bronson supporter)
District 4 – Seat F – Midtown Anchorage
Meg Zaletel (incumbent, progressive member of the Assembly)
Kathy Henslee (Republican who unsuccessfully challenged Representative Chris Tuck (D – Anchorage) in 2020, Bronson supporter)
District 5 – Seat H – East Anchorage
Forrest Dunbar (incumbent, progressive member of the Assembly. Lost last year's mayoral race to Dave Bronson)
Stephanie Taylor (conservatries, Bronson supporter)
Christopher Hall (unknown)
District 6 – Seat J – South Anchorage
John Weddleton (incumbent, often votes with progressives on Assembly but not always)
Darin Colbry (unknown, ran for mayor last year, got 0.04% in first round)
Randy Sulte (conservative)
Here is a summary of the candidates for the two School Board seats that are up.
School Board Seat A
Cliff Murray
Dan Loring
Margo Bellamy (incumbent)
Mark Anthony Cox
School Board Seat B
Kelly Lessens (incumbent)
Benjamin Baldwin
Dustin Darden
Rachel Ries
Other Happenings 
If you are looking for an awesome calendar with all of the stuff happening in Juneau, get in touch with Sarah Erkmann Ward from Blueprint Alaska. She recently came out with one that lists EVERYTHING.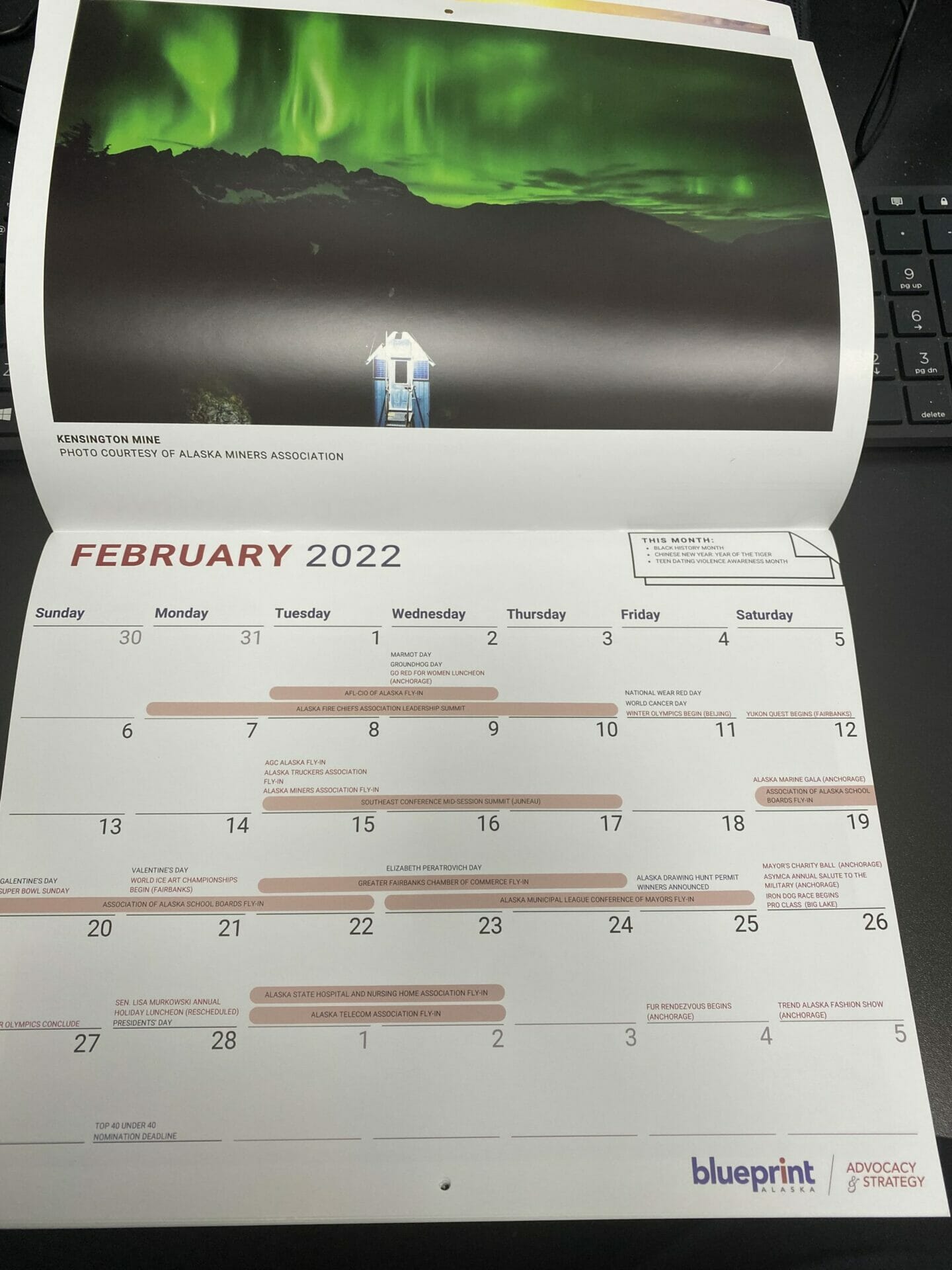 This week's Loose Unit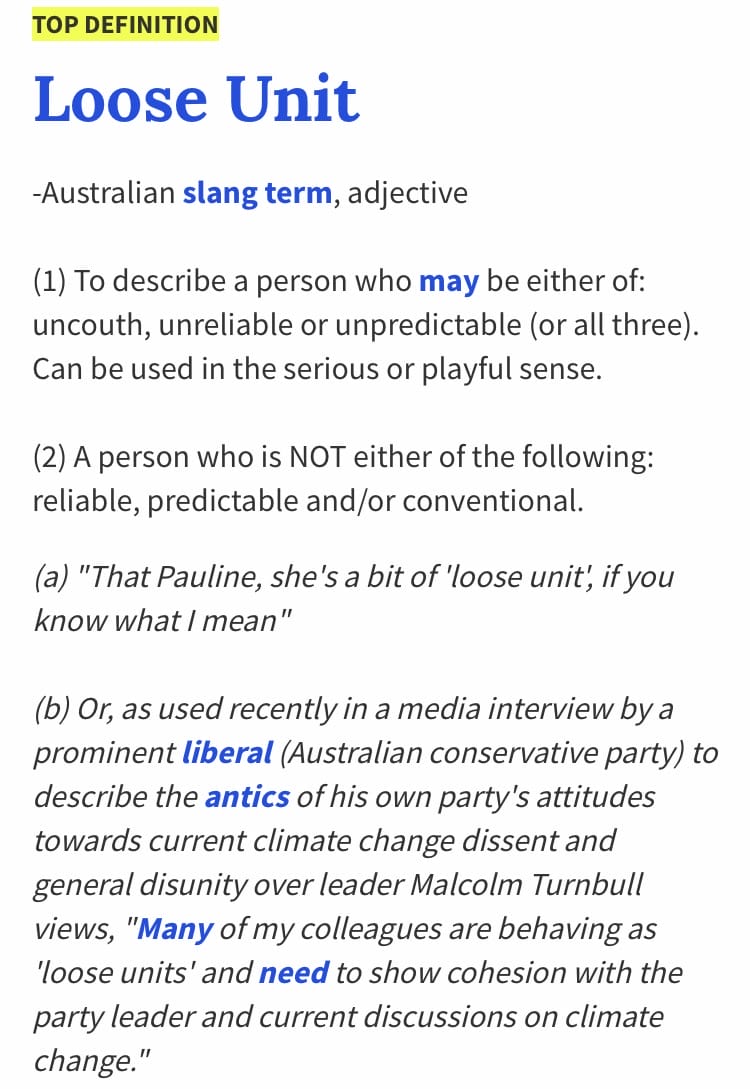 We have a real doozy this week. Once in a while someone really, and I mean really, earns Loose Unit status. This is one of those weeks. This week's Loose Unit is "Independent" House candidate Jennifer Sonne. Sonne is challenging Representative James Kaufman (R – Anchorage). When she initially decided to run last year, she was really excited to face off against Representative Laddie Shaw (R – Anchorage), but she was either unaware or oblivious to the redistricting process. So here we are.
Sonne was recently featured in the January 22 edition of the Alaska Stalker. The Stalker jokingly referred to Sonne's wearing of a Carhartt jacket while filing to run for office. It was nothing more than a lighthearted joke poking fun at a longstanding tradition of Alaska politicians who wear Carhartt jackets. Sonne even mentioned her jacket was a gift and gushed on social media how it helped her "look the part." Which was exactly the joke the Stalker was making. But things ended up getting REALLY loose.
After Sonne realized she was featured in the Stalker, she went on an epic profane laden Twitter meltdown about the Landmine and Stalker! It really exemplified why the weekly Loose Unit exists. She tells the Stalker to gfhs (go fuck herself), said the Stalker is a traitor against women, calls me "store brand Joe Rogan," the Landmine the TMZ of Alaska, and most importantly, completely missed the punchline of the Stalker's Lucky Wishbone joke! Remember, Sonne is running for office in Anchorage, folks. Super loose. Check out those receipts.
Sonne also mentioned she was a closet Marxist. Something she later claimed was sarcasm. What a joke for a candidate for State House to be making! And let me get this straight. It's okay for Jennifer Sonne to make jokes, but if the Stalker makes one then it's an attack on women and she should go fuck herself. Got it.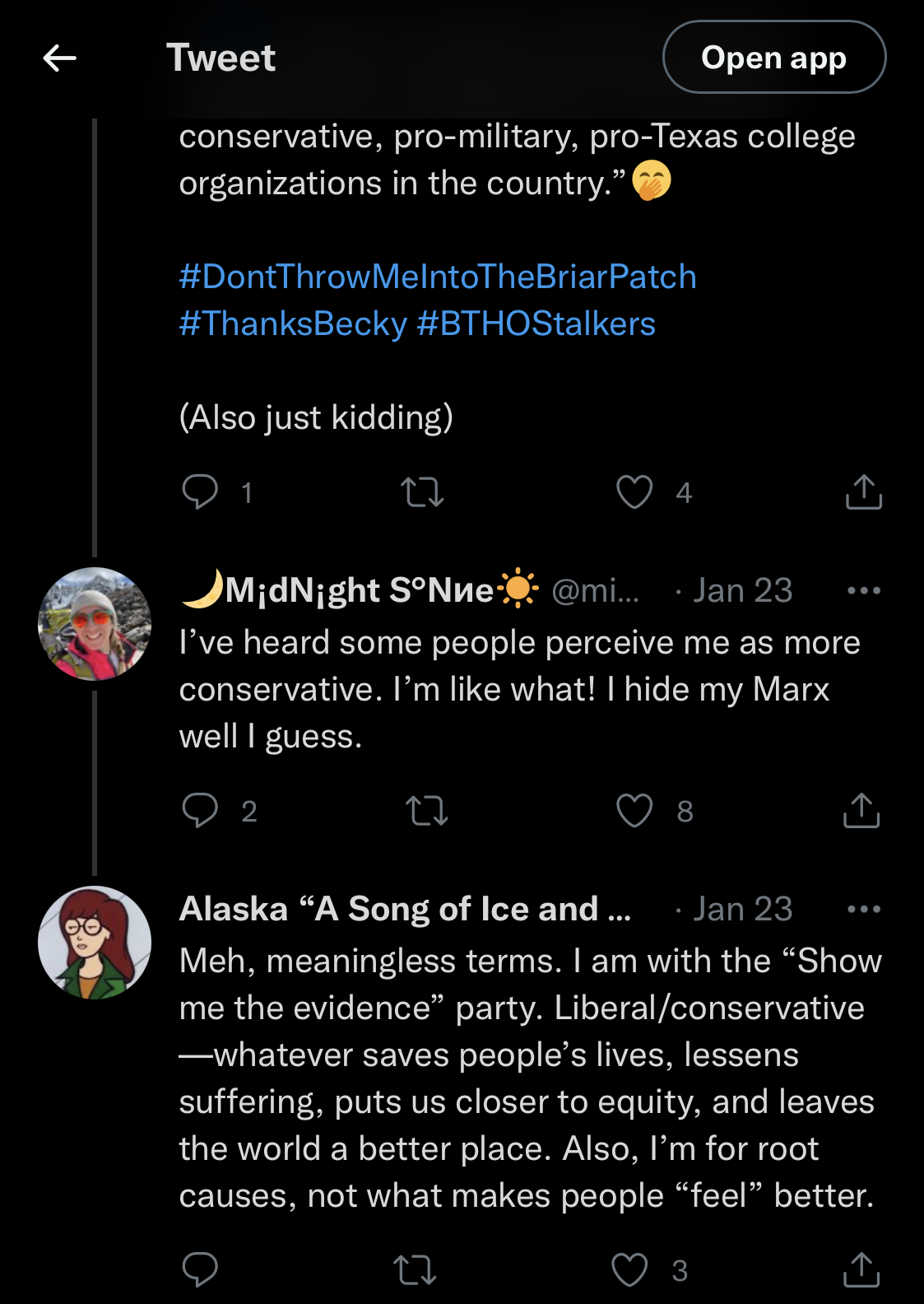 Sonne is running as an independent, which according to her means she doesn't belong to a party.

But her social media and media profiles tell a much different story. Anyone can run for office, but they should at least be genuine about who they are. It all comes out in the end anyway.
In classic Loose Unit fashion, Sonne blocked the Landmine! And after some of her old tweets started floating around conservative Facebook groups, she limited who could see her profile. Classic Loose Unit. I have a feeling we are going to be seeing and hearing a lot more from Jennifer Sonne in the coming months. We rarely get a candidate who produces this level of content. Also, good luck with that carpet, Jennifer!
If you have a nomination for this week's Loose Unit, or if you have any political news, stories or gossip (or any old pics of politicians or public officials) please email me at jeff@alaskalandmine.com.