Welcome to this edition of the Alaska Stalker, a lighthearted round up of the best and worst of Alaska's social media landscape.
***
If you enjoy the Alaska Stalker, please consider supporting working moms like me by sending in hot tips, overheards, and spotted ins. You can reach me at akstalker@alaskalandmine.com. As always, thanks for reading.
***
It's the most wonderful time of the year – session has officially begun! Lobbyist Jerry Mackie has my favorite "back to school" photo this year. He even has a little backpack. How cute.

***
While it sounds good on Facebook, pretty sure there's zero chance of this happening. But, okay, let's give it a shot.

***
That lasted approximately two seconds. It's going to be a long 90 days. 🤡
***
Is it just me or does anyone else want to know if Calvin still has that creepy full sized cardboard cut out of Les Gara in his office? I'm assuming they tenderly tucked it away once Les announced his run for governor.

***
Why start your New Year's resolution on January 1st when you can start it on January 14th? Why finish in 90 days when you can finish in 120 and still not fix Alaska's fiscal crisis? I'm sensing a pattern here…

***
Legislators beware: thou shall not steal Alaskan's PFDs or risk becoming a fur hat for Rep. Cronk's grandkids.

***
Not sure if he's about to discover the Temple of Doom or clone dinosaurs for a theme park, but either way Rep. Ken McCarty is committed to his #OOTD. It's the teeny scarf for me.

***
Okay, the Alaska Stalker is going to need some intel on all the other legislator's tattoos ASAP. 👀

***
Nothing like some good ole fashioned hotel cookin'. Glad to see Sen. Myers is eating his vegetables.

***
Perhaps Robb could teach Assembly member Chris Constant a thing or two. You would think Chris would be more careful considering the supply chain issues.

***
Oh, excuse me, everything is 100% fine at the grocery store. Remember folks – don't trust your eyes, trust this handy graph Chris posted on Twitter! Now if anyone can tell me where to get some bananas that aren't completely green my kids would certainly appreciate it.

***
Ahhh some things never change – like Assembly member Forrest Dunbar donning his trusty Carhartt to file for office. He's the only person that can sport a Rondy mask without making me cringe.

***
Totally independent house candidate, Jennifer Sonne, showed us her totally independent spirit by also wearing a Carhartt jacket to file for office. Bless her. Bet she has lunch at Lucky Wishbone on election day.

***
Has anyone ever ice skated door-to-door? First time candidate for Anchorage Assembly, Daniel Volland, might want to try it. He would make quite an impression.
***
The depth. The intensity. Rep. McCabe, I am truly moved.

***
I see the moon and the moon sees me.
God bless the moon and God bless our PFD.

***
If you've ever wanted to hear the Governor of the state of Alaska yell, "Yeah, Baby!" at Sen. Peter Micciche then click here.

***
Kenai borough Mayor Charlie Pierce jumped into the governor's race this week. Look what he posted on Facebook the day he filed to run! You can't make this stuff up. 🤣🤣🤣

***
When you post something trying to own the libs, and end up owning yourself. 🤣

***

Here is the post a minute later. How statesmanly.

***
Is there anyone worse better at social media than Les Gara? Imaging posting your naked Wordle for all to see before the next one comes out. 🤦 Folks, we have our first scandal of the season! The comments!!!

***
It's okay, Les. You're not alone. JOELLE!!! I expected better from you!

***
Is there a five letter word for pretentious? 🙃

***
How is everyone not taking about Kelly Tshibaka's new dogs names? Seriously, did everyone just miss this or what? Kelly introduced Victory and Thrasher over the holidays. While I think Thrasher could have used a parental veto, the headlines write themselves…
The right:

Patriot Kelly Tshibaka owns Liberal Lisa by naming new dogs Victory and Thrasher. Thrash her. Get it guys?!

The left:

In lieu of cross hairs, Tshibaka sets her pet's hairs on Murkowski, literally promoting violence in their name.
***
This has gotta be Thrasher, right? What happens if Kelly loses? Will she change their names to Loser and I'm Moving Back to D.C. Next Week?

***
Sen. Murkowski chose to spend her time with a different kind of furry friend.
I enjoyed speaking with @AlaskaLandmine on the important issues facing Alaskans.

Alaska's extraordinary resources opportunities & potential, including the Willow Project, and how we access them matters to our state and nation's economic strength and climate resilience. pic.twitter.com/erWupbKrpZ

— Sen. Lisa Murkowski (@lisamurkowski) January 10, 2022
***
Spotted in the ADN: Staffer Buddy Whitt pictured getting a COVID test before heading down to session.

***
In case you missed it:
Spotted at 33 Mile Roadhouse just outside of Haines: a spirited entry in their guestbook by Senator Lora (banned on AK Air) Reinbold!

***
Spotted: That took some effort. Pretty sure this is Levi Johnson's business he runs with his dad. You know, Bristol Palin's ex-fiancé.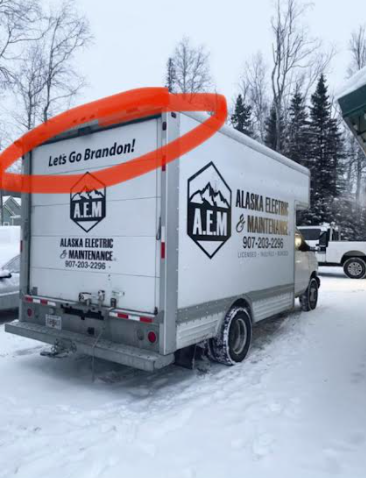 ***
I bet you could drive to Juneau from Wasilla, California.

***
Overheard in Anchorage: "Anyone else have "We don't talk about Juneau-no-no" stuck in their heads since watching Encanto?"
***
Overheard in Anchorage: "I bet Anne Zink gets more write-in votes than actual Kurka votes."
***
$5 the Kevin Cross for Chugiak-Eagle River Assembly campaign jingle will be straight fire. I'll never forget his Forrest Dunbar Piano Man/Assembly man parody. Wish that was still online."
***
The Alaska Stalker was born and raised in Alaska. She lives in South Anchorage with her husband and three kids five and under. She is not Jeff Landfield.