I hope everyone enjoyed the Super Bowl! This week's column is a day late, my apologies. We are almost a month into the "90-day" legislative session, though no one really believes it will end anywhere near that. I was back in Anchorage for the weekend but heading back to Juneau tonight. It was a relatively quiet week in Juneau. A genuine calm before the coming storm. Anchorage Mayor Dave Bronson was in town looking for Port of Alaska money. Chief Justice Daniel Winfree gave the State of the Judiciary to a joint session of the Legislature. And two Democratic legislators made announcements about running for higher office.
A friendly message and reminder to all our readers, the Landmine is made possible by myself and a team of awesome Alaskans. It takes a lot of work to provide the content we do. I am back in Juneau to report on the Legislature. Living in Juneau for session is not cheap. If you enjoy the content we provide, please consider making a one time or recurring monthly donation. You can click here to donate. We have a donation system that makes it super easy. We would really appreciate it. And thanks to everyone who has been supportive!
State of the Judiciary 
Chief Justice Daniel Winfree gave the State of the Judiciary this week in Juneau. I definitely recommend watching it. Winfree is the first chief justice born in Alaska, though he was born when Alaska was still a territory. He talked about democracy and the importance of an independent judiciary in a way that was clear and understandable. I did a podcast with Winfree last summer. For those, like me, who spend so much time around politics it's easy to get in the mindset that everything, including the courts, are political. But when I talk to people like Winfree it becomes clear that not everyone views the world in the lens of politics. As Winfree stated in his speech, the judiciary is a reactive institution, they do not go looking for cases.
Campaign Announcements 
Senator Elvi Gray-Jackson (D – Anchorage) announced that she will run for the U.S. Senate at the Division of Elections in Juneau. All the Juneau media was there for the announcement. Her entrance into the race marks the first Democrat and the third woman after incumbent Senator Lisa Murkowski (R – Alaska) and Republican challenger Kelly Tshibaka. A total of twelve people have already filed for to run for the Senate seat. This includes four Republicans, one Democrat, one Libertarian, two Alaska Independence Party members, and five independents including my man Huhnkie Lee! Most of them won't run serious campaigns. But by June 1, the filing deadline, there could be over 20 registered candidates. Remember, everyone now runs in one primary and the top-4 vote getters go to the ranked-choice general. That's going to be a wild primary.
After Gray-Jackson announced she is running for the U.S. Senate, Representative Chris Tuck (D – Anchorage) announced on social media that he will run for the State Senate. Redistricting paired Tuck with with Representative Andy Josephson (D – Anchorage) and moved him into Gray-Jackson's new Senate district. Before, he was with Senator Natasha von Imhof (R – Anchorage), who was paired with Senator Mia Costello (R – Anchorage) in the new map. These new districts could still change due to ongoing litigation, but for now this is the layout. The redistricting trial concluded this week so we should know the judge's decision soon. Either way, it will be appealed to the Supreme Court. They have to adopt a map, even if it's an interim map, by June 1 for the primary and general elections.
Rep. Tuck says he will run for the State Senate seat that is now open with Sen. Gray-Jackson's announcement that she will run for U.S. Senate. Tuck was paired with Rep. Josephson in the new House map. Districts could still change based on litigation. #akleg pic.twitter.com/ND44OkQ5oB

— The Alaska Landmine (@alaskalandmine) February 11, 2022
Democratic gubernatorial candidate Les Gara announced Jessica Cook, a teacher, as his running mate today in Anchorage. You can watch it here via the Landmine Facebook Live stream. It was not nearly as exciting or packed as the Kurka announcement of his running mate two weeks ago, yet the Anchorage Daily News, Alaska Public Media, and KTUU were all there. None of the were at the Kurka announcement.
Other Happenings 
The House Military & Veterans Committee held a two-hour hearing on the Oath Keepers on Thursday (2/10/2022). This all has to do with Representative David Eastman (R – Wasilla). See last Sunday's column for a full explanation. None of the Republican members showed up. It was kind of weird to watch. There were lots of bizarre questions from committee members. Tuck says there will be more hearings and that he is trying to get someone from the Oath Keepers to testify.
During a House floor session on Wednesday, Representative Christopher Kurka (R – Wasilla) gave a floor speech where he said he regretted not being in D.C. on January 6. He condemned the violence and talked about peaceful protest, but he legit said he regretted not being there. Wild. He also said a lot of the unindicted coconspirators were likely "federal agents." You can watch it here.
Republican Senate candidate Kelly Tshibaka held a Donald Trump sponsored fundraiser at Mar-a-Lago this week. Anchorage Assembly member Jamie Allard was in attendance! So was Assembly candidate Kathy Henslee, who is running against Assembly member Meg Zaletel. What an odd place to spend time while campaigning for an Anchorage Assembly seat. Looks Kelly's husband Niki Tshibaka took a few days off from work to be there too.
Governor Mike Dunleavy (R – Alaska) held a press conference in Anchorage where he announced three crime bills he's introducing. They are:
It was a packed press conference that included Public Safety Commissioner James Cockrell, Mayor Dave Bronson, the new Anchorage Police chief, and victims advocates. You can watch it here. When I asked about the fiscal notes for the bills, Dunleavy said they would get back to me. It's hard to say what the chances are of these bill going anywhere now that we are nearly a month into the session.
There is an interesting issue brewing in Juneau regarding cruise ships. A conglomerate is trying to get the publicly owned cruise ship docks in Juneau electrified. Currently, when a cruise ship docks at a public dock in Juneau they rely on their own diesel power, which causes noise and emissions. There is a growing trend of dock electrification around the world to reduce noise and emissions. But it appears Alaska Electric Light & Power, Juneau's power utility, is not on excited about having to supply the power to these docks. Look for this to become a big issue in Juneau in the next few months.
Here is a copy of the $100,000 contract to Schwabe, Williamson & Wyatt the Legislative Budget & Audit Committee approved to investigate the firing of Angela Rodell. Check out those bill rates. I am in the wrong business!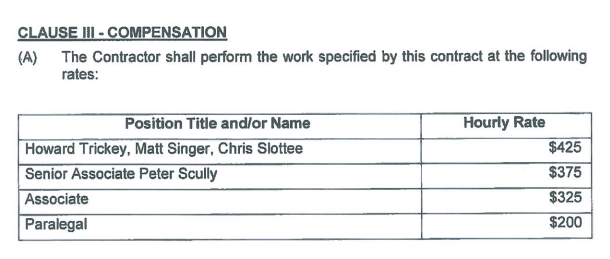 Former State Senator Jonny Ellis passed away this week. I was fortunate to get to know him over the last several years. He was an amazing person who led quite a life of public service. I recorded a a podcast with him in the summer of 2019. He had amazing stories and a rare and unique perspective on Alaska politics. It's a big loss for our state.
In another loss, former Chief Justice Craig Stowers also passed away this week. He was appointed to the Alaska Supreme Court by former Governor Sean Parnell in 2009. He served as chief justice from 2015-2018 and retired in 2020.
Several sources report that Ron Thompson, Mayor Bronson's building director, resigned. A February 11 email to Bronson's communications director inquiring about this has not been answered. If this is the case, the bingo card will be updated.
This Week's Loose Unit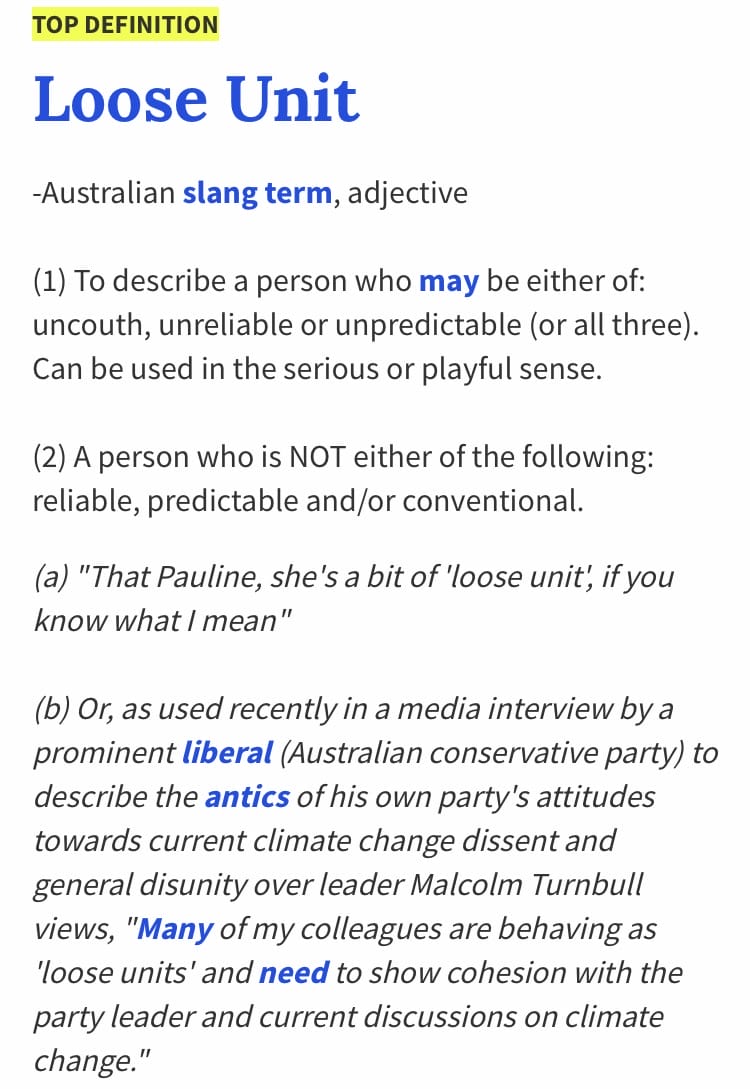 This week was a no brainer. This week's Loose Unit is a tie between Andy Baker and Teresa Imm. On Tuesday, I published a story, "An unregistered lobbyist helped get $1 million in state funds to a North Slope political advocacy group." It was about how a North Slope political advocacy group, Voice of the Arctic Iñupiat, quietly got $1 million from the Legislature last year at the request of Governor Dunleavy. Keep in mind their 24 members include the richest corporations and government in Alaska, including ASRC and the North Slope Borough.
The story looked at how Andy Baker, an unregistered lobbyist, helped get the money. That alone is hyper loose. Teresa Imm, a former ASRC employee who has mastered the art of tapping into North Slope money, has been on the staff of Voice of the Arctic for a several years. Her daughter even worked there! Loose. When I contacted them to ask questions about the story, the phone just rang. No one ever answered and there was no voicemail. When I emailed them with financial questions, it took almost two weeks for them to tell me they sent my request to their lawyers. Very loose.
Anyhoo, two days after the story came out the executive committee of Voice of the Arctic's board voted 7-0 to fire all the staff. Very loose. This included their president, John Hopson Jr., Imm, and her daughter. Imm was even in Juneau last week after the story came out. Which is a classic Loose Unit move. Dunleavy asked for another $1 million this year, which I'm sure Imm and Baker were salivating over. It never ceases to amaze me how the wealthy and connected always find ways get government money. But I have a feeling that second million might not be so easy to get.
If you have a nomination for this week's Loose Unit, or if you have any political news, stories or gossip (or any old pics of politicians or public officials) please email me at jeff@alaskalandmine.com.