Last year, the Legislature appropriated $1 million to Voice of the Arctic Iñupiat, a relatively unknown non-profit corporation based in Point Hope, Alaska. The request came in as a capital budget amendment on May 6, 2021 from Governor Mike Dunleavy (R – Alaska). Typically, budget amendments from the governor are submitted in February as part of the amended budget proposal. His capital amendments in the May request included two others totaling $9 million in state funds for "statehood defense," which are expenditures meant to promote state interests when they conflict with those of the federal government.
A week prior, the House Finance Committee had approved an amendment from Representative Bart LeBon (R – Fairbanks) for just $1 million for statehood defense – considerably less than the amount of Dunleavy's later request. During the April 29, 2021 meeting, LeBon attempted to double it to $2 million, but that was voted down by the committee. Dunleavy made statehood defense a priority to push back against policies of the new Biden administration. When the statehood defense money was up for debate in the House Finance Committee meeting, Neil Steininger, Dunleavy's budget director, specifically mentioned Voice of the Arctic as an example of a group that could defend state interests in the region.
On March 1, 2021, Dunleavy put out a press release announcing a joint effort between his administration and Voice of the Arctic.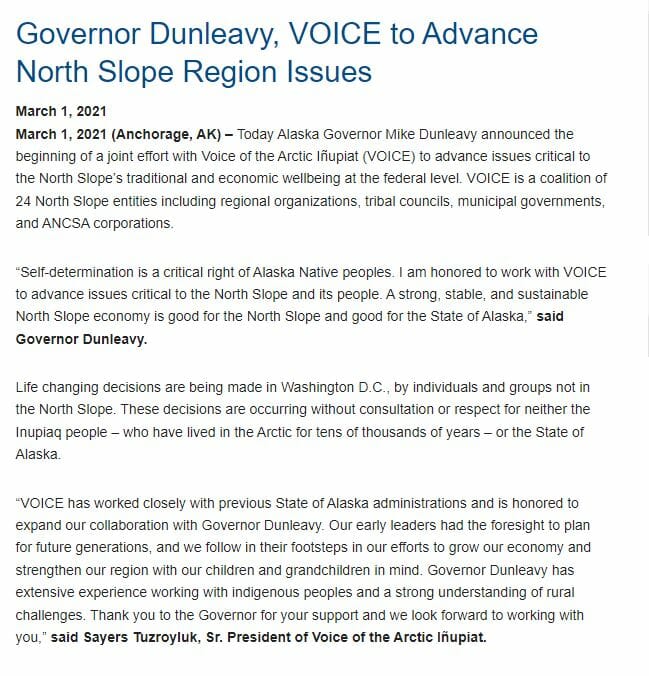 The $1 million Dunleavy requested in May for Voice of the Arctic, along with his other requests, was inserted into the budget by the Senate Finance Committee. The $1 million was ultimately approved by the Legislature when they voted for the budget conference committee report in late June. His other requests for statehood defense, totaling $9 million in state money, were reduced to $4.75 million and approved by the Legislature in the conference committee report. In last year's $1 million request for Voice of the Arctic, which was approved by the Legislature, no backup documents were provided by the Dunleavy administration in the budget.

Dunleavy requested another $1 million for Voice of the Arctic in this year's capital budget. This request did include backup documents from the Dunleavy administration in the budget.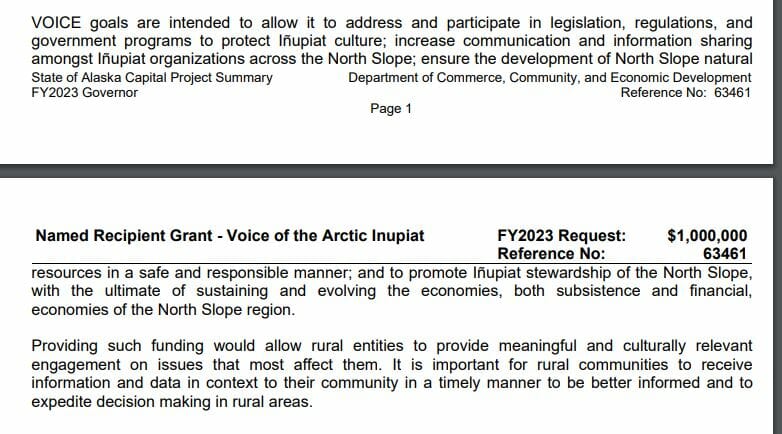 According to their website, "Voice of the Arctic Iñupiat was formed in 2015 as a 501(c)(4) nonprofit corporation, creating a communication network amongst Arctic Slope communities to establish a unified voice for our region and people. Today, our twenty-four member organizations work together to ensure that our collective voice is heard and respected – locally, regionally and nationally."
Their member organizations include Arctic Slope Regional Corporation (ASRC), the North Slope Borough, and several North Slope city governments and regional Native corporations. ASRC 's annual revenue is in the billions. The North Slope Borough receives over $350 million a year in oil revenue–an immense sum that Dunleavy unsuccessfully went after in 2019 in his first budget proposal. So why did a non-profit corporation made up of some of Alaska's wealthiest corporations and governments get a million dollars from the Legislature? And why is Dunleavy asking for another million dollars this year? The answer, it seems, is a combination of politics and an unregistered lobbyist.
Enter Andy Baker. Most people in the Capitol have never heard of Voice of the Arctic. The ones who have know little about the organization. But to those familiar with the group, one name routinely comes up: Andy Baker. Baker has an office across the street from the Capitol in the Rainbow Foods building, which is often referred to as the "Rainbow Swamp" due to the number of lobbyists who have offices there. Baker also shares a Juneau residence with Pete Ecklund and Dave Scott – two key staffers who work for Senator Bert Stedman (R – Sitka), co-chair of the powerful Senate Finance Committee. Because Baker is not a registered lobbyist, Ecklund or Scott are not required to list him as an economic association in their required financial disclosures.
Baker is well-known on the North Slope. He unsuccessfully ran against Senator Donny Olson (D – Golovin) in 2000. In 2020, his son Tom Baker also unsuccessfully challenged Olson. He owns Baker Air, an air charter business based in Kotzebue. His brother John Baker won the Iditarod in 2011. Andy Baker served as president of the Iditarod board until 2018, when he was forced to resign after the Iditarod Finisher's Club demanded his resignation for what they called "poor leadership."
Up until 2018, Andy Baker was a registered lobbyist. Since 2019 he has not registered any lobbying clients. Alaska law defines a lobbyist as "a person who is employed and receives payments, or who contracts for economic consideration, including reimbursement for reasonable travel and living expenses, to communicate directly or through the person's agents with any public official for the purpose of influencing legislative or administrative action for more than 10 hours in any 30-day period in one calendar year."
A records request to the City of Kiana, who is not affiliated with Voice of the Arctic, revealed that Baker's company billed them $6,000 last year for "support of funding of Capital Projects." Baker appears to be working as unregistered lobbyist for the City of Kiana as well.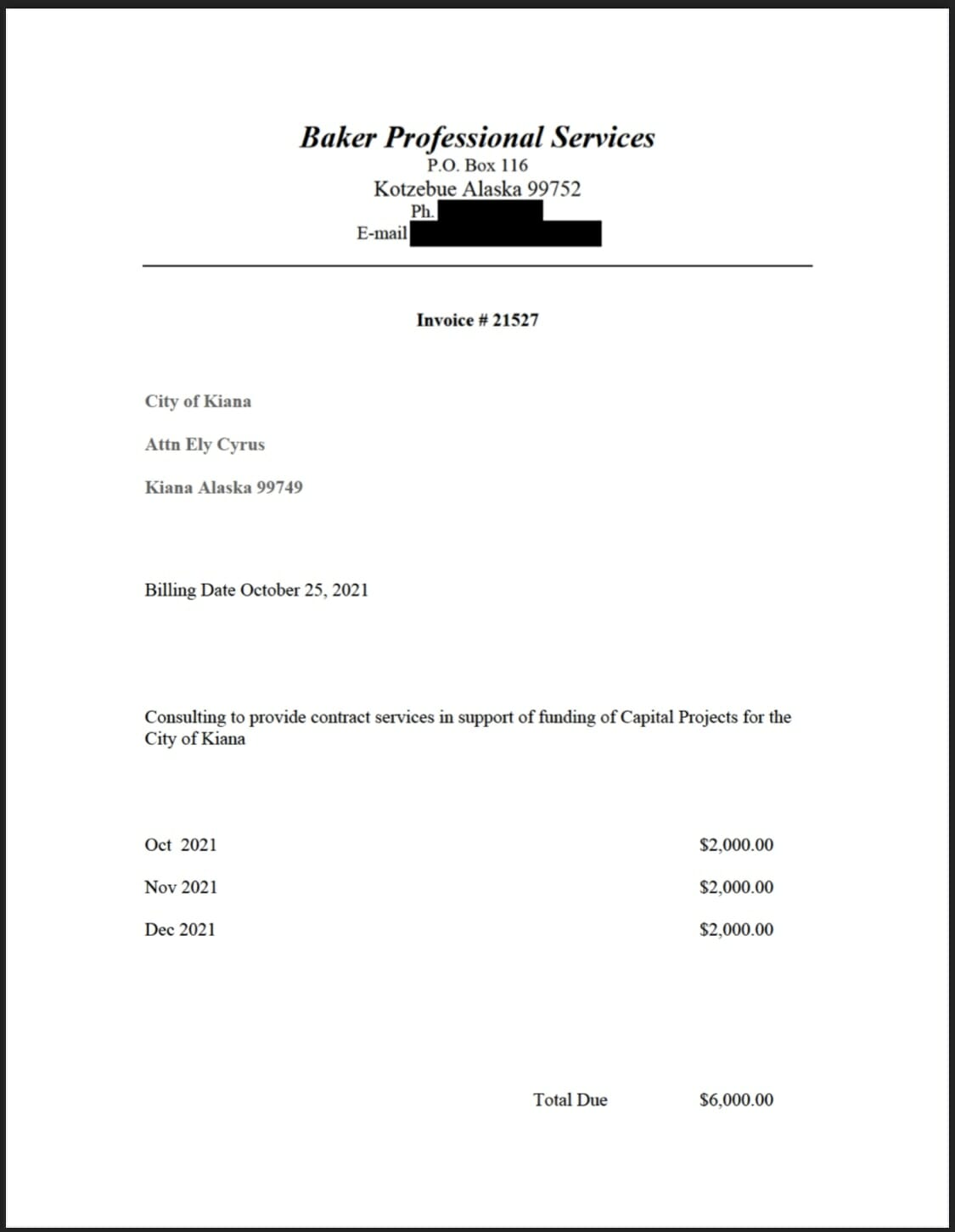 Baker, reached by phone, referred questions about his involvement in Voice of the Arctic to Voice of the Arctic. He would not provide any further comment.
More than a dozen phone calls over the last two weeks to Voice of the Arctic's office went unanswered. The organization does not have a voicemail system. A January 26 email asking about the million dollar state appropriation and any contracts or payments to Andy Baker went unanswered for 12 days. When they finally responded, they said they had referred the request to their attorney.

Teresa Imm, a former ASRC employee, is one of the four listed staff members for Voice of the Arctic. The other staff are Mackenzie Fischer (who is Imm's Daughter), Katie Mumford, and John Hopson Jr., who sits on the board of ASRC and serves as president of Voice of the Arctic. A phone call and voicemail to Imm following up on the email was not returned. Voice of the Arctic is required to file certain financial forms with the IRS because they are a designated non-profit corporation. Their most recently available 990 form is from 2018. Their 2019 and 2020 990 forms are not available on the IRS website. The bottom of their 2018 990 says its says financial documents are "available upon request at the organization's office."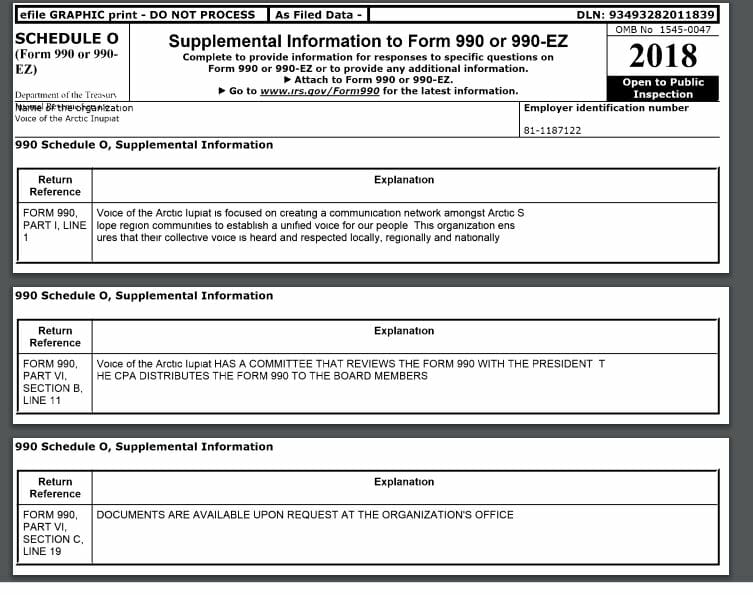 Voice of the Arctic's 2017 and 2018 990 forms provide some insight into their finances. Their 2017 IRS 990 lists income of just over $500,000, all of which came from government grants. The form lists 2016 income at just over $18,000. Their income jumped to over $1 million in 2018, according to their 2018 IRS 990. For 2018, government grants accounted for just under $300,000. Nearly $800,000 came from "other contributions, gifts, grants, and similar amounts not included above." Sayers Tuzroyluk, the previous president, earned over $120,000 in 2017 and over $186,000 in 2018, according to the 990 forms.
In 2018, Voice of the Arctic paid Thrive Creative Communications, an Anchorage based PR firm, over $143,000 for what the 990 lists as "marketing." There is an interesting connection between Thrive and John Hopson Jr., Voice of the Arctic's current president. In September 2020, while Hopson was running for North Slope Borough mayor, Brooke Volkman, who co-owns Thrive with her husband Jeremy Hayes, wrote on Facebook, "We are proud to have worked with North Slope Borough mayoral candidate on this video." However, according to Hopson's public campaign disclosures he never paid Thrive, Brooke Volkman or her husband any money. Hopson would have been required to disclose any money paid to Thrive or Volkman for campaign work. Eight months later, Thrive shared a Facebook post from Voice of the Arctic announcing John Hopson Jr. as Voice's new president.
The phone number listed for Thrive is not in service. Brooke Volkman has not responded to a Facebook message or email asking about her company's involvement with Voice of the Arctic.
In November, Dunleavy co-authored an opinion piece with Hopson in the Washington Examiner, "Congress must not break trust with Alaska and its native people." The piece heavily criticizes the Biden administration for their energy policies. They wrote, "The actions by Biden and congressional Democrats to undo the progress toward fulfilling federal obligations are not only wrong, they are an injustice." Dunleavy's rural policy advisor, Rex Rock Jr., started working for Dunleavy last June. His father, Rex Rock Sr., is the president and CEO of ASRC. Rex Rock Sr. earned nearly $6 million in 2020 according to public documents filed by ASRC. Rex Rock Jr.'s brother Ryan Rock is the president of Tikigaq, which is a member of Voice of the Arctic. Both Rex Rock Sr. and Ryan Rock are listed as directors for Voice of the Arctic. In 2018, ASRC endorsed Dunleavy while he was running for governor.
Recall the House Finance Committee did not have the votes to approve $2 million for statehood defense, let alone the $10 million the governor later asked for. The Legislature ended up approving $5.75 million of Dunleavy's $10 million request:
$1 million for Voice of the Arctic
$2.5 million for RS2477 Access Development – Advancing State's Rights in navigability and Revised Statute 2477
$2.25 for Endangered Species Act – Legal and Research Needs to Protect State Right to Manage
Representatives Neal Foster (D – Nome) and Kelly Merrick (R – Eagle River), who co-chair the House Finance Committee, both voted against increasing the original $1 million LeBon offered during the April 29, 2021 House Finance Committee meeting. Foster and Merrick were both on the budget conference committee, which ended up approving the larger amounts. Every member of the House Majority, as well as Representative Sara Rasmussen (R – Anchorage), voted no on the increase when it was offered by LeBon in the House Finance Committee. This shows House Majority members on the committee were unified against funding these items.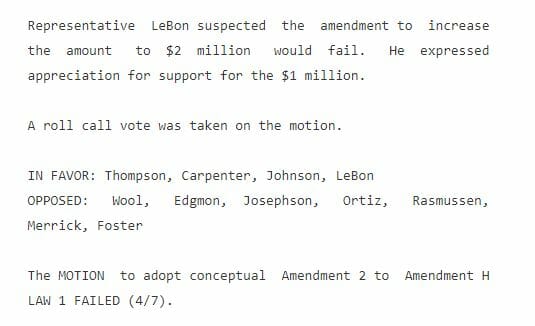 So why the change? The House Majority is fragile, with the bare minimum of 21 members. After Dunleavy introduced his amendments for the $10 million, Representative Josiah Patkotak (I – Barrow) came out in favor of the $1 million for Voice of the Arctic. Patkotak, a key rural member of the House Majority, is in a uniquely advantageous position to get what he wants. In an interview yesterday, Patkotak said he supported the money going to Voice of the Arctic because he supports their mission for his region. He added that Voice of the Arctic's unified voice allows them to push back against federal overreach and environmental groups who want to curtail oil development in the region. Patkotak also said Voice of the Arctic made him and Dunleavy non-voting members early last year.
Patkotak's father, Crawford Patkotak, is an executive vice president at ASRC and their board chairman. Crawford earned over $2 million in 2020 according to public documents filed by ASRC. One month before Dunleavy requested the $1 million for Voice of the Arctic, he had a two-hour meeting with Patkotak, Patkotak's family, and Andy Baker.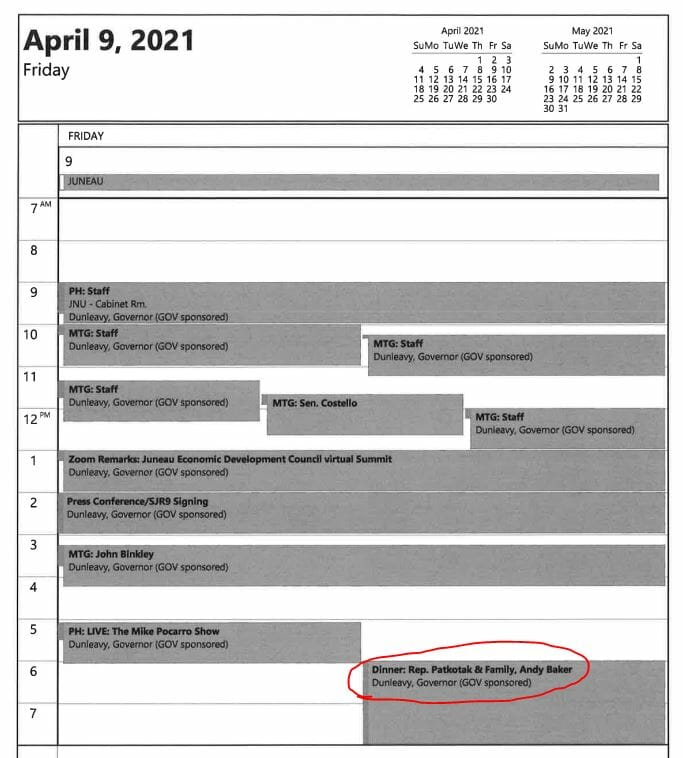 To date, Voice of the Arctic has not spent any of the $1 million the Legislature appropriated to them last year. Because it was a capital budget item, they have five years to spend the money. The additional $1 million Dunleavy requested for them remains in this year's capital budget, which is still working its way through the legislative process.

On Friday, the Senate Finance Committee heard a presentation from Neil Steininger on Dunleavy's capital budget requests. Senator Olson asked Steininger about the $1 million request to Voice of the Arctic. Steininger responded, "It is a continuation of a grant that was included in last year's capital budget. And I know that they've done coordination work with other state agencies on a lot of the states' rights issues that we've been working on as an administration, particularity in that region." He added that he could get back to the committee with a "status report of the successes."
Dunleavy's office responded to an email asking why he requested the money for Voice of the Arctic, as well as his involvement with Andy Baker, by sending a link to budget documents provided by his administration in this year's capital budget request. No such documents were included in last year's capital budget request for Voice of the Arctic. The questions about Andy Baker went unanswered.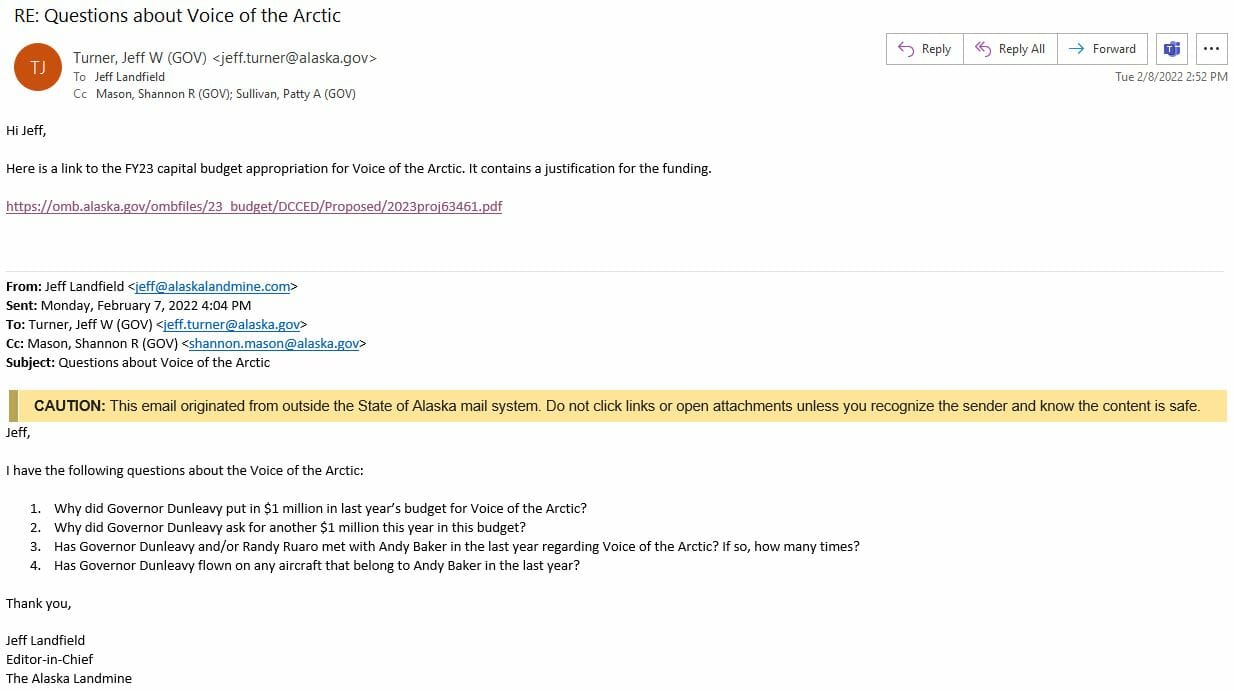 This is a developing story. More information will be posted as it becomes available.