It's been a weird week in the Capitol. The House Majority unsuccessfully attempted to remove Representative David Eastman (R – Wasilla) from committees, only to be stopped from voting by Eastman himself for pointing out a procedural error they made. All three Republican members of the congressional delegation testified before the House Labor & Commerce Committee, which is co-chaired by two Democrats. And the legislative bowling league is back after a year break due to COVID-19.
A friendly message and reminder to all our readers, the Landmine is made possible by myself and a team of awesome Alaskans. It takes a lot of work to provide the content we do. I am back in Juneau to report on the Legislature. Living in Juneau for session is not cheap. If you enjoy the content we provide, please consider making a one time or recurring monthly donation. You can click here to donate. We have a donation system that makes it super easy. We would really appreciate it. And thanks to everyone who has been supportive!
Eastman Again
On Monday (1/31/2022), the House Majority attempted to remove Representative Eastman from his committee assignments. The House Committee on Committees (which sounds weird but is quite important as it is comprised of leadership and determines who sits on what committees) met before the floor session and voted to remove Eastman from his committee assignments. A majority of the full body has to approve any committee changes. During the House floor session, Eastman correctly pointed out that his membership on the Ethics Committee required a separate vote. The report had all the committees listed under one motion. After a long delay, Representative Chris Tuck (D – Anchorage) moved to table the report. There was no objection. What was not immediately clear was that Eastman did them a big favor by objecting. The House Majority, which only has the bare minimum of 21 members, did not have the votes to remove Eastman from committees. That would have been extremely embarrassing.
This is all the result of Eastman's membership in the Oath Keepers. Several people on Twitter, namely Ivan Hodes, have been calling for Eastman's expulsion from the Legislature – which requires a 2/3 vote (27 votes in the House) – for his membership in the group. They definitely don't have the votes to do that. So some people decided removing him from committees would be the next best thing. Pressure from the people on Twitter, as well as a newly formed group called Expel Eastman, continued throughout the week. On Friday, Speaker Louise Stutes (R – Kodiak) held a press availability after floor session. Stutes acknowledged there was a bit of a rush on removing Eastman from committees and that they would be "vetting the situation." Stutes also said this was becoming a distraction from the business they need to complete. Not long after, Representative Tuck, the majority leader, held a press availability to talk about some upcoming hearings he will hold on the Oath Keepers. The first hearing, by the Military & Veterans' Affairs Committee, is scheduled for Thursday afternoon. Tuck also acknowledged the majority did not have the votes to remove Eastman from committees.
That hearing will certainly be something to watch. The people demanding Eastman be expelled from the Legislature or removed from committee, largely political neophytes, don't seem to understand they are playing right into his hand. And as Stutes correctly pointed out, it is creating a big distraction. Eastman, who continues to be elected, has no power or real influence in the Legislature. The efforts of the people calling for Eastman's removal would be better directed on his upcoming election. For now, all they have done is empower Eastman and get a legislative committee to hold hearings that may include actual members of the Oath Keepers.
Preliminary look at executive compensation report
The following is an excerpt from this week's edition (1/27/2022) of the Alaska Political Report. You can click here for more information about the Alaska Political Report. A subscription is $1,299/year per organization. Discounted pricing is available for non-profits and government entities. We will be providing extensive election coverage this year in addition to our session coverage. If you have any questions or would like to subscribe, please email jeff@akpoliticalreport.com.
The executive compensation report is a reminder that the state continues to pay some eye-popping salaries to some of its executives — particularly at state corporations and other quasi-independent entities.
Frank Richards, who heads the Alaska Gasline Development Corp., was paid $445,000 last year. Bryan Butcher, chief executive at Alaska Housing Finance, made $300,000. Alan Weitzner, the head of the Alaska Industrial Development and Export Authority, collected $225,000. Deven Mitchell, executive director of the Alaska Municipal Bond Bank Authority, made $132,000. Bill O'Leary, president of the Alaska Railroad, made $300,000. And Sana Efird, executive director of the Alaska Student Loan Corp., made $172,000.
Meanwhile, University of Alaska President Pat Pitney collected $341,000 in salary last year, along with $13,000 for housing and $10,000 for a vehicle. University of Alaska Fairbanks Chancellor Dan White made $300,000 with $9,000 for a vehicle, and University of Alaska Anchorage Chancellor Sean Parnell made $146,000 for just over six months on the job, along with $5,000 for a vehicle and housing in the former home of Elmer and Mary Louise Rasmuson that was donated to UAA by the Rasmuson Foundation nine years ago.
The original post listed Deven Mitchell's salary at $265,000. Someone from the Department of Revenue contacted me and informed me that was a mistake in the executive compensation report. It's been corrected to reflect $132,000. 
Politicos Making Moves
Several politicos have taken new jobs recently. These include:
Melissa Kookesh, who has worked for Senator Bert Stedman (R – Sitka) for the last seven years, is going to the Department of Commerce, Community and Economic Development, where she will serve as the legislative director. Congrats, Melissa!
Juli Lucky, a former legislative staffer who most recently worked for the Redistricting Board, is now the chief operations officer for Alaskans for Better Elections. Congrats, Juli!
Nate Adams, who has worked for Senator Dan Sullivan (R – Alaska) in his D.C. office and on his last campaign, is now the campaign manager for Senator Lisa Murkowski's (R – Alaska) re-election campaign. Congrats, Nate!
Michael Hurley, who retired as ConocoPhillip's lobbyist last year, is said to be coming back to Juneau to work as a contract lobbyist for Conoco. Welcome back, Micheal!
Other Happenings 
Several labor unions were in Juneau this week. It was great seeing so many familiar faces back in the capital city. Major shout out to the legends from the Teamsters and AFL-CIO who closed down the Triangle with me on Tuesday night.
The House Labor & Commerce Committee held a hearing on Friday (2/4/2022) on the infrastructure bill. Senators Murkowski and Sullivan, along with Congressman Don Young (R – Alaska), all appeared remotely from D.C. It's worth watching if you have time. Young took the opportunity to hit back at his opponents who are spreading rumors that he's not showing up to work. Legend status.
Check out this ADN article about how the Anchorage Assembly held a two-hour executive session about a records request involving the Blue Alaskan. The vise is closing. The $1,000 reward for irrefutable evidence that identifies the person or persons behind the Blue Alaskan stands.
I can't stop laughing at this. Fuck!
Saffron, the Indian restaurant in Downtown Juneau, is under new ownership and now called Spice. If you are in Juneau, definitely stop by for dinner. The food is incredible and the owner Nimmy is awesome. Tell her Jeff from the Landmine sent you! It probably won't do anything for you but maybe it will get me a free glass of wine.
Thanks again to Janet and Troy Weiss, their daughter Jessica Thomas, Mark Sterns, and Simon Mueller for the amazing job they did on our new office table!
This Week's Loose Unit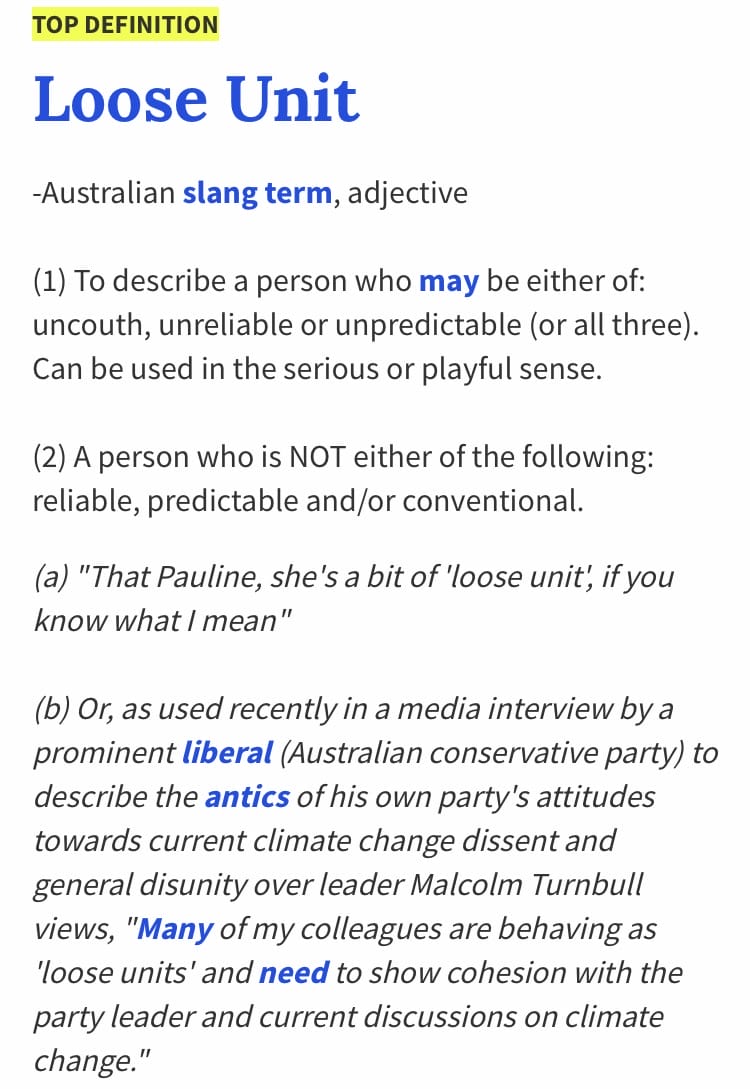 This week's designee is a rather odd one but nonetheless well deserving. This week's Loose Unit is Juneau's Systemic Racism Review Committee. This week, the committee flagged legislation for the first time since it was created in 2020. And what they flagged might surprise you. It's doesn't have to do with policing or criminal laws, but rather boat storage. Which is really loose. According to this KTOO article:
In early January, the committee looked over a plan from a local developer, Travis Arndt, who wants a piece of property on North Douglas to be rezoned. Right now it's residential, and he wants it zoned commercial so he can build boat storage and other buildings on the property.
So this Arndt guy is trying to develop and rezone some property on North Douglas so he can build some boat storage. Grace Lee, the vice-chair of the committee, brought up access to housing as one of the reasons it would perpetuate systemic racism. Don't get me wrong, affordable housing is a major problem in this country, epically in Juneau. But affordable housing is the last thing that comes to mind when you hear North Douglas. Anyooo, Lee basically said that white people have boats and this Arndt guy building boat storage would perpetuate systemic racism. Think of all the people in the future who might want to build or develop in Juneau and now have to contend with being tagged with perpetuating systemic racism. According to the KTOO article:
I realize this is Alaska, and a lot more people have boats, but boat storage affects a group of people who can afford boats and then also afford to store them," Lee said. "And so I think that just asking that question, does this perpetuate systemic racism? Yes, it takes away the possibility of housing, and gives it to people who have boats.
When I first heard about this I thought it was satire. But here we are. Very loose.
If you have a nomination for this week's Loose Unit, or if you have any political news, stories or gossip (or any old pics of politicians or public officials) please email me at jeff@alaskalandmine.com.