Welcome to this edition of the Alaska Stalker, a lighthearted round up of the best and worst of Alaska's social media landscape.
***
If you enjoy the Alaska Stalker, please consider supporting working moms like me by sending in hot tips, screencaps, overheards, and spotted ins. You can reach me at akstalker@alaskalandmine.com. As always, thanks for reading.
***
Where to start… After a week full of tumult – budget conference committee it is! While no one knows what this year's PFD amount will be, one thing is clear: Speaker Stutes needs to update her Twitter bio ASAP. Instead of "putting politics aside" it should read "counting votes to do what's best for my caucus." ✊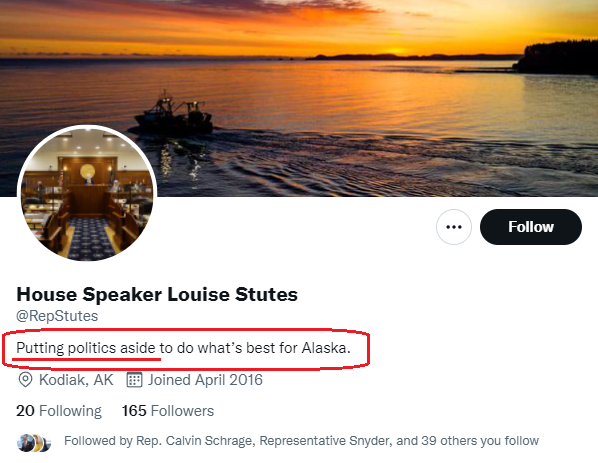 \
***
Uh oh, did Rep. DeLena Johnson accidentally take House Minority Leader Cathy Tilton's fortune cookie?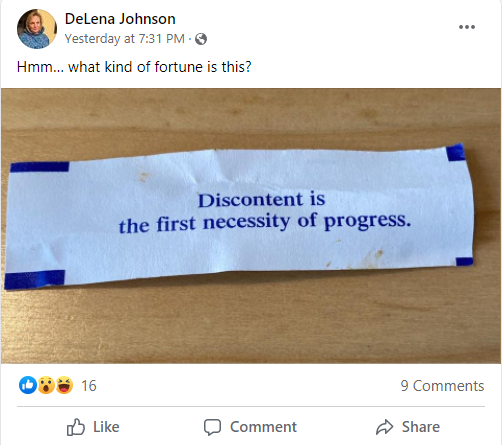 ***
Rep. Sara Rasmussen couldn't have been the only legislator stress eating this week.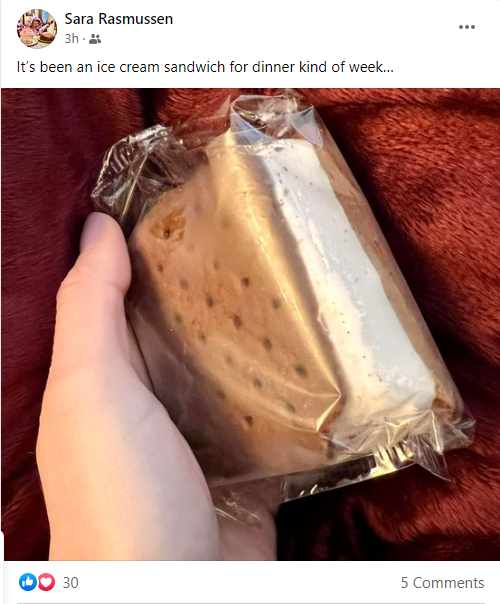 ***
Rep. Mike Cronk went on a little constitutional before the vote that didn't happen Wednesday. I sure hope he didn't walk for four days!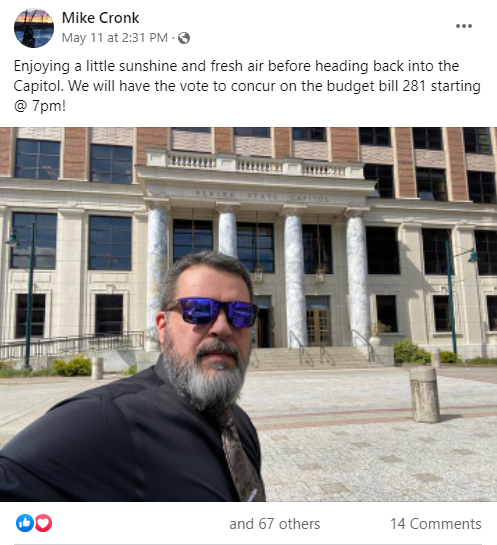 ***
Imagine planning your wash day around voting to concur, and then Louise goes and spoils your whole wash cycle. What a waste. Kevin, I hope your dry shampoo lasted until today. IYKYK.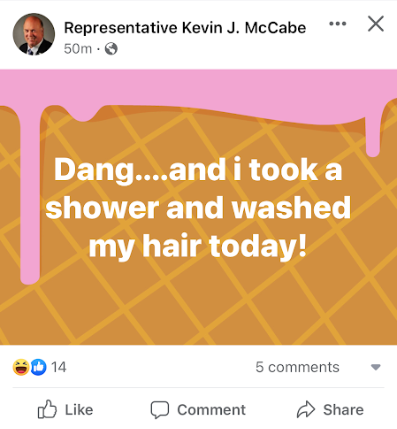 ***
Even the journalists are melting down. Oh wait, that's "former journalist" according to Rep. Geran Tarr. Daaaaang that's low.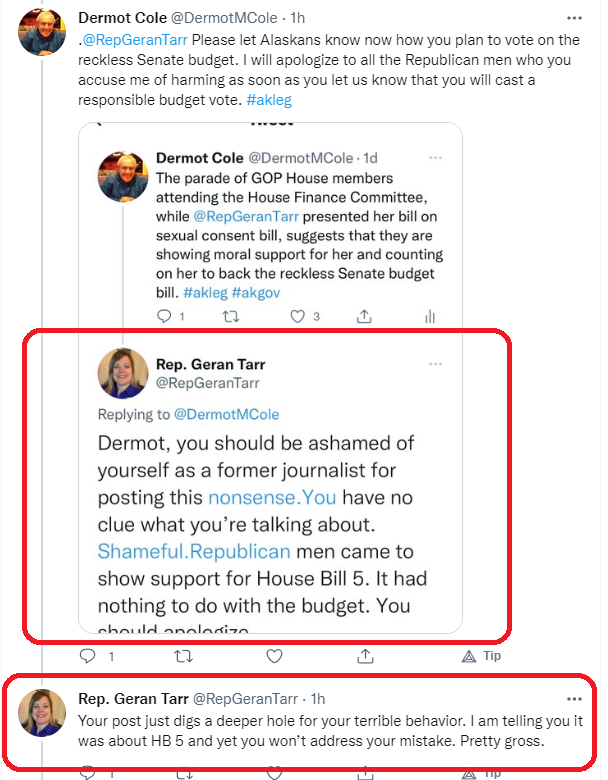 ***
I'm just glad Rep. Calvin Schrage understands what's at stake and what is really important to Alaskans. Related: how many emus could you have bought for $5,500? Asking for a friend.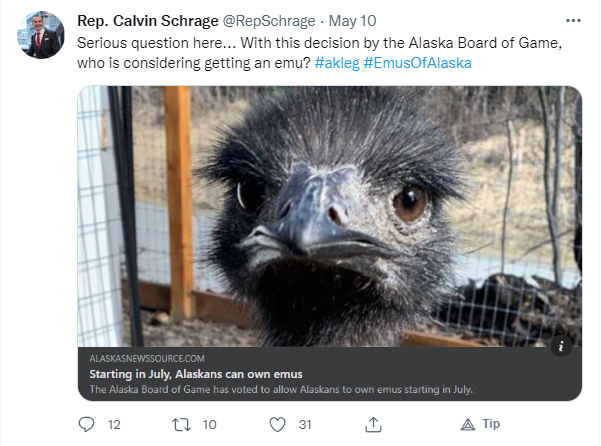 ***
BIG flex. 💅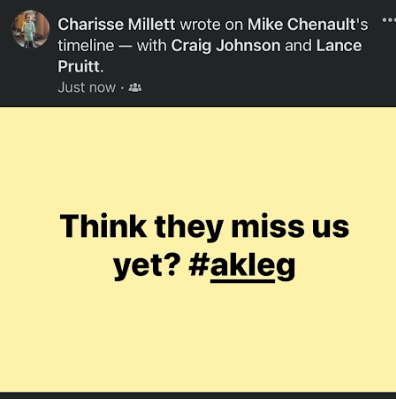 ***
Does Sen. Stedman ever lose? 🎲🎲
I really want to go to Vegas with Bert Stedman. #akleg

— Jeff Landfield (@JeffLandfield) May 14, 2022
***
As expected, legislators like Sen. Shower, Rep. Cronk and Rep. McCabe are taking to Facebook to voice their anger and participate in some Republican on Republican violence.

***
Those limited replies tho… He can dish it but can't take it.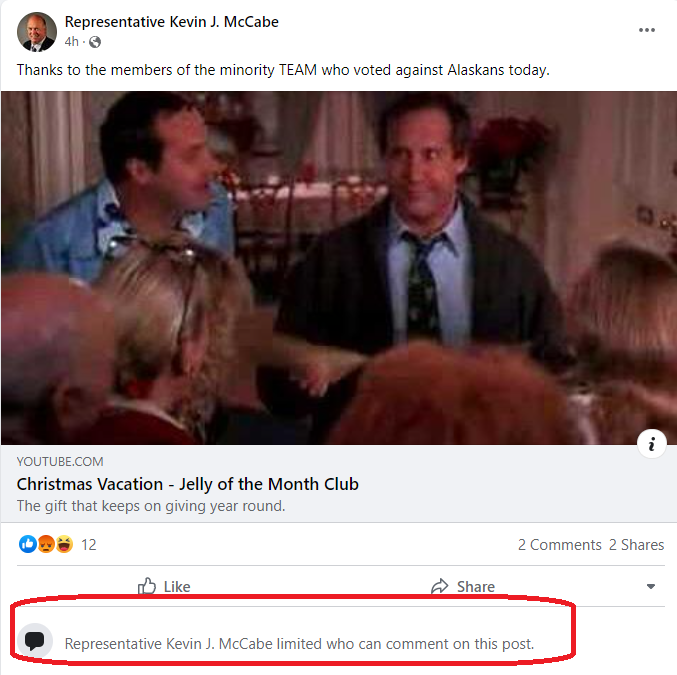 ***
Oh to be a fly on the wall at Rep. Kurka's next gubernatorial campaign event.

***
After such a rough week, I want to personally thank Sen. David Wilson for staying positive. ✨

***
Yikes, Rep. Drummond. It's past time to add chestfeeding to your vocabulary and remove the insensitive and outdated term breastfeeding.

***
Let's move on to the special election. Not sure who Laurel Foster is, but she's working hard and even doing interviews on KWHL. Will she make the top ten?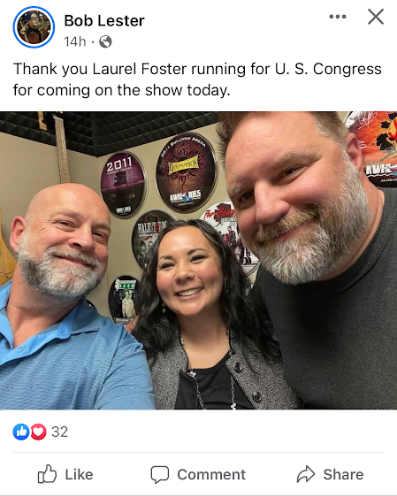 ***
Time for a special edition of "Guess the Politico." Can you guess which of the 48 congressional candidates this is? Scroll to the end for the answer.

***
Sorry, Josh. I'm married. 🙃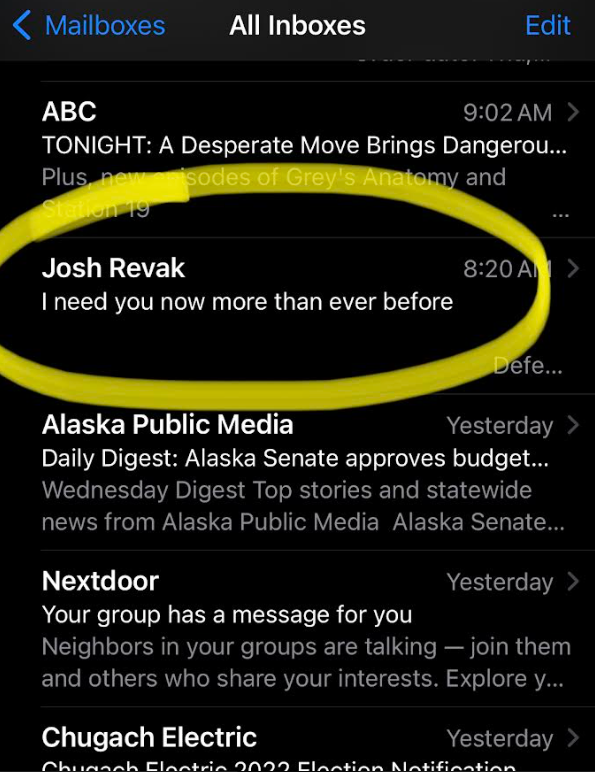 ***
Speaking of Josh… "constant double speak" OMG, that better be a double entendre.

***
Meanwhile Chris is over here like 🖕

***
Did you see Tara Sweeny swipe at opponent Mary Peltola and reporter Liz Ruskin on Twitter regarding her pro-choice stance?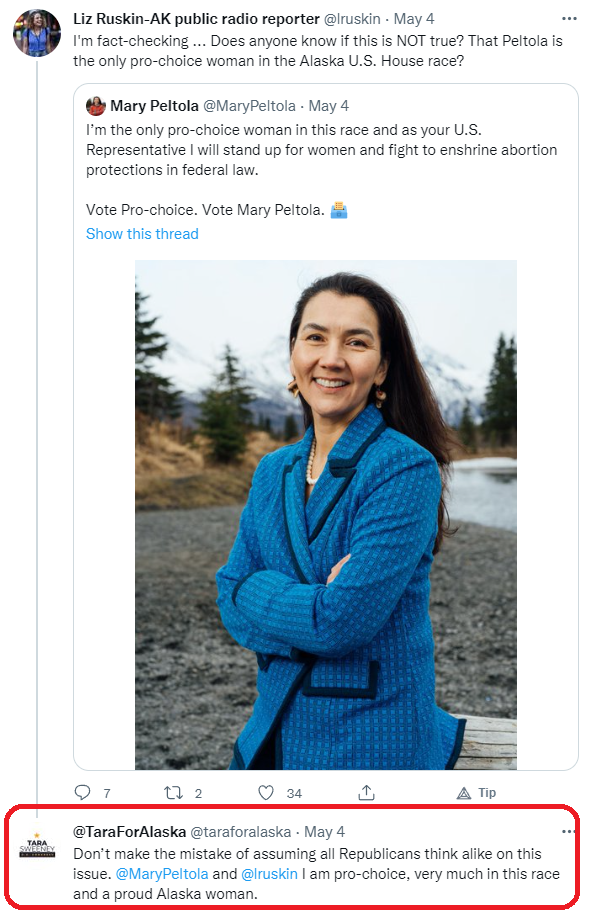 ***
I guess they smoothed things over because you don't share your last two bags of dried fish with just anyone.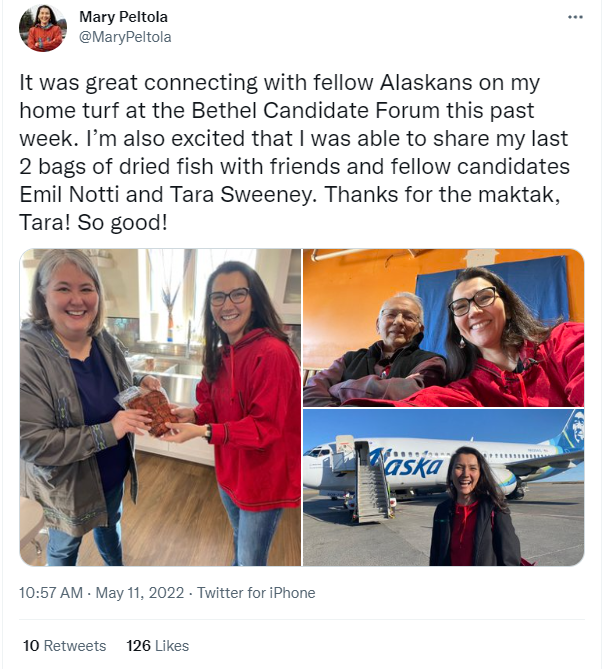 ***
Wow! Looks like Santa Claus locked up the pivotal "Disco Ray" endorsement.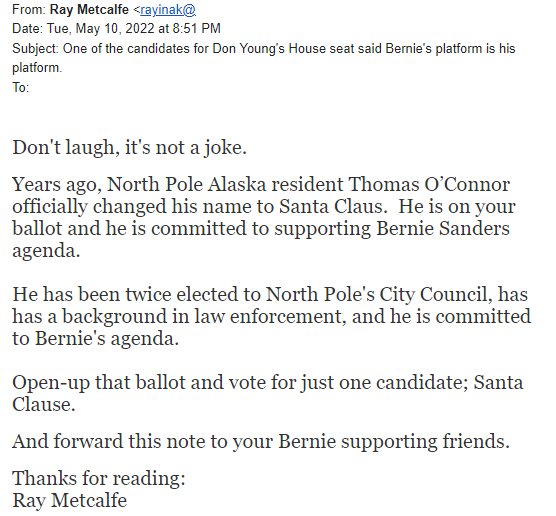 ***
Santa, stop. You have Disco Ray! You definitely don't need Steve Schmidt.

***
Sarah Palin's Instagram will always be a top follow for me. OMG!!!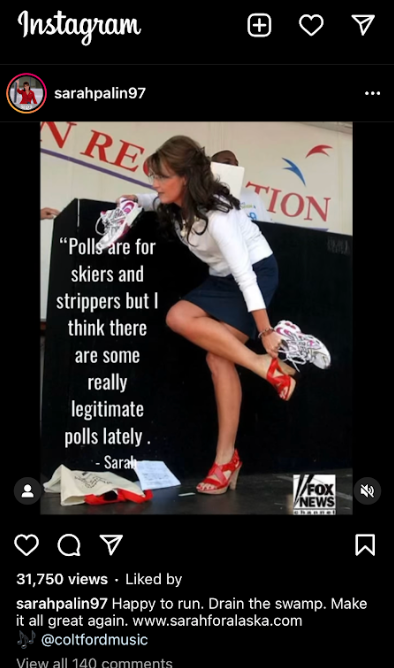 ***
But, it's photos like this that remind me Sarah's been out of state for years and has no idea who the local characters are. Is Sarah about to get the infamous Michael Chambers kiss of death endorsement? 😬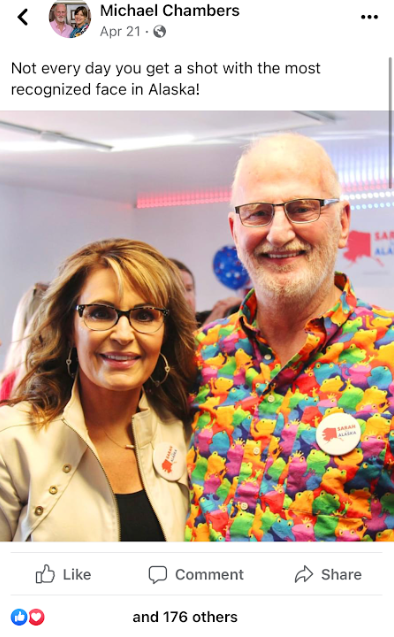 ***
It seems Alaska's favorite bear doctor is all alone going into the home stretch. Will name recognition be enough?
***
There's certainly been a shift in energy on the Alaska Democrats social media. They really went hard against poor Al. If "Finished 4th out of 5th in election for hospital board in his home town" wasn't bad enough, "Proven Loser" really drove the nail in the coffin. Ouch.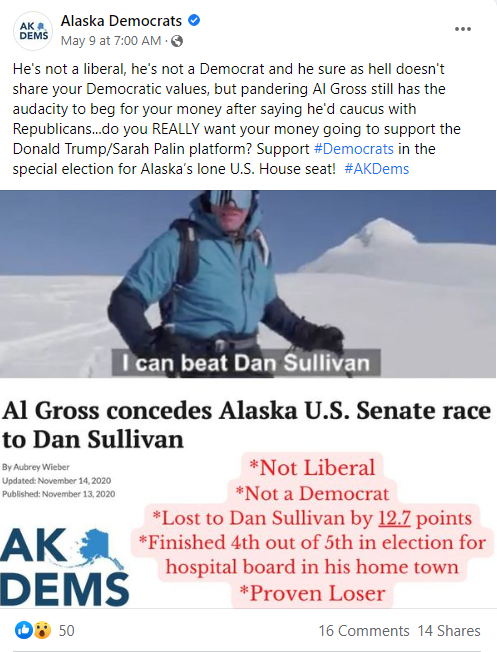 ***
And then they went and photoshopped a snake on Lisa Murkowski's shoulder. Wait a minute… Are the Alaska Democrats finally shunning Independents and going back to supporting actual Democrats? I am here for it! 🥳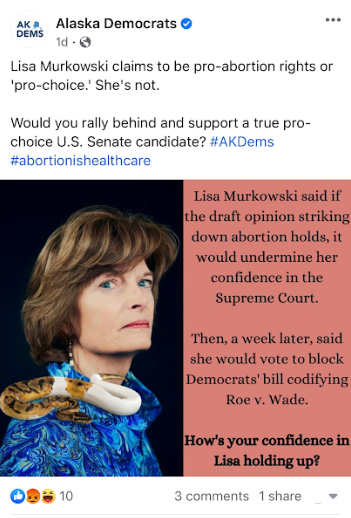 ***
There's something very familiar about all of this. Oh right, these are the same moves Lisa uses when she's trying to appease both sides of the aisle on the abortion debate.
***
The Democrats finally found someone to run against Lisa. They even beat Dunleavy announcing his running mate! I have a feeling abortion is going to be the top issue that Dems focus on this election cycle. But come on, #ProChoice #ProChesbro??? The simulation is winking at us.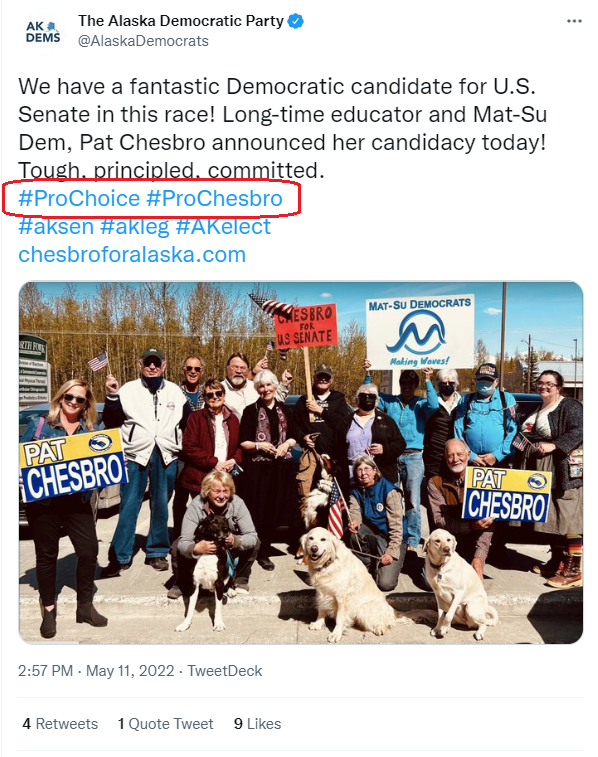 ***
Meanwhile,U.S. Senate candidate Kelly Tshibaka knows her sled dog races about as well as she knows her fishing regulations.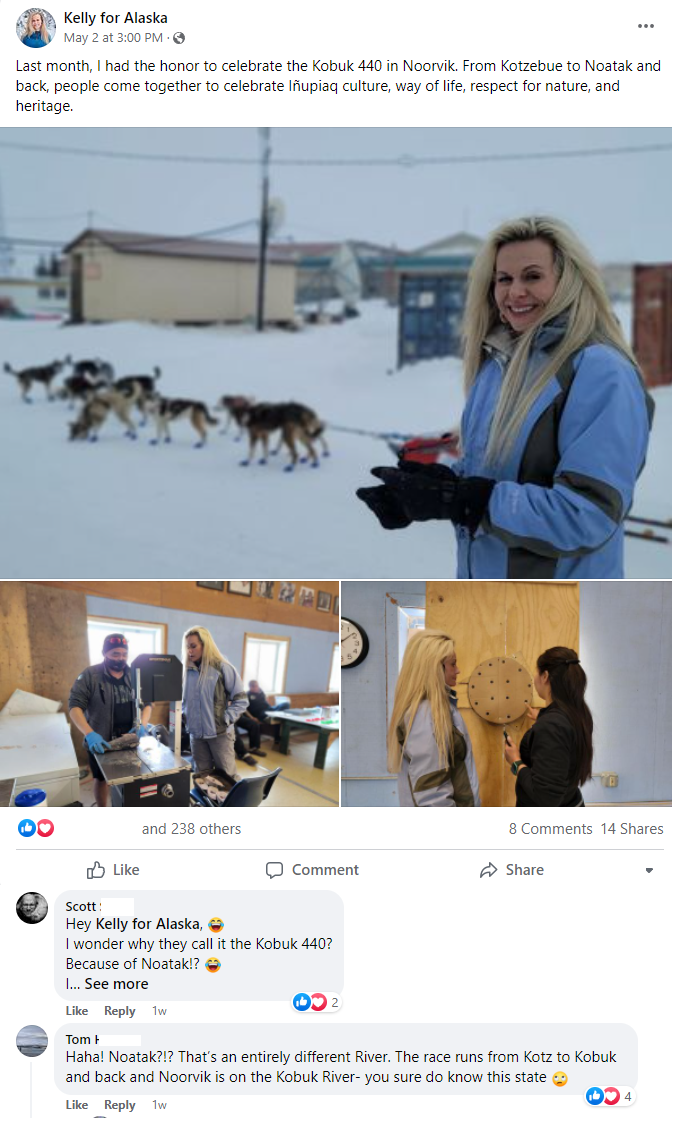 ***
YES! The Grunwald Guzzler is back! I called it.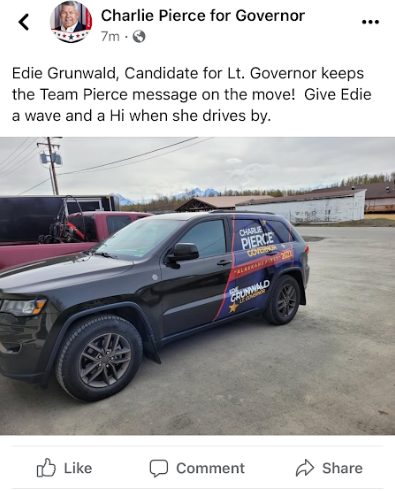 ***
Is it just me, or is this the longest, most awkward break up ever? Who wishes their soon to be ex a public happy birthday? Stop tagging Kevin on social media and just announce your new relationship status already.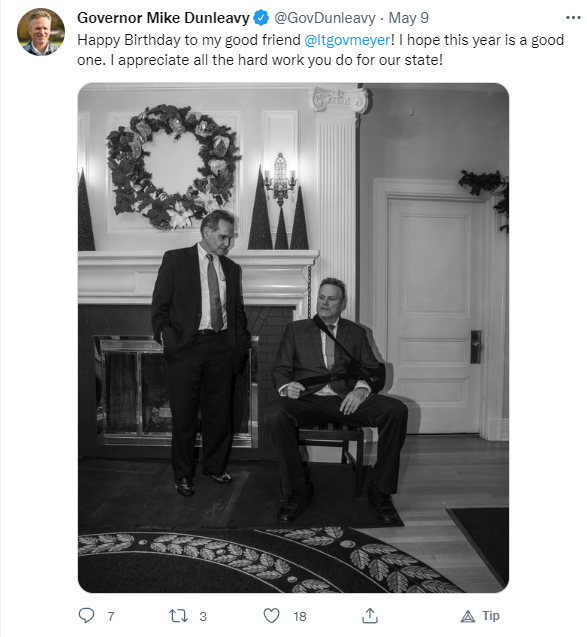 ***
Dunleavy also recently released new yard signs for his upcoming campaign. Wait a minute… 🧐 These look VERY familiar. If I wanted a Paxson Woelber knock off I would just ask Jeff Landfield to write a long form investigative article for the Landmine.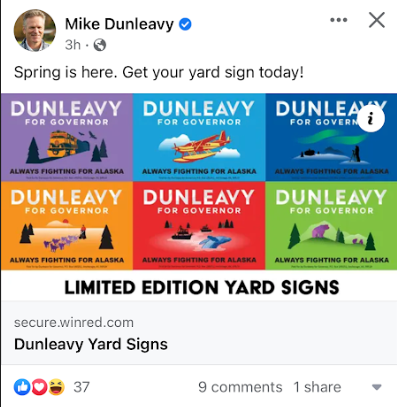 ***
The Walker campaign went full Weekend at Bernie's. Is it just me, or do these photos of Bill Walker kayaking look totally photoshopped? At the very least it's a cardboard cutout.  And I know I'm not the only one who has questions because several people sent this to me. Bill, that really you?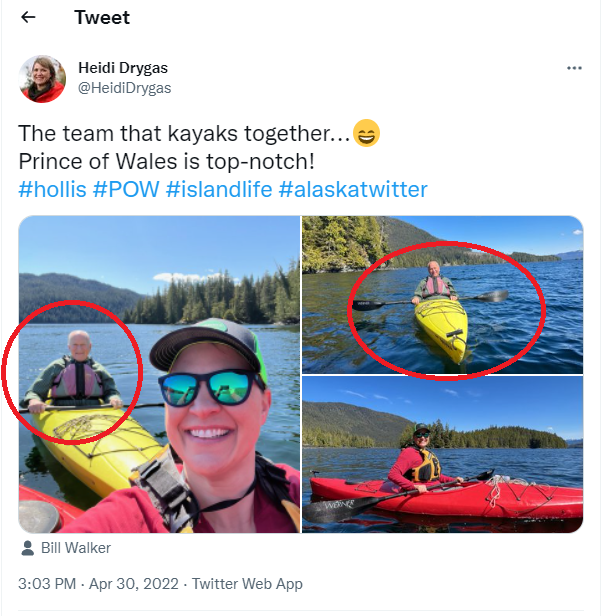 ***
Spotted in Juneau this week: Every legislator meeting fervently with every other legislator over the concurrence vote.
***
Spotted at the Hangar after the failed concurrence vote: Several House Republicans and Senator Shower. All NOT happy.
***
Spotted in New Lennox, Illinois: A Sarah Palin for Congress sign?!!!

***
Sent via Stalkertext: I guess Lady Donna Duchess might have a chance at the top four after all.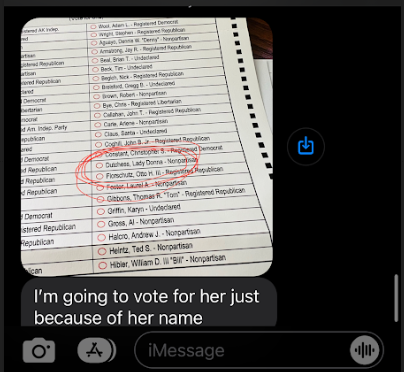 ***
Overhead in Anchorage: "I literally fell asleep while reading all the names on my ballot. I mean, I took a couple edibles first but still… This is insane."
***
Overheard at New Sagaya (really): "Suzanne Downing is so far up Nick Begich's a$$ she should be billing his insurance for the procedure."
***
The answer to guess the congressional candidate is: former Senator John Coghill! WOW!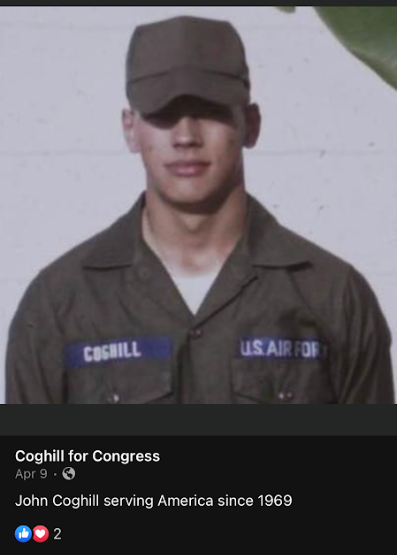 \
***
The Alaska Stalker was born and raised in Alaska. She lives bear free in South Anchorage with her husband and three kids five and under. She is not Jeff Landfield.