Yesterday, on a 3-2 vote the Alaska Redistricting Board adopted a final map for Alaska's new legislative districts. This process happens every ten years per the Alaska Constitution.
While the process to decide the House districts was at times contentious, it was nothing compared to deciding Senate pairings. Alaska has 40 House districts and 20 Senate districts. A Senate district is comprised of two contiguous House districts. Things went off the rails this week when board member Bethany Marcum suggested breaking up the two Eagle River House districts into two different Senate districts. Board members Nicole Borromeo and Melanie Bahnke strongly objected. After a heated debate, Marcum's Anchorage Senate pairings were ultimately adopted 3-2, with board members John Binkley and Budd Simpson voting with Marcum. The main controversy is centered around pairing part of Eagle River with South Muldoon and part of Eagle River with Government Hill and JBER.
Here is the proclamation where Borromeo and Bahnke indicated their opposition.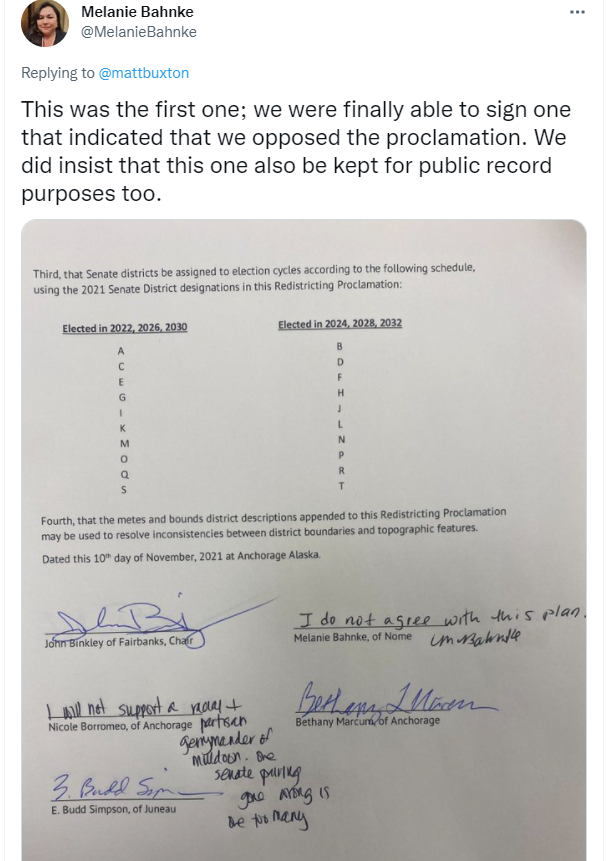 Litigation appears to be a foregone conclusion at this point, which is not abnormal as lawsuits have been filed after redistricting since statehood. Parties who plan on suing over the map have until December 10 to file a lawsuit.
Save any changes to the map due to litigation, below is what the new map does to Alaska's political landscape.
This interactive map allows you to select House or Senate districts, as well as incumbents and challengers. When you click on a district, it will show you incumbent information as well as demographic information about the district. (Note: It's easier to select House Districts OR Senate Districts when using the map. You can click the toggle at the top left of the map to change things, or open the map in a new browser by clicking here.)
Under this plan, the partisan breakdown of Alaska's 40 House districts stays at 19-21 for districts that voted for Joe Biden and Donald Trump in 2020, respectively. These map shows the full breakdown for the House and Senate seats:
Ten House incumbents are paired, leaving five open House seats. Four Democrats and four Republicans are paired together, and one Democrat and Republican are paired together.
Anchorage Democratic Representatives Chris Tuck and Andy Josephson are paired in the new House District 13. Both are members of the Democratic led House majority.
Anchorage Democratic Representative Matt Claman and Anchorage Republican Representative Sara Rasmussen are paired in the new House District 16. Claman is in the House majority. Rasmussen is not a member of the majority or minority.
Anchorage Democratic Representatives Zack Fields and Harriet Drummond are paired in the new House District 17. Both are members of the Democratic led House majority.
Eagle River Republican Representatives Kelly Merrick and Ken McCarty are paired in the new House District 24. Merrick is in the House majority. McCarty is in the Republican minority.
Wasilla Republican Representatives David Eastman and Christopher Kurka are paired in the are paired in the new House District 27. Both are members of the House minority.
There are the five open House districts and How they broke for Trump/Biden in 2020.
District 10: Anchorage (Oceanview/Klatt) [Trump +1.29%]
District 14: Anchorage (Spenard) [Biden +2.19%]
District 20: Anchorage (North Muldoon) [Biden +7.03]
District 22: Eagle River Valley ]Trump +21.14%]
District 28: Mat-Su (Tanaina/Lakes) [Trump +47.62]
Only two senators were paired, leaving one open Senate seat. Anchorage Republican Senators Mia Costello and Natasha von Imhof were paired in the same House district, meaning they were automatically placed in the same Senate district, the new Senate District H. Both are members of the Senate majority. The open Senate seat is House Districts 23/24 (23 was Trump +31.19 and 24 was Trump +37.7% in 2020). This district is part of the controversial pairing of that includes Government Hill, Chugiak, JBER, and part of Eagle River. Merrick filed for the open Senate seat yesterday.
The board also decided that 19 of the 20 Senate seats are up next year. Ten Senate seats are up every two years (a Senate term is four years) but when redistricting happens it's common for more seats to be up due to changes to the districts. Below is the table showing what Senate seats are up in what election years. The only incumbent not up for reelection next year is Senator Donny Olson (D – Golovin). Interestingly, Olson was also the only incumbent not up in 2002 after that round of redistricting. He was first elected in 2000. Next year's election season is sure to be lively.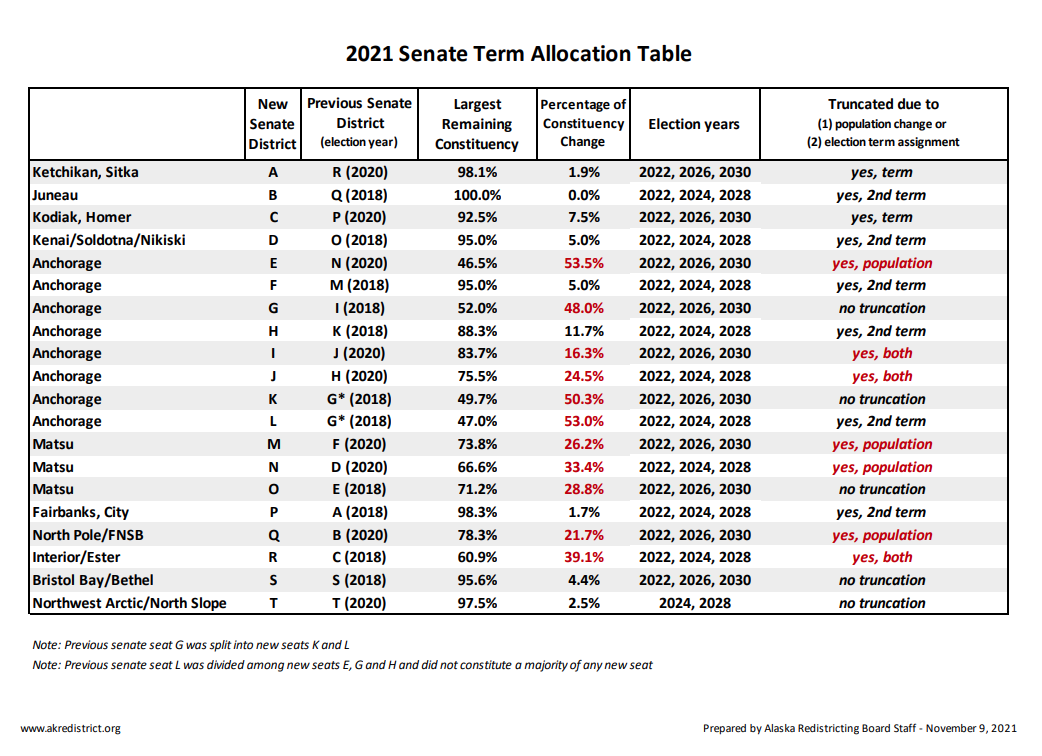 Robert Hockema is a campaign specialist and political organizer in Anchorage, Alaska. He graduated from UAA's Political Science program in 2019, and has worked for candidates up and down the ballot and across the political aisle. Robert loves Alaska history and geomapping elections on Twitter.