Last week, the Alaska Landmine reported that Jennie Armstrong, a Democrat running for the open West Anchorage House seat, had made statements on social media suggesting she did not meet residency requirements to run for the State House. The Alaska Constitution requires that legislative candidates reside in the state for three years prior to filing for office. To be eligible for her current race, Armstrong, a former resident of Louisiana, had to have begun her residency on or before June 1, 2019. However, in a string of Instagram posts dating back to 2019, Armstrong documented a road trip in Alaska in May of that year and stated that, after leaving the state late that month, she had moved to Alaska the weekend of June 8–a week after she would have had to begin her Alaska residency in order to be eligible for the current race.
After the Landmine published its initial reporting, Armstrong's social media posts were edited, replacing a claim that she had moved to Alaska "last weekend" to a claim that she had moved to Alaska "last week."
Now, the Alaska Landmine has obtained fishing licenses documenting that Armstrong had repeatedly declared herself a resident of Louisiana in June 2019. The first license, a nonresident one-day sport fish license, was issued June 15, 2019. The second license, a 2019 nonresident annual sport fishing license, was issued June 23, 2019. When she applied for both licenses, Armstrong declared her current residence to be in Metairie, Louisiana.
Alaska fishing licenses require licensees to affirm that they have read and understood the definition of residency in Alaska, and warn that false statements can lead to criminal penalties.
On June 21, 2020 Armstrong applied for a resident sport license. She listed her Alaska residency as one year and zero months, nominally dating back to June 2019. On July 20, 2021 Armstrong applied for another resident sport license. She listed her Alaska residency as two years and one month, again dating her residency back to June 2019.
But on July 26, 2022–after Armstrong filed to run for office–her residency story changed. This time, when she applied for a resident sport license she declared her Alaska residency to be three years and two months. The additional month of claimed residency now aligned Armstrong's fishing licenses with the May 2019 residency she had recently claimed on her declaration of candidacy. But it did not match the length of residency Armstrong had previously declared on her resident fishing license applications.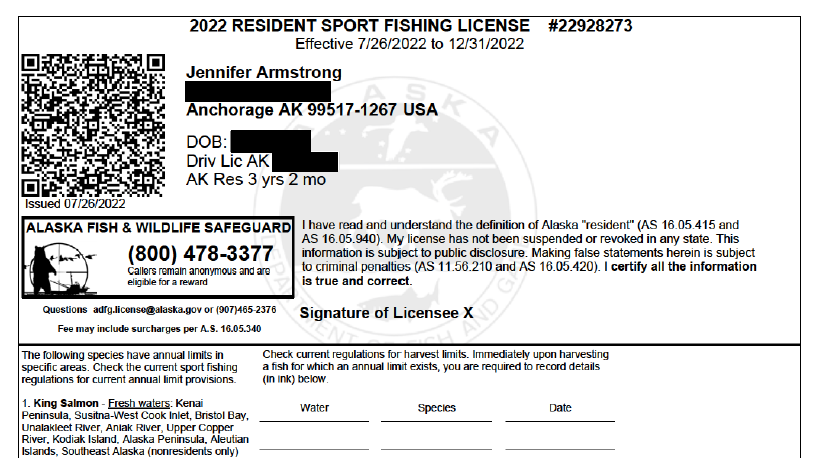 The Division of Elections takes people at their word when they fill out their declaration of candidacy. Investigations are only launched if a complaint is filed.
Armstrong is in a heads-up match against Republican Liz Vazquez, a former one-term representative, for the open West Anchorage House seat. Incumbent Representative Matt Claman (D – Anchorage) waited until the final days before the filing deadline to announce he would fun for the State Senate; Armstrong declared on June 1 – the filing deadline. Such eleventh-hour changes often reflect coordinated attempts by incumbents or political parties to hand-pick successors and discourage challengers. Sources tell the Landmine that Armstrong's candidacy was strategically advanced by prominent Alaska Democrats.
In response to questions about her fishing licenses, Armstrong provided the following statement, along with screenshots of a May 10, 2019 flight reservation, to the Landmine:
Alaska has been my home since May of 2019. As you can see in the following plane ticket, I arrived here on May 10 of that year, and after a life-changing road trip with my now husband, I moved in with him in Anchorage.
In order to qualify for a residential fishing license in Alaska, you have to live in Alaska for 12 months. That is why I had a non-resident license during my first summer here. I have lived in Alaska since May 2019, and there is nowhere else I have lived or called home since then, a fact that is well-documented. [original emphasis]
When I considered running for office earlier this year, for the first time ever, I went back through my calendar to find the exact date I moved in with Ben. This was important to me so I could confirm that I am qualified to run for office. My residency and eligibility to run for State House was certified by the Division of Elections.
When the Landmine asked Armstrong why her Instagram posts stating when she moved to Alaska had been edited, she responded:
The posts you're asking about from Instagram were made retrospectively (not posted in real-time) and were my way of announcing a big life decision to family and friends and sharing the story of what made me fall in love with this place, not to provide a detailed legal record.