Jennie Armstrong, a Democrat running for the open West Anchorage House seat, is not eligible to hold legislative office in Alaska, according to an investigation by the Alaska Landmine. The investigation found she lacked the constitutionally-required minimum three years of residency in the state when she registered to be a candidate. Article II, Section 2 of the Alaska Constitution states:
A member of the legislature shall be a qualified voter who has been a resident of Alaska for at least three years and of the district from which elected for at least one year, immediately preceding his filing for office. A senator shall be at least twenty-five years of age and a representative at least twenty-one years of age.
This provision's reference to "immediately preceding his filing for office" means the individual must be a resident at least three years prior to the date they file to be a candidate. A candidate must live in the district they are running in for at least one year before filing for office and be a resident of Alaska for at least three years before filing for office, according to the Alaska Constitution. Armstrong, a relatively recent transplant from New Orleans, doesn't appear to have met the residency requirements before she registered as a candidate.
Armstrong filed to run for the House on May 28, 2022. The deadline to file for office was June 1, 2022. In her official candidate statement, Armstrong states she has been a resident of Alaska since 2019.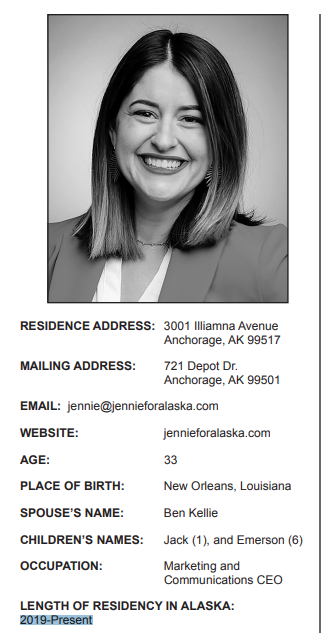 Determining residency for the purpose of running for office is defined by statute. According to Alaska statute, a person becomes a resident when they come to Alaska with the intention of living here permanently. Residency is not established by official actions like obtaining a drivers' license or registering to vote. Alaska Statute 15.05.020(3) states:
"A change of residence is made only by the act of removal joined with the intent to remain in another place.  There can only be one residence."
Thus, in order for Armstrong to meet the Alaska Constitution's requirement in Article II, Section 2, she would have had to come to Alaska with intent to stay permanently on or before May 28, 2019. But according to a June 13, 2019 Instagram post, she did not move to Alaska until after June 1, 2019. In that post, Armstrong says, "last weekend, I moved to Alaska." That would have been the weekend of June 8, 2019 – eleven days less than the constitutionally required three years from when she filed on May 28, 2022.
Even if Armstrong had filed on the deadline of June 1, she would still be ineligible based on her own statements about when she moved to Alaska. In May 2019, Armstrong was in Alaska in what she repeatedly referred to in a series of Instagram posts as a pre-planned "trip" to visit her now-husband. But she clearly states she moved to Alaska on the weekend of June 8, 2019.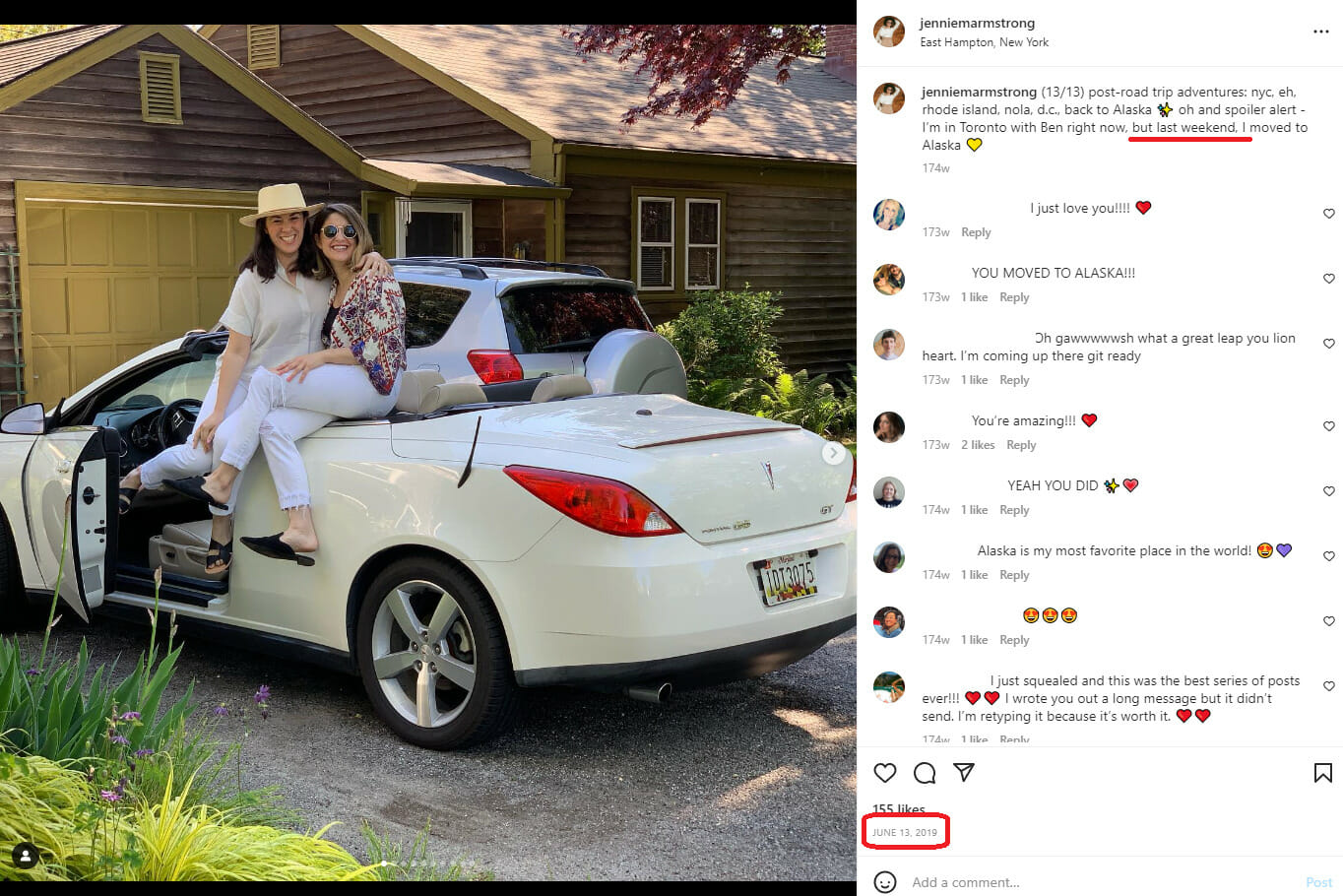 After she moved to Alaska in June 2019, she registered to vote and filed business licenses with the state. According to voting records, Armstrong first registered to vote in Alaska on August 26, 2019. She filed for business licenses for Wild Awake Creative and Wild Awake Publishing on June 30, 2019 and July 24, 2019, respectively.
Candidates are required to fill out a declaration of candidacy form when they file for office. The form asks for the month, day, and year the candidate has been an Alaska resident. The Landmine submitted a records request to the Division of Elections seeking Armstrong's declaration of candidacy. This story will be updated when the document is received.
Armstrong is running for the open West Anchorage House seat against Republican Liz Vazquez, a former one-term representative. The seat is open because Representative Matt Claman (D – Anchorage) is running for the State Senate and Representative Sara Rasmussen (R – Anchorage) – who was paired with Claman during redistricting – is not running for re-election. Two other candidates for the seat withdrew after the primary, leaving a head-to-head match between Armstrong and Vazquez.
The deadline to send eligibility complaints to the Division of Elections was June 11. Armstrong ran in the primary and ballots for the general election have been already printed. However, her candidacy presents a clear constitutional problem. It's not clear whether or how the Division of Elections will act on this revelation. Because the situation presents a constitutional question, it's possible that the issue of Armstrong's ineligibility will be taken up by the courts.
An email to Jennie Armstrong requesting a comment has not been answered. The story will be updated if she provides a comment.
Update: After this story was published, Armstrong provided the following comment, "I met my husband in January 2019. At the end of a road trip we took in Alaska in May 2019, we decided I would stay in Alaska and I moved in with him. My residency and eligibility to run for State House was certified by the Division of Elections."
Update: The article has been updated to include a series of 13 Instagram posts from Armstrong about her May 2019 trip to Alaska. In the posts she makes several references to leaving Alaska. No where did she say she decided to move to Alaska during the trip. The only time she mentions moving to Alaska is the last post, which indicates her residency was established when she came back on June 8, 2019.