In the latest twist to "Fishgate," the campaign of U.S. Senate candidate Kelly Tshibaka blamed the Kenai River Sportfishing Association (KRSA) for Tshibaka's illegal acquisition of a resident sport fishing license in 2019. The Landmine broke the story after a records request related to her "Fish Camp" video, which shows the U.S. Senate candidate fishing on a commercial net without a license, revealed the illegal sport fish license.
Tshibaka campaign spokesperson Tim Murtaugh attempted to excuse the illegal sport fish license, telling political blog Must Read Alaska that Tshibaka had obtained the license at a charity event, the Kenai River Classic, in 2019:
"'Kelly attended the 2019 Kenai River Classic in her capacity as commissioner of the Alaska Department of Administration. Her confirmation hearings had been very public and it was well known that she had recently returned to the state to serve in the governor's cabinet. The event organizers asked if she had a current fishing license, and when she said she didn't, they issued her one,' said Tim Murtaugh, spokesperson for the Tshibaka campaign. 'Lisa Murkowski's allies are clearly worried about Kelly, if they are willing to attack her on this.'"
According to the Department of Fish and Game's License Vendor Manual, license issuers are prohibited from assessing an applicant's residency status. The manual states that "Vendors should not challenge possible false statements made by the licensee." A spokesperson for KRSA told the Landmine, "KRSA issued numerous licenses at the 2019 classic, and the license for Commissioner Tshibaka was one of the them. We complied with the state of Alaska law and guidelines when issuing these licenses."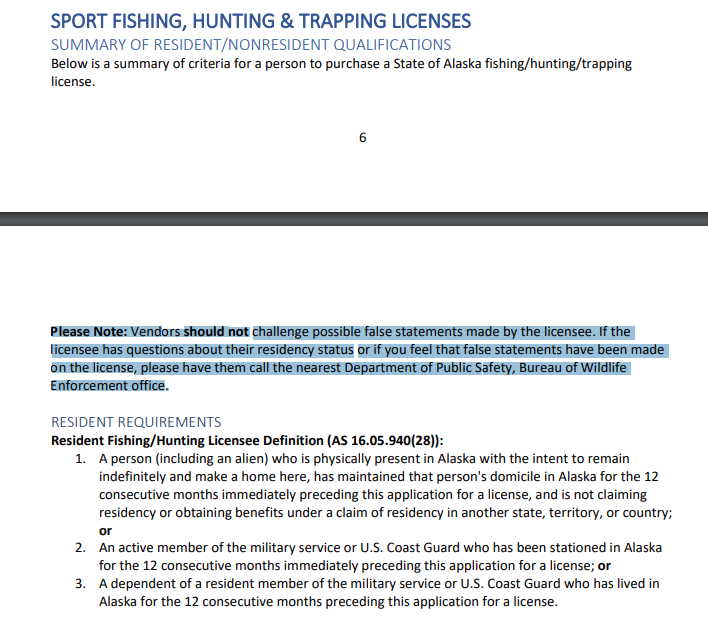 Must Read Alaska posted a copy of the license Tshibaka illegally obtained in 2019. The license, which is signed by Tshibaka, states that the applicant must "read and understand" the definition of Alaska "resident," and that "making false statements herein is subject to criminal penalties." Tshibaka wrote she was a resident for 15 years, while she in fact had only returned to the state six months prior, after an absence of 23 years. As previously reported by the Landmine, Tshibaka's resume states that she worked U.S. Postal Service Office of Inspector General in Arlington, Virginia, until January 2019. Tshibaka was a Maryland resident and remains registered to vote in that state.
Tshibaka's resident fishing license is below: