Welcome to this week's edition of The Alaska Stalker, a lighthearted round up of the best and worst of Alaska's social media landscape.
Have you sent us a tip yet? Caring is sharing! Unless you're an IE…  Email those hot tips to [email protected] and, as always, thanks for reading! This week is a doozy. A LOT is going on.
---
When you start your column off with an Alex Jones tweet, it can only go uphill. We kept a close eye on this dumpster fire poll. Happy to report Senator Murkowski isn't the worst lawmaker in Congress.
---
The gloves are off and mud is starting to fly. Here's this week's shade report:
Let's start with this epic video example of "fake news" courtesy of, who else, Michael Chambers.
What the video doesn't tell you is that candidate for house, Albert Fogle, is ON HIS OWN PROPERTY when he took down an unwanted campaign sign. You can't make this up folks. But please, candidates for house Ross Bieling and Joe Riggs, keep throwing shade at Albert while telling hillside voters all about how they don't have a say in who puts what on their own land.
---
Candidate for house, Marilyn Stewart, throws some low key shade at her opponent, Representative Matt Claman, with her "free sign upgrades" campaign. See the Claman sign peeking out from behind the "upgrade?"

---
This is one of the most savage tweets on Alaska Twitter that we've ever seen. ???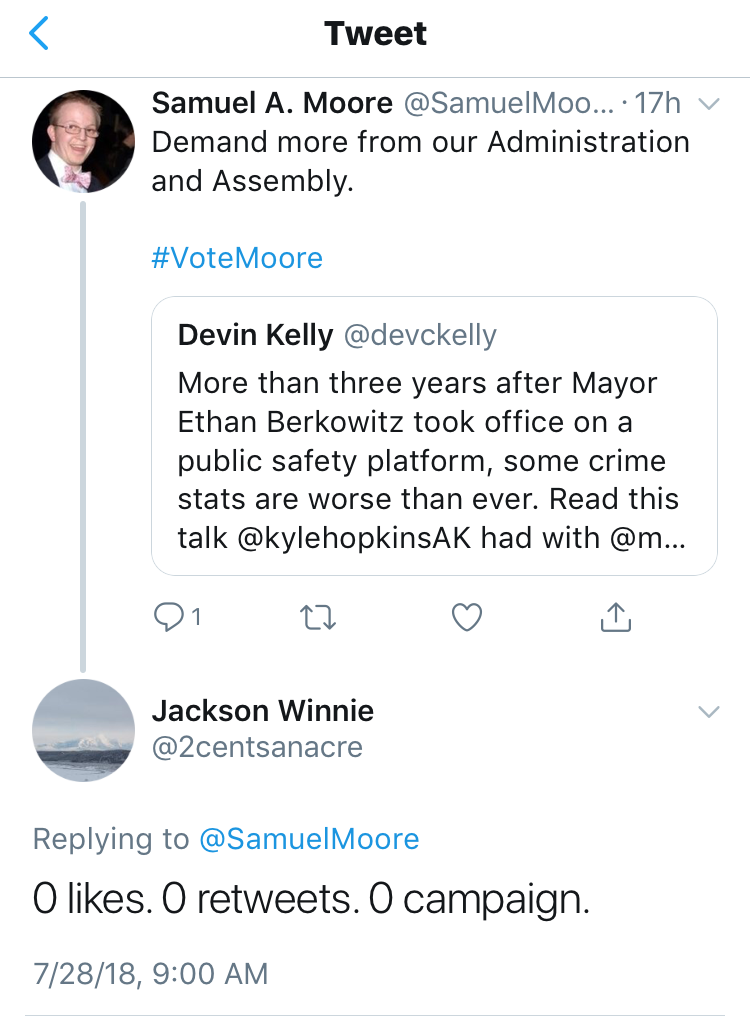 Kingmaker  retiring Representative Les Gara threw some not so subtle shade at candidate for his house seat, Elias Rojas, and Elias' new ad touting his Planned Parenthood endorsement. By Les' logic, shouldn't we all complain that #politicsasusual Les left out the fourth candidate running for his seat in his Twitter rant? Poor Ceezar Martinson. If Les won't show him any love, we will.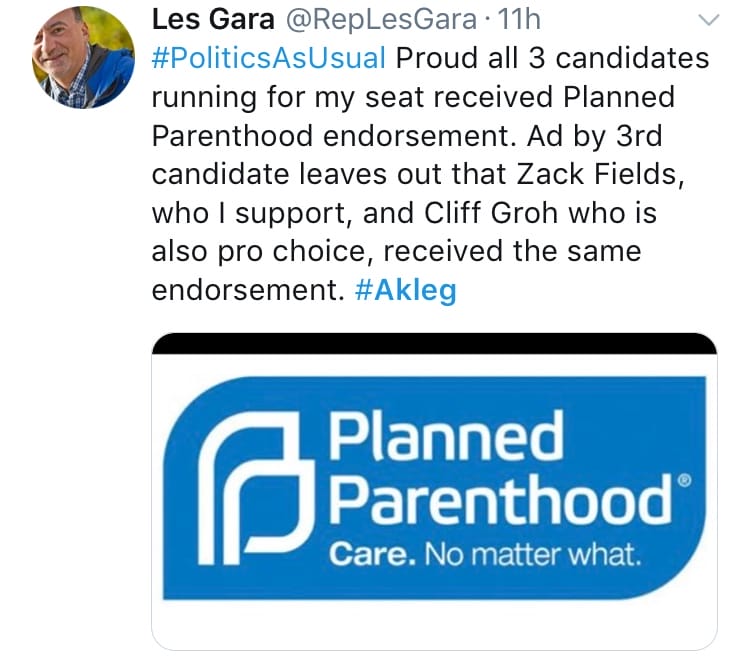 ---
And Congressional candidate, Alyse Galvin, continues to throw whatever she can at Congressman Don Young hoping it will stick. This ad ran all last week.
 
Does Alyse not know that Ketchikan and Wrangell are part of Alaska? 'Cause Congressman Young was there all last week.
---
We have been waiting a long time for this. Ladies and gentleman: Representative Ivy Spohnholz isn't perfect! Just look at that rogue "m!" Yes this is the most innocuous typo ever, but we'll probably never get this opportunity again.

---
There's nothing the Stalker likes more than sitting down to our morning coffee and reading a train wreck of an email from any campaign manager. This one from Governor Walker's campaign manager, 
John

-Henry Heckendorn, did not disappoint. There's a lot going on. Besides being 12 paragraphs with a rambling Sunday school lesson, he misspells Philistines in his meme and includes a Dunleavy email at the bottom that points out A: Walker is really unpopular as Governor, and B: polls currently show Dunleavy leading. Slam dunk John-Henry!

---
We wonder what John-Henry thinks about candidate for house, Liz Snyder's messaging? Using his logic she's telling people to vote for her because she's little.  What do you think it would take to get a photo of Mike "standing tall" Dunleavy, with Liz "standing small" Snyder?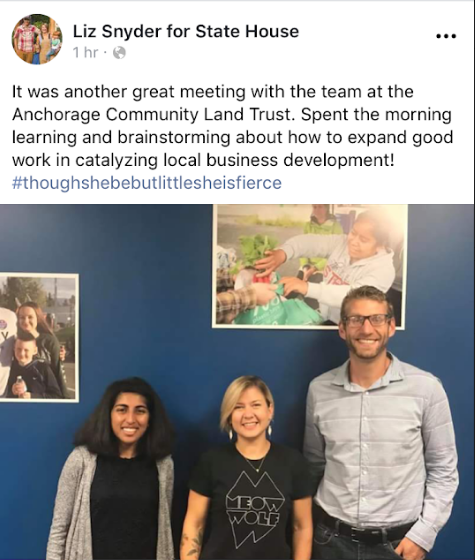 ---
A tipster sent us this Instagram from candidate for Governor, Mike Dunleavy, saying, "I'm confused! I thought Mike was going to be tough on crime and protect my dividend? WHY do I see pics with him and Kevin Meyer signs, when Kevin is the exact opposite? He voted to take my PFD and yes on SB91." I mean, she's not wrong. We also spy a Dunleavy IE sign in that pic. Yikes!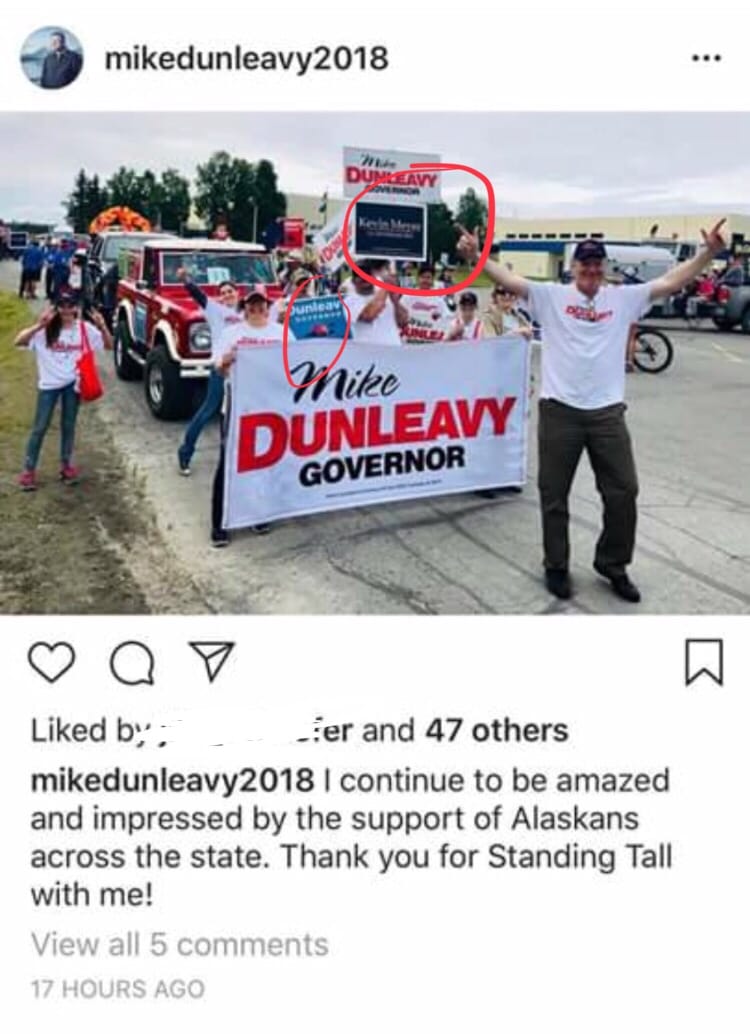 ---
We're just going to leave this here.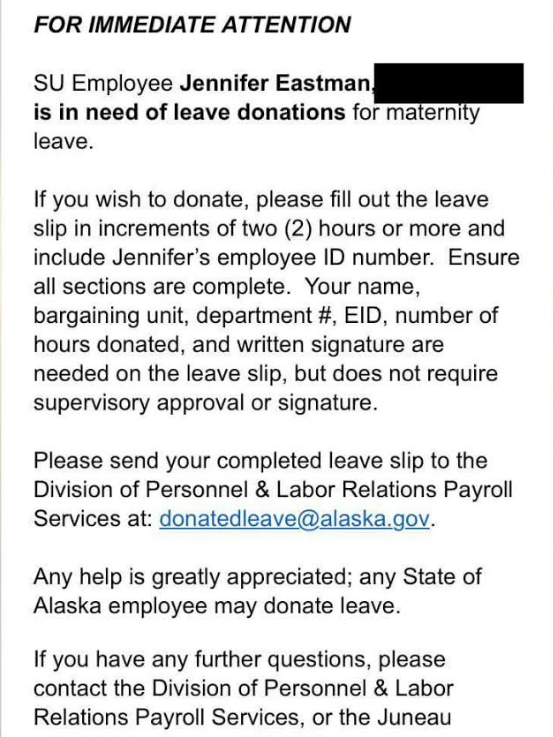 ---
Vice Chancellor for Rural, Community and Native Education at Univerity of Alaska Fairbanks, Evon Peter, had a Facebook post go "viral."  Sheeesh. And coming from Vegas, too.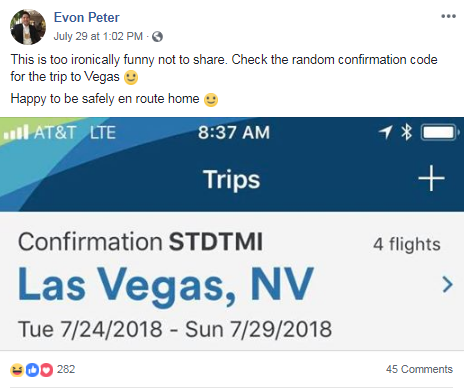 ---
In the age of screenshots, politicians need to think twice before they lie address important issues. Here's an example via our favorite candidate for West Anchorage Assembly, Nikki Rose, in three acts.
Act I: The denial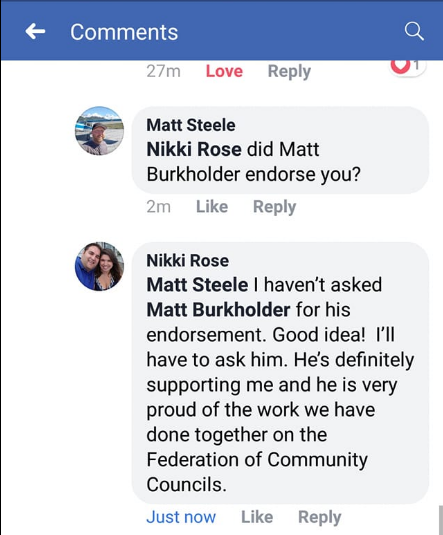 Act II: the proof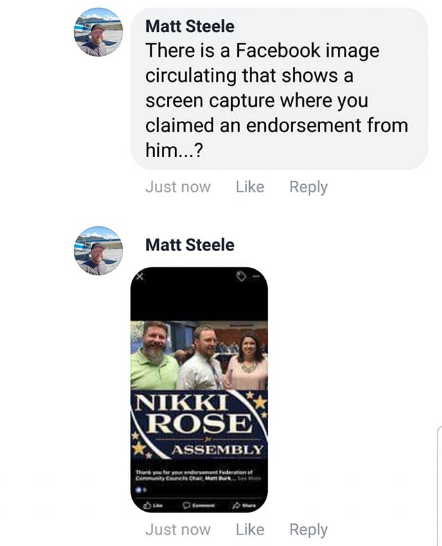 Act III: the contradiction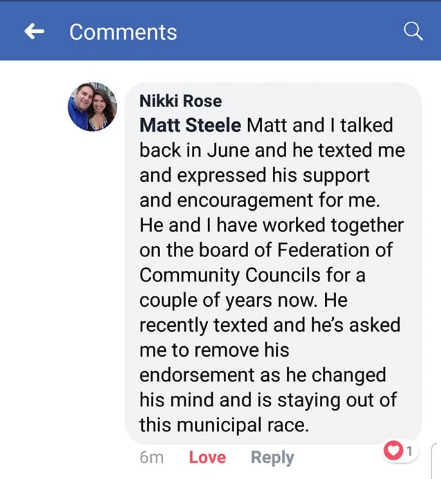 ---
? Someone's not playing by their own rules! #triggered

---
Check out this piece from Alaska Politics and Elections about the race in House District 22. Our favorite part was when columnist Alex Gimarc describes Representative Jason Grenn's kids, Atticus, Vivienne, and Truman, as having strange names. ??? Coming in a close second was this sentence: "I do not know Ms. Rasmussen.  I have not spoken with her nor do I know what her positions are." He then goes on to explain that's why no one should vote for her. Great piece Alex! Way to ask the hard-hitting questions.

---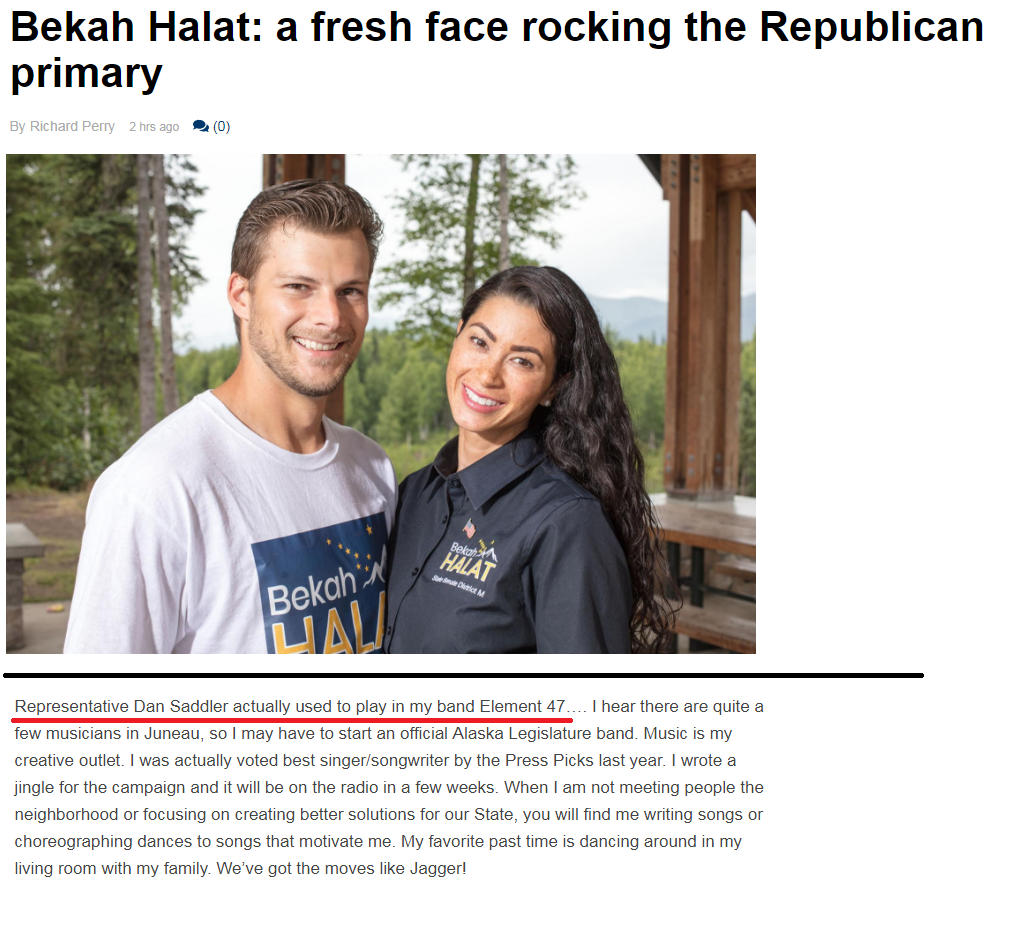 ---
Representative Geran Tarr apparently has ambitions of being a postal carrier. I texted her Facebook post to my favorite postman. Here's his response below. He's not very political. Can someone tell Geran that USPS is hiring? ???

---
Do you live on the East side? Do you want a six year old windblown, ripped, slightly stained, and patched up political sign for your yard? Then Representative Lance Pruitt is your guy.
---
Representitive DeLena Johnson gave it her best shot, but a corn field doesn't even come close to topping last week's mini horse wearing a Walker/Mallott hat.
 
---
Candidate for Lt. Governor, Kevin Meyer, also tried to get in on the action. There was so much potential here. Sadly, dozens of sweet doggie faces would have been a much better photo than a handful of doggie butts. Poor execution.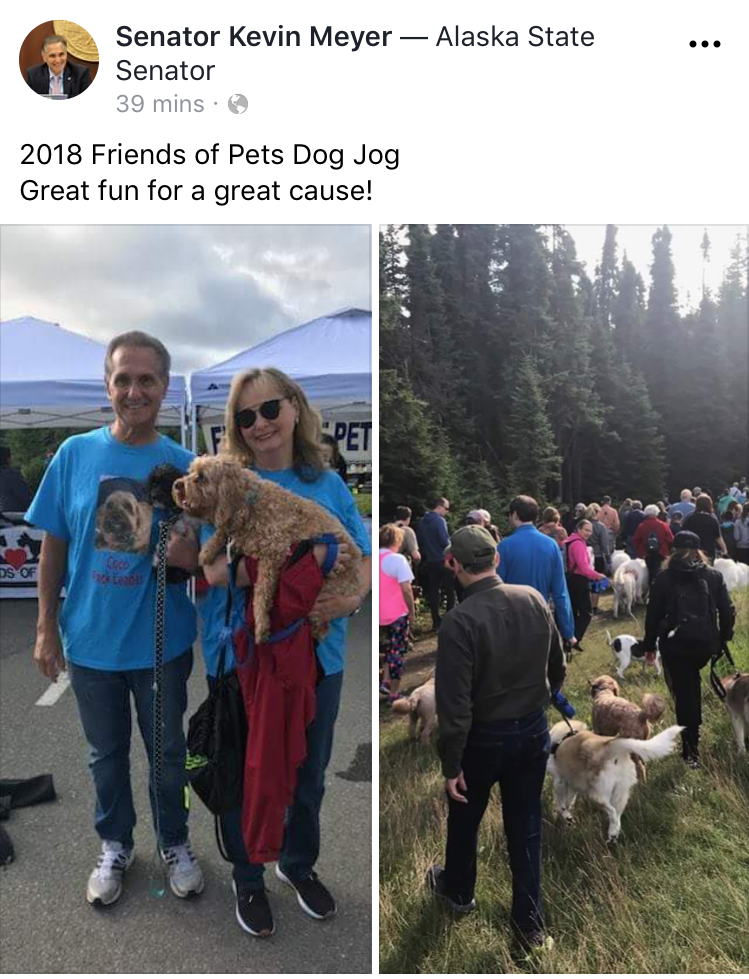 ---
Candidate for house, Bart LeBon, consistently has

the best

fb pics. Look at that sweet newborn baby. Congratulations on being born Lainey! I hope you enjoy being the littlest constituent.
---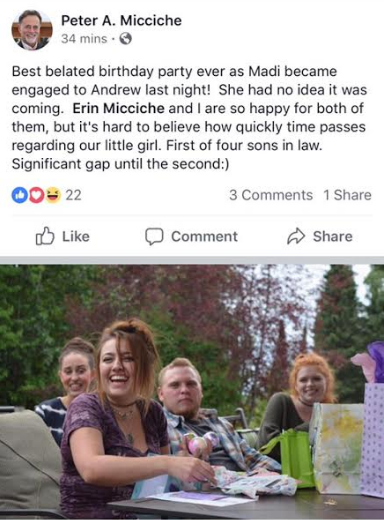 ---
Fan Mail:
Sent to the Stalker by a dear friend. Thanks for reading! 😉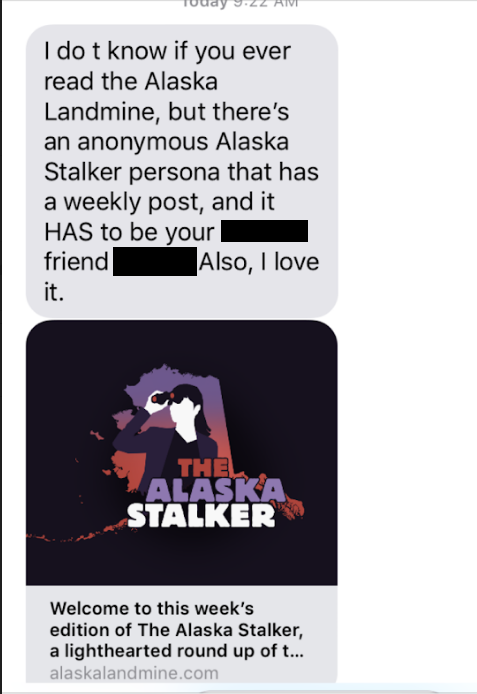 Celebrity Sightings:
The Golden Snitch of Alaska Celebrity sightings seemed to slip through everyone's fingers in Juneau, leaving only a tweet behind.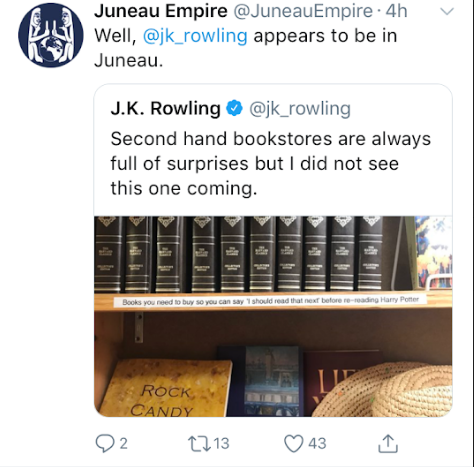 Stalker fav Greta Van Susteren fishing with wounded veterans in Western Alaska. Cool.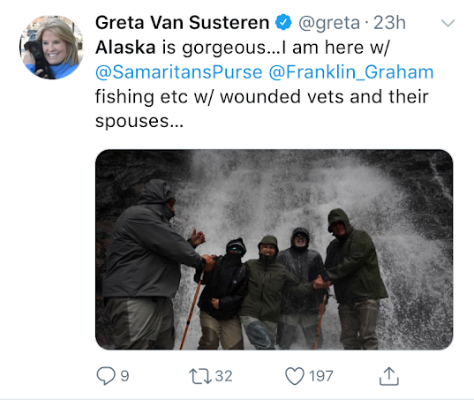 Spotted at the Alaska Republican Party Picnic
Candidates for house Josh Revak and Forrest McDonald won the three legged race.
Rival Candidates for West Anchorage Assembly Nikki Rose and Sam Moore won the egg run as a team.
The Vazquez Vanquisher! I'm sure the neighbors are thrilled. Is this a step up or down from the Segway?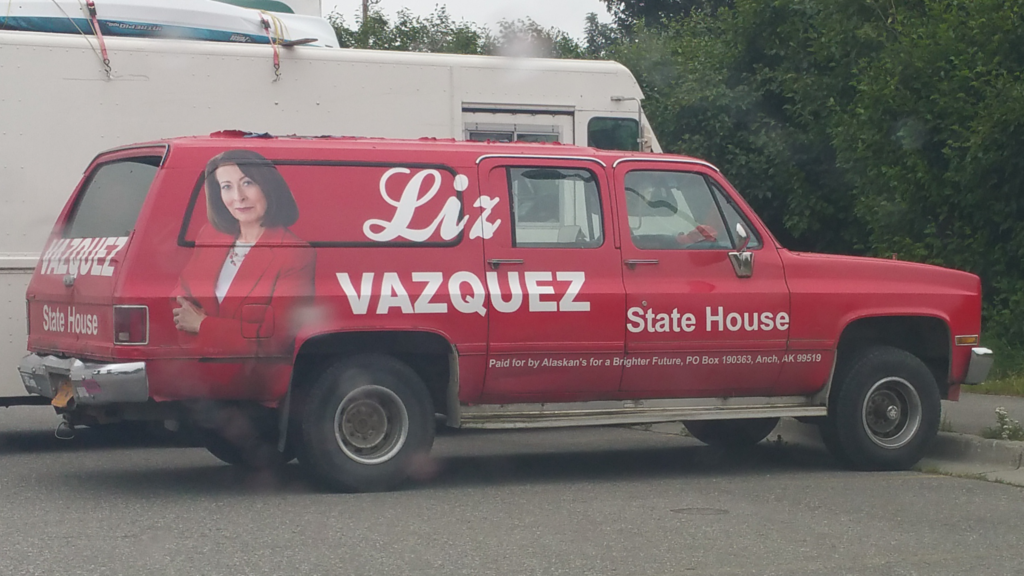 ---
Ryan Binkley of the Anchorage Daily News spotted having a high level meeting at the Downtown Marriott. 
Randy Ruedrich spotted at Wells Fargo on C St.
---
Overheard in Anchorage:
"I just heard a Dan Saddler ad on the radio and it was so low energy I almost fell asleep at the wheel."
"I don't know who's going to come in second, but Dustin Darden's going to get third in that special assembly election. Mark my words."
Overheard on the airwaves:
Senator Dan Sullivan on the Dave Stieren show claiming the Russians were responsible for his dropped connection from DC, and he'd need to check his phone for bugs. As a fan of dad jokes, we let it slide the first time. But making the same joke twice in five minutes? A little cringe worthy, Senator.
A belated congratulations to Alice from KWHL on the big promotion over to KWHL's morning show. For those of you who missed it, Chad and Alice are the new Bob and Mark. Alice recently conducted an interview with Carol Harner, a resident of South Dakota who is running for a seat to represent Alaska in Congress. According to Alice, it was a surprisingly nice chat. Listen here. And thanks for doing the media's job.
---
That will do it for us this week folks. Don't forget to send your favorite social media and online goofs, gaffs, memes, dust-ups, "Overheard in Alaska," "Spotted in Alaska," or whatever else you got to [email protected] Our DMs are always open. Remember: pics or it didn't happen!