October is just a few days away. The snow will be here before we know it. As weeks go in Alaska, this one was rather loose. Between the Pebble Tapes, former Governor Sarah Palin posting a bizarre video on Instagram, and former Admiral Tom Barrett getting caught on a hot mic, there was no shortage of content. Cale Green and I spent Monday and Tuesday in Fairbanks filming a profile of the Senate District B race. Our takeaway was this is one strange race. All three of the candidates have a viable path to win. Check out our video profile below. If you like this kind of content please donate to the Landmine so we can make more. It takes a lot of time and money to make these kind of videos.
A friendly message and reminder to all our readers, the Landmine is made possible by myself and a team of awesome Alaskans. It takes a lot of work to provide the content we do. If you enjoy the content we provide, please consider making a one time or recurring monthly donation. You can click here to donate. We have a donation system that makes it super easy. We would really appreciate it. And thanks to everyone who has been supportive!
Senate District B
Here is our profile of race in Senate District B. It's a pretty weird race. There are two Independents, Evan Eads and Marna Sanford, and Republican Robb Myers. There is no Democrat in the race. Let us know what you think!
Other Happenings
President Trump tweeted that he will issue a permit for the Alaska to Alberta Railway. You can read more about it here. I was in Juneau last year when some headings were held on this. It's a great project. Sources confirm that Trump did not approve it last year because of his distaste for Senator Lisa Murkowski (R – Alaska). Notice how he did not mention her in the tweet… Senator Dan Sullivan (R – Alaska) and Congressman Don Young (R – Alaska) are both up for reelection, which was likely a factor in the timing of this.
Based on the strong recommendation of @SenDanSullivan and @repdonyoung of the Great State of Alaska, it is my honor to inform you that I will be issuing a Presidential Permit for the A2A Cross-Border Rail between Alaska & Canada. Congratulations to the people of Alaska & Canada!

— Donald J. Trump (@realDonaldTrump) September 26, 2020
Former Admiral Tom Barrett, also former president of Alyeska Pipeline, had an epic hot mic moment this week. During a DOT Facebook Live of the Marine Highway Reshaping group, Barrett made some pointed remarks about Tom Collier resigning from Pebble when he thought he was on mute. After realizing everyone could hear him he just carried on. No big deal. Then Representative Louise Stutes (R – Kodiak) backed him up! One politico told me, "It was one of Alaska's best Toms talking about one of Alaska's worst Toms." Savage.
Talk about loose! During a break of a DOT Facebook Live about the Marine Highway, former Admiral Tom Barrett had an epic hot mic moment about the Pebble situation. After making his comments, Rep. Stutes came in and backed him up! Maximum looseness at that meeting. #akleg pic.twitter.com/4WgBmH9LEJ

— The Alaska Landmine (@alaskalandmine) September 24, 2020
There were a ton of political fundraisers this week around the state. Candidates are making their last minute push for cash. The first tranche of in-state absentee ballots will start going out on Friday, October 2. The original target date was October 9 but the Division of Elections moved it up a week. I will say it again, whoever is running their Twitter account is amazing.
The House Republicans are holding a big fundraiser this week in Anchorage. Noticeably absent from the list is Representative David Eastman (R – Wasilla).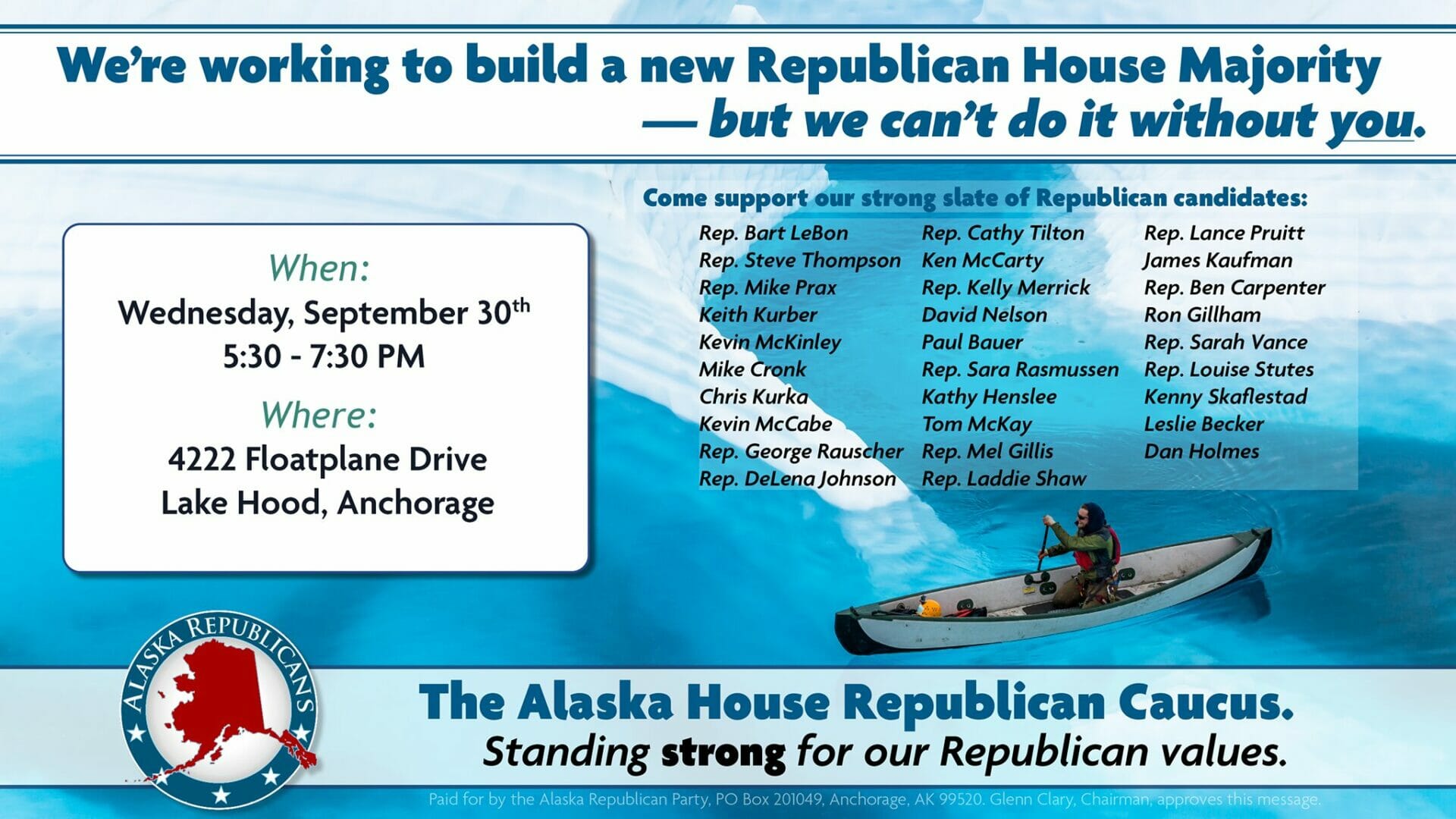 On Thursday Commissioner Kelly Tshibaka (Chewie) went on the Dan Fagan Show. Fagan asked her if she was planning on running against Lisa Murkowski in 2022. At first Tshibaka tried to dodge the question. But in classic fashion, Fagan got her to say she has not ruled anything out. You can listen to the interview here. I first reported she is likely going to run for office last November.
Julia Hnilicka, Democratic candidate in District 6, got the coveted Santa Claus endorsement this week.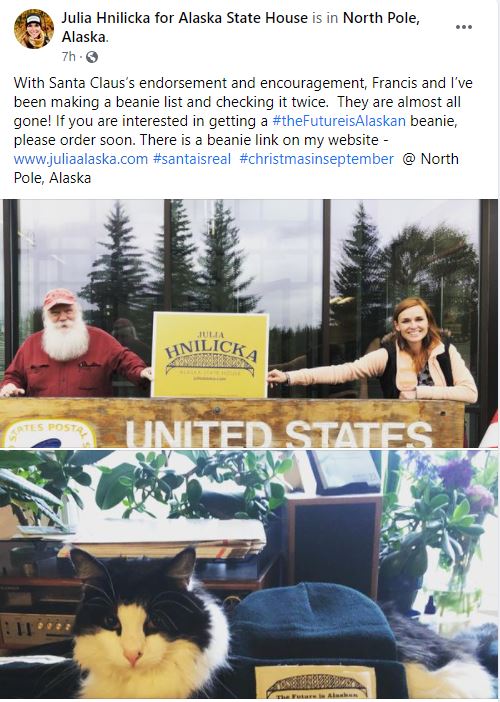 If you have not yet seen the bizarre video Sarah Palin posted on her Instagram, you can watch it here. She has either lost her damn mind or is some kind of genius. Either way, everyone is talking about her.
This Week's Loose Unit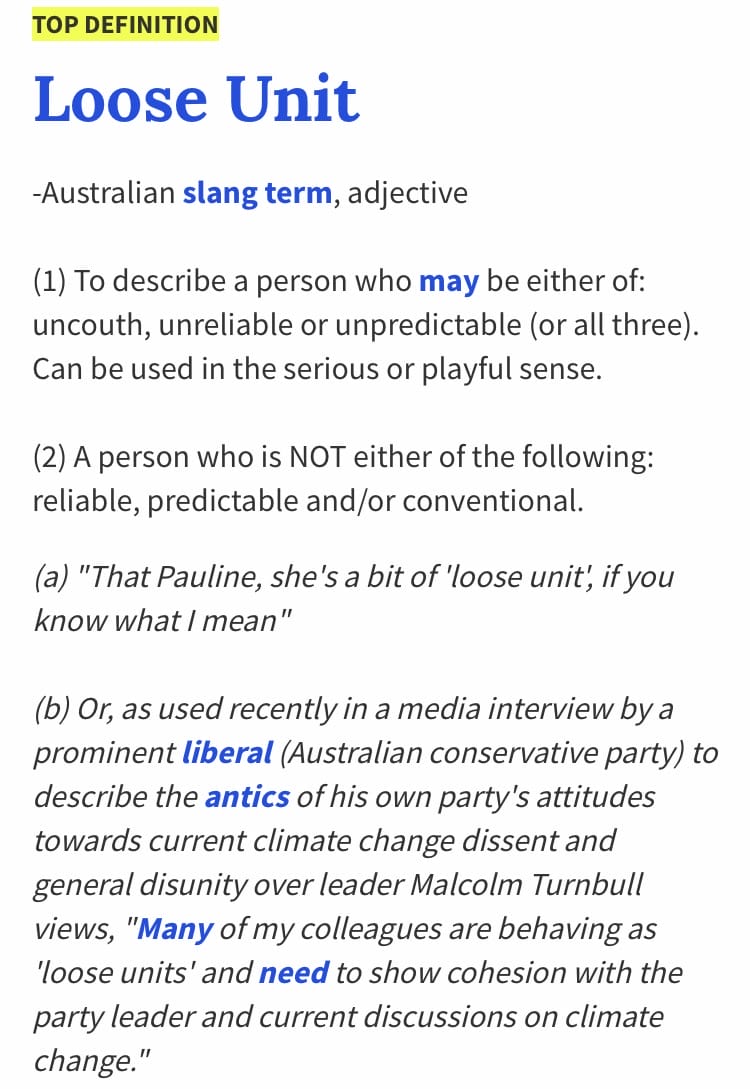 This week's Loose Unit is a complete no brainer. This week's Loose Unit is Tom Collier. Collier had a real bad week. It all started on Monday when the Pebble Tapes came out. Getting duped by a bunch of environmentalists posing as potential investors is loose. Meeting with them on Zoom and having everything they said recorded is maximum loose. Of all the bizarre and loose shit that was said, maybe the loosest thing was when Collier took credit for defeating all the Republicans in the primary. I pride myself in knowing a lot about the political goings on in this state. I know who the players are, especially the behind the scenes ones that most people are unaware of. I have never had a thought or conversation about Collier being involved in any way in legislative races. In fact, according to APOC reports the only legislative candidate Collier donated to in 2020 was Representative Lance Pruitt (R – Anchorage). And Pruitt said he forwarded his donation to a charity. Super loose!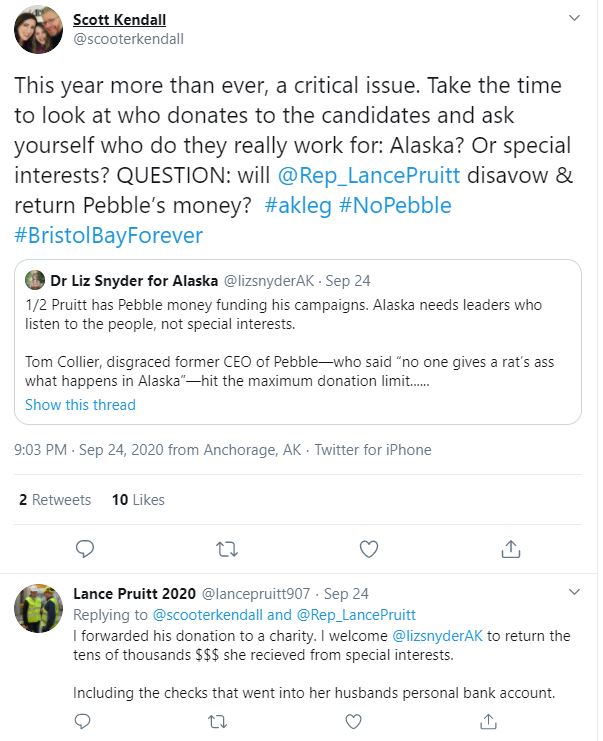 After the fallout of the Pebble Tapes, Collier resigned as the CEO of the Pebble Partnership. This came as a surprise to probably no one. Talk about a Loose Unit!
Bonus Loose Unit 
A huge part of the Landmine is our readers. I take their feedback and input seriously. So, in classic Landmine fashion, I am going to make myself a bonus Loose Unit this week. After posting pics of me going door to door with Senator Natasha von Imhof (R – Anchorage) this week, I lost count of how many people nominated me for this week's Loose Unit. Von Imhof also posted pics on her campaign Facebook. I acknowledge how loose this was!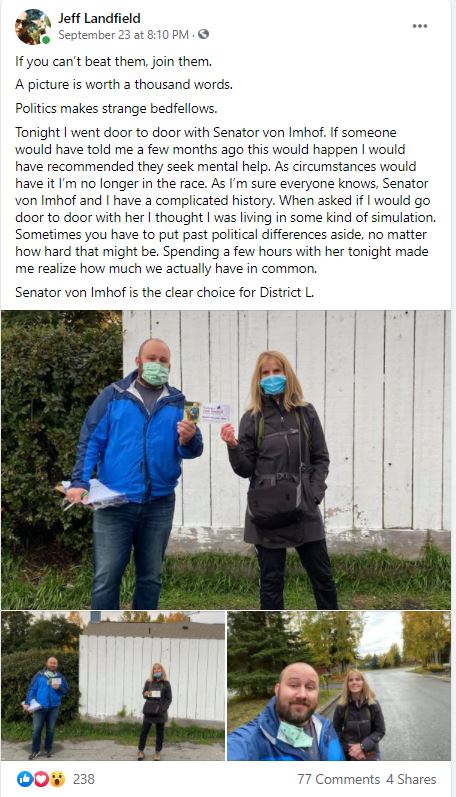 Because the Democrat in the race broke her word and decided to stay in the race, I had really no other choice than to withdraw. Sometimes doing the right thing is not easy. There is one thing I want to say. I have had some people say or insinuate I got something for this. I got nothing (other than some nice mint leaves Senator von Imhof gave me from her garden lol). The Democrat in the race is totally unqualified to be a legislator. Senator von Imhof and I have our history and we for sure have our differences. But she is by far the most qualified person in the race. And as far as Campbell Lake. I still 100% support getting proper public access established. But the truth is at this point it has little to do with Senator von Imhof. It is a function of the state (Department of Natural Resources) and the Municipality (Community and Economic Development, Assembly, mayor). All of which have done little to resolve this since we published our special feature last September. If you want this to happen, call DNR, your Assembly person and Mayor Berkowitz. I bring it up with those people every time I talk to them. But back to the main point, I actually had a great time talking with Senator von Imhof. Maybe a podcast is next in line!
If you have a nomination for this week's Loose Unit, or if you have any political news, stories or gossip (or any old pics of politicians or public officials) please email me at jeff@alaskalandmine.com.