It's nearly halfway into November and still no snow in Anchorage or Southcentral. Fairbanks, however, has already had a significant snowfall. November brings with it the start of the holiday season as well as lots of tradeshows and conferences. This week the Alaska Miners Association and Associated General Contractors both held their annual conferences in Anchorage.
A friendly message and reminder to all our readers, the Landmine is made possible by myself and a team of awesome Alaskans. It takes a lot of work to provide the content we do. If you enjoy the content we provide, please consider making a one time or recurring monthly donation. You can click here to donate (or on the image below) via PayPal. We would really appreciate it. And thanks to everyone who has been supportive!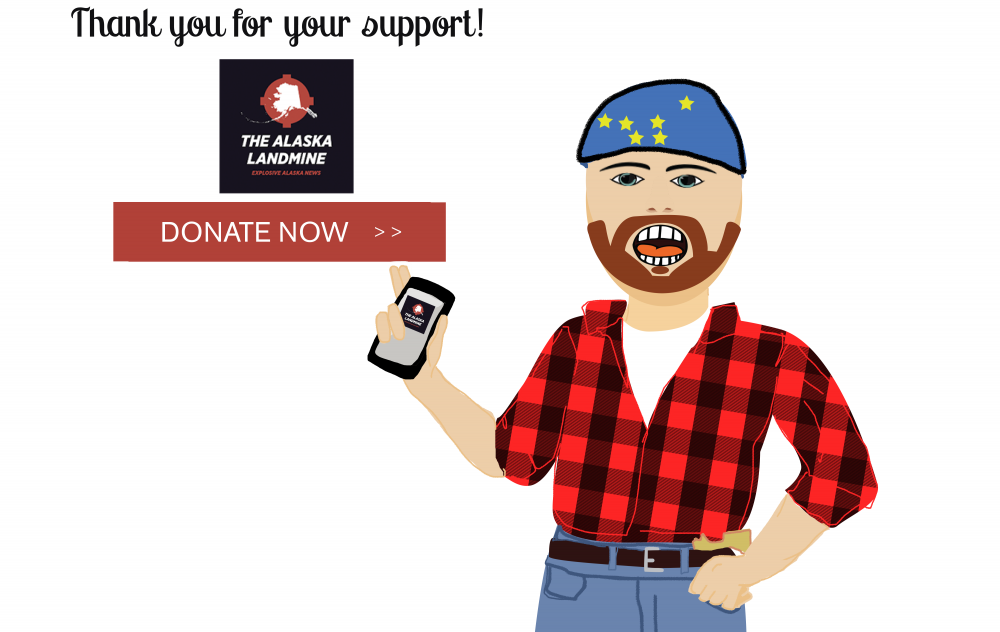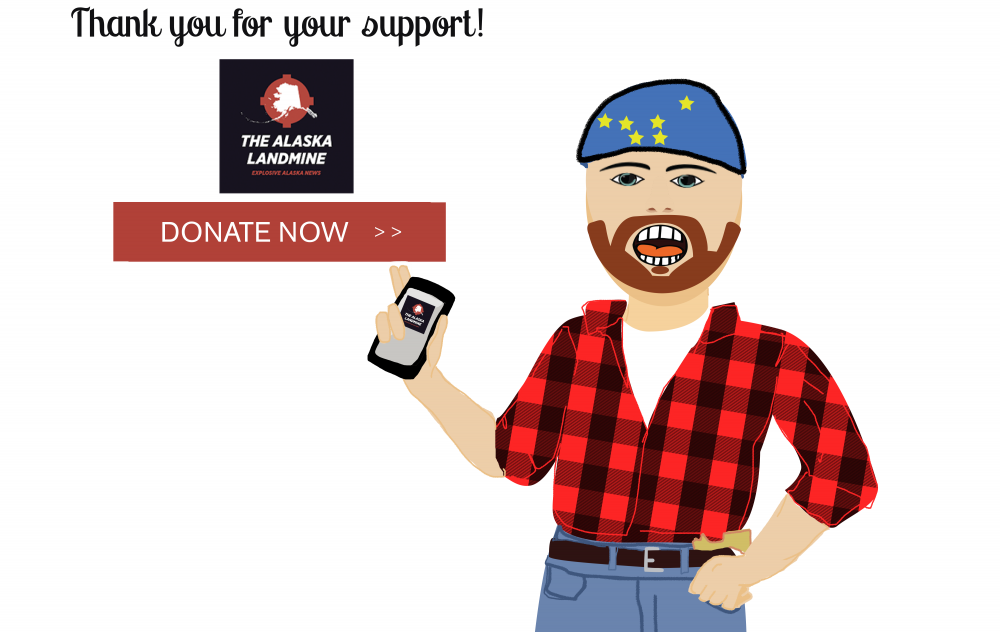 District 25 Vacancy
Applicants had until Friday by 5 pm to apply with the Alaska Republican Party for the vacant District 25 House seat. This seat became vacant when Josh Revak was confirmed for the District M Senate seat. Only four people applied. Here they are:
Forrest Mcdonald. Mcdonald only moved into the District last fall. There is a question of whether or not he is even qualified because he would not have been qualified to run for the seat last year. Mcdonald helped now-Senator Josh Revak (R – Anchorage) on his House campaign last year. He also worked as a staffer for Revak during the last session. He unsuccessfully ran as a Democrat against now-Senator Natasha von Imhof (R – Anchorage) in 2016. He then switched parties and ran as a Republican in the District 23 primary last year. He was defeated by Connie! Dougherty, who Representative Chris Tuck (D – Anchorage) defeated in the general. He is probably best known for his loose social media posts.
Mel Gillis. Mel is someone I would describe as a true Alaskan. He is a an old hunting guide who loves cigars. I got to know Mel well last year when I ran the independent expenditure group, Let's Back Revak, that supported Josh Revak. Mel contributed $30,000 and put me in charge. We spent a lot of time together on that. He is plainly spoken and always tells you what he thinks.
Jamie Donley. Donley is the wife of former State Senator and current Deputy Commissioner of the Department of Administration Dave Donley. Both are members of the District 25 Republican committee. So they can both vote for her! She registered as a lobbyist on January 3 of this year and only has one client – Hope Community Resources. Hope was previously a client of her husband. She was not a supporter of Revak when he challenged former Representative Charisse Millett last year. Governor Mike Dunleavy (R – Anchorage) seems to like employing the spouses of legislators. So this probably gives her an edge!
Brian Webb. Webb is the brother of Bruce Webb, who ran against Charisse Millett in the 2008 Republican primary. He supported Revak last year. He was even in one of our Let's Back Revak videos! He is very friendly and very conservative. He is retired from the Air Force and works in the oil and gas industry.
Republicans are meeting tomorrow night at 6 pm at Alaska Republican Party headquarters on O'Malley. I wonder if they will break their rules again and do everything in secret? I will be there to find out. If they do, look forward to another Facebook Live! They need to choose three names to send to Dunleavy to choose from. Then, the person needs to be confirmed by House Republicans. Look for this process to get very loose.
Other Happenings
These two choppers landed in downtown Anchorage on Monday morning. They were then towed to the Dena'ina Center for the Alaska Miners Association convention. Onlookers were both confused and intrigued. That K-MAX is something else. It has no rear stabilizing rotor! Read about it here.
The Associated General Contractors banquet was on Friday night at the Hotel Captain Cook. I happened to be at the Cook for a steam. When I was walking out I noticed a ton of legislators. At first I did not realize the AGC thing was happening. I thought maybe there was some kind of coup underway! Everyone looked like they were having a good time. I also spotted former Senator Anna MacKinnon with her husband, DOT Commissioner John MacKinnon. Will she be the new OMB director?
Politico Allie Banwell, Alyse Galvin's former campaign manager, is moving out of state. She is going to run Kate Schroder's congressional campaign in Ohio. She had a going away party on Friday night at Reilly's. It was packed and included Representative Ivy Spohnholz (D – Anchorage), Assemblymembers Forrest Dunbar and Austin Quinn-Davidson, reporter Nat Herz, and many others. After, some went to the Gaslight to keep the party going. Unfortunately, Ivy did not ride the bull. Allie is super smart and very high energy! She will be missed. Best of luck to her on her new venture.
My good buddy Grace Jang, former Governor Bill Walker's deputy chief of staff, is heading to D.C. for a new job with Senator Lisa Murkowski (R – Alaska). Congrats, Gracie J!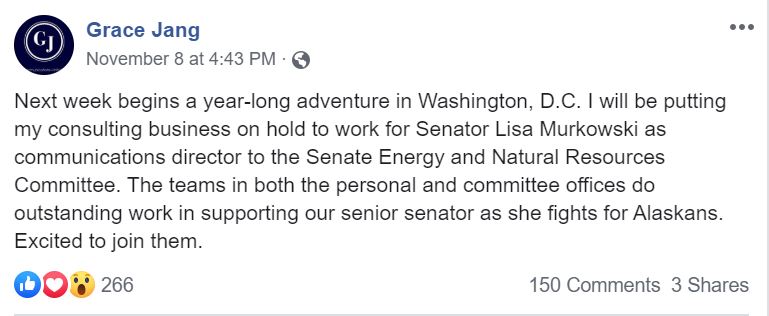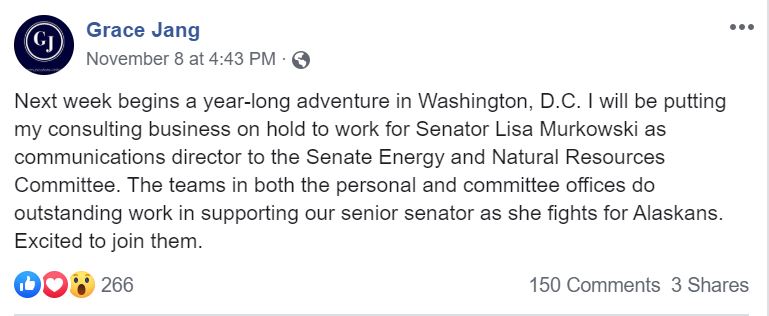 Congressman Don Young (R – Alaska) held a fundraising lunch this week in Anchorage at Altura Bistro. For 86, he's got a ton of energy!
A new group, One Alaska, has formed to oppose the oil tax ballot initiative by the group Vote Yes for Alaska's Fair Share. Check out their co-chairs here. Definitely a bipartisan group.
The Alaska Democrats made the below post this week. I wonder which Republicans they are referring to? Representatives Chuck Kopp (R – Anchorage), Jennifer Johnston (R – Anchorage), Steve Thompson (R – Fairbanks) – all who are in a bipartisan coalition with Democratic Senators – or Senators Cathy Giessel (R – Anchorage), Bert Stedman (R – Sitka), Natasha von Imhof (R – Anchorage), John Coghill (R – North Pole)? All are Republican members of legislative leadership.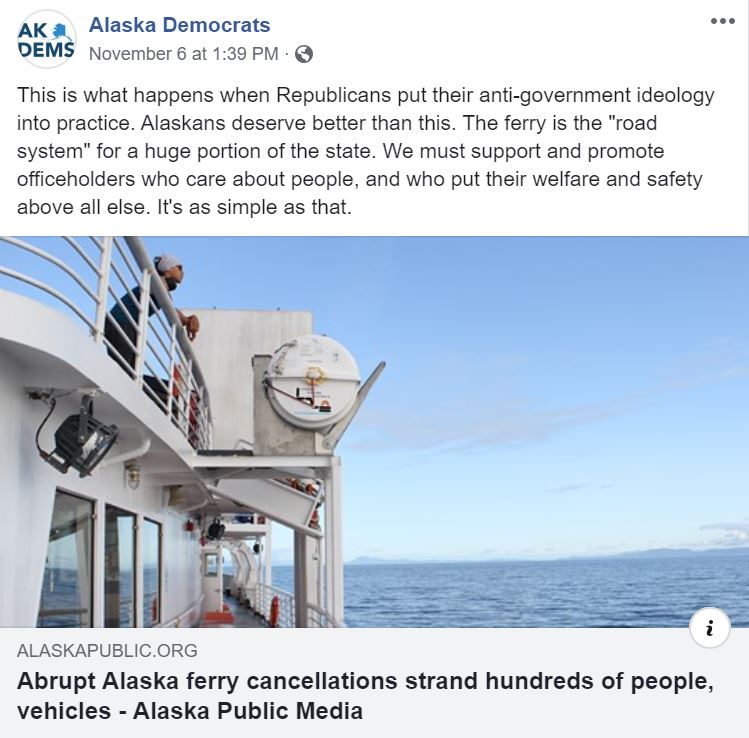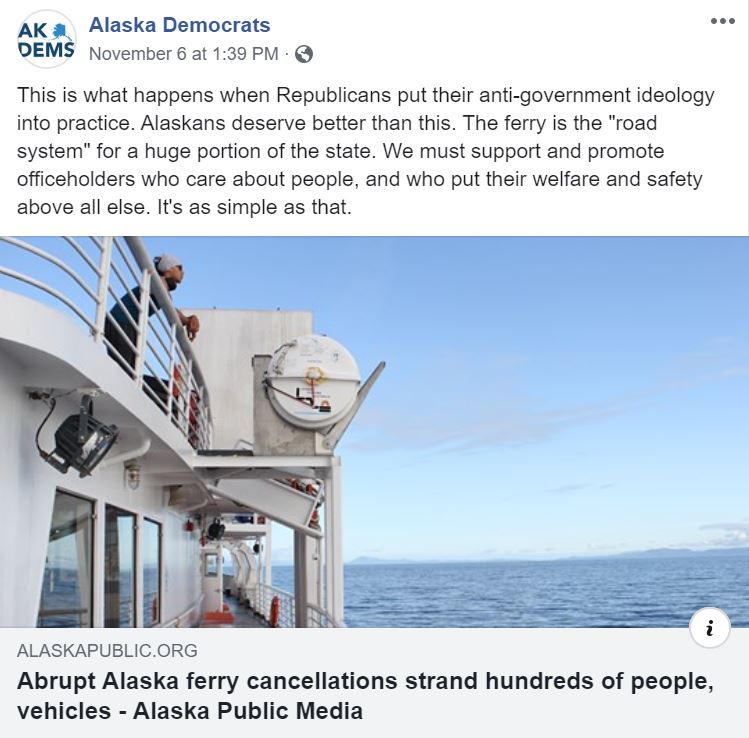 Commissioner Kelly Tshibaka has created an official Facebook page for herself as a government official. You can see it here. Two words: she's running. The question is for what office?
Tshibaka also announced this week tha Bill Smith has been selected to be the Chief Information Officer for the State of Alaska.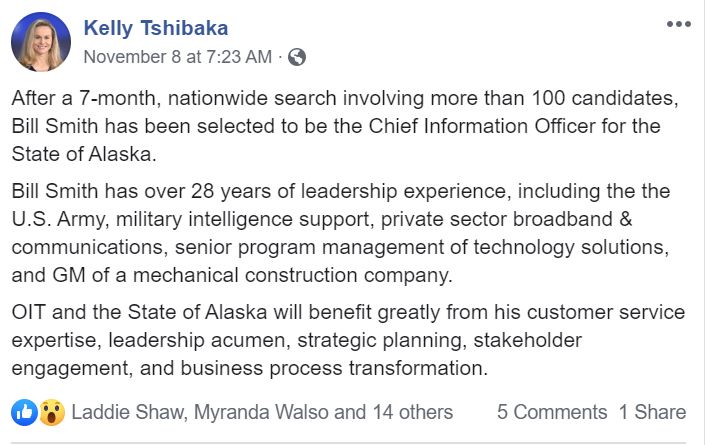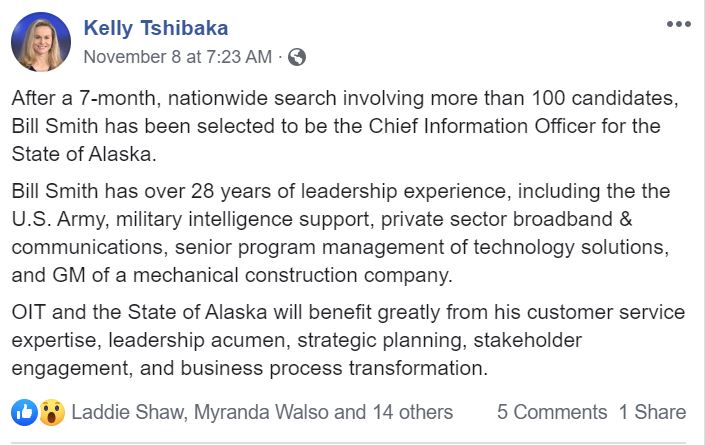 Sources have reported receiving calls from American Viewpoint, who have been conducting a poll mostly asking about Senator Dan Sullivan (R – Alaska). Here are a few of the questions from the poll:
Do you have a favorable or unfavorable opinion of the following people? If you haven't heard of them, please say so.
Dan Sullivan
Lisa Murkowski 
Donald Trump
Mike Dunleavy
Don Young
Al Gross
Do you approve or disapprove of the following people and the job they've done?
Donald Trump
Mike Dunleavy
Lisa Murkowski
Dan Sullivan
On a 10-point scale, with 1 not important at all and 10 being very important, rate the following Alaska issues:
Securing Icebreakers
F-35s being located at Eielson AFB
Development of infrastructure projects like roads and bridges
Building the King Cove Road
Military buildup and missile defense
Cutting back on federal regulations and opening up more areas to commercial fishing
Increasing Southeast Alaska timber production
Securing new United States Coast Guard Cutters for coastal Alaska Communities
Opioid addiction program
This Week's Loose Unit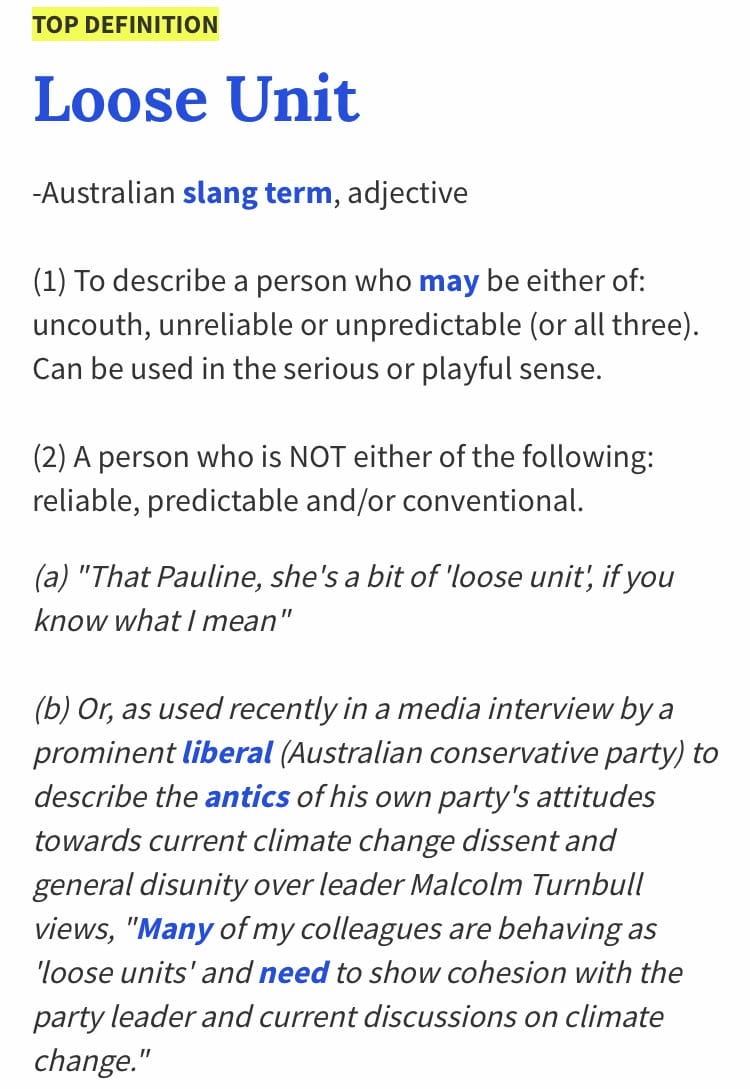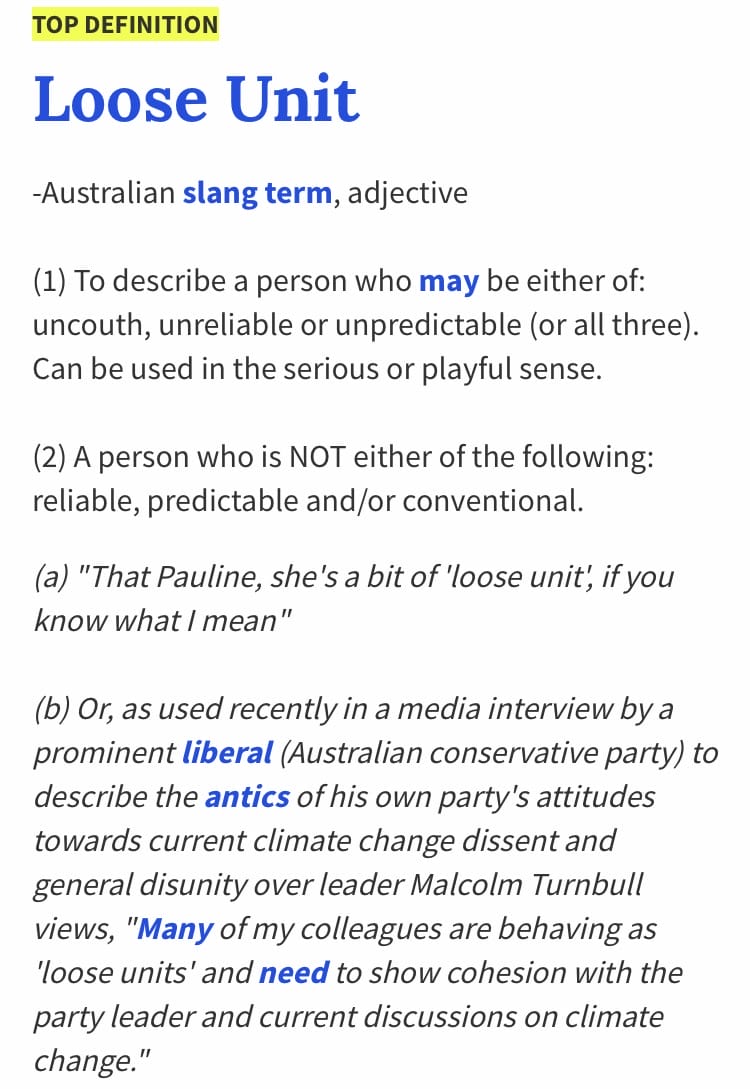 While I have a feeling there will be many candidates next week for the Loose Unit, this week saw less competition than normal. This week's Loose Unit is a tie between Governor Mike Dunleavy and Attorney General Kevin Clarkson. Clarkson and Dunleavy have gotten very loose in their quest to bust unions, oppose Alaska hire, and infringe on the Legislature's ability to forward fund education. After several disappointing rulings on Clarkson's Janus opinion – on how the State collects union dues – he is now looking to spend hundreds of thousands of dollars of public money on the case. He has already spent a ton of money on the case with a D.C. law firm. Very loose. The goal seems to be to take this whole crusade to the U.S. Supreme Court.
The other case is involving the forward funding of education. Dunleavy tried to say the Legislature could not do that during the last session. It seemed pretty clear to most people that it was fine. Even Representative Lance Pruitt (R – Anchorage) said how great it was when the bill passed last year. This week, Judge Daniel Schally sided with the Legislature and rejected the claims of Clarkson on the issue. Very loose. I have a feeling this won't slow them down. After all, Clarkson does not seem to let losing get in his way.
If you have a nomination for this week's Loose Unit, or if you have any political news, stories or gossip (or any old pics of politicians or public officials) please email me at [email protected]