We are already halfway through September. It's raining in Anchorage. Fall has finally arrived. And the 100th season of the NFL has started – which means I am writing this column while watching some football games! I was in LA last Sunday and missed the first week of games. It has been relatively quiet in Alaska politics this week but there is always something happening.
A friendly message and reminder to all our readers, the Landmine is made possible by myself and a team of awesome Alaskans. It takes a lot of work to provide the content we do. If you enjoy the content we provide, please consider making a one time or recurring monthly donation. You can click here to donate (or on the image below) via PayPal. We would really appreciate it. And thanks to everyone who has been supportive!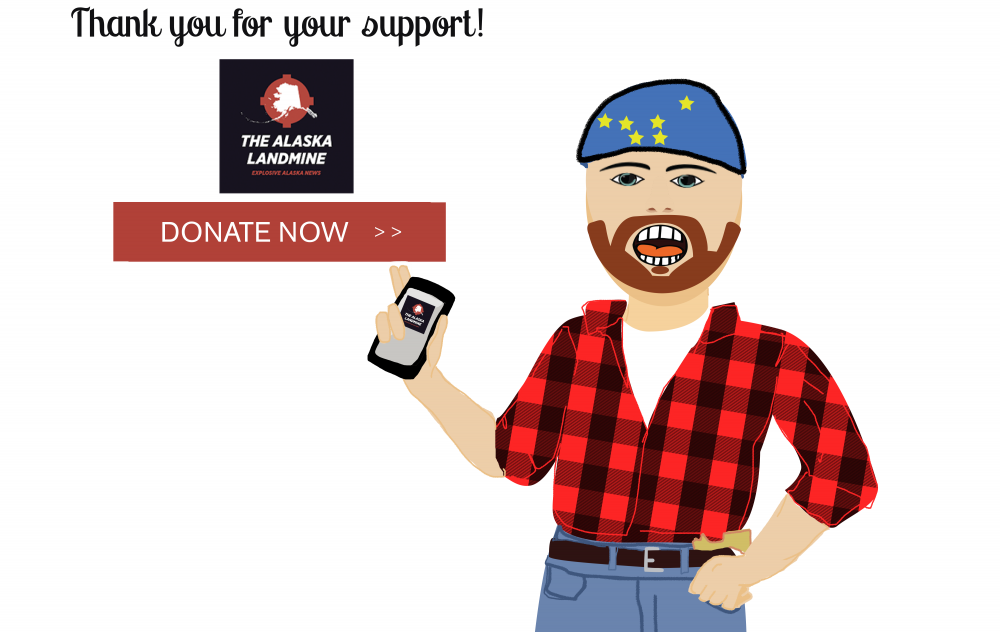 Anchorage Happenings
Today is the first day of the plastic bag ban in Anchorage. Some people were totally unaware of the ban and had an interesting shopping experience today. That should serve as a reminder that a lot of people never watch the news or read a newspaper. The fight about the ban continues on social media. Many conservatives see it as government overreach. Many progressives see it as a step in saving the world. Most people just want to get their groceries in the car. Stores are now using paper bags, which cost $.10 per bag, max $.50 per transaction. Here is a link to a muni website with more information.
The Alaska Democratic Party held their annual gala last night at the Sheraton Hotel in Anchorage. Since labor has recently come to an agreement with management at the Sheraton – over a long time strike – it seems to be kumbaya over there now. There were reportedly hundreds of people in attendance including several Democratic legislators, candidates, and former U.S. Senator Mark Begich.
Unless you were under a rock this week you heard about the scandal involving a Dimond High School swimmer and an official who disqualified her due to what the official called a swimsuit violation. After an article in Medium article was written by a local swim coach, the whole thing went viral. It was covered by nearly every national media outlet and even went global. The official's decision was later overturned by the Alaska School Activities Association. The offical is saying she was never asked about her decision since it all blew up. The entire thing is pretty bizarre. All I can say is maybe an Alaskan will finally get sponsored by Speedo.
If you are at all familiar with Anchorage politics you have heard Don Smith refer to himself as the "Father of the Tax Cap." But is he though? This was sent to me by a loyal Landmine reader. It disputes his claim.
The group supporting an oil tax ballot initiative held an event this week in Anchorage at the Alaska Center. I would have gone but did not get an email about it. They need to up their media game. They now have a sign on the building. This is the same building that Stand for Salmon and Yes for Salmon occupied last year. One was the ballot group and the other was the independent expenditure group. Interestingly enough, Robin Brena, who is a key figure in the oil tax initiative owns the building through an LLC, RSD LLC, that he owns 70% of. Must be nice.
And speaking of that oil tax ballot initiative. Ken Alper, Former Tax Division Director under Governor Bill Walker and current legislative staffer, is consulting on the initiative. That is interesting because he is working for Representative Chris Tuck (D – Anchorage), who chairs the Legislative Budget and Audit Committee. Word is Tuck is planning on having LB&A to look at oil taxes. Working on oil tax stuff in that committee AND consulting on the oil tax initiative – pretty loose.
Things are about to get very loose in Sand Lake. Check out who was recently elected to the Sand Lake Community Council. Parker, Liz, and David are sure to provide the kind of content Landmine readers love. Hopefully that random Asian guy provides some kind of balance on the SLCC. Check out that like by Representative Sara Rasmussen (R – Anchorage)! Maybe she is liking that Parker is no longer working for her.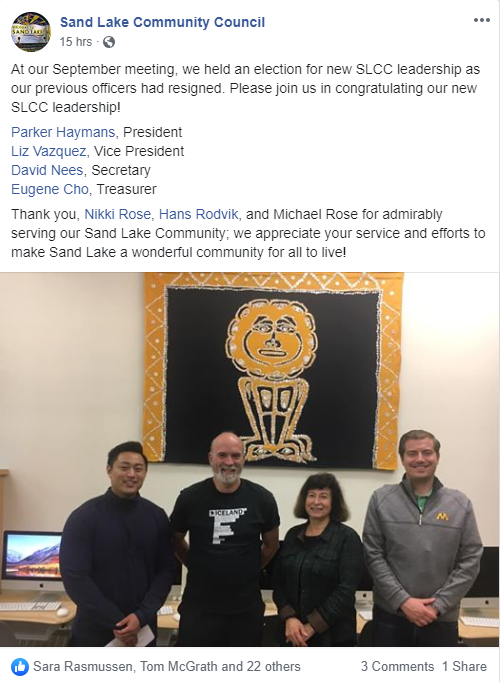 Other Happenings
A Superior Court Judge has allowed the group supporting an election reform initiative to start collect signatures even though Lieutenant Governor Kevin Meyer (R – Alaska) denied the initiative, citing that it violated the single-subject rule. The matter will ultimately be decided in the courts.
There has been a lot of talk about the Palin divorce this week. You didn't see anything from me on it. While I understand the fascination of Sarah Palin, and the clicks stories about her get, I don't really think her getting divorced is newsworthy, or that it is anyone's business but their family. And I think it's pretty sick how so many people have been cheering and celebrating it. I feel sorry for those kind of people.
A Landmine tweet from over three weeks abo blew up big this week. The tweet was a video of Senator Dan Sullivan (R – Alaska) and Senator Roger Wicker (R – Mississippi) on speaker phone with President Trump at an event in Kenai. CNN did a story this week about the video and embedded my tweet! I have been getting nonstop notifications since.
Check out these comment on a post from Senator Cathy Giessel (R – Anchorage) about 9/11. The best people.
The Bureau of Land Management recently published an Environmental Impact Statement on the Coastal Plain Oil and Gas Leasing Program. Check out this part about public comment. Out of 1,066,803 submissions, only 3,709 were unique submissions. The rest were part of form letter campaigns. That means only .003% were unique submissions. Drill, baby, drill!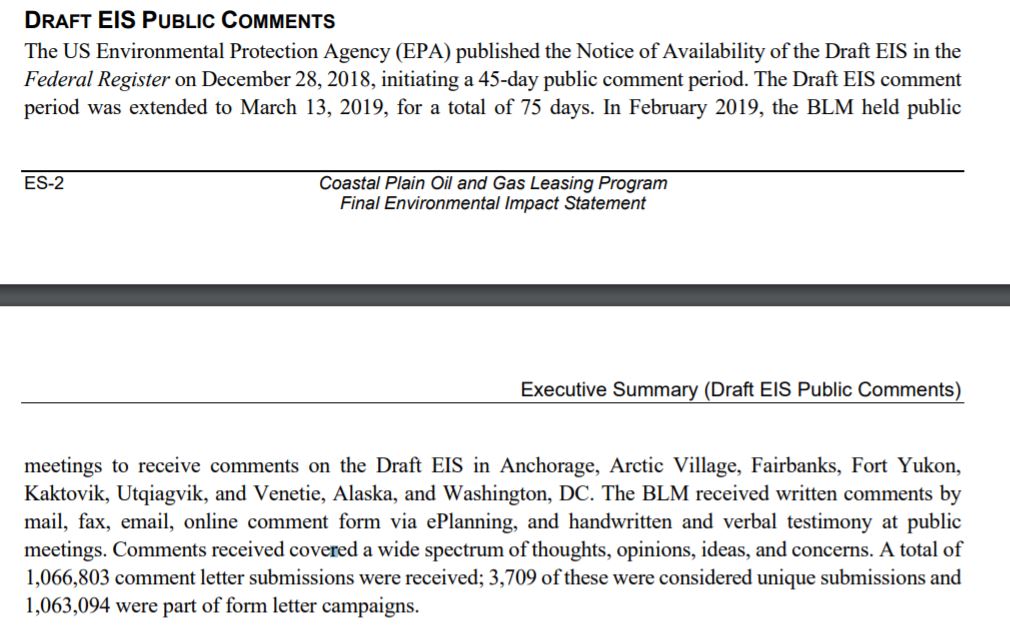 She's a State Senator.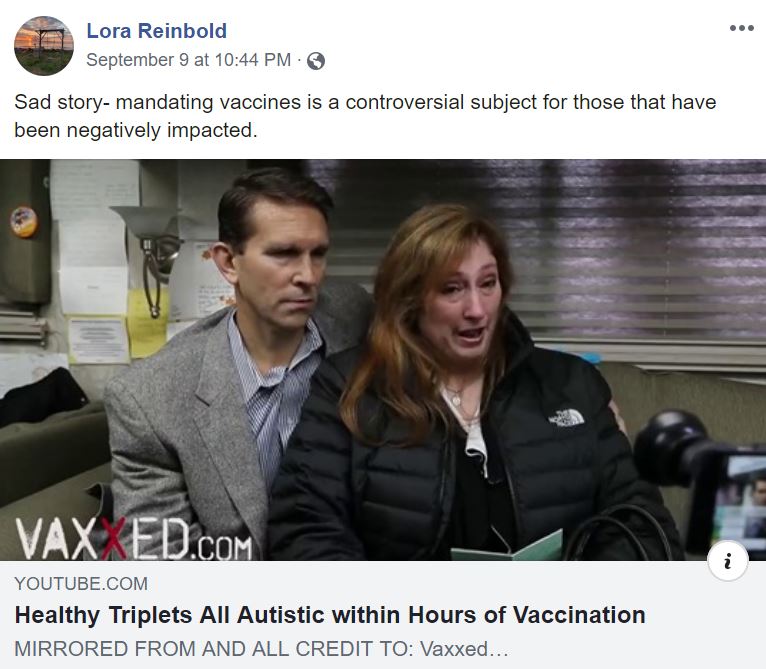 Things got crazy for lobbyist Wendy Chamberlain this week in D.C. She was there with officials from the Northwest Arctic Borough (NWAB), one of her clients. After a meeting at the Department of Justice about funding for the VPSO program, she was walking down the street with her daughter, Corey. While they were waking Corey started to hear yelling. She turned around and saw someone running towards them – being pursued by police! Before they knew it the guy had shoved Wendy into the street! She went down hard. Corey went to help her and some police stopped to help as well. Not long after, they started to get texts from the NWAB people, who were getting into a cab when this all went down. They apologized for not coming over right away, but explained they directed the cab to, "Follow that man!" The cops eventually caught him. Check out this pic! Thankfully Wendy is ok. Don't mess with Wendy!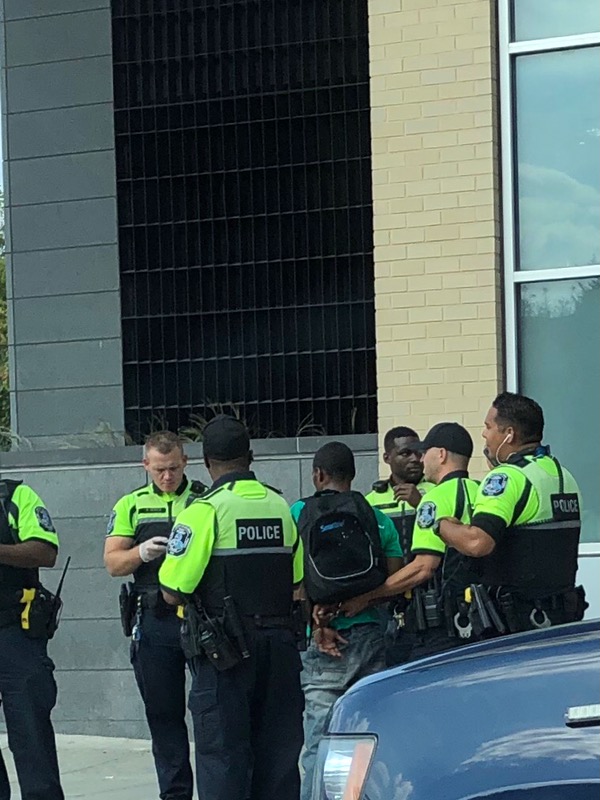 Check out this super loose Facebook page of a group supporting Jonathan Quick for the Borough Assembly in Kenai. I'm assuming they did not review his resume. Some of the stuff they are posting is bizarre. My favorite is a video from Representative Ben Carpenter (R – Nikiski) endorsing Quick. The super grainy video looks like it was made in 1967.
This Week's Loose Unit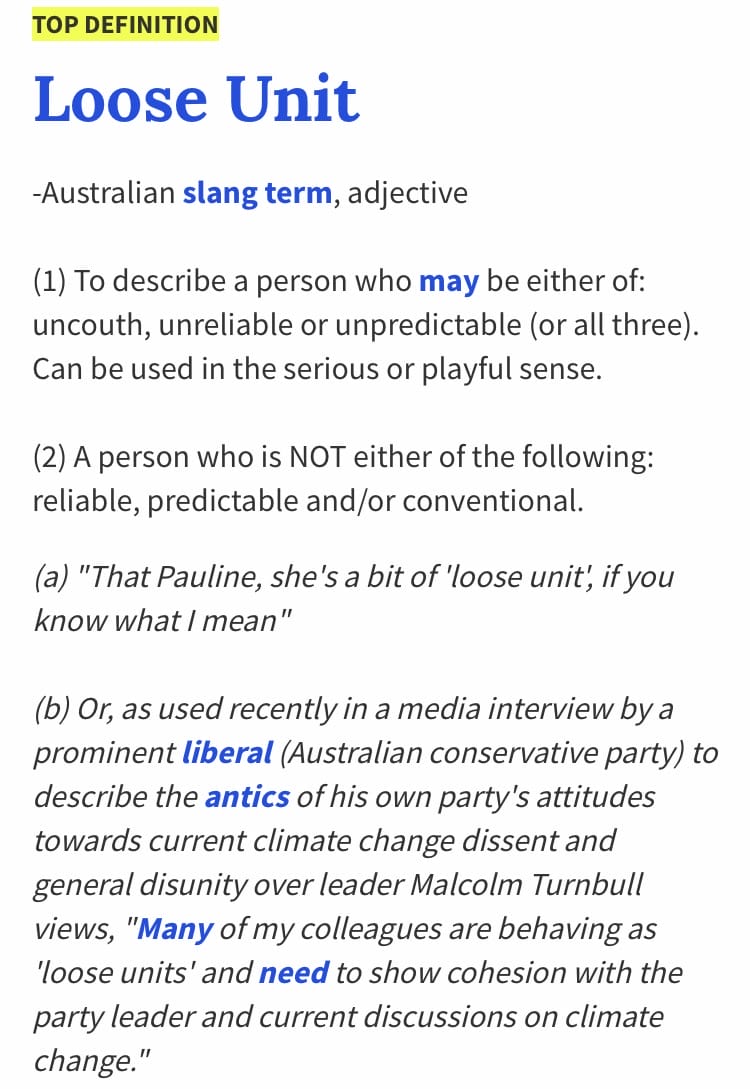 There were a few deserving candidates this week. The official who disqualified the Dimond swimmer was a real contender. But something that went down at a community council meeting made this week's designee clear. This week's Loose Unit is Mark Hamilton. If you missed this Landmine article about Mark Hamilton comparing a Canadian mining disaster to the 9/11 hijacking – on 9/11, you are in for a real treat. Hamilton, the Executive Vice President of Public Affairs at the Pebble Partnership, decided to get very loose at a meeting of the Russian Jack Community Council.
Pebble has been doing the community council circuit lately. During his presentation, Hamilton was asked a question about the Mount Polley mine disaster. Hamilton said the disaster was due to a failure of Canadian regulators. Another person added that kind of disaster would never happen in Alaska because we have better regulators, Hamilton agreed. Hamilton went on to say, "It is such a key point. Look at this, you can – just because this is the day – you could design a perfectly functional, perfectly safe commercial aircraft. What you can't do is stop some idiot from flying it into the Twin Towers." The dude went full 9/11 on 9/11. So loose. The fact that he acknowledge it was 9/11 before he made the comparaison makes it that much looser. And I'm not sure that saying any mine is susceptible to human failure is the message Pebble wants to be promoting.
Hamilton is a retired Army Major General and the past president of the University of Alaska. Now he is promoting Pebble Mine at community council meetings in elementary school libraries. At least he is getting paid a lot of money!
Here is the audio. Very loose.
If you have a nomination for this week's Loose Unit, or if you have any political news, stories or gossip (or any old pics of politicians or public officials) please email me at [email protected]