Below freezing temperatures and even snow is forecast for this week in Anchorage. The start of the legislative session is just over three months away, and Governor Mike Dunleavy's (R – Alaska) proposed budget is due in just over two months. There will be a vacancy in the House as Representative Josiah Patkotak (I – Utqiagvik) is poised to win the North Slope Borough mayoral race. Several legislators are in Portugal and Spain for the Alaska Seafood Marketing Institute, and several more are set to go Iceland for a trip about renewable energy. And several legislative staffers are on the move.
A friendly message and reminder to all our readers. The Landmine is made possible by myself and a team of awesome Alaskans. I recently got back from Juneau for my fifth session in a row reporting on the Legislature. If you enjoy the content we provide, please consider making a one time or recurring monthly donation. You can click here to donate. We have a donation system that makes it super easy. We would really appreciate it. And thanks to everyone who has been supportive!
Vacancy in the House 
Representative Josiah Patkotak, who has represented District 40 since 2021, will soon be out of the Legislature as he's poised to win the North Slope Borough mayoral race. Initial results had him at 54% – well above the 40% needed to avoid a runoff. Amazingly, no results are yet posted on the NSB website even though the election was five days ago. You can read a write up from the Alaska Political Report in the September 24 Sunday Minefield about the potential political consequences.
Once Patkotak resigns, Governor Dunleavy will have 30 days to name a replacement. As Patkotak is an independent, things could get interesting as no political party will be weighing in on possible replacements. The word is Patkotak wants Greta Schuerch, a registered Nonpartisan from Kotzebue and works for Red Dog mine. But the decision will be up to Dunleavy, whose wife is from the region and has a lot of relationships with people in the region dating back to when he was a teacher. This has the potential to get very political.
European Vacation 
Several legislators are either in Europe or will soon be in Europe. Senator Click Bishop (R – Fairbanks), Senator Lyman Hoffman (D – Bethel), and Representative Sara Hannan (D – Juneau) are in Portugal and Spain with the Alaska Seafood Marketing Institute. I guess they are promoting Alaska seafood, which I'm not sure really needs any promoting.
And several more are gearing up for a trip to Iceland on renewable energy the week of October 23. The trip is being organized by Gwen Holdmann from the Alaska Center for Energy and Power. In addition to legislators, several officials from Alaska utilities will be going. As one longtime Alaska politico told me, "I can already tell you what the takeaway will be – we should have built Susitna-Watana 20 years ago." Here is a list of legislators who have confirmed they are attending:
Senator Click Bishop
Senator Lyman Hoffman +1
Senator Cathy Giessel (R – Anchorage) +1
Senator Forrest Dunbar (D – Anchorage)
Senator Jesse Bjorkman (R – Nikiski) +1
Senator Bill Wielechowski (D – Anchorage)
Representative Zack Fields (D – Anchorage)
Legislative Staff Changes 
The following is an excerpt from this week's edition of the Alaska Political Report. You can click here for more information about the Political Report. A subscription is $1,299/year per organization. Discounted pricing is available for non-profits and government entities. Our coverage of the budget starts with the governor's proposed budget in mid-December and we track everything in detail through the entire process. If you have any questions or would like to subscribe, please email jeff@akpoliticalreport.com.
There have been several legislative staff changes recently. Here are some highlights:
Josh Applebee was recently hired by Wasilla Republican House Speaker Cathy Tilton. Applebee previously served as chief of staff to GOP Lt. Gov Nancy Dahlstrom and former Lt. Gov. Kevin Meyer prior to that. Applebee will be focusing on election related bills, among other things.
Lizzie Kubitz left her role as chief of staff to Anchorage Democratic Sen. Matt Claman to become the new legislative liaison for the Department of Commerce, Community, and Economic Development.
Alliana Salanguit left her role as chief of staff to Anchorage Democratic Sen. Forrest Dunbar to become the new deputy director for Alaskans for Better Elections.
Homer Republican Rep. Sarah Vance hired Bob Ballinger, an Arkansas attorney who served in the Arkansas Legislature from 2013-2023. He was a representative from 2013-2019 and a senator from 2019-2023. He was defeated in November in the Republican primary.
Louie Flora was recently hired by Anchorage Democratic Sen. Löki Tobin. Flora, an independent, unsuccessfully challenged Rep. Vance last November.
Katie McCall left her role in Fairbanks Republican Rep. Frank Tomaszewski's office and is now in Eagle River Republican Rep. Dan Saddler's office.
Michaela Anderson left her role in Tomaszewski's office to take a job with the Fairbanks North Star Borough as strategic project coordinator on economic development for Mayor Bryce Ward.
Tomaszewski hired David Goff of Fairbanks as a new legislative staffer.
James Holzenberg left his role in Anchorage Democratic Rep. Andy Josephson's office and is now in Anchorage Democratic Sen. Forrest Dunbar's office.
Other Happenings
The House majority held a team building retreat in Wasilla on Monday (10/2/2023). The speaker was from the company Echelon Front, co-founded by former Navy Seal and famous podcaster Jocko Willink. Willink's speaking fee is in the $100,000 range, so they went with another guy who was also a Seal. Not sure if they are prepping to battle with the mostly Democratic House minority or the bi-partisan Senate majority. The best part is one legislator who attended said that they overheard another legislator – who has been critical of a rule where every member has to vote for the budget – say, "Maybe this binding caucus thing is not such a bad idea after all."
Senator Bishop filed a letter for re-election. There's been some talk that he might not run next year to possibly focus on a 2026 run for governor.
Qaiyaan Harcharek filed a letter of intent to run for District 40. This is the seat that Josiah Patkotak will soon be vacating.
Former Democratic Representative Grier Hopkins is looking to follow in his father's footsteps. This week he filed to run for mayor of the Fairbanks North Star Borough. The election is not until next year, but it will be one to watch.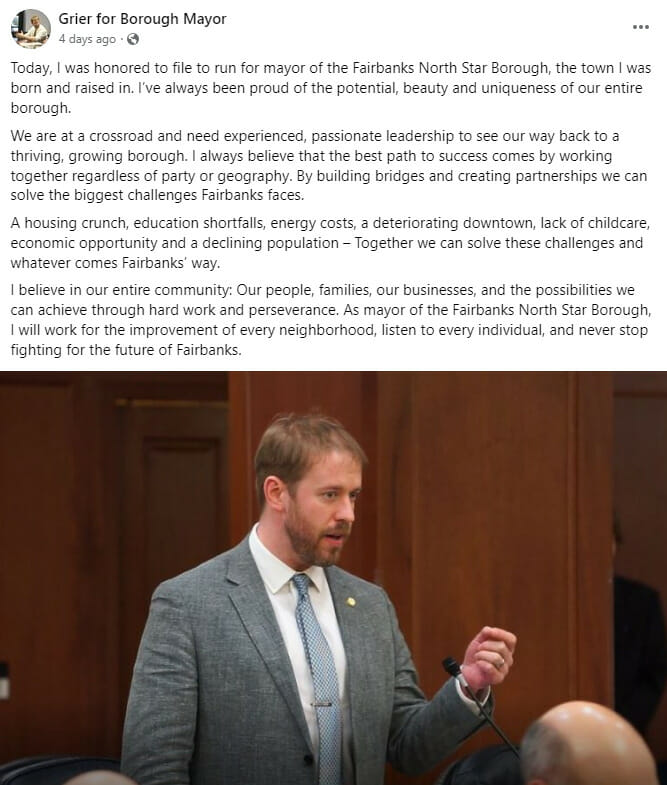 Congrats to Representative Jesse Sumner (R – Wasilla) and his wife on their new baby girl, Joan. Sorry, Representative Will Stapp (R – Fairbanks), they did not go with Wilhelmina even though she was born on your birthday.
This Week's Loose Unit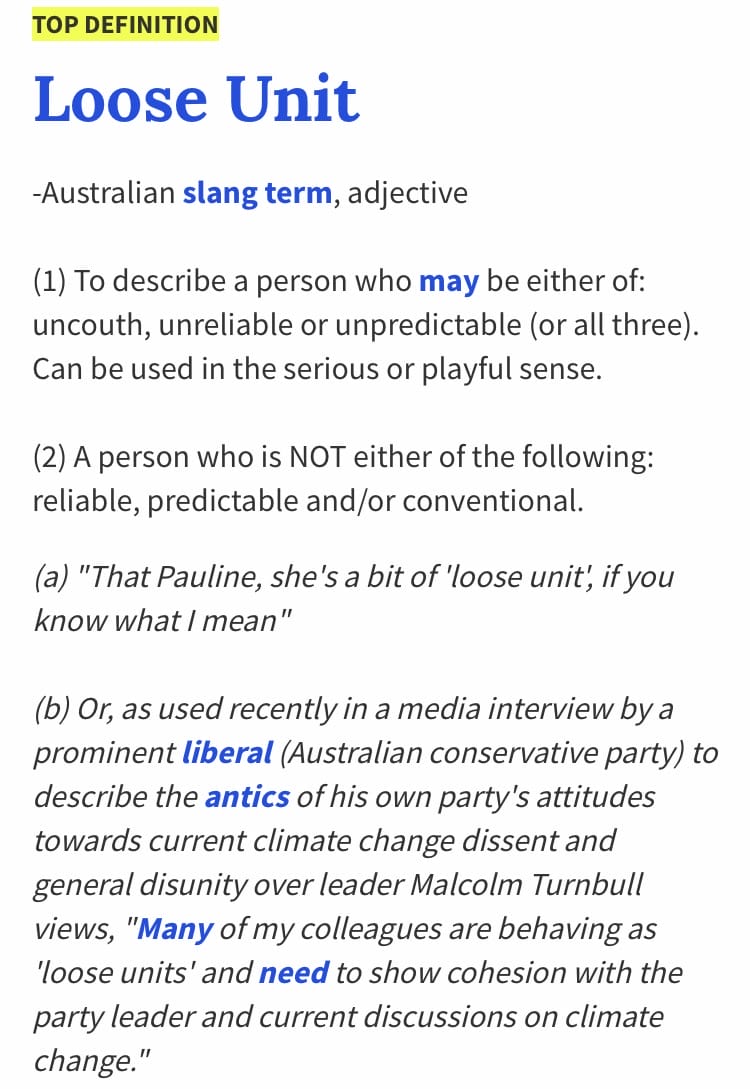 Once in a while, and this is very rare, something so loose occurs out of state that it merits Loose Unit status. This is one of rare weeks. This week's Loose Unit is Representative Matt Gaetz (R – Florida) and the other seven House Republicans who voted to oust now-former Speaker Kevin McCarthy (R – California). Because I'm sure everyone is aware what happened, I will spare the long explanation for what went down. But basically Gaetz used a rule the majority agreed to that allowed any one member to call a vote on removing McCarthy as speaker. Gaetz and his seven Republican friends were mad that McCarthy relied on Democrats to pass a last minute containing resolution to avoid a government shutdown for 45 days.
The situation is literally unprecedented. A Speaker of the House has never in American history been ousted like this. That alone is loose. But what is maximum loose is the eight Republicans relied on every single House Democrat voting with them to oust McCarthy. Criticizing McCarthy for working with Democrats, then working with Democrats to oust McCarthy is beyond loose. Gaetz and his fellow Loose Units should be careful what they wish for. There is no telling how loose things are about to get.
If you have a nomination for this week's Loose Unit, or if you have any political news, stories or gossip (or any old pics of politicians or public officials) please email me at jeff@alaskalandmine.com.