Fall has definitely arrived. It's getting chillier and the leaves are starting to change colors. The upcoming North Slope Borough mayoral race could have an impact on the House majority. Bill Popp, the latest Anchorage mayoral candidate to enter the race, is holding his kick-off fundraiser this week. Some more incumbents and challengers filed letters of intent to run for the Legislature. And Governor Mike Dunleavy (R – Alaska) announced two judicial appointments this week.
A friendly message and reminder to all our readers. The Landmine is made possible by myself and a team of awesome Alaskans. I recently got back from Juneau for my fifth session in a row reporting on the Legislature. If you enjoy the content we provide, please consider making a one time or recurring monthly donation. You can click here to donate. We have a donation system that makes it super easy. We would really appreciate it. And thanks to everyone who has been supportive!
What happens if Rep. Josiah Patkotak wins the North Slope Borough mayoral election?
The following is an excerpt from this week's edition of the Alaska Political Report. You can click here for more information about the Political Report. A subscription is $1,299/year per organization. Discounted pricing is available for non-profits and government entities. Our coverage of the budget starts with the governor's proposed budget in mid-December and we track everything in detail through the entire process. If you have any questions or would like to subscribe, please email jeff@akpoliticalreport.com.
The Oct. 3 North Slope Borough mayoral election is less than two weeks away.
Of the four candidates, Utqiagvik independent Rep. Josiah Patkotak is the only one who has reported any fundraising income — making it very likely he will win, especially given that he's already represented the area in the Legislature for nearly three years.
If Patkotak is elected, he will need to resign his seat in the House, creating a vacancy. By law, GOP Gov. Mike Dunleavy must appoint a replacement within 30 days of the vacancy's creation.
If Patkotak does win, it will create a very touchy political situation. Here's why.
The current 23-member, Republican-led House majority was only made possible because the four members of the Bush Caucus, including Patkotak, joined them.
But Patkotak was the driving force behind the coalition's formation. During the previous two-year term, he'd joined with Democrats in a different coalition, but Patkotak — a pro-resource development Alaska Native who represents the oil rich North Slope — was always friendly with Republicans.
Dillingham independent Rep. Bryce Edgmon had been trying to hold the previous bipartisan coalition — which was mostly Democrats — together. But he was forced to join with the Republicans because of Patkotak, who had decided to join with the Republicans. Edgmon did not want to break up the Bush Caucus, so Patkotak, essentially, put him into a corner.
Patkotak does not belong to a political party, creating questions about what happens if his seat becomes vacant. Since the passage of the 2020 initiative that overhauled Alaska's elections, the laws that govern legislative vacancies have changed.
Before 2020, the governor could appoint anyone to fill a vacancy left by an independent, and the replacement would not be subject to legislative confirmation.
Scott Kendall, an Anchorage attorney who helped draft the initiative, told the Political Report that the measure changed state law: If an independent legislator belongs to a caucus, the law now requires a majority vote of that caucus' members to approve a replacement appointed by the governor, he said.
"If Rep. Patkotak's seat becomes vacant, the governor can nominate anyone who is eligible, regardless of party or lack thereof," Kendall said. "But that appointment should be subject to confirmation by the members of the House majority caucus."
The House majority obtained a legal opinion on the issue that's slightly different from Kendall's.
It says that if Patkotak is elected mayor and resigns his House seat, Dunleavy may need to appoint a Republican because of Patkotak's membership in a Republican-led majority. In a legal memo obtained by the Political Report, the Legislature's top lawyer Megan Wallace wrote, "In my opinion, in making this determination, it will likely be important whether the caucus holds itself out as members of a political party or political group, or whether the caucus is recognized ad a coalition of members of different political parties or political groups."
Dunleavy's spokesman declined to comment. But if there's a disagreement between the Legislature and Dunleavy, the matter could be decided by the courts.
But whether or not a replacement requires confirmation is mostly irrelevant. The Republican-led House majority would almost certainly be able to get 12 votes (a majority of their caucus) to confirm a replacement named by Dunleavy.
The bigger political question is whether the appointee will be acceptable to Edgmon, Nome Democratic Rep. Neal Foster, and Bethel Democratic Rep. CJ McCormick — the remainder of the Bush Caucus?
If those three lawmakers don't get along with a replacement named by Dunleavy, it could spell major problems for the House majority's thin edge in the chamber. Patkotak was the thread holding Edgmon, Foster and McCormick with the Republicans; it's far from clear that his replacement would fill the same role.
Patkotak's strength is that he was willing to join whatever group gave him and his district the best deal. Dunleavy will not want to appoint someone that would potentially join with Democrats. But if he appoints someone that the Bush Caucus sees as too conservative or can't work with, they could leave the majority. That would give the remaining Republican members just 20 members — no longer enough for a majority — threatening the caucus with collapse.
There is also a regional consideration. Patkotak is from the North Slope. But his House district is also made up of the Northwest Arctic Borough. The previous representative, John Lincoln, is from Kotzebue. There will be pressure from various political interests from each region to pick someone from each area.
If Patkotak wins the borough mayoral election, there is a potential to ignite a major political firestorm just three months before the start of the legislative session. We are watching things closely and will have an update after the election if needed.
Other Happenings 
Anchorage mayoral candidate Bill Popp is holding his kickoff fundraiser on Wednesday evening at the Bridge. There's an interesting group of folks listed as co-hosts.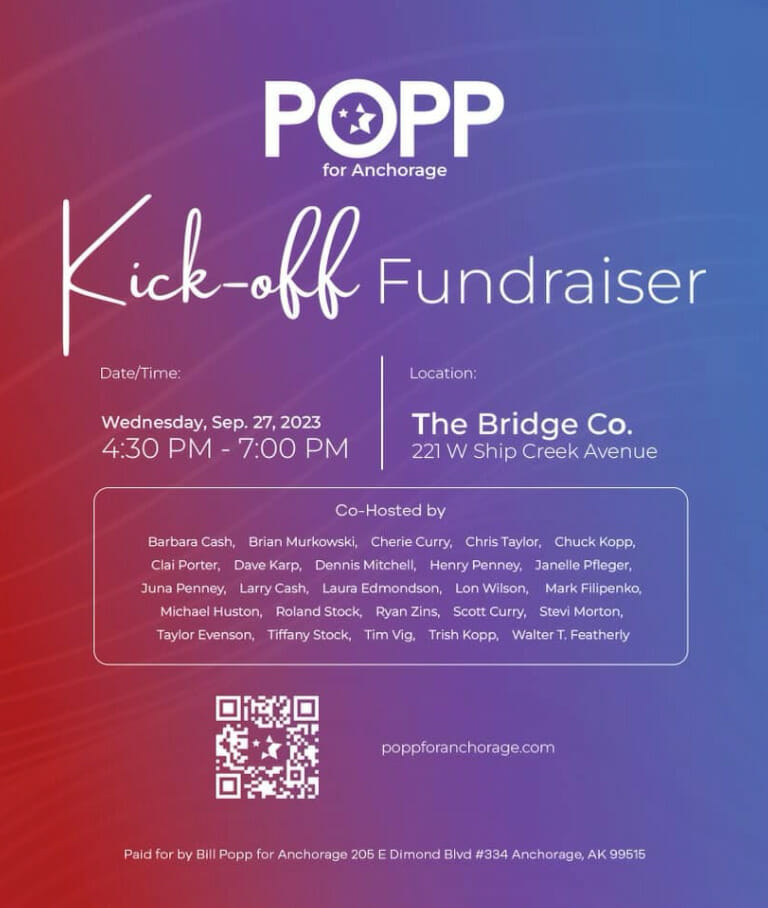 Some more challengers and incumbent legislators filed letters of intent this week:
Representative Jamie Allard (R – Eagle River) picked up a challenger, Democrat Jim Arlington. Arlington was beat by now-Anchorage Assembly member Scott Myers by almost 20 points in April. But Allard has a lot more baggage than Myers, and Arlington does have some name ID in the district.
A rematch for an East Anchorage House seat that was close last year is shaping up. Democrat Ted Eischeid filed to once again run against Representative Stanley Wright (R – Anchorage). Wright one last year by just 72 votes.
Democrat Janice Park filed a letter of intent, though did not indicate an office. It's not likely she would challenge Representative Calvin Schrage (I – Anchorage). She will probably run against Senator James Kaufman (R – Anchorage) again, unless Schrage decides to run against Kaufman.
Representative Sarah Vance (R – Homer) filed a letter of intent for re-election.
Governor Dunleavy made two judicial appointments this week. He appointed Judge Terrence Haas as the Alaska Public Defender and Judge David Nesbett to the Anchorage Superior Court.
This Week's Loose Unit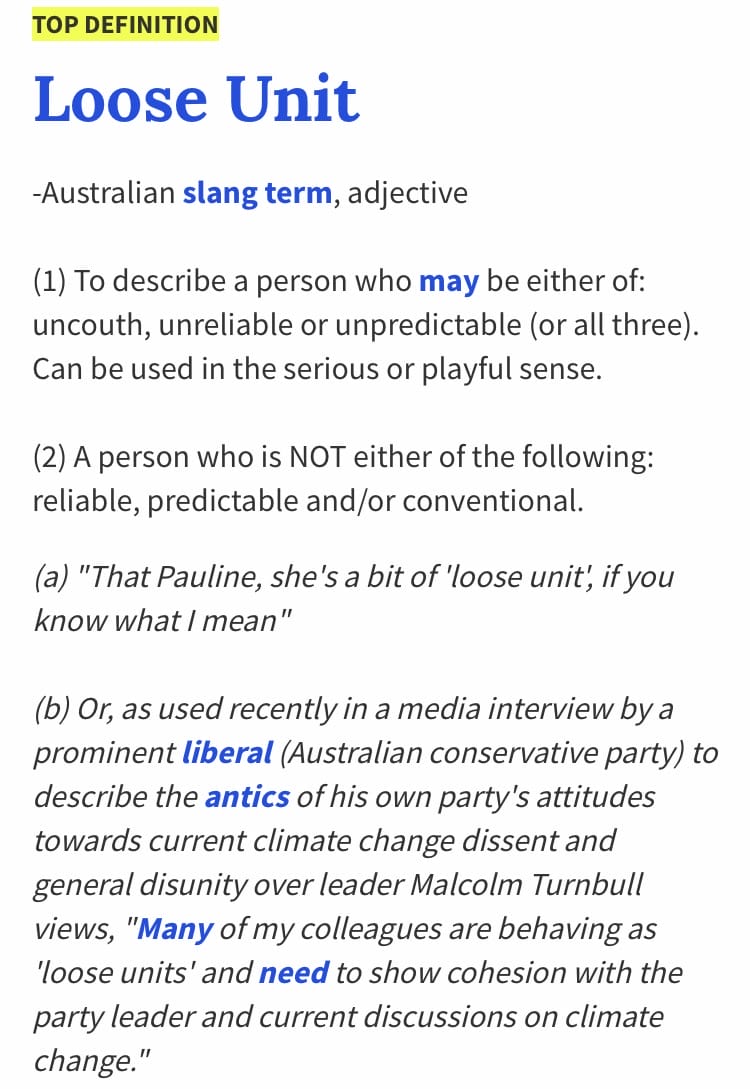 This week might be a first as it's a seven-way tie! This week's Loose Unit is a tie between Jasmine Carter, Erik Gunderson, Will Hurr, Michelle Turner, Lyn Franks, Leon James, and Hedy Eischeid. All seven hold various positions within the Alaska Democratic Party, and they decided to get real loose with a letter.
The seven of them decided it was prudent to write a manifesto to Democratic Party leadership about their decision to deny Anchorage mayoral candidate Suzanne LaFrance party resources. The letter has eight points, and they don't spare on words. Check this thing out:
My favorite is point is number five. This is where they say the quiet part out loud. According to the seven Loose Units, LaFrance is really a Democrat masquerading as an independent. Very loose! The letter is a departure from how Democrats normally act. Typically Democrats, unlike Republicans, are good at keeping their infighting internal and not public. Not this time!
If you have a nomination for this week's Loose Unit, or if you have any political news, stories or gossip (or any old pics of politicians or public officials) please email me at jeff@alaskalandmine.com.