Happy Halloween! Pretty wild it will be November tomorrow. The fourth special session concludes on Wednesday. Spoiler alert – it was a giant waste of time. The Anchorage Assembly met on Wednesday but spent the whole time arguing about masks with the Bronson administration. The meeting ended up being postponed to the next day. And Assembly member Meg Zaletel beat the recall with numbers that should embarrass the people behind it.
A friendly message and reminder to all our readers, the Landmine is made possible by myself and a team of awesome Alaskans. It takes a lot of work to provide the content we do. If you enjoy the content we provide, please consider making a one time or recurring monthly donation. You can click here to donate. We have a donation system that makes it super easy. We would really appreciate it. And thanks to everyone who has been supportive!
Unspecial Session 
The fourth special session concludes on Wednesday. In addition to more technical floor sessions, two of which lasted under one minute, there were a few committee hearings this week. The House Ways and Means Committee heard House Bill 4003, a bill by the committee that would create a 25/75 split of Permanent Fund earnings between dividends and government. This sucker is not going anywhere, but they talked about it for an hour and a half. The Dunleavy administration released a new revenue forecast on Friday that reflected higher oil prices. If – and that is a big if – they hold, the state could receive more than a billion dollars more than was forecast in the spring when oil prices were in the $60s.They have been over $80/barrel since October 4 and mostly in the $70s going back to June.
If these prices hold, the December revenue forecast that will come out with the budget will show significantly more revenue from oil than we have seen in years. Also, the POMV draw for the next fiscal year is $3.36 billion – more than $300 million more than the current fiscal year. This will give Governor Mike Dunleavy (R – Alaska) and his allies in the Legislature the advantage of not having to find new revenues when pushing for a 50/50 dividend amount. This has been the biggest criticism from legislators against the 50/50 plan. Many will still argue that it is irresponsible to pay out big dividends. The oil price could crash again and we technically still need to pay back the $16 billion in savings that has been spent over the last decade. But more revenue in an election year may be just the recipe for enough legislators to get behind a 50/50 dividend. Imagine getting a $2,500 dividend in October 2022, right before the November general election. Now compound that feeling by 100 and you will know how a lot of legislators and Dunleavy feel about it.
Anchorage Assembly
The Anchorage Assembly had a regular meeting scheduled for Wednesday. There was a packed agenda, but they were not able to get to it. The mask wars continue! Assembly Chair Suzanne LaFrance, and some other members, got into a back and forth with Municipal Manager Amy Demboski about an Assembly COVID mitigation plan. It lasted over an hour and culminated with the meeting being adjourned and extended to the next day. I did a livestream about the whole thing you can watch here. The meeting on Thursday was rather normal. The debate about who controls the Assembly chambers – the Assembly or mayor – seems to be coming to a head. Sources tell me some members of the Assembly plan on filing a lawsuit over the matter. It seems pretty obvious to me that the Assembly should control the Assembly chambers, but the Bronson folks appear to believe otherwise.
One of the noteworthy actions the Assembly took was voting down Jim Winegarner for Real Estate director. Winegarner was appointed director by Mayor Dave Bronson after Christina Hendrickson, the former director, filed a complaint about Winegarner's previous job in the Bronson administration. She was let go by Bronson the day after filing the complaint. Then they announced Winegarner as the new director. Very Trumpian. Anyhoo, Winegarner was voted down 5-5. He needed six votes to be confirmed. Assembly member Chris Constant was on the phone and did not vote after being asked several times. My bet is Bronson finds Winegarner a spot somewhere. The big question is who will Bronson appoint as the next Real Estate director?
Dr. John Morris also resigned this week as the municipal homeless coordinator. The bingo card has been updated!
Updated! We replaced Matt Shuckerow (top right) with Jim Winegarner. Shuckerow was a temporary comms person. Winegarner was voted down for Real Estate director by the Assembly this week. pic.twitter.com/G0jc6uo77m

— The Alaska Landmine (@alaskalandmine) October 31, 2021
Blue's Clues
Update: The below post was the result of an elaborate prank by Paul Oliva, a web developer who used to live in Alaska. I have known him for years and trusted him, which is not the case anymore. You can see a video he made he made about it here. In the video, Paul claimed I would not notice the difference between Twitter for Android and Twitter for iPhone by saying, "I don't think Jeff is technically competent enough to notice that." That was in fact the first thing I noticed. He also tweeted that he informed Chris Constant of the prank before he did it. Chris could have told me it was Paul when I called him but it's obvious he wanted me to take that bait. Instead, when I called him he just laughed and said I was being setup. He even knew about the YouTube video before it was released. Constant has asked me on numerous occasions to stop trying to find out who the Blue Alaskan is. We all make mistakes and get tricked sometimes. This was my mistake. I will still be donating $250 to the Alaska Institute for Justice. The $1,000 prize stands.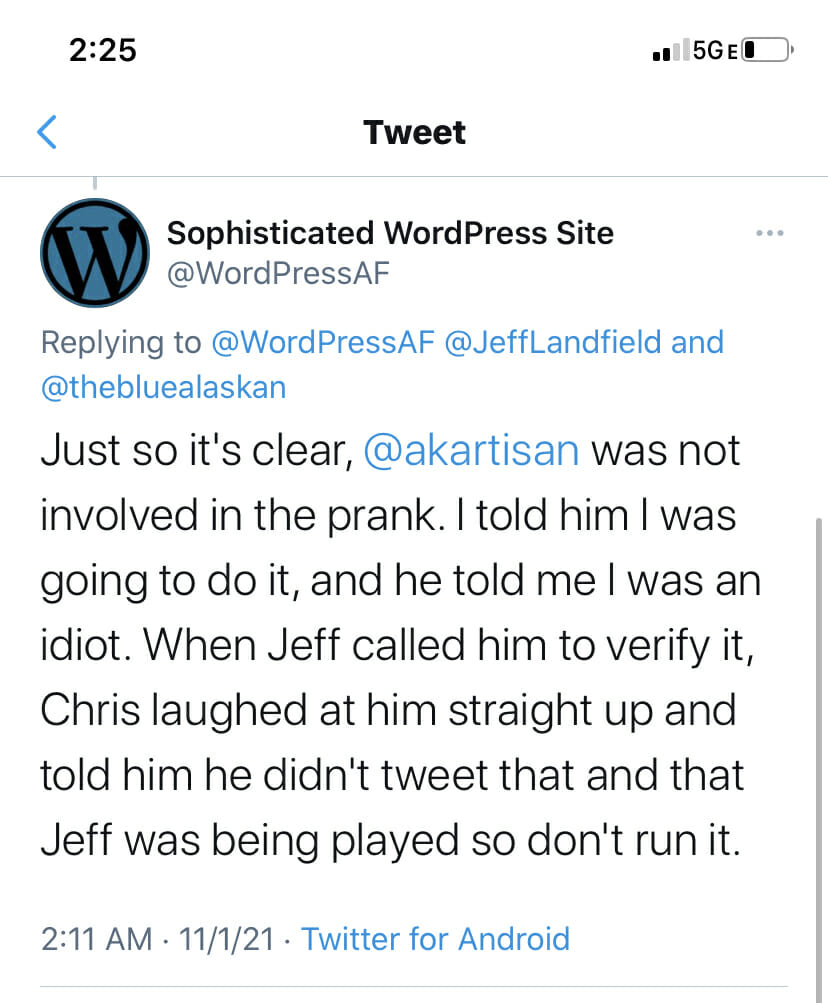 I got a real hot lead on my quest to unmask the Blue Alaskan. The below tweets were sent to me by an IT person who has been following all of this. The person is on eastern time, hence the four hour difference between the screen shots they sent and the one I took. At 9:56 pm Alaska time on Friday night, the Blue Alaskan responded to a tweet about donuts. But two minutes before that, Assembly member Chris Constant tweeted the exact same thing in response to the exact same tweet, but quickly deleted it. However, Constant tweeted from an Android and the Blue Alaskan tweeted from an iPhone. This could mean several things:
Constant is tweeting from the Blue Alaskan account and uses an iPhone. He accidentally tweeted from his Android instead of his iPhone.
Constant was physically with the Blue Alaskan while he tweeted it and then decided it was better if the Blue Alaskan did the tweet instead.
Constant was messaging with the Blue Alaskan. The Blue Alaskan saw the tweet and decided it was better if they tweeted the response. The Blue Alaskan told Constant to delete the tweet so they could tweet it instead.
I thought about the possibility that Constant's tweet was photoshopped. But this log from Twitter's API shows that is almost impossible. Also, I know the person and am confident he would not do this. Constant denies doing the tweet and said no one else has access to his Twitter account. But he also has said he has spoken to the Blue Alaskan on the phone and sends them information. He claims he does not know the identity of the person he has spoken with on the phone. He also claims I am being played. That is suspicious as fuck.
My investigation has led me to believe the Blue Alaskan is not one person, but a conglomerate of several progressives. While these tweets do not irrefutably prove the identify of the Blue Alaskan, it provides some interesting information. The $1,000 prize still stands. But I will be donating $250 to the Alaska Institute for Justice on behalf of the person who sent me this information. That is who they requested the money go to.
Other Happenings 
The Redistricting Board must adopt a final map by November 10. They have been holding meetings all over the state getting public input on all the maps. Whatever map ends up being adopted, there will likely be legal challenges. But once a final map is adopted we will have a much clearer idea of which incumbent representatives and senators are paired. In the board's two draft versions, Senate pairings were not even included. So we still don't have any idea how many of the ten senators that were elected last year will be up next year. It depends how much their districts change. All ten senators who were elected in 2018 are automatically up. During the last redistricting in 2012, 17 Senate seats were up. Once a final map is adopted we will publish an interactive map showing which districts all the incumbents and challengers are in.
A group is forming to oppose a constitutional convention, a question that will be on next year's ballot. This happens every ten years per the Alaska Constitution. Members include former Attorney General Bruce Botelho, former Senate President Cathy Giessel, Alaska AFL-CIO President Joelle Hall, and many more. Dunleavy, and several legislators, have hinted that they might support a constitutional convention. Voters have never passed this but no one has ever really pushed for it either. It has typically failed 2-1 or more. It has been voted on five times since statehood. Next year marks six. A constitutional convention could be the answer for a lot of Dunleavy's problems. The dividend, how judges are selected, privatizing land, legislative per diem. The list goes on. As I first said during the regular session, I think this is going to be a big issue next year. A ton of outside money will likely pour into the state. A lot of groups would love to have a constitution written from scratch in a red state.
This October 28 email from the Juneau School District says the Board of Education passed a testing requirement for unvaccinated staff. I have not been able to confirm this but it seems legit coming from the Juneau School District.

This Week's Loose Unit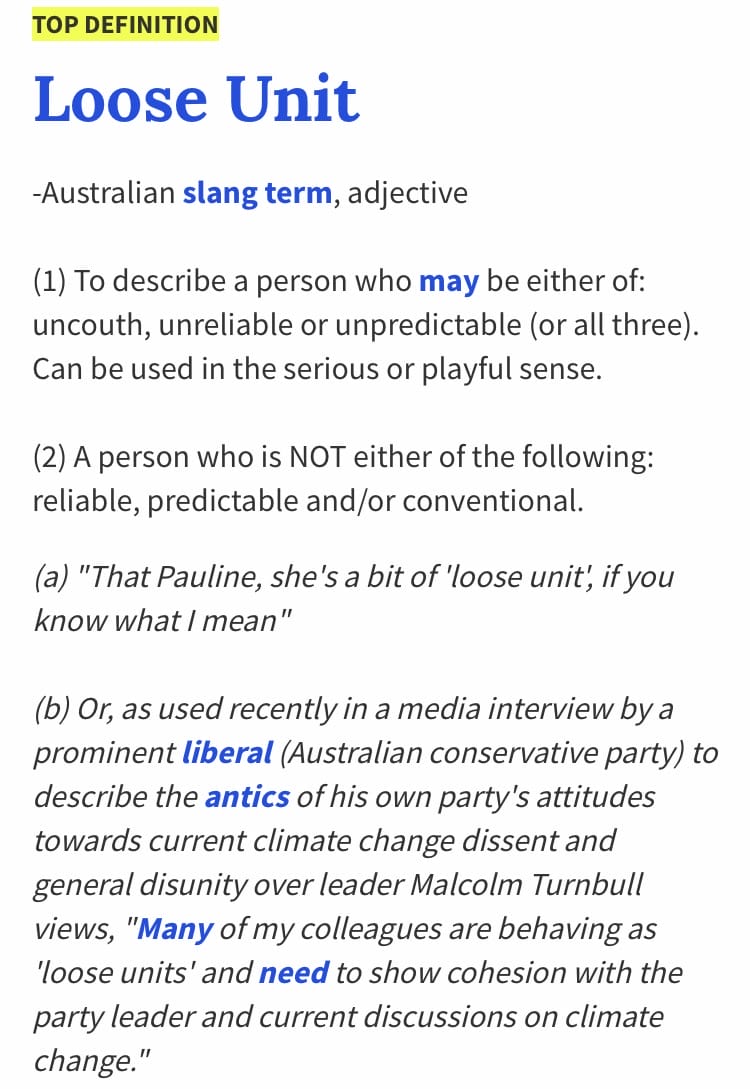 There were definitely some good candidates this week. But one stood out. This week's Loose Unit is Dave Stieren. Dunleavy hired the former talk radio host in October 2019 as a "community relations liaison" at a salary of $135,000/year. In the last two years, Stieren has spent a lot of his time shit posting on social media. $270,000 just doesn't go as far as it used to. But Stieren has gotten increasingly loose lately. Check out these recent Facebook posts, three of which were made during the work day. Calling Scott Kendall a "chi-comm apologist soy boy" is loose. Referring to the House Ways and Means Committee as "JV finance committee" is hyper loose. I'm sure they are going to be eager to work with Big Mike next year! He also gets into it with Dermot Cole. Bizarre. He really loves saying "chi-comm" and "soy boy." Classic Loose Unit.
But where he got really loose is his new podcast. I guess Stieren was sad he was not involved in Dunleavy's new "First Hand" podcast. So he started his own competing podcast called "An Update from the 3rd Floor." It's basically him back on the radio. But this time he is interviewing the guy who signs his fucking paycheck! So loose. You can listen to them here. This is about as close to state run media as you can get. Very loose.
If you have a nomination for this week's Loose Unit, or if you have any political news, stories or gossip (or any old pics of politicians or public officials) please email me at jeff@alaskalandmine.com.