The Landmine has obtained a whistle blowing complaint from Christina Hendrickson, Anchorage Mayor Dave Bronson's Real Estate director, sent to members of the Anchorage Assembly. In the complaint, Hendrickson alleges that the hiring of Jim Winegarner violated Anchorage Municipal Code and constituted gross mismanagement, and accuses the Bronson administration of fraudulent use of public funds.
Hendrickson says that she and Winegarner, who has worked in oil/gas as a land manager, both interviewed for the Real Estate director position on June 25. Hendrickson was hired on July 1. On July 7, Winegarner was brought on as Acting Chief Housing Officer. According to Hendrickson, the Rasmuson Foundation funds the grant for the position of Chief Housing Officer and must approve the individual selected for the position. This is shown in an attachment provided in her complaint.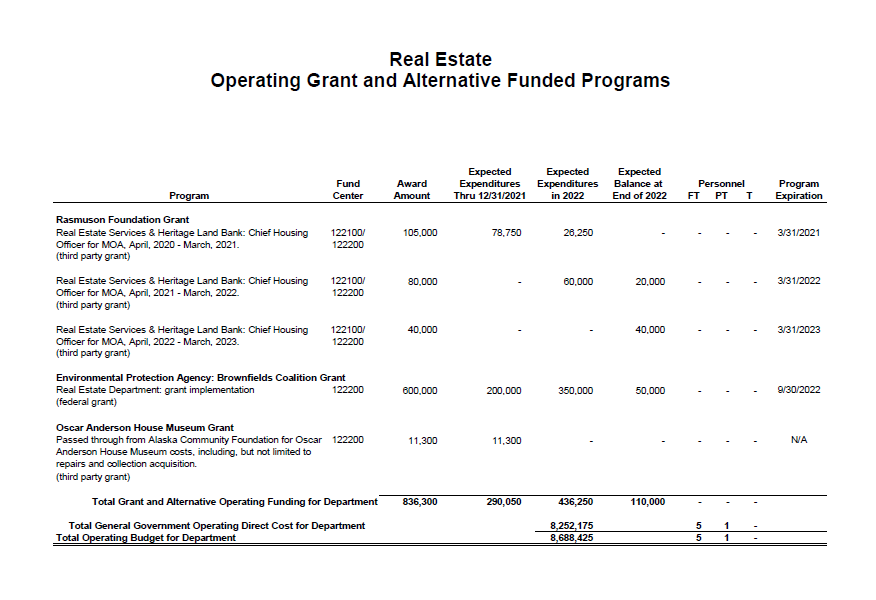 Hendrickson states that Winegarner was brought on as Chief Housing Officer even though he had not been approved by the Rasmuson Foundation. According to Hendrickson, Winegarner "continued to sign his emails and act as the Acting Chief Housing Officer." A phone call to the Rasmuson Foundation about this has not yet been returned.
On August 26, Hendrickson asked for approval for a candidate she identified for a land management officer, which was an open and funded PCN in her department. The next day, she claims the Mayor's Office transferred Winegarner to an open PCN in her department without approval. She provided a voicemail from Craig Campbell and Sami Graham, Bronson's chief of staff, regarding this decision.
Hendrickson says Winegarner was not qualified for the position and that another candidate had already been selected. She says the Mayor's Office then "gifted him title of Executive Director of the Heritage Land Bank, for which he is not qualified and for which there is no funding in 2021 nor 2022 budgets."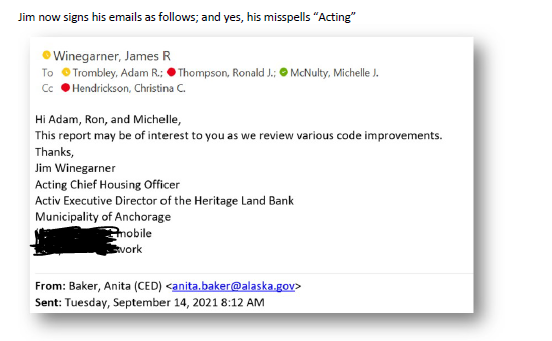 Hendrickson says that during the week of August 30, Adam Trombley, who oversees Real Estate as director of Economic and Community Development, worked with Sami Graham and Brice Wilbanks to remove Winegarner from the PCN he had been put in. After, she says, no one could articulate what Winegarner does or how he is being paid. Last week, while Trombley was on PTO, Craig Campbell called Ron Thompson, who was filling in for Trombley, and told him Winegarner "would remain in that PCN and that money was being located for him." Winegarner is currently listed as "Land Management Officer" in the Municipal employee directory. In a phone call today, Campbell stated that Winegarner currently serves as Acting Chief Housing Officer and Acting Director of the Heritage Land Bank, and that the positions are funded by the Municipality.

Hendrickson concludes the complaint with the following:
On 9 September, I provided the below email to my direct supervisor, Adam Trombley. He responded with an in-person meeting on 13 September with myself and Ron Thompson. He stated he would call Craig Campbell to resolve. Later he conveyed Craig's desire for Jim to become Executive Director of the Heritage Land Bank and would find the money to do so. Adam is on PTO from 15-20 September.
For over a decade, the Real Estate Director has fulfilled the role of Executive Director of the Heritage Land Bank. As shown in my budget proposal, there is no need for an additional Executive Director in the Real Estate Department (Attachment E). Our lean Department is a superb performer, exceeding the needs to stakeholders and collaborating among Departments in the best interest of citizens and neighbors. The method by which the Mayor's office hired, funded, transferred, and is trying to fund Jim violates multiple codes and is fiduciarily irresponsible. The Mayor required each Department to cut 5%. The Real Estate Department was unable to do so because we carry the lease and rent payments for municipal services. When evaluating my team for efficiency, I found the open and funded position in my department to be of the utmost need for modernization and succession planning. Further, the qualified candidate was willing to take a much lower salary to begin his/her career with the Municipality of Anchorage (Attachment F).
The entire complaint can be seen here.
In the email sent to Assembly members, Hendrickson concludes by stating:
This is all documented. I take Ethics very seriously and find the code violations unethical and fiduciarially [sic] irresponsible.
An unqualified person occupying an PCN in an acting capacity violates the aforementioned citations and was done without my consent as the Real Estate Director.
Niki Tshibaka, the head of HR for the Municipality, directed inquirers to Bronson's communications director. An email and phone call have not yet been returned. A phone call to Winegarner was also not returned.
Not long after this story was published, Mayor Bronson announced Winegarner as his new Real Estate director.

The story will be updated with any additional information.