The general election is just over two weeks away. People are already absentee voting and early in-person voting starts tomorrow. The Alaska Federation of Natives held their annual conference in Anchorage this week, and some big political moments came out of it. And a sexual harassment lawsuit was filed against Republican gubernatorial candidate Charlie Pierce by a former Kenai Peninsula Borough employee – something the Landmine first reported on in August.
A friendly message and reminder to all our readers. The Landmine is made possible by myself and a team of awesome Alaskans. We are working hard to provide in-depth election coverage for all of the ongoing races. If you enjoy the content we provide, please consider making a one time or recurring monthly donation. You can click here to donate. We have a donation system that makes it super easy. We would really appreciate it. And thanks to everyone who has been supportive.
AFN Conference in Anchorage
The Alaska Federation of Natives (AFN) held their annual conference this week in Anchorage at the Dena'ina Center. It was the first in-person conference since 2019 because of Covid. The conference included forums for the candidates for U.S. Senate, U.S. House, and governor. But two other big moments came out of the conference. The first was when Congresswoman Mary Peltoa (D – Alaska) gave the keynote address on Thursday morning. She started by giving a tribute to the late Don Young, who was a friend of her father before she was born. She then called Young's two daughters on the stage. It was a powerful moment and the crowd applauded. But then something incredible happened. Young's oldest daughter, Joni Nelson, draped Young's iconic bolo tie around Peltola's neck. It was quite the moment and signified Peltola's broad support. After, Peltola said, "Now I'm a real congressman for all Alaska." Something Young often said.
The second big moment was when U.S. Senator Lisa Murkowski (R – Alaska) said she would be ranking Mary Peltola first on the ballot for U.S. House. Two of Murkowski's fellow Republicans, Sarah Palin and Nick Begich, are running against Peltola. So Murkowski saying publicly she will be ranking a Democrat first in the U.S. House race is quite the admission. Even Sarah Palin said, "We are in Mary's house" during the candidate forum at AFN. We are witnessing what may very well be the start of the rise of a new political powerhouse in Alaska politics. Which, as a Democrat in Alaska, makes Peltola's rise that much more of an accomplishment. If she prevails in the general election, it will be interesting to see what her trajectory will be. At 49, she has a long political career ahead of her.
Other Happenings
Yesterday was the Landmine's five year anniversary. It's hard to believe its's been five years. I would like to thank our great team, everyone who has worked with and partnered with us to help us grow, our advertisers and supporters, and of course, all of our readers. Here's to the next five years!
The gubernatorial Debate for the State  was held on Wednesday evening. You can watch it here if you missed it. It was only an hour and answers were limited to 30 or 45 seconds, so nothing substantive came out of the debate. Independent Bill Walker and Democrat Les Gara both came hard at Governor Mike Dunleavy (R – Alaska), who basically ignored their attacks. Republican Charlie Pierce seemed like he was lost and accidentally ended up at debate he did not belong in.
The U.S. House debate is on Wednesday at 7 pm and the U.S. Senate debate is on Thursday at 7 pm. You can watch on Alaska Public Media Facebook or YouTube or an 360 North.
Karsten Rodvik, a former 13 year employee of the Alaska Industrial Development and Export Authority is suing them for wrongful termination. Knowing AIDEA, dude almost certainly has a case.
Some interesting news out of Tokyo. U.S. Ambassador to Japan Rahm Emmanuel just convened a summit on Alaska LNG. While I have learned to be apprehensive about any news or announcements related to a gasline, these two statements give reason for cautions optimism.
Senators Mike Shower (R – Wasilla) and Shelley Hughes (R – Palmer) held a pro-constitutional forum at the Wilda Marston Theater on Tuesday evening. It would take too much space to list all the incorrect things that were stated. But one of my favorites was when Shower said every time there has been a tie on the Judicial Council, which are rare, the chief justice has sided with the attorneys over the public members. In fact, it has broken evenly since the Judicial Council was formed. Shower also went off on how the number of registered voters exceeds the adult population of the state. I guess he needs to tell all military members (and college students and snowbirds and people who live and work outside of Alaska but keep Alaska residency) to drop their residency or else force the state to purge all of them.
At the end of the forum, Shower said, "I'm just gonna end it by saying first of all, I'm here. They wanna bring the debate, I'll go on stage with anybody. I don't care. Bring it. Let's go. Fight is on." Attorney Libby Bakalar took him up on that. I contacted Shower and offered to host a constitutional convention debate at my studio between him and Bakalar. He responded by saying he is booked up until after the election. I offered him multiple times and dates to debate. So far he has not responded. Too bad. That debate would be lit.
Check out this resolution from the Republican Women of the Kenai condemning Senator Mitch McConnell (R – Kentucky) and the Senate Leadership's Fund support for Lisa Murkowski. If you look closely, you will see it is signed by Michelle Hartline, Kelly Tshibaka's mom!
Speaking of Chewie, I am planning on getting there early for my Kelly Tshibaka lightsaber!
This Week's Loose Unit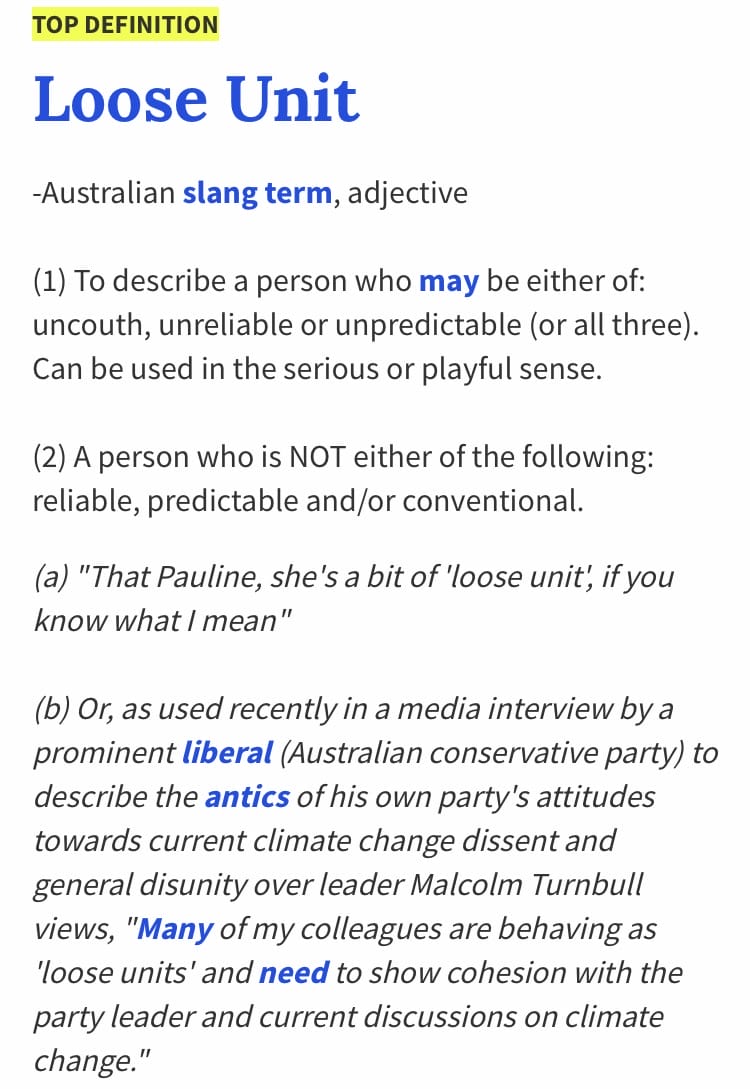 This week's designee became abundantly clear on Friday. This week's Loose Unit is Anchorage Daily News reporter Kyle Hopkins. On Friday, Hopkins published a story about the sexual harassment lawsuit against former Kenai Peninsula Borough Mayor and current candidate for governor Charlie Pierce. In the story, he gave zero credit to me or the Landmine for breaking this story back in August. Here is a brief timeline: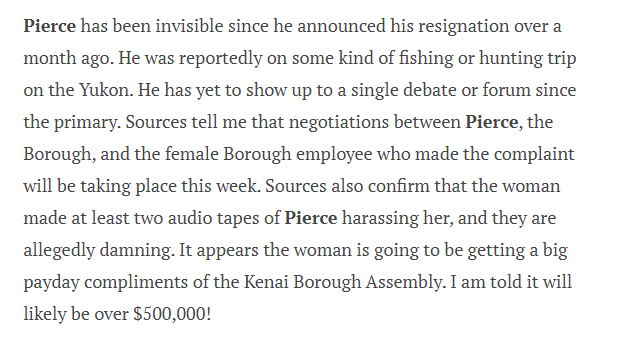 Yet, Hopkins, who prides himself on his great investigative skills and all his accolades, did not feel it was necessary to credit the person who broke the damn story and then continued to report on it for months. Very loose. This is not Hopkins' first time leaving something out of a story. Remember the article on how Andy Teuber, the former head of ANTHC, resigned because of an inappropriate relationship with an employee? He left out one minor detail. The woman is the niece of Senator Dan Sullivan's (R – Alaska) wife. That definitely should have been in the story. As a result of the story, Teuber was killed in a helicopter crash (or he is living in some place like Bolivia). I guess Hopkins is proud of that result. In a recent episode of Alaska Daily, which Hopkins is an executive producer on, a sub-plot involved the head of what is basically the Permanent Fund dying in a plane crash after the paper published a story on how he used public money to buy a place for his gay lover. Nice work, Kyle! Classic Loose Unit.
Oh, and let's not forget the whole Ethan Berkowitz scandal and resignation. Hopkins is still mad we scooped him on that story and absolutely nailed what actually happened. He was late to the party and got completely hoodwinked by the booze cookie lady. The fact that he gave her any credibility, a person who had absolutely none, says a lot. Very loose. Maybe he's still mad about that one.
If you have a nomination for this week's Loose Unit, or if you have any political news, stories or gossip (or any old pics of politicians or public officials) please email me at jeff@alaskalandmine.com.