Today, Kenai Peninsula Borough (KPB) Mayor Charlie Pierce announced he is resigning as mayor to focus on his campaign for governor. In a statement sent from the campaign, Pierce said he "announced today that he is stepping down as KPB Mayor and will focus full time on his campaign for Governor of Alaska. He had earlier committed to stepping down after the August Primary."
However, the Landmine has learned that is not the real reason for his resignation. Multiple sources confirm that Pierce, a Republican candidate for governor, has been under investigation by the Kenai Peninsula Borough for workplace harassment of a Borough employee. The Landmine has been aware of this for several weeks but was unable to corroborate the allegations. Now, we have learned the alleged victim is on paid leave from the Borough stemming from the investigation. When we contacted the Borough to speak to the employee, we were told the employee is "on vacation."
The settlement allegedly requires a cash payment to the employee and that Pierce resign as mayor. Calls and texts to Pierce and his campaign manager for comment went unanswered. The Borough attorney would not answer questions, instead sending a prepared statement:
The KPB Legal Department received Mayor Charlie Pierce's resignation from office tendered on August 26, 2022 and effective September 30, 2022.
It is expected that the KPB Assembly will address the issue of a vacancy in the office of the mayor at its next regularly scheduled meeting in accordance with the process proscribed under State law. Operations at the borough are not impacted. Operations will continue as normal and all public services remain open for business.
Next week we will publish a publicly available memorandum to the Assembly regarding the succession process. It is a process outlined under Alaska Statutes, Title 29. With respect, the KPB Legal Department will not comment on that process prior to publication of its recommendations to the Assembly. I anticipate that the memo will be available Tuesday (8/30) afternoon.
The KPB Legal Department has no further comment at this time.
An executive session item regarding an "Attorney-client discussion regarding litigation strategy on a specific legal matter that may have an immediate adverse effect on the finances of the borough" was added to Tuesday's Kenai Peninsula Borough Assembly meeting agenda.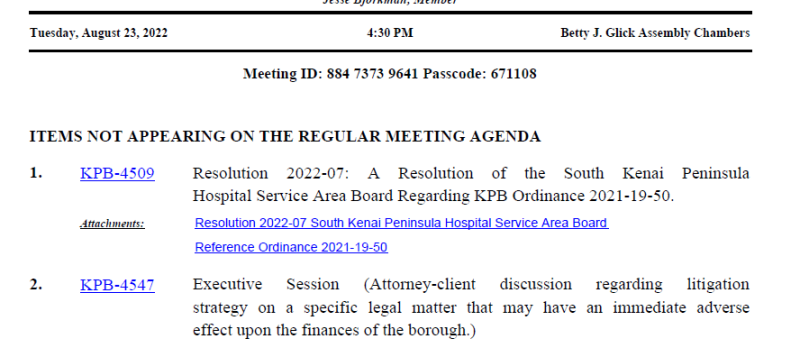 Pierce and his running mate Edie Grunwald are in fourth place in the gubernatorial primary. The top-four tickets advance to the November ranked choice general election. The withdrawal deadline for the general election is September 5. If Pierce were to withdraw from the ticket before September 5, his running mate Edie Grunwald would become the gubernatorial candidate and would then pick a new running mate. If they were to both withdraw, the fifth place finisher, Representative Christopher Kurka (R – Wasilla) and his running mate Paul Hueper would be moved up.
This is a developing story.