Winter is just around the corner. The Chugach Mountains are covered in snow and the Interior saw its first snowfall of the year this week. The annual Mayor's Charity Ball was held last night in Anchorage at the Dena'ina Center. Many politicos were in attendance. And things are getting real loose in the Governor's Office.
A friendly message and reminder to all our readers, the Landmine is made possible by myself and a team of awesome Alaskans. It takes a lot of work to provide the content we do. If you enjoy the content we provide, please consider making a one time or recurring monthly donation. You can click here to donate (or on the image below) via PayPal. We would really appreciate it. And thanks to everyone who has been supportive!
The big news this week was that Governor Mike Dunleavy (R – Alaska) hired longtime KFQD radio host Dave Stieren to work in a communication capacity in his administration. Stieren's last day on the radio is this Friday. As first reported in the Landmine, Mary Ann Pruitt is out. Pruitt has been working on contract as communications director at a salary of $185,000/year. Stieren will reportedly be earning $135,000/year and be a State employee.
Sources report that Pruitt was very unhappy about Stieren being hired. Pruitt and Stieren used to be business partners in the ad firm PS Strategies. But in early 2017 Pruitt had Stieren served at the airport when he was returning from vacation. She alleged that he used company assets for his personal use. She also had a guard posted at the door of the office, barring Stieren from entry. Eventually, Stieren got a judge to allow him entry into the business to review the books. They settled out of court about a year later. Pruitt bought out Stieren for a dollar.
I don' t know how this is possible but it seems that whoever decided to hire Stieren was unaware of all of the drama between them. That, or maybe they just needed to find a way to get Pruitt to exit. Whatever the case, it's been weird this week. Sources report that Pruitt resigned in protest of Stieren being hired, but then showed up the next day. They also report she blamed Tuckerman Babcock for all of the comms problems that have plagued Dunleavy. One source told me, "That may be true, but he's been gone for two months." Sources also report that Pruitt contacted several Republican women and told them she has some kind of restraining order against Stieren. Nothing like that exists on Court View. Very loose.
It seems Stieren won this round. Check out what propagandist Suzanne Downing wrote today. It must really suck to be her and be forced to write nonsense like this. It's definitely entertaining to read!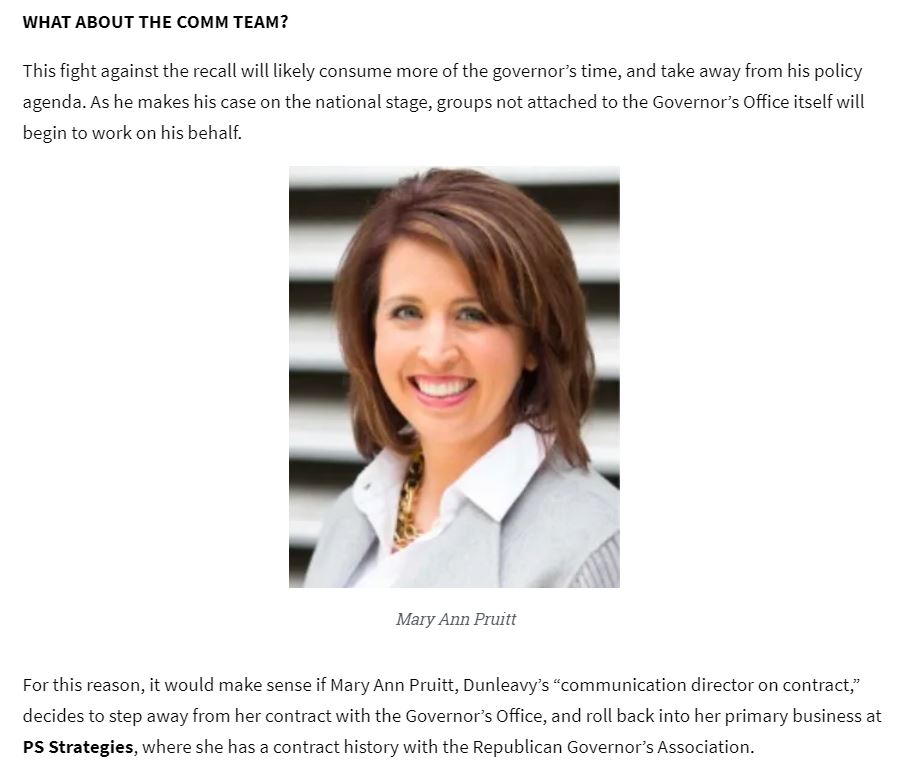 The Governor
Governor Mike Dunleavy (R – Alaska) spoke at a Republican event on Friday night in Palmer. It was pretty bizarre. He opened with, "I'm not going to compare myself to the president, but I will say this. There are some parallels, there are some similarities that are happening at the national scene." He then went on a nearly 20 minute rant about how awesome President Trump is, attacked the media, then talked about his plan to fight the recall. I have known Dunleavy for seven years. I've never seen him talk the way he did on Friday night. It's almost like someone gave him a few uppers before he went on stage. What is more likely is that he is being advised by national consultants who are going to help him fight the recall effort. It's going to get real interesting. You can watch the whole thing here courtesy of propagandist Suzanne Downing's Facebook Live video.
Other Happenings
Marla Thompson, the director of the Alaska DMV since 2016, was let go this week. I have not been able to determine the reason. Former Department of Administration Commissioner Leslie Ridle, who hired Thompson, had this to say about her departure:
Marla was an exemplary director. She and her team brought the DMV wait times down from close to an hour to less than 15 minutes. She did it without extra money. She did it by reorganizing the agency and by working with her staff to ensure Alaskans had the best experience possible at the DMV. She will be missed and people will notice the difference when they go to the DMV.
Senator Cathy Giessel (R – Anchorage) had a fundraiser scheduled at Enstar this week, but it was cancelled last minute. Apparently several PFD protestors, who were nearby at the Anchorage LIO, were heading over to Enstar to protest. Imagine going to pay your gas bill and seeing this person!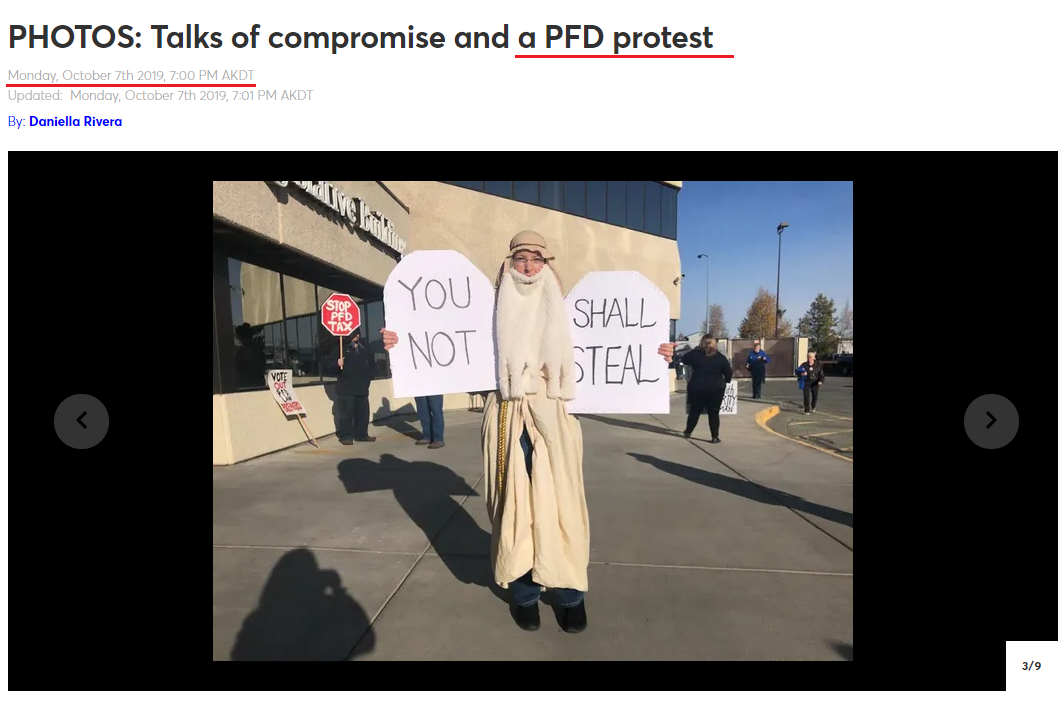 Sources report that even though the event was cancelled, Giessel still raised around $9,000 from people who came by and dropped off a donation. One of the people who showed up was Representative Josh Revak (R – Anchorage). I wonder why he stopped by…
Speaking of the pro-PFD protest, does anyone know what the deal is with the dude rocking the flag with the Royal Banner of Scotland??? Several Landmine fans thought it was the creepy thing on Fireball Cinnamon Whiskey bottles.
And what the hell is even happening with those pro-PFD folks? Very strange.
This was being handed out at a PFD rally this week. Passing out campaign lit from more than 10 years ago is strange, but the fact that it is from a guy who was convicted of conspiracy and bribery is even weirder. Not sure how the 'Follow the Law' folks reconcile this one. #akleg pic.twitter.com/mOu0Qvvjxa

— The Alaska Landmine (@alaskalandmine) October 12, 2019
I doubt Giessel will be purchasing any of the art that Michael Chambers is offering to sell Anchorage legislators. Michael, maybe try the Valley folks. No wonder he wants that full PFD!
Translation "Screw you legislators. I hate you and want a full PFD. Oh, and please buy my artwork."

He's actually a good artist. Maybe if he focused on art instead of politics they might buy his art. It appears the email only went to full PFD legs. That's bad business. #akleg pic.twitter.com/3U0dJ8OeYG

— The Alaska Landmine (@alaskalandmine) October 8, 2019
Congressman Don Young (R – Alaska) held a fundraiser on Wednesday (10/9/2019) in Anchorage. How about this for bizarre. The attendees included Attorney General Kevin Clarkson, Jake Metcalfe, the Executive Director of the Alaska State Employees Association, who is currently suing the State over Clarkson's interpretation of the Janus Decision, epic Facebook troll Art Chance, former Senator Lesil McGuire, Senator Natasha von Imhof (R – Anchorage), who succeeded McGuire, Senator Cathy Giessel (R – Anchorage), Representative Josh Revak (R – Anchorage), who needs Giessel or von Imhof to vote to confirm him, and many others. Don Young is probably the only person in Alaska who can get all those people in the same room.
After his fundraiser, Young toured three marijuana businesses in Anchorage. His office let me and Landmine Creative Director Paxson Woelber tag along. If you didn't see, check out the article we did. There are lots of amazing pictures from Paxson!
Representatives Jennifer Johnston (R – Anchorage), Bryce Edgmon (I – Dillingham), Andy Josephson (D – Anchorage), and Mark Neuman (R – Big Lake) all filed letters of intent for re-election this week with the Alaska Public Offices Commission.
Randall Kowalke, who filed to run in the District 10 Republican primary in August, has informed me that he has decided not to run. District 10 is currently represented by Representative David Eastman (R – Wasilla). Kowalke told me:
After some serious analysis it has become clear that there is essentially no possibility of winning the D10 Republican Primary. Additionally, it is my intention to withdraw from the Republican Party at my earliest opportunity. The Alaska Republican Party, lead and populated by Mike Dunleavy, Tuckerman Babcock, Carol Carmen, Kathy Mosher, Suzanne Downing, Todd Smolden et al is NOT the party that I joined over 50 years ago. It is my opinion that the current party has drifted into a kind of Libertarian Fascism, while clearly not entirely either one.
When Governor Walker appointed me to the Senate, then candidate Dunleavy pointed out that the "Governor does not own the Republican Party". It has become increasingly clear to me that I do now know who does: Koch Brothers, Francis Dunleavy, Bob Penney et al.
Several sources report that Josh Kindred is being considered and vetted to be a Federal Court judge for Alaska. Kindred worked for five years as environmental counsel for the Alaska Oil and Gas Association. He has been the Regional Solicitor for the Department of the Interior since June 2018. Expect environmental groups and progressives to fight this one.
Former Representative Lindsey Holmes recently started as VP and Deputy General Counsel for NANA Regional Corporation. Congrats, Lindsey!
Things got a bit weird this week at a meeting of Eagle River Republicans. Sources report that Senator Lora Reinbold (R – Eagle River) tore into the District for not endorsing her in the primary last year. Reinbold and former Representative Dan Saddler ran against each other in the primary. Apparently she was really mad she didn't get the endorsement or any money from the party, even after she won the primary. She said she had to borrow $35,000 to fund her race and that her husband is super pissed. That does not sound fiscally conservative to me. Loose!
Check out this Facebook post from Representative Tammie Wilson (R – North Pole). The comments are lit!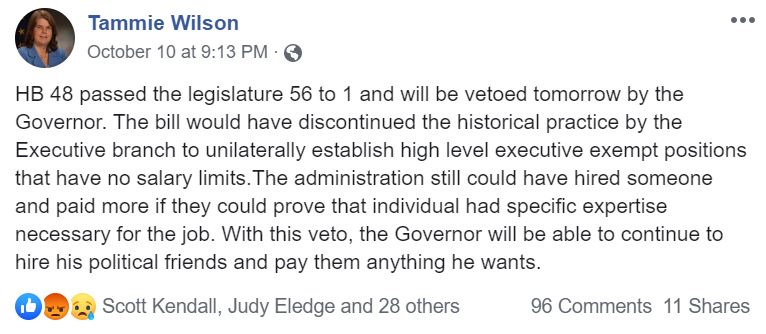 Tomorrow is Columbus Day and Indigenous Peoples' Day. Someone who will not be celebrating Indigenous Peoples' Day is Mike Porcaro. Check out this letter he wrote to former Governor Bill Walker in 2017. It's super weird. #triggered
This Week's Loose Unit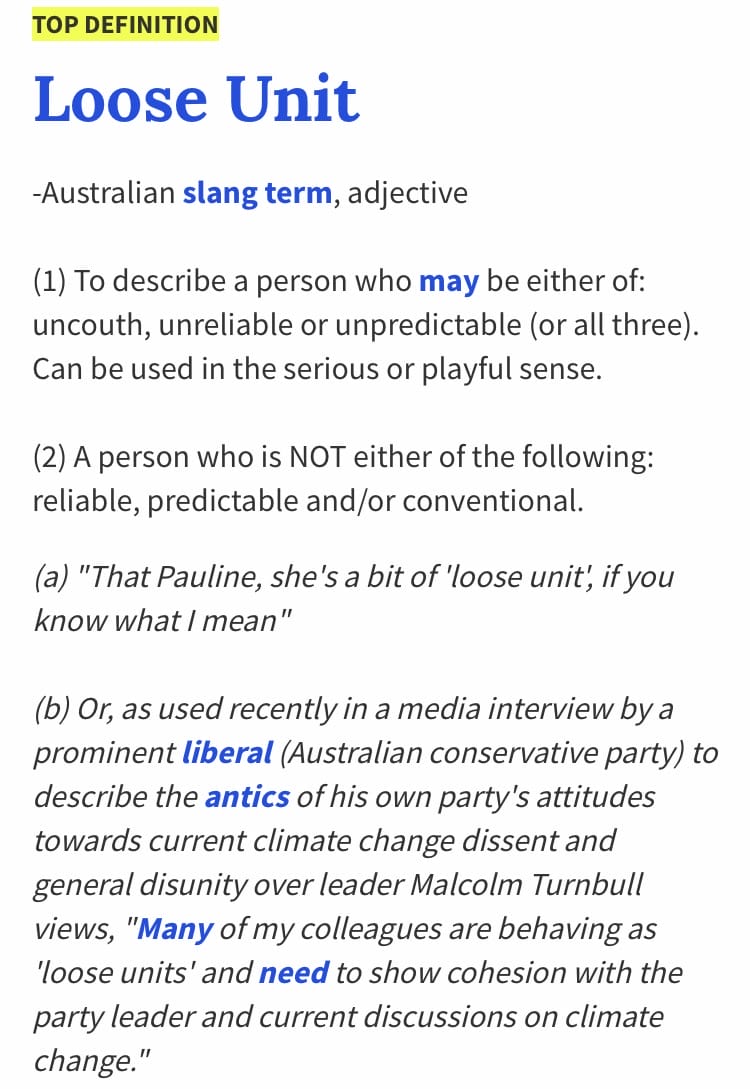 Things were pretty loose this week in Alaska politics. Between the Stieren / Pruitt drama, Dunleavy going full Trump, and Tammie Wilson attacking Dunleavy for paying off his political friends, there were plenty of candidates. But a literal last minute event made this week's winner clear.
If you have ever attended the Mayor's Ball, you know how fun it is. You probably also know how loose it gets. Many political insiders attend. It always gets wild at the end for the people who stay late and then go out. It kind of reminds me of the parties in Juneau. This week's Loose Unit is the two female politicos who accompanied me to the Great Alaskan Bush Company, at 1:30 am, after we left the wild party at Whale's Tail. Before we got our ride, one of them noticed a bunch of food in the lobby of the Captain Cook. One of them said, "You should go grab those chips." Which the other one took literally. She went over, grabbed the bag of chips, hid them under her coat, and came back! A few minutes later a man was seen looking all over the place, even under chairs, for the bag of chips. Very loose! They were really tasty on the way over to the Bush Company. If you are reading this and those were your chips, contact me and I will buy you two bags. Last night's full moon was likely a contributing factor to the looseness. Tieing with them were the other politicos who we saw at the Bush Company. One of whom told me, "Please don't put me in the Landmine." Don't worry, no names in this one.
The two ladies I was with particularly enjoyed Bush Company dancers Tennessee and Anastacia. I can confidently say they enjoyed our company as well based on how much money they earned from the lap dances. Very loose! After closing down the Bush, everyone got an Uber and went home safe. A good ending to a very loose evening.
If you have a nomination for this week's Loose Unit, or if you have any political news, stories or gossip (or any old pics of politicians or public officials) please email me at jeff@alaskalandmine.com.