The fourth special session ended this week with no fanfare. Legislators won't be meeting again until January 18, when the next regular session starts. The Redistricting Board adopted a final map on Friday night after an all day meeting. They are meeting tomorrow to figure out the Senate pairings. Several people, including some current and former elected officials, have filed letters of intent since Friday. Campaign season is just around the corner.
A friendly message and reminder to all our readers, the Landmine is made possible by myself and a team of awesome Alaskans. It takes a lot of work to provide the content we do. If you enjoy the content we provide, please consider making a one time or recurring monthly donation. You can click here to donate. We have a donation system that makes it super easy. We would really appreciate it. And thanks to everyone who has been supportive!
Redistricting Map
On Friday, the Alaska Redistricting Board adopted a final map for Alaska's new legislative districts. This came after a month of statewide public hearings on the draft maps they put out in September. They are meeting tomorrow morning to get determine the Senate pairings. Friday's meeting got interesting when board member Bud Simpson, appointed by Governor Mike Dunleavy (R – Alaska), voted with Nicole Borromeo, appointed by then-Speaker Bryce Edgmon (I – Dillingham), and Melanie Bahnke, appointed by then-Chief Justice Joel Bolger, for the Anchorage map. By voting with Borromeo and Bahnke, he effectively voted against Bethany Marcum, appointed by Dunleavy, and John Binkley, appointed by then-Senate President Cathy Giessel. Simpson is married to Paulette Simpson, who is an active member of the Juneau Capital City Republicans. The final statewide map was adopted 4-1, with Marcum being the sole no vote.
Before the vote on the Anchorage map, there was an awkward exchange between Borromeo, Bahnke, and Marcum. Marcum stated she did not like their map. They repeatedly asked her what she did not like. Eventually she said something about being a Christian and not criticizing colleagues in public. Which is odd because the point of the Redistricting Board is to debate the maps in public. Marcum got emotional and the whole thing kind of ended. Binkley, who chairs the board, and Simpson seemed uncomfortable about the whole thing. The meeting, hosted on Zoom, has not been posted or made public anywhere. Which is ridiculous. It was a public meeting that the public should be able to easily watch. An email to board staff about where to view the meeting has not been responded to as of this writing.
The map the board approved is fair. It leaves the same number of districts won by Biden and Trump in 2020. Incumbent House pairings are split 2-2 between Democrats and Republicans being combined. A fifth combines Anchorage Republican Representative Sara Rasmussen with Anchorage Democratic Representative Matt Claman. You can see the breakdown and the House pairings on the below map that Robert Hockema created. There is also a great thread below that with a breakdown of the changes to all of the House districts. Stay tuned for an article by me and Robert with a full breakdown and analysis.
While Senate pairings will be decided tomorrow, we know at least two senators will be paired. Senators Mia Costello (R – Anchorage) and Natasha von Imhof (R – Anchorage) are now in the same House district! So if they both run for the Senate seat, they will face off against each other. They both attended Harvard. Von Imhof was legacy, while Costello was an athlete. This could be an epic race.
Several people have filed letters of intent since the final map was adopted:
Of course, this map is subject to legal challenges, which are likely to happen. But several experts I spoke with said there are not any glaring problems, only some small issues with places like Cantwell. Once everything is done and adopted by November 10, there is a 30-day period to file legal challenges.
Politicos on the Move
Reporter Nat Herz is leaving his job at Alaska Public Media on December 3. While it's not clear where he's headed for his next job, it is clear he will be in Beijing for the Winter Olympics. He will be covering the Olympics for FasterSkier.com. Have fun in China, Nat!
Lauren Giliam is now the deputy director of Boards and Commissions for Governor Dunleavy. She was previously his deputy press secretary. Apparently this happened in August, but the first I heard of it was this week. I guess they did not announce it. Weird.
The exodus of Juneau staffers continues.
Nate Graham and Leighan Gonzales, who both work for Senator Bill Wielechowski (D – Anchorage) are leaving their jobs. Best of luck to them on their future endeavors! Representative David Eastman (R – Wasilla) should send Graham some kind of gift basket. Now people won't mistake Graham for him anymore in the Capitol.
Darwin Peterson left his role as chief of staff to Senator Click Bishop (R – Fairbanks) and registered as a lobbyist. Congrats, Darwin! His first client is fellow lobbyist Ted Popely for $5,000 a month. Before working for Bishop, Peterson was former Governor Bill Walker's legislative director.
Other Happenings 
Several legislators and staffers were spotted in Tampa this week for the National Conference of State Legislatures. Must be nice!
Check out the per diem list for the fourth special session. The big winner is Senator Mia Costello! Legislators have until the end of the year to submit per diem, not 60 days indicated in the tweet.
Finally heard back from Senator Shelley Hughes (R – Palmer) about this. She was the only person who responded to my email. She confirmed the website was paid for with her office account.
Congressman Don Young (R – Alaska) was one of 13 Republicans who voted for the infrastructure bill on Friday. Several people referred to him as a RINO on Twitter. Some idiots even called him a rhino. Saying Don Young a RINO is like saying the Pope is an atheist.
Some lobbyists picked up some new clients recently. Eldon Mulder got a healthcare client, Organon, for $4,000/month. Ashley Reed got two oil/gas clients, SES Midstream and FINNEX, for $2,000/month and $50,000/year, respectively. Strategy North Group (Jerry Mackie and Mike Pawlowski) got a nuclear power client, Ultra Safe Nuclear Corporation, for $18,750/year and a mobile voting client, Tusk Philanthropies, for $5,000/month.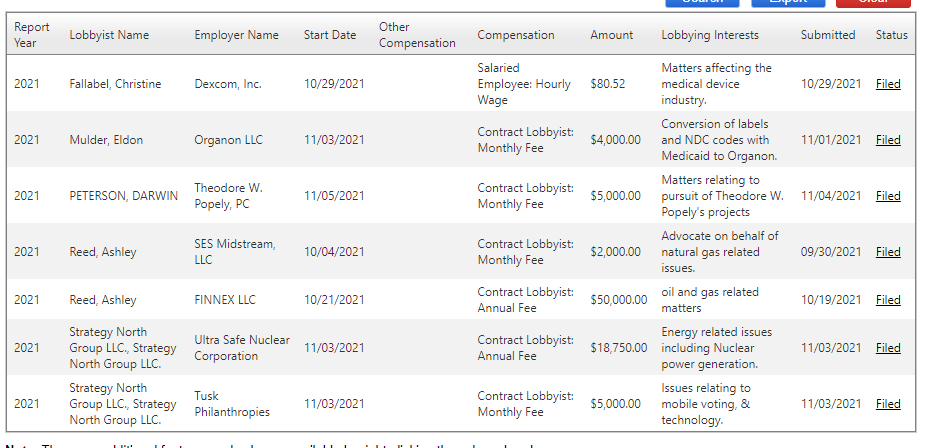 This Week's Loose Unit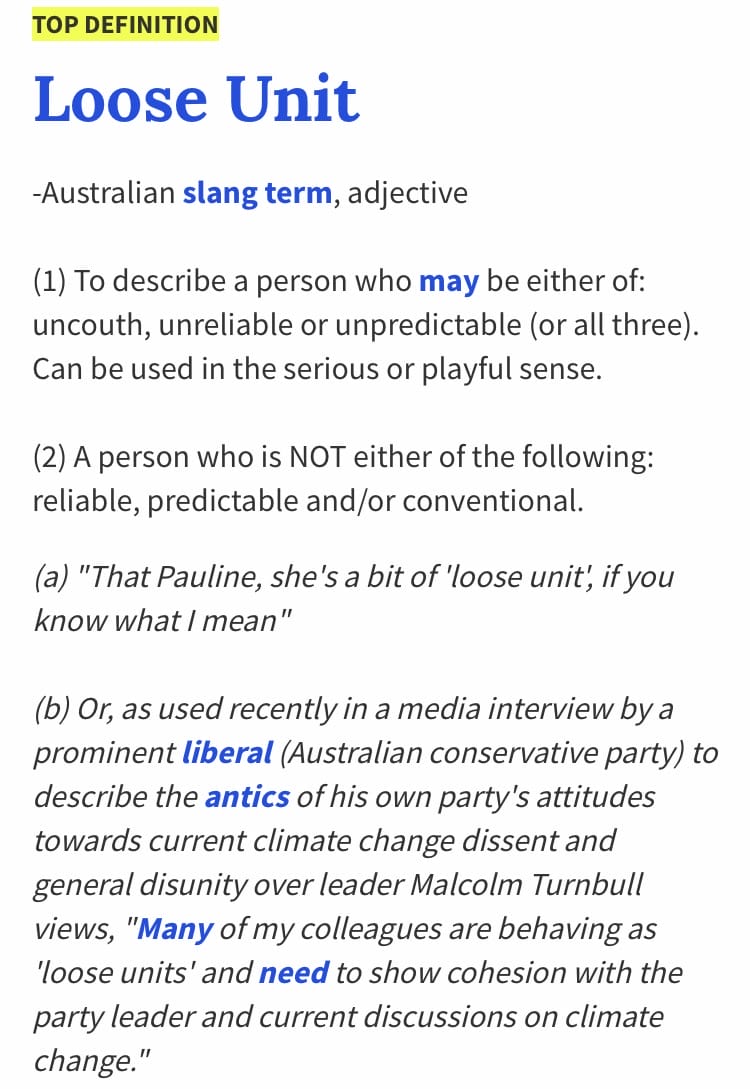 This week's designee is kind of a weird one, but very deserving. This week's Loose Unit is the Air Line Pilots Association (ALPA), specifically the Alaska Master Executive Council (MEC).
This requires a little background. Last week, I kept seeing this Facebook video ad with a United Airlines pilot wishing Alaska Airlines pilots the best of luck in their "endeavors to secure a new contract." After seeing it pop up over and over, I became curious and clicked on the link. It goes to a website that includes a nearly four minute video by current and former Alaska Airlines employees savaging their employer. I am not going to get into the contract stuff – I don't know enough about it to weigh in. But just watch this hyper loose video!
The video starts out with dramatic music and a slow motion shot of a United pilot. He says he thought he was always going to be an Alaska pilot, but sadly he was wrong. "A lot of the attention was focused on the customer, and not on the employee. And one day I just decided to apply to United," he says. This is bizarre. Why is a video critical of Alaska Airlines and being promoted to the public criticizing the airline for focusing on customers? Is the average person on Facebook really going to be angry at Alaska Airlines for being "focused on the customer?" Very loose ad targeting, folks!
Then, a Delta pilot comes on. "I was trying to be happy at Alaska, but I just wanted more in a lot of little ways, there were just a lot of little reasons I wanted to go to Delta," she said.
Then Alaska Airlines Captain Will McQuillen, the MEC chairman, rags on Alaska Airlines. Really loose. It gets even more theatrical from there. The United guy actually says, "I saw myself, had I stayed at Alaska, potentially never getting married. Probably never having kids." Keep in mind these people make like $200/hour. According to salary.com, the average airline pilot makes $141,000 a year. The lack of self-awareness and perspective here is painful. How much do baggage handlers, flight attendants, or TSA agents make? Classic Loose Unit behavior.
I asked a videographer friend to watch and and give some feedback. He said, "Given the multiple locations, lighting, and decent audio recording (but mid range audio mixing) – I would say this is anywhere from an $6k-15k video depending on what region they hired from."
It looks like this is basically a public pressure campaign by ALPA and MEC (MEC is the body that represents Alaska pilots for ALPA) to try and coerce Alaska Airlines into giving in to the union's demands. I am all for labor unions, and I think they are important. But publicly trashing and shaming your own employer (or former employer) on Facebook for not acceding to union demands is loose.
At the end of the day, at least the ad acknowledges that Alaska Airlines "focuses on the customer." As a frequent Alaska Airlines flier, I will say I agree with that. If anything, this ad might just convince more folks to fly Alaska. See you in Club 49!
If you have a nomination for this week's Loose Unit, or if you have any political news, stories or gossip (or any old pics of politicians or public officials) please email me at jeff@alaskalandmine.com.