It's been almost two weeks since the election and we still don't know the outcome of several races. A count update today from the Division of Elections now has Democrat Liz Snyder up by 17 votes over Representative Lance Pruitt (R – Anchorage). A few other races are also very close. Hopefully we will know the results of all the races by next week's column. The calamity that has resulted from the Division of Elections' failure to count votes in a timely manner will be felt for some time.
A friendly message and reminder to all our readers, the Landmine is made possible by myself and a team of awesome Alaskans. It takes a lot of work to provide the content we do. If you enjoy the content we provide, please consider making a one time or recurring monthly donation. You can click here to donate. We have a donation system that makes it super easy. We would really appreciate it. And thanks to everyone who has been supportive!
Election Results
A new count update was posted this evening. 353,159 ballots have been counted, or 59.29% of Alaska voters. Approximately 7,000 ballots are left to be counted. Many are from rural Alaska. As stated above, Liz Snyder is now beating Lance Pruitt by just 17 votes in District 27. Which is actually amazing considering Joe Biden and Alyse Galvin are both up in District 27 by over 400 votes. It appears that Republican David Nelson will defeat Democrat Lyn Franks in District 15. After more ballots were counted he is leading by 91 votes. The other big race is in District 40. Today's count did not include any ballots from that district. Right now Independent Josiah Patkotak is beating Democrat Elizabeth Ferguson by 148 votes with at least 596 votes to be counted. That one could go either way. Ballot Measure 2 is now passing by 3,216 votes, or 50.48% to 49.52%.
If the results from today hold, meaning Nelson wins and Pruitt loses, Republicans will have just 21 in the House. This is exactly what happened after the 2018 election. We all know how that ended up. If Ferguson beats Patkotak, Democrats, and Independents who will caucus with them, will have 19. When you factor in Republicans like Representatives David Eastman (R – Wasilla), Sarah Vance (R – Homer), Ben Carpenter (R – Nikiski) and Representatives-elect Christopher Kurka and Ron Gillham, having a Republican majority in the House appears to be almost zero. There are two questions: which Republicans will be in a coalition? and who will be speaker? Representatives Steve Thompson (R – Fairbanks), Bart LeBon (R – Fairbanks), and Louise Stutes (R – Kodiak) are in the current House Majority coalition. So they likely would be in a coalition. Would more moderate Representatives Sara Rasmussen (R – Anchorage) and Kelly Merrick (R – Eagle River) join? That is hard to say. Many Republicans have openly been critical of House Speaker Bryce Edgmon (I – Dillingham). And some Democrats in the House Majority have more quietly expressed dissatisfaction with him. So the question remains who can put together a coalition with 21 votes for speaker? If not Edgmon than my guess would be Steve Thompson. He could probably get Representative Cathy Tilton (R – Wasilla) on board if she got rules chair. And maybe Lebon and Representative Neal Foster (D – Nome) would be co-chairs of the House Finance Committee. And maybe Representative Chris Tuck (D – Anchorage) as majority leader, which he has been before. It's anyone's guess at this point. But I would not count on this being figured out until at least December, or maybe even longer than that. It's also important to factor in that Edgmon has been Speaker the last four years, and many in the current coalition have been there the whole time. The Republicans have a lot of people who have either never been in a majority or never served in the legislature. Look for things to get extremely loose in the coming weeks and months.
Other Happenings
The 13 Republican senators met on Friday in Anchorage to try and organize a majority. A Landmine reader suggested they be dubbed the Dirty "Bakers" Dozen. I fully agree with that. I was posted up outside the Denali Tower on a little stakeout waiting for them to get done. So far no majority has been formed. I wrote an article all about it. The Republicans in the Senate are also going to have a hard time organizing a majority. Eleven were present at the meeting, Senators Josh Revak (R – Anchorage) and Lora Reinbold (R – Eagle River) were on the phone. Revak tested positive for the rona after attending the super spreader event that Suzanne Downing publicized. The ADN did a story about it. Reinbold was at some constitutional freedom fighters convention in Texas. She appeared to have a rough time on Alaska Air on her way home. That grammar tho. And what is "bottom kind"…? Shame on her for harassing and posting pics of Alaska Airlines employees who are just doing their job.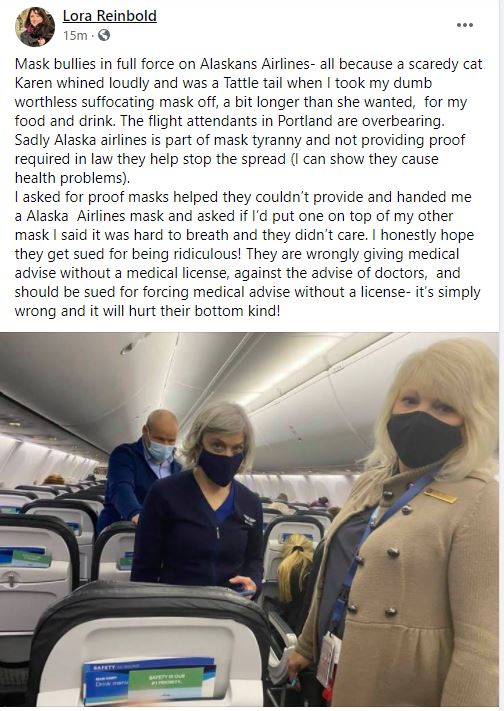 "Independents" Al Gross and Alyse Galvin conceded this week. The last podcast I did with Congressman Don Young (R – Alaska) he told me every time someone has run against him a second time he always beats them by more the second time. In 2018 Young beat Galvin by 6.58%. He is currently beating her by 9.11%. Legend status.
A group of folks that include former Alaska Governor Bill Walker held a press conference on Monday. They announced the formation of a new group that intends to take over operations from AGDC to build the gas pipeline. The best part was how animated and excited Bernie Karl was. At one point the audio went out for a minute. When they got it fixed Karl was heard yelling, "Dividends on dividends on dividends!" He also talked a lot about planting trees as a metaphor. Just two days after the presser AGDC sent them a letter saying they are not interested in meeting at this time. You can read all about it here.
I have to talk about Julia Savel for a second. She was comms director for the Al Gross campaign. After her epic fail of a tweet after she left Alaska, she has now deleted her Twitter account. The recent Alaska Stalker column has some solid gold content on this. Several sources have reported that she left the house she was staying in trashed. I think the lesson here is that when you come to a new place it's not wise to go scorched earth, leave, and then act like you did something amazing. Very loose.
This Week's Loose Unit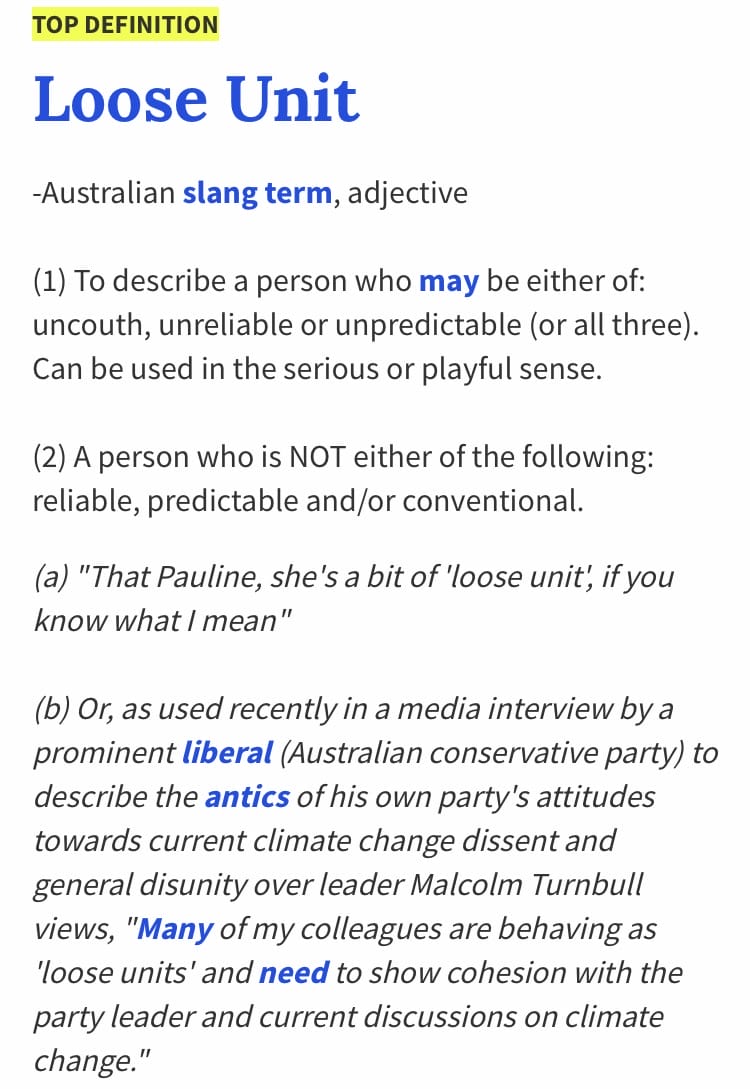 You're in for a treat this week. Back-to-back Loose Units are rare, but this week is one of those exceptions. This week's Loose Unit is once again the Alaska Division of Elections. An email on Monday indicated what districts they were going to start counting the outstanding absentee ballots and early votes on on Tuesday. Districts 23 and 25 were not on the email. Yet they started counting them anyway. I am keenly interested in District 25 and I live in District 23. I heard about it from a text from someone who was there. Very loose. It has also been extremely hard to get information from the Division this week. And the info they have been putting out has been iffy at best. It's like we have Russian or Ukrainian election officials running the vote count. Super loose. The situation is so loose that the ADN Editorial Board wrote this "Why is Alaska moving backward on counting votes?"
All of this is unfair to the candidates, the public, and the media. The Division should have figured this out after the primary. They knew there would be a record number of absentee ballots. And also it's the damn law. Alaska Statute 15.20.201, Time of District Absentee Ballot Counting Review, section (a) reads:
No less than seven days preceding the day of election, the election supervisor, in the presence and with the assistance of the district absentee ballot counting board, shall review all voter certificates of absentee ballots received by that date. The review of absentee ballots shall continue at times designated by the election supervisor until completed.
This did not happen. Which is very loose. Tuesday marks two weeks since the election and we still don't know the results of some races. Beyond loose.
If you have a nomination for this week's Loose Unit, or if you have any political news, stories or gossip (or any old pics of politicians or public officials) please email me at jeff@alaskalandmine.com.