Welcome to this edition of the Alaska Stalker, a lighthearted round up of the best and worst of Alaska's social media landscape.
***
If you enjoy the Alaska Stalker, please consider supporting working moms like me by sending in hot tips, overheards, and spotted ins. You can reach me at akstalker@alaskalandmine.com. As always, thanks for reading.
***
While most politicos spent election night glued to their phones, televisions, or at watch parties, the Stalker family received some surprising results – and tested positive for Coronavirus. We are all fine – no fevers, hardly any symptoms, and a full recovery has been made by all. Thanks to those who checked in on us. I hope everyone who catches Covid has the same experience we did – hardly noticeable and over it in a couple of days.
***
As Alaska continues to slow roll the ballot count, even Jimmy Kimmel felt the need to weigh in on how we do things up here.
***
Both Sen. Scott Kawasaki and Sen. Jesse Kiehl dusted off their best #Alaskafacts and schooled Jimmy and fellow naysayers in the comments.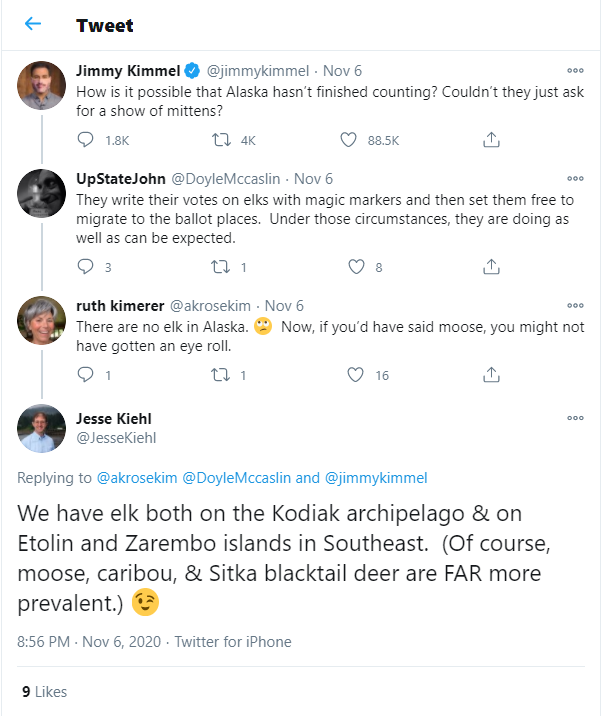 ***
But my favorite "count the ballots" Tweet is via the acting First Lady of Anchorage, @SalmonStephAK. PREACH! 🙌🙌🙌
***
Sen. Dan Sullivan's birthday was yesterday, Friday the 13th. Happy birthday, Dan! Nice to see his former opponent, Dr. Al Gross, give him such a great gift.
***
Speaking of the Gross campaign… Did you miss the campaign Tweet heard around Alaska Twitter? Don't worry. The Alaska Stalker has the receipts. Julia is Al Gross' former communications director. Ohhh boy.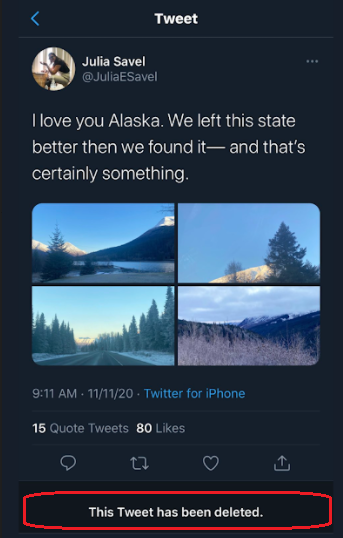 ***
Yes, Julia deleted her "hot take" full of big Cheechako energy. But not after several, mostly progressive, folks weighed in.


***
Hello, 911? I'd like to report a murder. It was nice knowing you, Julia…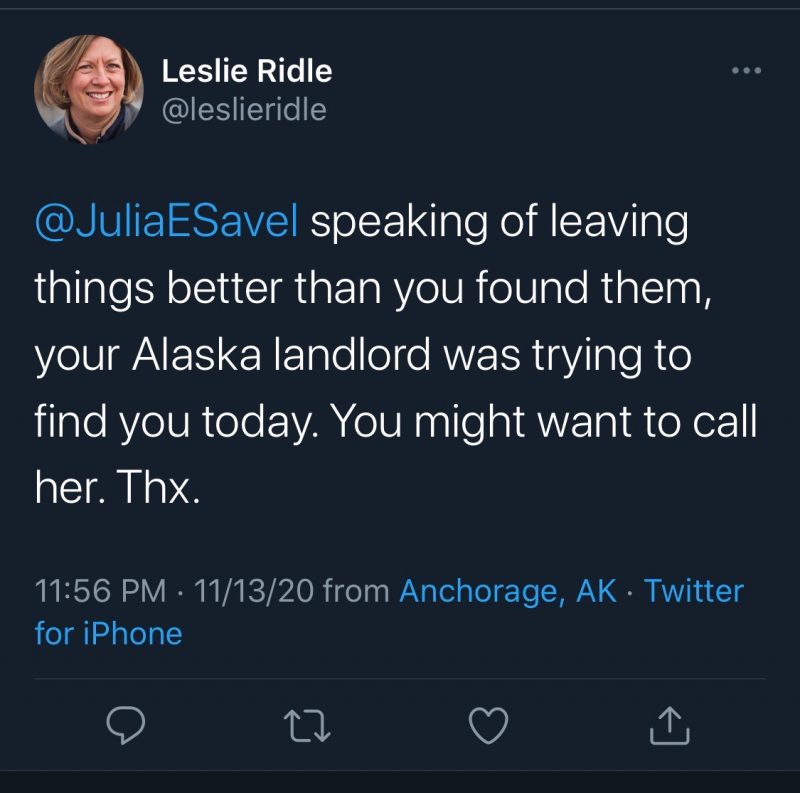 ***
Alas, Alyse was unable to crack that yellow blazer ceiling and she conceded to Congressman Don Young. I am going to miss her campaign. So long, Alyse. And, thanks for all the whales!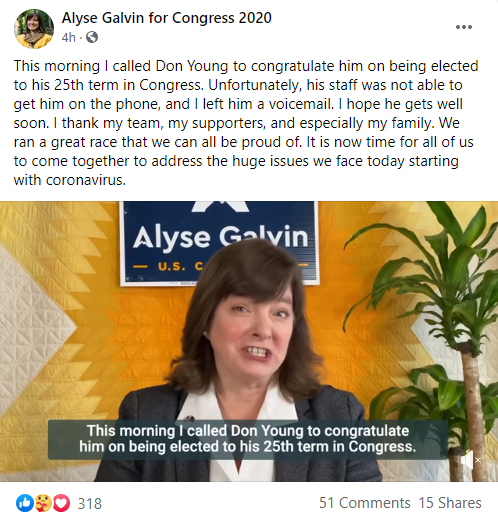 ***
As you all know by now, Congressman Don Young tested positive for Covid-19. Predictably, Alaska Twitter has been sending Don their best.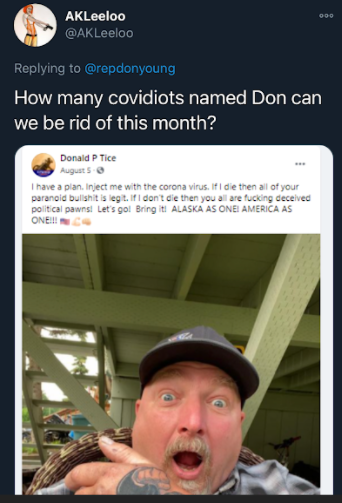 ***
What you may not realize is, every time someone wishes Don Young would die of Coronavirus on Twitter, Acting Anchorage Mayor Austin Quinn-Davidson gets a new mean nickname on Save Anchorage.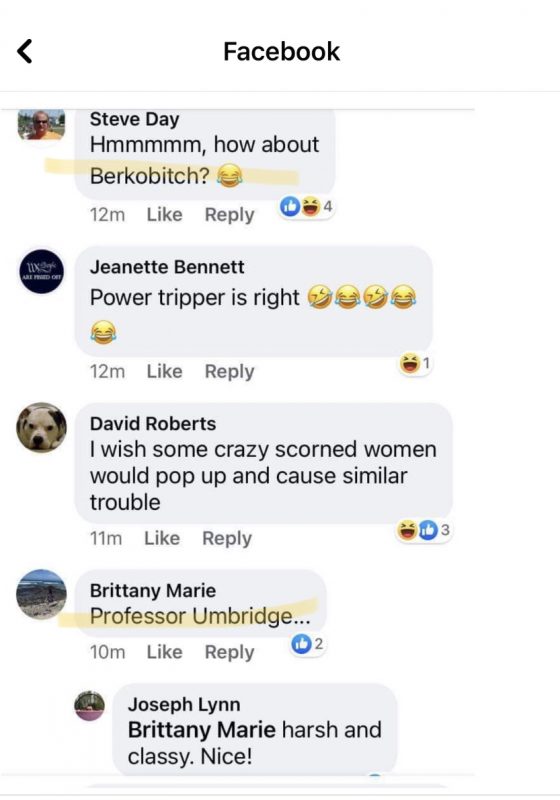 ***
So far this one is my favorite. QUEEN! 👸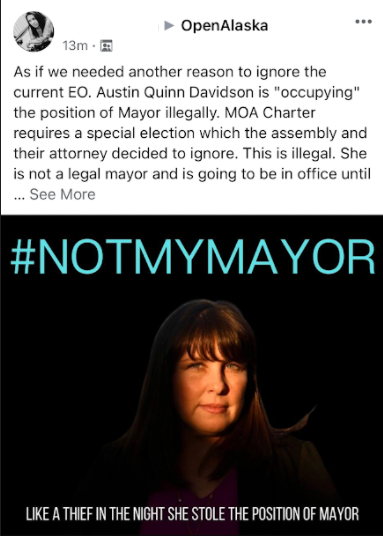 ***
At the end of the day, I just want to see what Austin has done with the Mayor's Office. Apparently there's been some redecorating. Austin, can we get a Facebook Live tour? I love this piece!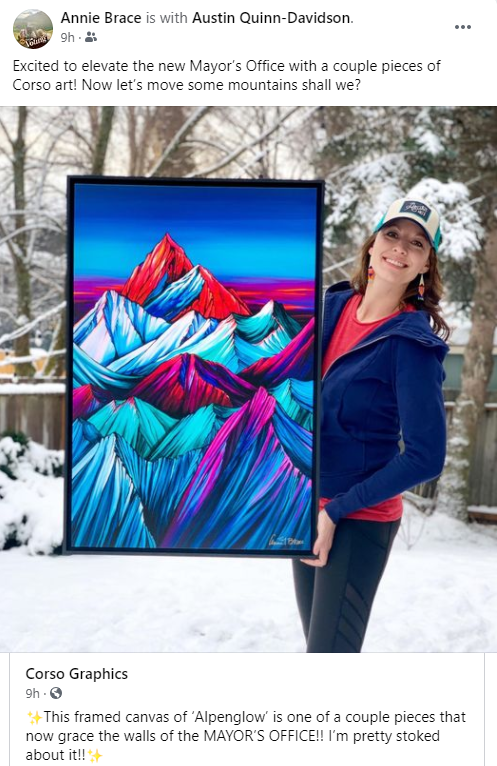 ***
A lot has changed. Alas, much to the chagrin of the many colleagues who actively campaigned against him, Rep. David Eastman isn't one of them. Juneau's gonna be lit this year. Let's take a moment to review the election.

***
A couple legislators are saying their goodbyes.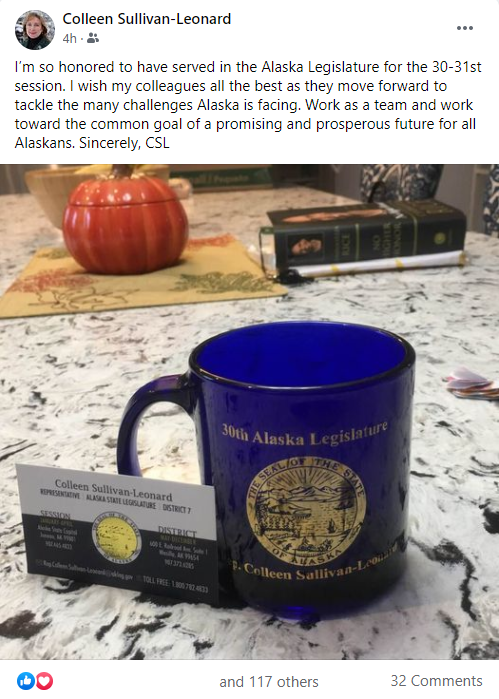 ***
Some candidates know how to lose with grace.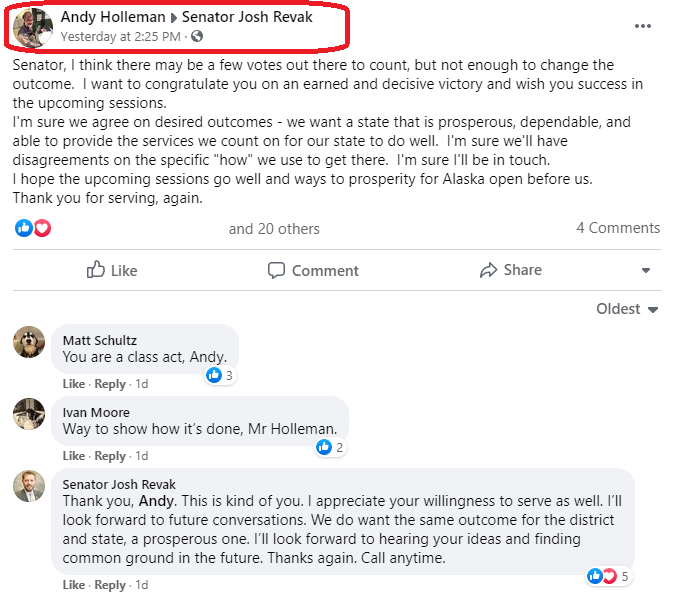 ***
Others count their chickens before they hatch.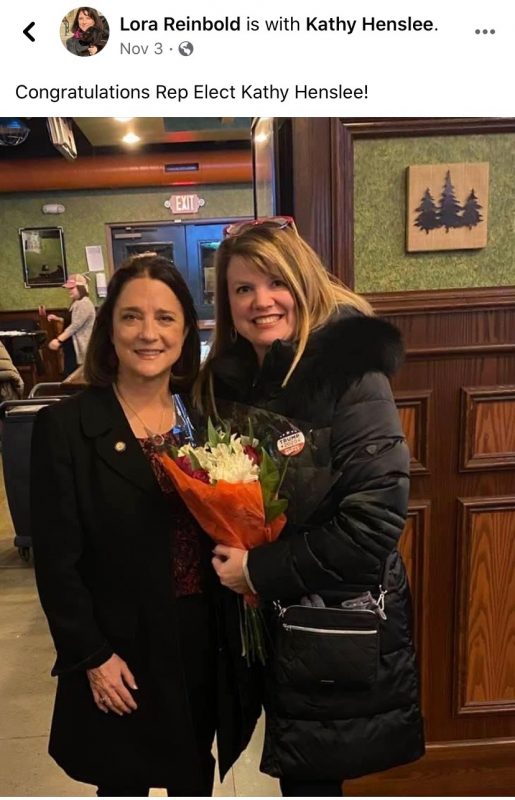 ***
And a select few can't help but rub it in when their guy wins.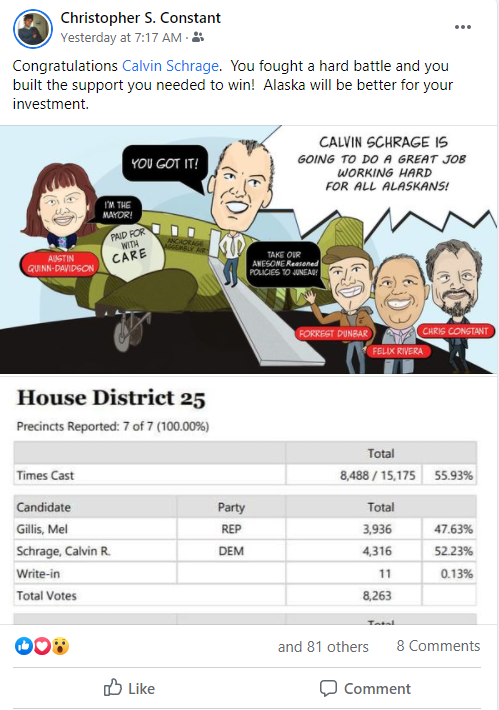 ***
There's going to be some new faces.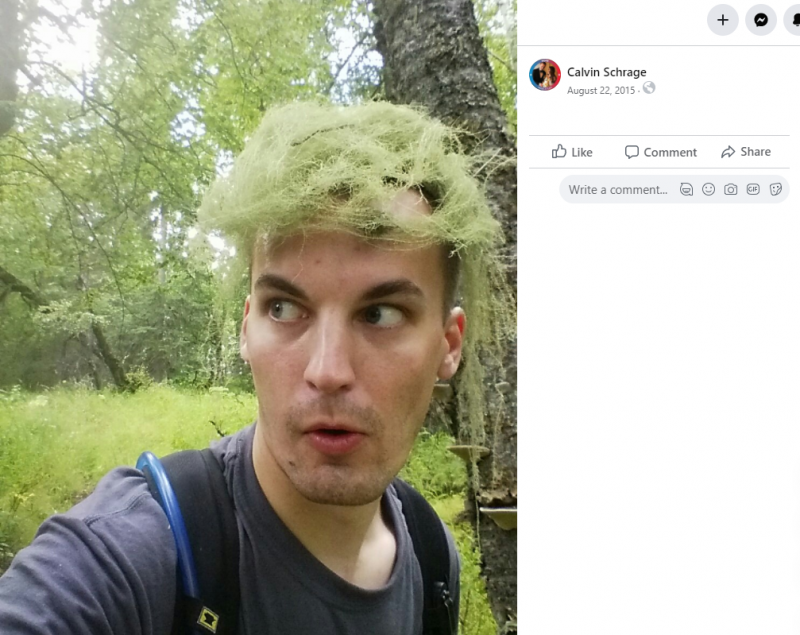 ***
And some old favorites.

***
And while new ideas can be good, it's always smart to listen to the veteran legislators. Sen. Wilson is spot on!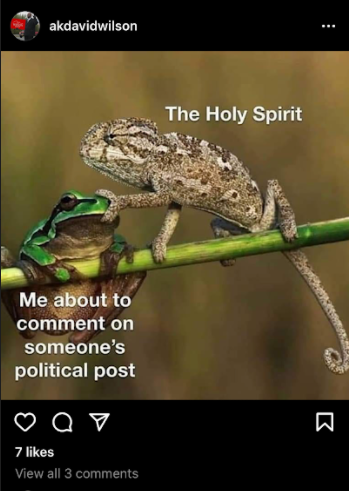 ***
In the end, I don't know about ya'll, but I'm already ready for 2022! 🤡
***
While I've heard of using old campaign signs as target practice, insulation, and even for chicken coops, Democrat Lyn Franks has a new idea. This might be a little wacky, even for her.
***
You guys, I didn't know Sen. Donny Olson was a doctor of Soil and Water Science!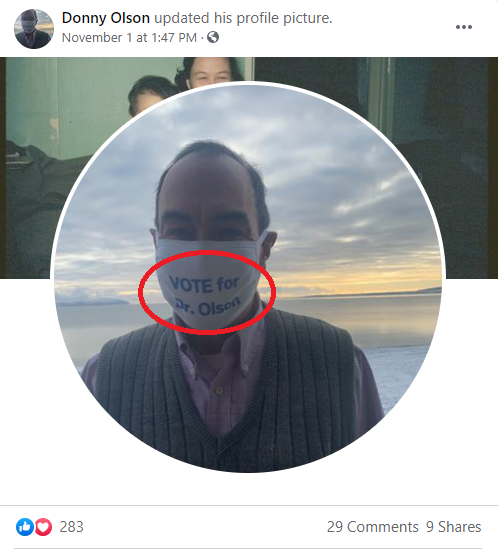 ***
In case you hadn't heard, several legislators have started using alternative social media accounts like Parler and MeWe. So far it's the usual suspects: Lora, Sarah Vance, Ben Carpenter, and Mike Shower to name a few.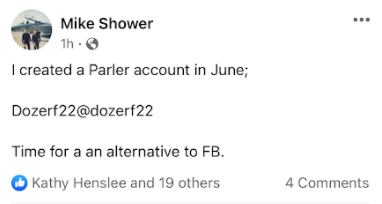 ***
Apparently this is already causing some friction within the hard right Senate faction. Maybe Sen. elect Myers is on Gab?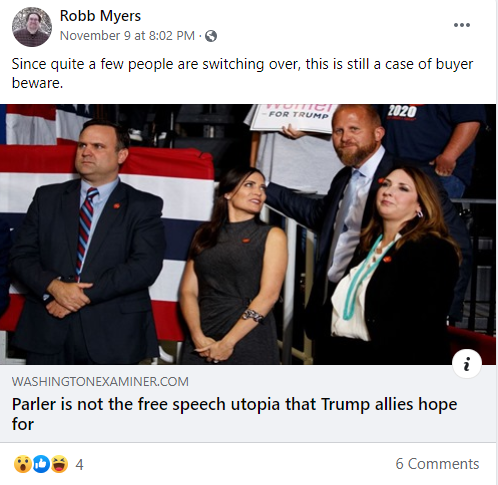 ***
Anchorage Assemblymember and mayoral candidate, Forrest Dunbar, made a big to-do about his recent subscription to the Anchorage Press.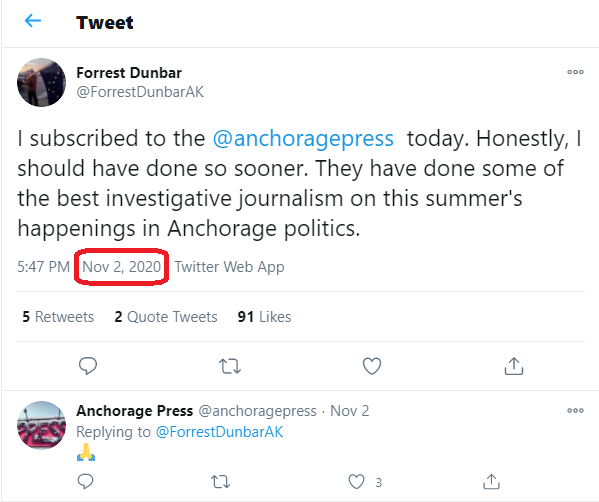 ***
I was curious, so I looked at the last thing the Anchorage Press posted before Forrest decided to give them his money. Oh. Of course. Total coincidence. 😬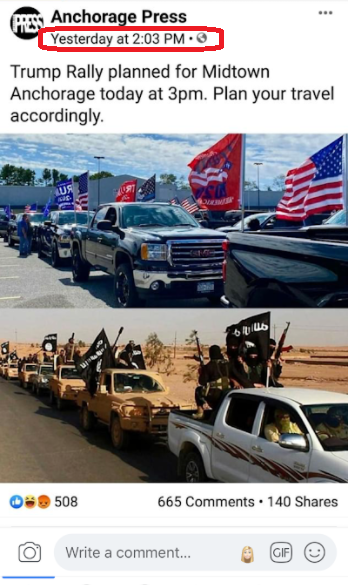 ***
While Forrest probably thinks half the country is literally ISIS, fellow candidate for mayor, Dave Bronson, is having meet-and-greets at Kriner's Diner AND Little Dipper Diner. If this is any indication of where Anchorage's mayoral race is headed, sign me up!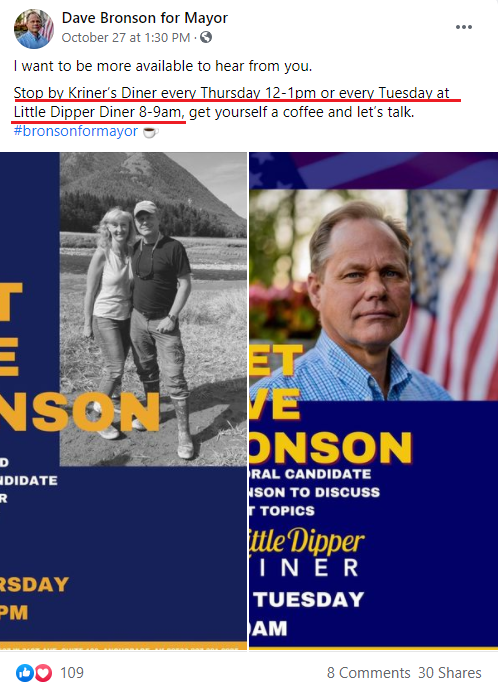 ***
So far there are half a dozen or so serious candidates running for mayor of Anchorage. Some social media pages are better than others. And then there's this. Bill. You don't need to do this.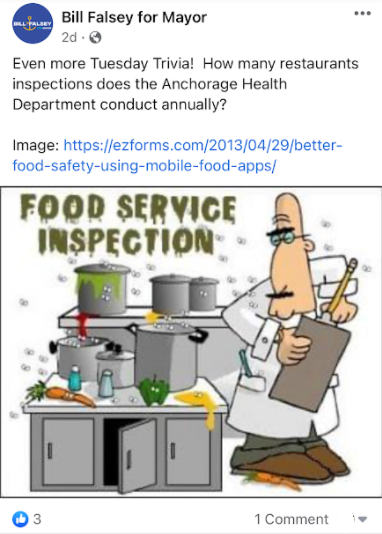 ***
Spotted in Anchorage: OMG 🙈🙈🙈 Integrity Matters!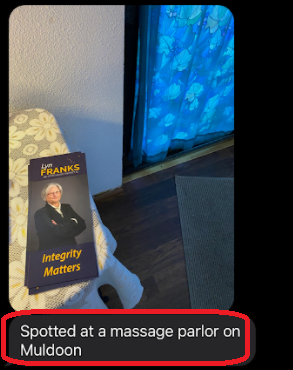 ***
Not spotted on Facebook: Sara Rasmussen taking a break from the social media platform. Don't worry, she's still on Instagram. For now.
***
Overheard in Anchorage: "I find it hilarious Lora Reinbold started a Parler account due to "censorship." She censors more comments on Facebook than anyone I know!
***
Overheard in Anchorage:
"Do we know who won District 15 yet?"
"Not yet, but that young guy, David Nelson is winning."
"I'd feel bad for him if he lost. He saved his allowance up for 2 whole months to run for office. I heard he even got special permission from his mom to stay up past 8pm to campaign!"
***
Overheard at the Anchorage Assembly Meeting: Dustin Darden telling Assemblymember Felix Rivera he has "Nazi spirit."
***
The Alaska Stalker was born and raised in Alaska. She lives amongst the bears in South Anchorage with her husband, daughter, son, newborn, and Covid-19 antibodies. She is not Jeff Landfield.