The 2022 general election has come and gone. But tens of thousands of absentee and early votes remain to be counted and we won't know the outcome of several races until the ranked choice retabulation happens on November 23. The Senate is poised to have a bipartisan coalition – the first time in a decade – while House organization is still up in the air. And a big shout out to our team and everyone who tuned in to our live election coverage on Tuesday night.
A friendly message and reminder to all our readers. The Landmine is made possible by myself and a team of awesome Alaskans. We are working hard to provide in-depth election coverage for all of the ongoing races. And I will be headed back to Juneau again to report on the session. If you enjoy the content we provide, please consider making a one time or recurring monthly donation. You can click here to donate. We have a donation system that makes it super easy. We would really appreciate it. And thanks to everyone who has been supportive.
Post Election Recap 
While the majority of results on Tuesday went as expected, there were some surprises. More on that below. While more than 217,000 ballots have been counted, more than 40,000 absentee and early votes remain to be counted. It is beyond my comprehension why the Division of Elections can't count the absentee and early votes as they get them.
The next count update from the Division of Elections will be on Tuesday (11/15/2022), with another one scheduled for Friday (11/18/2022). Be sure to tune into the Landmine Facebook, Twitter, or YouTube on Tuesday to see me break down the new results. The retabulation of votes for races where a candidate does not have 50% plus 1 will take place on November 23 at 4 pm – the day before Thanksgiving!
As far as the three statewide races, Senator Lisa Murkowski (R – Alaska) and Congresswoman Mary Peltola's (D – Alaska) races will likely be decided when the vote retabulation happens. Although Peltola, who is currently sitting at 47.26%, might get close to the 50% threshold when all the absentee and early votes are counted. Governor Mike Dunleavy (R – Alaska) is currently sitting on an impressive 52.06%, though he could drop below 50% when the absentee and early votes are counted. Even if that happens, Republican Charlie Pierce, who has 4.5%, should get Dunleavy over the top on the second round. Democrat Les Gara and Independent Bill Walker only have 43% of the vote when you combine their totals.
If Murkowski, Peltola, and Dunleavy all prevail – which is likely – think about how strange that is. Alaskans will elect a Republican governor, a Democratic congresswoman, and a Republican senator who many Republicans don't like. We live in a weird state.
While the majority of legislative races will be decided before the ranking process happens on November 23, there are several we won't know until that happens. If you saw our Landmine Staff election predictions, we nailed most of the races but missed two. Pretty good for 62 races!
For the open Kenai Peninsula Senate seat, we said lean Tuckerman Babcock "because if he does not win on the first round, the Andy Cizek votes could get Jesse Bjorkman over the top." And that is what looks like will happen. Babcock currently has 41.87%, Bjorkman has 46.33%, and Cizek has 11.19%. Babcock would need a miracle to win. And he's aware of this as he already conceded the race.
The other race we missed was the Senator Mike Shower (R – Wasilla) race. We went with his Republican opponent Doug Massie because of Massie's strong performance in the primary and Shower's generally loose behavior. While Massie will likely tighten the gap as there are still a lot of votes to be counted, Shower's current 704 vote lead will be hard to overcome.
Below is a list of the key legislative races that will be decided using ranked choice voting. It's important to note that it's hard to predict a lot of these races because we don't know how many voters ranked a second or third candidate or bullet voted. These legislative races are down ballot and it's likely a lot of people bullet voted. This could result in some upsets for a few incumbents.
While all three candidates have about a third of the vote, Republican Cathy Giessel is in the driver's seat as most of Democrat Roselynn Cacy's votes will recycle to her. Senator Roger Holland (R – Anchorage) defeated Giessel in the 2020 Republican primary but it looks like he will be a victim of ranked choice voting.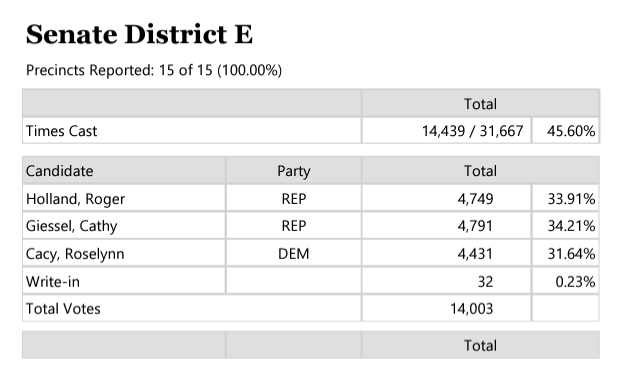 While Senator David Wilson (R – Wasilla) is well ahead of his two Republican opponents, if a large percentage of Scott Clayton voters ranked Stephen Wright second, this race could get close.
This is an interesting one. It's an open seat because Representative James Kaufman (R – Anchorage) ran for the Senate seat. When the absentee and early votes are counted, Walter Featherly's lead should increase. Julie Coulombe will win the seat as long as enough Ross Bieling voters ranked her second. But if enough of his voters bullet voted or ranked Featherly second, he could win this seat.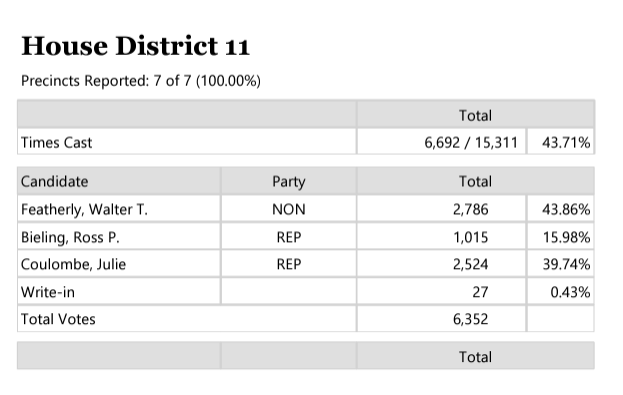 This is another interesting one. Representative Tom McKay (R – Anchorage) could be in trouble. Denny Wells' lead should increase when absentee and early votes are counted. To win, McKay will need the majority of David Eibeck voters to rank him second.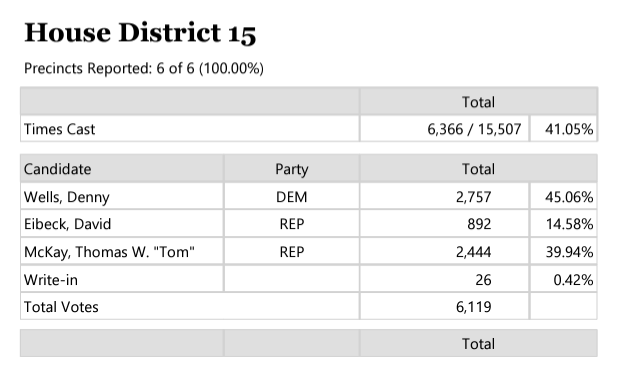 Cliff Groh is in a good position to defeat Representative David Nelson (R – Anchorage), but he will need a lot of Lyn Franks voters to rank him second to do so. Again, we don't really know how voters will behave in these legislative races.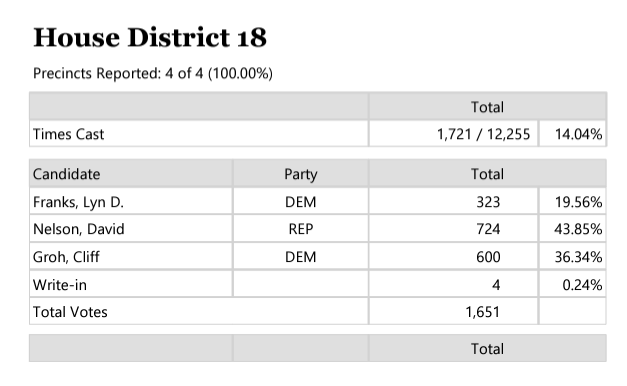 This is the most interesting race for ranked choice. Jesse Sumner performed better against Steve Menard than he did in the primary, but he is still far from 50% plus 1. While Sumner should win, this race is going to be decided by two rounds of ranking.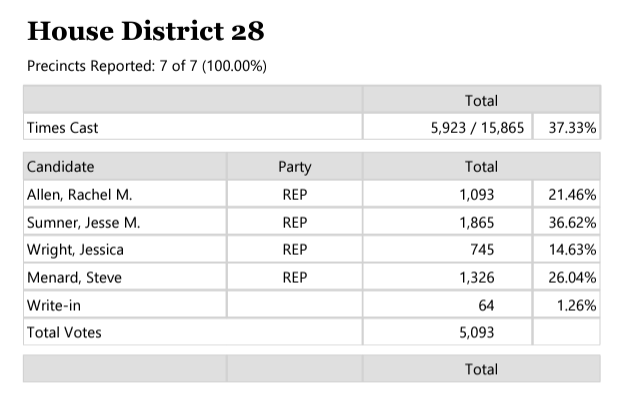 Representative Kevin McCabe (R – Big Lake) is in good shape, but the fact Doyle Holmes got 35% says a lot about how McCabe's constituents feel about him. If the vast majority of Joy Mindiola voters ranked Holmes second, this race could be close.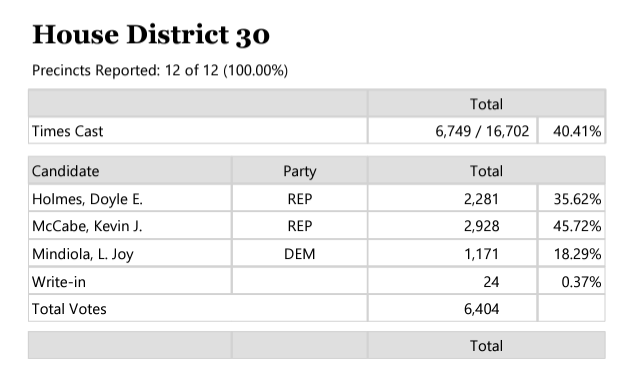 This is a race we called for Maxine Dibert. Her lead should increase when absentee and early votes are counted, so she might win outright. But if not, the fact Kelly Nash was telling her voters not to rank Representative Bart LeBon (R – Fairbanks) second means LeBon is not going back to Juneau.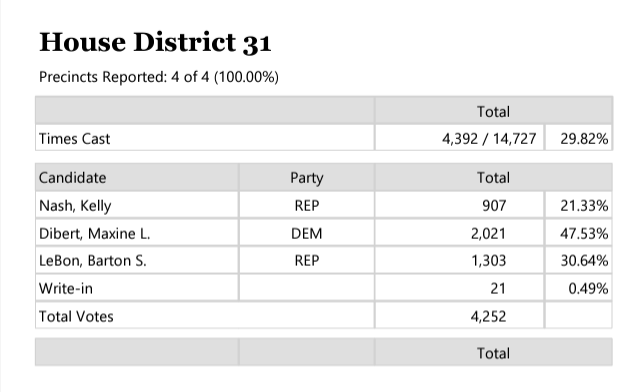 There are also some key races that will be decided when the absentee and early votes are counted:
Representative Matt Claman (D – Anchorage) is beating Senator Mia Costello (R – Anchorage) by 139 votes out of 12,790 votes cast. Claman should increase his lead as more votes are counted. This is one of the two Democratic pickups in the Senate. The other is Forrest Dunbar in the open East Anchorage Senate seat.
Senator Scott Kawasaki (D – Fairbanks) currently has 49.3% in his three-way race against Republicans Jim Matherly and Alex Jafre. Kawasaki should tip over the 50% mark when the rest of the votes are counted. But if not, he will win in the second round.
Representative Andy Josephson (D – Anchorage) is beating Republican Kathy Henslee by 86 votes out of 4,712 votes cast. His lead will increase when the rest of the votes are counted. We predicted Josephson would win this race.
In the open East Anchorage seat Representative Liz Snyder (D – Anchorage) is not seeking re-election for, Republican Forrest Wolfe is beating Democrat Donna Mears by 135 votes out of 5,889 votes cast. But there are a lot of absentee and early votes left to count and Mears has been doing well on the ones already counted. Whoever wins this race, it is going to be very close.
In the open East Anchorage House seat, Republican Stanley Wright is beating Democrat Ted Eischeid by 151 votes out of 3,188 votes cast. While Eischeid will catch up with absentee and early votes, he would have to perform much better than he has to win.
Representative Neal Foster (D – Nome) can't seem to shake Alaska Independence Party candidate Tyler Ivanoff, who has run against Foster the last two cycles. Foster is ahead of Ivanoff by only 6 votes out of 3,164 votes cast. Foster should pull ahead with absentees, but if neither get above 50% then the write-in votes will need to be ranked. Foster currently has 49.72% while Ivanoff has 49.53%.
Other Happenings 
There's been a lot of movement on Senate organization. While nothing has been officially announced, a bipartisan coalition is the only outcome. With nine Democrats and several moderate Republicans who have had enough of the chaos of the last four years, it's only a matter of time before something comes together. Senators Mike Shower (R – Wasilla) and Shelley Hughes (R – Palmer), two of the louder voices for a large dividend who like to publicly attack their Republican colleagues, are probably going to end up in a very small minority. That should be fun to watch!
The House, on the other hand, is far from organizing because several races are up in the air and the numbers are again razor thin. Unless several of the races in question go for Independents or Democrats, my bet is we see a repeat of 2019 and 2021 when the House did not organize until a month into session.
Damn, that constitutional convention question went down big time!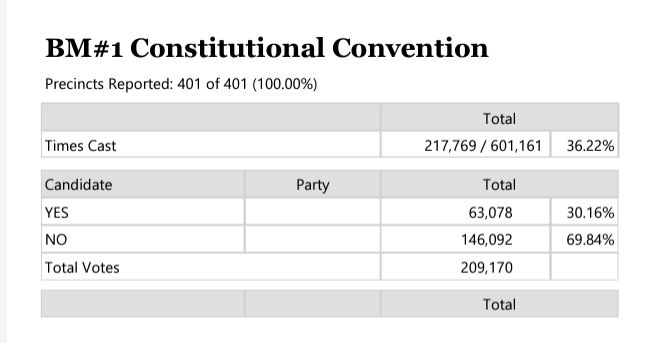 Senator Lisa Murkowski is not headed to Russia anytime soon. She was recently added to a list of 200 people sanctioned by the Russian Ministry of Foreign Affairs. Imagine if she bumps intro Sergey Lavrov at some international event.
This Week's Loose Unit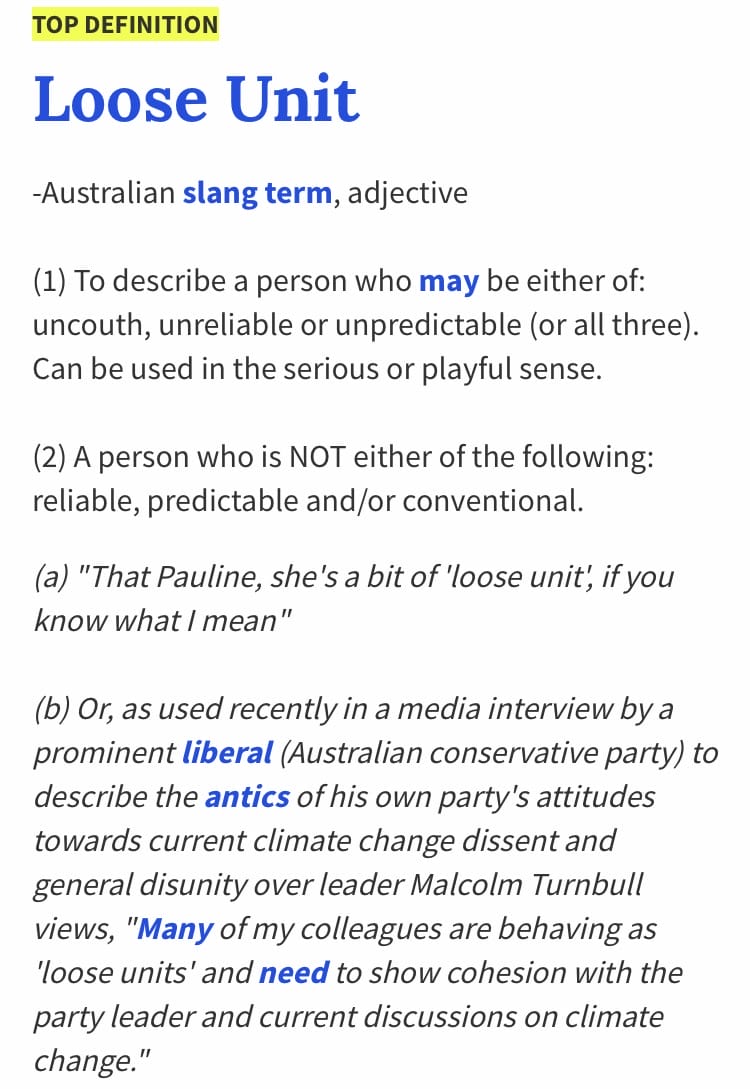 This week was one of those no-brainer weeks. This week's Loose Unit is Sarah Palin. There is really not much to say other than she posted this extremely loose video the day after the election where she not only declared victory but also announced she appointed Jerry Ward as her chief of staff. Very loose. For Palin to win she would need literally every person who voted for Nick Begich to rank her second. And that's before the tens of thousands of absentee and early votes are counted, which will help Peltola. Classic Loose Unit behavior.
Official Press Release

It's such a great honor to be given the opportunity to run for office in my home state – the greatest state in the greatest nation! It is my privilege to appoint Jerry Ward as acting chief of staff! Contact info for Jerry Ward, COS. Wards@gci.net pic.twitter.com/lhppG2m9qU

— Sarah Palin (@SarahPalinUSA) November 10, 2022
If you have a nomination for this week's Loose Unit, or if you have any political news, stories or gossip (or any old pics of politicians or public officials) please email me at jeff@alaskalandmine.com.