The 2018 general election has come and gone. Thank God. While much of the country saw a blue wave, it was definitely a red wave in Alaska. If you saw our Landmine staff predictions you know we basically nailed it. One race that was surprising, that we called a toss-up, was the race between Representative Paul Seaton (R – Homer) and Sarah Vance. Vance handily beat Seaton. More on that below.
A big shout out to everyone who came to Election Central at the Egan Center. We had an awesome time. Thanks to ADN for partnering with us, GCI and Dittman Research for sponsoring, KONR and DJ Bald Monk for those awesome beats and lights, everyone who donated door prizes, and the awesome Landmine crew for making the event such a success. Check out some great pics here.
I would also like to give a shout out to all our veterans on this Veterans Day. My father served 25 years in the Navy, including two tours in Vietnam. My grandfather served in the Army Air Corps during WWII. That included 50 missions in the B-17 over Europe. He was shot down on number 21 and had to bail out. He was awarded the Purple Heart for his injuries. I appreciate their service, as well as the service of all of our veterans.
Governor Dunleavy
Mike Dunlevy had a decisive victory over Mark Begich on Tuesday night. With all the precincts reporting, Dunleavy has over 52% of the vote, more than the three other candidates combined. Thanks to Mike for coming by Election Central. I finally got to talk to him! I tried to give him Prometheus on Blu-ray but he was not keen on accepting it. Luckily, his running mate, Senator Kevin Meyer (R – Anchorage), was not so averse.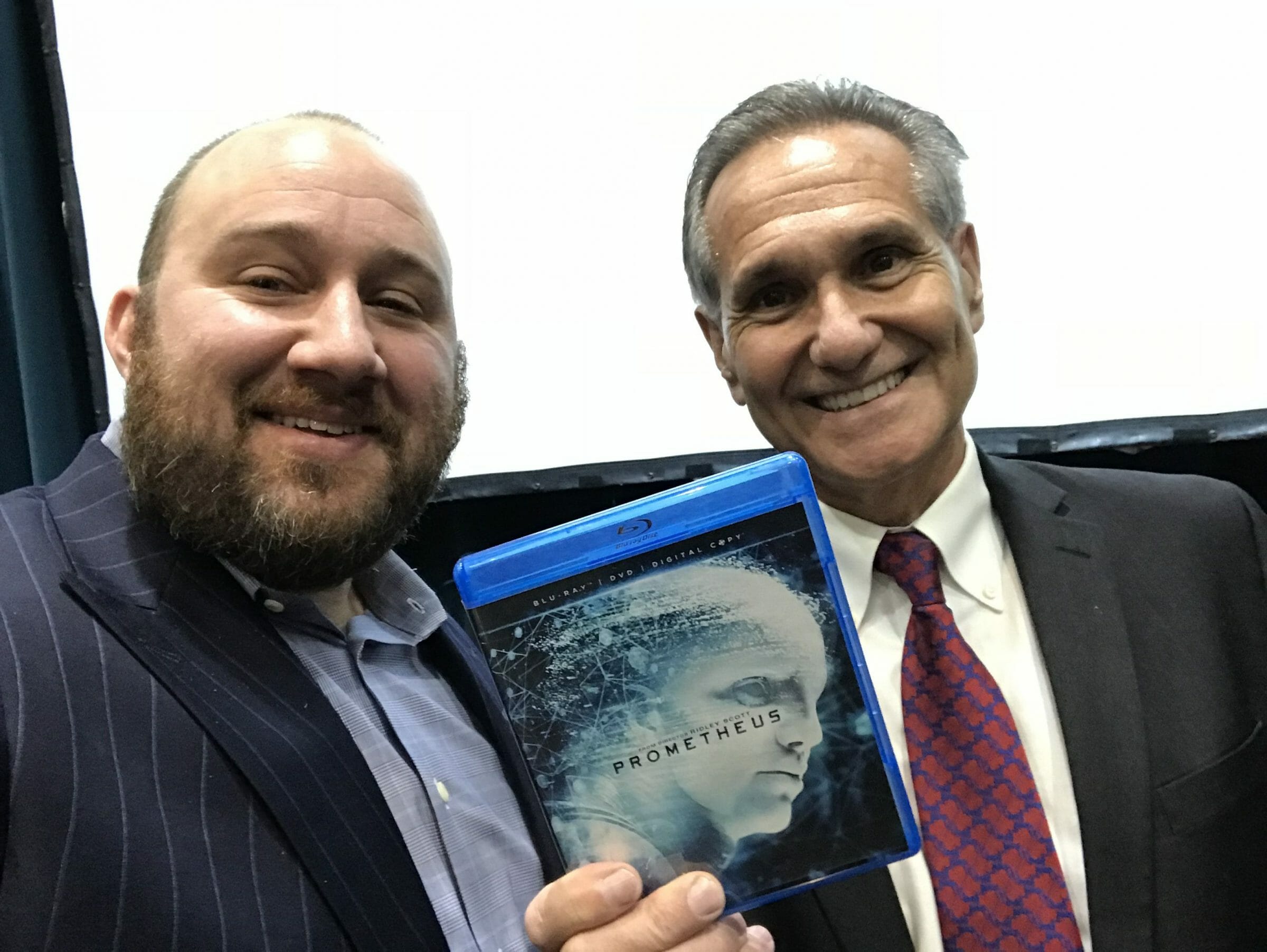 On Thursday (11/8/2018) Dunleavy announced his transition team, chief of staff, and senior policy advisor at the Alaska Miners Association convention in Anchorage. The next day, he announced some other transition team positions that included former Governor Sean Parnell and former Libertarian legislator Dick Randolph. This Landmine article lists everyone and their positions, as well as some rumors about who Dunleavy may choose for commissioners in his new government. Many were surprised that he announced Tuckerman Babcock as his chief of staff. Babcock is basically the most partisan guy in the state. He had to step down as Chairman of the Alaska Republican Party for his new role. I bet he is still jumping up and down celebrating. I guess Glenn Clary is now in charge.
So far things feel very partisan, and a bit Trumpish. Babcock, and his wife Kristie, are on the transition team. So is Mary Ann Pruitt, wife of Representative Lance Pruitt (R – Anchorage). There is also speculation that Tuckerman's sister, Portia Babcock, who is married to former Republican legislator Ralph Samuels, is being considered for a position in the new administration. The press conference on Friday was at Security Aviation. The Vice President of Sales and Marketing for Security Aviation is Jason Ward, who is married to Sarah Erkmann Ward, who is the Communications Director for the transition team. Looks like there won't be any swamp draining happening.
Anchorage Assemblymember Eric Croft also noticed. This was a comment on a post from Myranda Walso encouraging Alaskans to "reach out and contact us" to apply for jobs.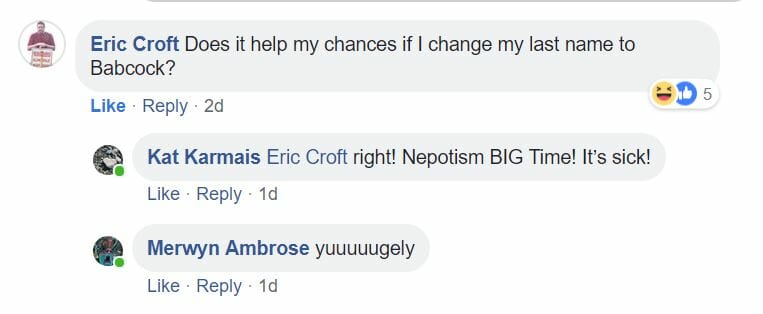 Side note on Security Aviation – it was rather bizarre seeing Dunleavy speak with those private jets behind him. As one Landmine reader put it, "Does Mike Dunleavy think he is a rapper?" Maybe he trying to go full Frank "The Bank" Murkowski and have the state buy one of those jets? Or maybe they felt really safe there. Are all the rocket launchers and grenades gone?
Dunleavy probably doesn't need a private jet though. For one, his brother has one. And, as of this writing, Dunleavy is on a plane from Fairbanks, sitting really nice in first class! To be fair, he needs the leg room. Tuckerman Babcock and Brett Huber are in the back with the rest of the commoners.
It looks like the Dunleavy team finally managed to get an SSL certificate for their website. When it was launched on Thursday, this was the message the folks trying to access it from state computers got. Is this an omen?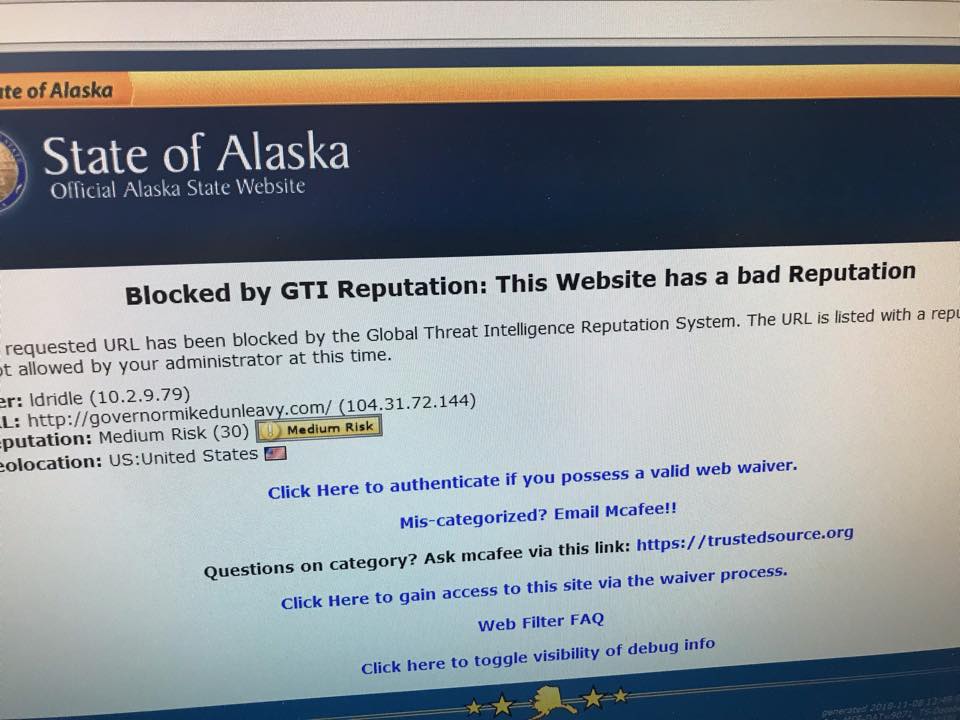 And I'm not exactly sure how this stuff works but I think it's probably just a bit too partisan for Mary Ann Pruitt to be bragging about beating Democrats in her bio on the transition team website. They just can't contain themselves. Sometimes you gotta spike that football!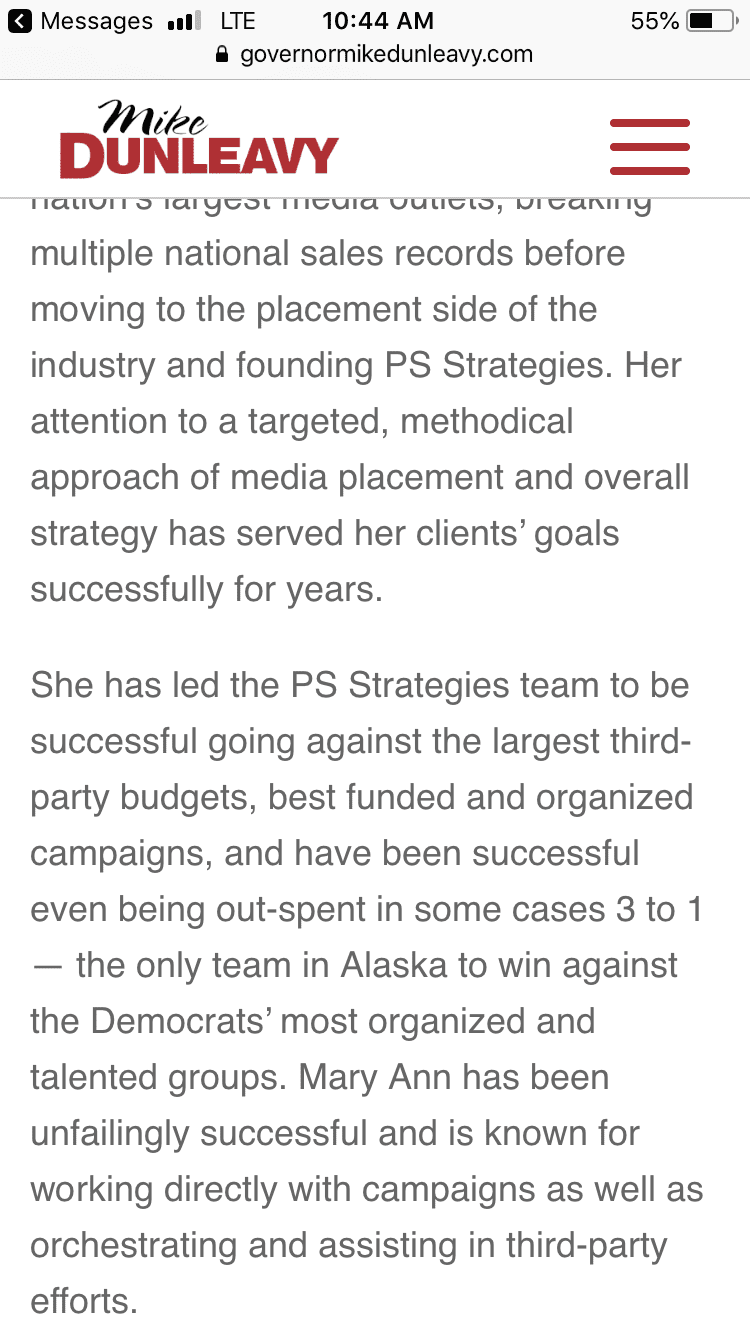 Premature Organization
Speaking of spiking the football, house Republicans could not help themselves. On Wednesday (11/7/2018), a day after the election, they held a press conference at Associated General Contractors in Anchorage. It was something to see. Before they came out, Alaska Public Media reporter Nat Herz was at the door attempting to listen in and take some pics through the crack. Here is a funny pic from Matt Buxton at the Midnight Sun.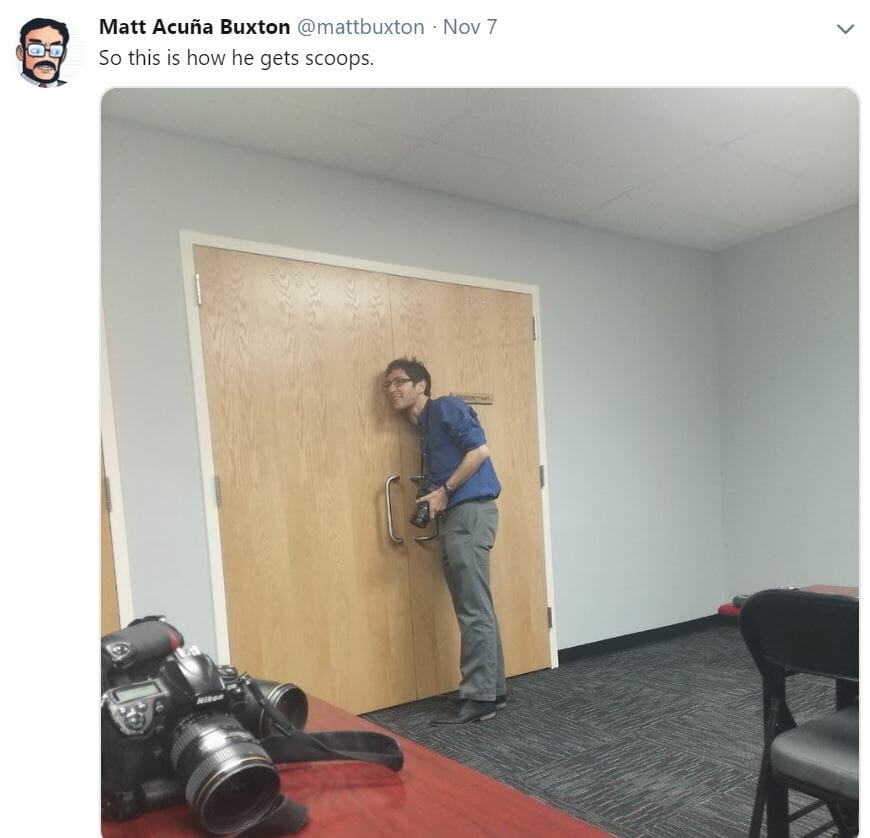 A lobbyist in the room told me, "Jeff, it looks like you got your Loose Unit for the week." I said, "Well, he is going full David Wilson, which is pretty loose. But I think there may be 21 more Loose Units behind the door!" Folks in the room thought that was pretty funny.
Soon after, the Republicans walked out. They announced Representative Dave Talerico (R – Healy) as the new Speaker of the Hosue, Representative Chuck Kopp (R – Anchorage) as the new Majority Leader, Representative Cathy Tilton (R – Chugiak) as the new Rules Chair, and Representatives Tammie Wilson (R – North Pole) and Lance Pruitt (R – Anchorage) as the new Co-Chairs of the Finance Committee. The rest of the press conference was pretty bizarre. Talerico did not have much of an answer for what their principles were. When asked about Dunleavy's promise to restore the PFD, he actually said, "I'm only going to speak for myself. I won't speak for the rest of the caucus." Wait, isn't he the Speaker? You can see the whole thing here.
There are a few problems though. One, they only have 21 and Bart LeBon, who is included in the 21, is in a close race in Fairbanks. Two, Representative David Eastman (R – Wasilla) is also in that 21. Oddly enough he was not in the room. I guess he was on a phone call across the street. Weird. Eastman has made a habit of voting against his colleagues. Also, fellow Republican Representatives Delena Johnson (R – Palmer), Gary Knopp (Kenai), and Steve Thompson (R – Fairbanks) voted to censure him last year. In a 21 member majority, any member has a veto. Three, if they are hoping to get some others to come over, they already gave all the good spots away.
Not long after the press conference, Eastman took to Facebook and said he was not ready to vote for Talerico until he knew where he stood on repealing SB 91 and not bringing Democrats into the caucus. Yikes. This creates a real problem. If they can't get any Democrats, or Representative Louise Stutes (R – Kodiak) or Representative Gabrielle LeDoux (R – Anchorage), they are basically screwed. They said they don't want LeDoux and after how the Republicans went after Stutes, it's very unlikely she will go over. Lance Pruitt actually told folks at the miners breakfast that LeDoux's fingerprints and handwriting were on primary absentee ballots. How does he know that? And if he does know that, should he really be saying that in public if there is an investigation going on?
There is speculation that Representative John Lincoln (D – Kotzebue) and Representative Dan Ortiz (I – Ketchikan) might go over. But that is unlikely. One, all the good leadership spots have been given away. Two, the other 19 are much stronger as a block. And three, I doubt Lincoln and Ortiz want to be in a caucus where Tammie Wilson is calling the shots. It's also important to note that current Speaker of the House, Representative Bryce Edgmon (D – Dillingham), is a very strategic tactician. He knows that there is no way the current 21 member majority will hold together if things stay the way they are. He also knows that if anyone goes over they will lose all their leverage. Look for things to get real loose in the house.
And one last thing. The Alaska Democratic Party should be doing some serious soul searching. They failed to deal with Dustin Darden, who got over 11% of the vote in District 22, likely costing Representative Jason Grenn (I – Anchorage) the race. And whoever thought it was a good idea for Paul Seaton to run as a Non-Partisan in the Democratic primary was a real idiot. These two races cost the Democrats control of the house.
What About the Senate?
There is not much info on what is happening with senate organization. The Republicans have a majority but they are likely waiting to see if Senator Pete Kelly (R – Fairbanks) can eke out a victory in his close race against Representative Scott Kawasaki (D – Fairbanks). Senator Cathy Giessel (R – Anchorage) is trying to organize a majority where she will be Senate President. If I was out of the loop before, I will REALLY be out of the loop if that happens. But Senator Lyman Hoffman (D – Bethel) is also trying to put something together. He is also a great strategist and tactician. Basically there is a lot of negotiating happening right now. Likely no one knows what the majority in the senate will look like just yet.
Word is Representative Lora Reinbold (R – Eagle River) is tired of being on the outside and has agreed to vote for any budget in exchange for a seat at the table. So much for those values! One of the main issues surrounding organization is the binding caucus rule. Both Senators Shelley Hughes (R – Palmer) and Mike Shower (R – Wasilla) are not keen on being in a caucus that requires members to vote for the budget. If Kelly wins, Republicans could form a majority without Hughes and Shower. If he loses, it gets more tricky. And then there are Senators Bert Stedman (R – Sitka) and Gary Stevens (R – Kodiak), who were both in previous bi-partisan majorities in the senate. There is also Senator Click Bishop (R – Fairbanks), who would probably entertain being in some kind of bi-partisan majority. It will be interesting to see how this all shakes out. It hinges on the outcome of the Kelly/Kawasaki race.
This Week's Loose Unit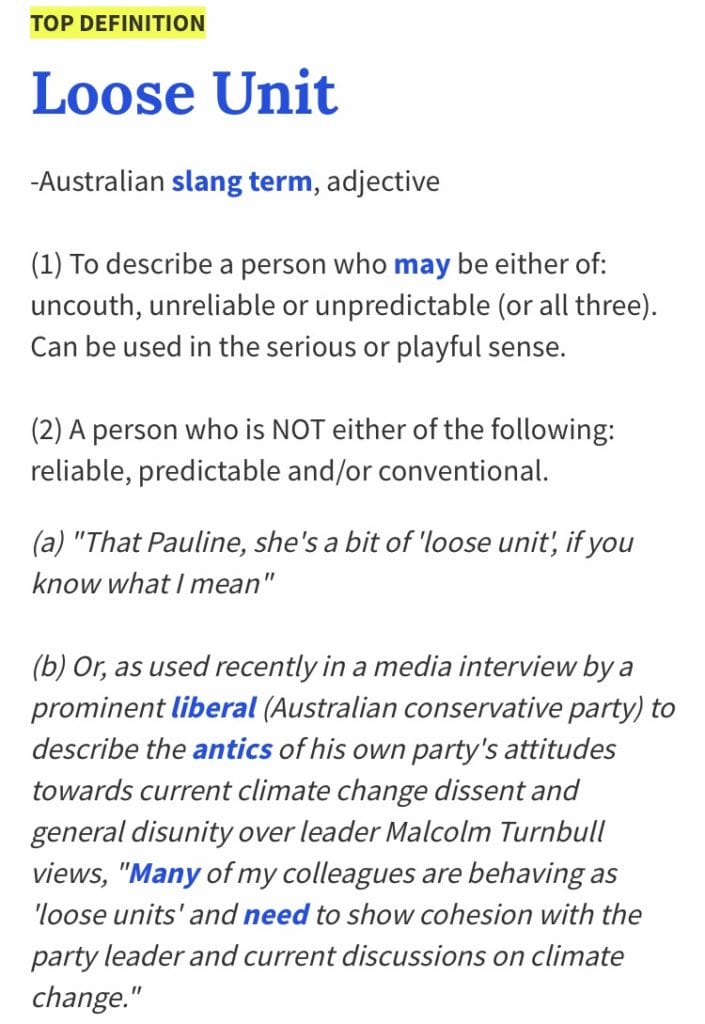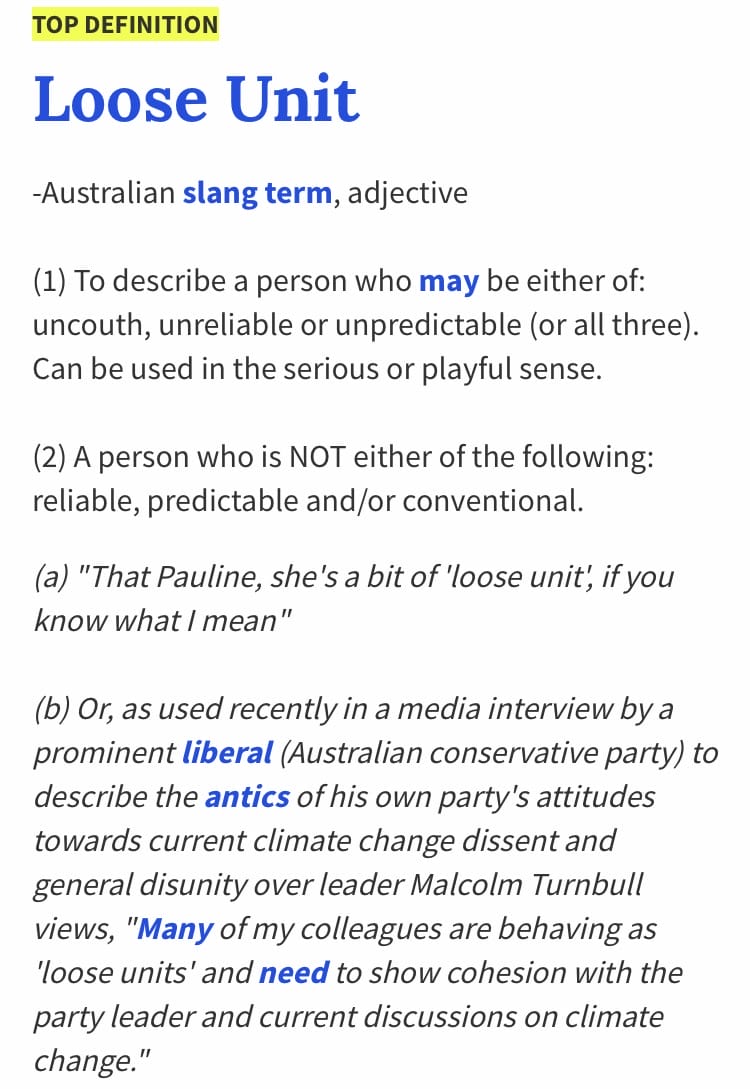 This was one of those weeks where there were a number of deserving candidates. Between Nat Herz listening at the door, the Loose Units in the house, and all the material the Dunleavy people are providing, it was not an easy pic. But one person really stands out. This week's Loose Unit is pollster Ivan Moore. Moore owns the polling firm Alaska Survey Research and has been polling races in Alaska for years. There is just one problem. His polling is real loose.
Moore has a habit of hoodwinking Alaska with his polling. In 2008, Moore had Ethan Berkowitz ahead of Don Young. Young won. In 2014, his polling had Mark Begich ahead of Dan Sullivan. Sullivan won. In 2016, he told KTUU that Alaska is a "battle ground state" regarding the Trump/Clinton election. We all know what happened there.
This cycle his polling said that Alyse Galvin was within striking distance of Don Young, and then that she was up by one point. Democrats and progressives rejoiced. Galvin and news outlets shared the poll and said Young is finally going to be retired. Young beat Galvin by almost 8 points. His polling also showed that Dunleavy and Begich were close. On October 31st he posted on Facebook, "Begich and Dunleavy are in a dead heat for Governor." Dunleavy beat Begich by almost nine points. Very loose.
I like Ivan. But his polling is consistently off. Yet it continues to be reported on by media outlets. Which is also very loose. Hopefully this will finally be a lesson that the best poll is the one on election day.
If you have a nomination for This Week's Loose Unit, or if you have any political news, stories or gossip (or any old pics of politicians or public officials) please email me at jeff@alaskalandmine.com.