Well we are almost there. Just two days until Election Day! Candidates all over the state are doing their last minute pushes to get out the vote. At this point we are nearing 50% of the 2016 turnout from absentee votes and early in-person voting. Republicans are going to need a strong turnout on Election Day as Democrat absentee ballots outnumber Republican ones. Regardless, we will likely not know the results for many of the races until November 10, when the absentee ballots are tallied.
Everyone make sure to tune into out virtual Election Central on Tuesday night. We will be breaking down all the races and results as well as interviewing candidates via Zoom. A big shout out to our sponsors and our partner Jensen Hall Creative for helping us make this possible. Click on the image for a link to the event on Facebook.
A friendly message and reminder to all our readers, the Landmine is made possible by myself and a team of awesome Alaskans. It takes a lot of work to provide the content we do. If you enjoy the content we provide, please consider making a one time or recurring monthly donation. You can click here to donate. We have a donation system that makes it super easy. We would really appreciate it. And thanks to everyone who has been supportive!
Special Session?
There is now talk of a special session. The current COVID emergency declaration is set to expire on November 15. There are a few options. The legislature can call themselves in but they need 40 members to agree. Former Representative Gary Knopp's seat is still vacant, so there are only 59 members. It's hard to say if they have the 40 votes as many Republicans in the House Minority, and some Senate Republicans, seem to be against extending the declaration. Governor Mike Dunleavy (R – Alaska) could also call them into a special session. But it's not clear if he is willing to do that. This ADN article by James Brooks breaks it all down.
While a special session to extend the emergency declaration could only take a few days, it would be likely some legislators would want to take up other things. These include a statewide mask mandate and voting to confirm Dunleavy's appointees to boards and commissions. A special session would almost certainly be held in Juneau. If it happens my bet is it will be the middle of next week. Absentee ballot results will come out on November 10. I don't see them going before that. If they came in on November 11 or 12 they would have three or four days before the emergency declaration expires.
All of the special session talk came out at the end of the week. But there was another interesting letter sent to Dunleavy by House Speaker Bryce Edgmon (I – Dillingham) and Senate President Cathy Giessel (R – Anchorage) earlier this week. In the letter, they express serious concern for the state's dire fiscal situation. While Edgmon will return to the Juneau (he is unopposed) Giessel will not be. Here is the gist of the letter: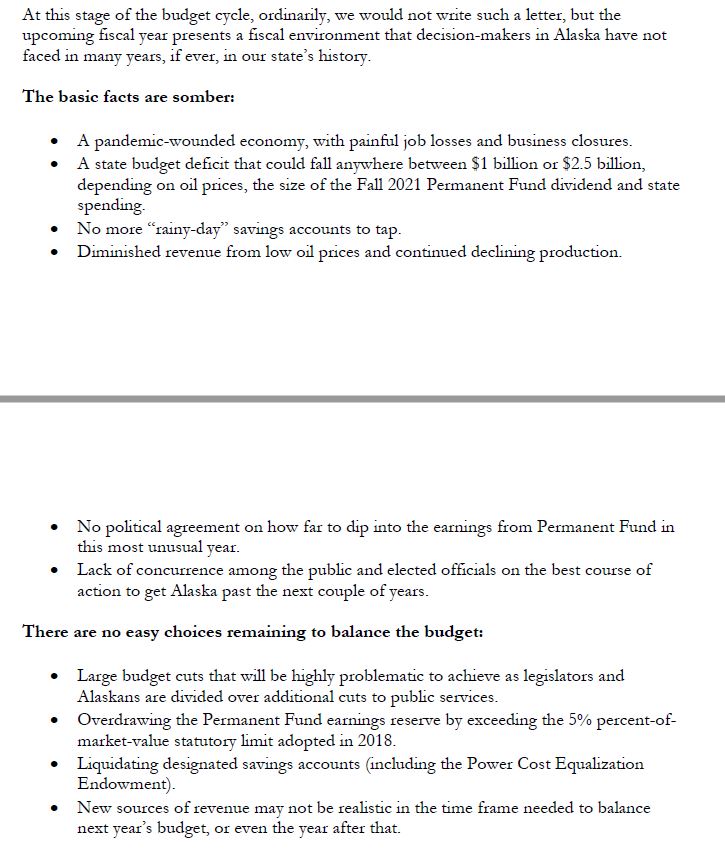 Other Happenings
Stay tuned for Team Landmine's picks on all the races and ballot measures! We will have that posted sometime on Tuesday.
So much campaign related stuff has happened this week I don't really know where to start. Rather than break it all down I am just going to say how happy I will be when this is all over. The amount of mail, calls, and emails we have all gotten has been insane. Let alone all of the signs and radio and television ads. I really wish we would adopt some real election reforms in this country. Maybe capping how much candidates can spend on a race. Or maybe publicly funding elections. Or maybe limiting how much third party money can be spent. I'm not optimistic that will happen but I can hope.
The Alaska Public Offices Commission found the Yes on One group violated the law by not having proper "paid for by" disclaimers. This stemmed from a September complaint. The ruling from October 30 listed a maximum fine at $11,000 but the Commission recommended it be reduced by 50% to $5,500. When you raise millions a 5 thousand dollar fine is a joke.
So many people have sent me mailers. Thanks to everyone who has. While many are the same kind of basic and boring campaign mailers, this one from Representative Lance Pruitt (R – Anchorage) stood out. It looks super official. Very loose. Among other things the mailer calls into question his opponent Liz Snyder referring to herself as "Dr."
Senator Dan Sullivan (R – Alaska) doing some last minute campaigning with Senator Peter Micciche (R – Soldotna). That response from Micciche tho.
If you're not sure how to vote, Senator Lora Reinbold (R – Eagle River) has a great voter guide posted in Open Alaska!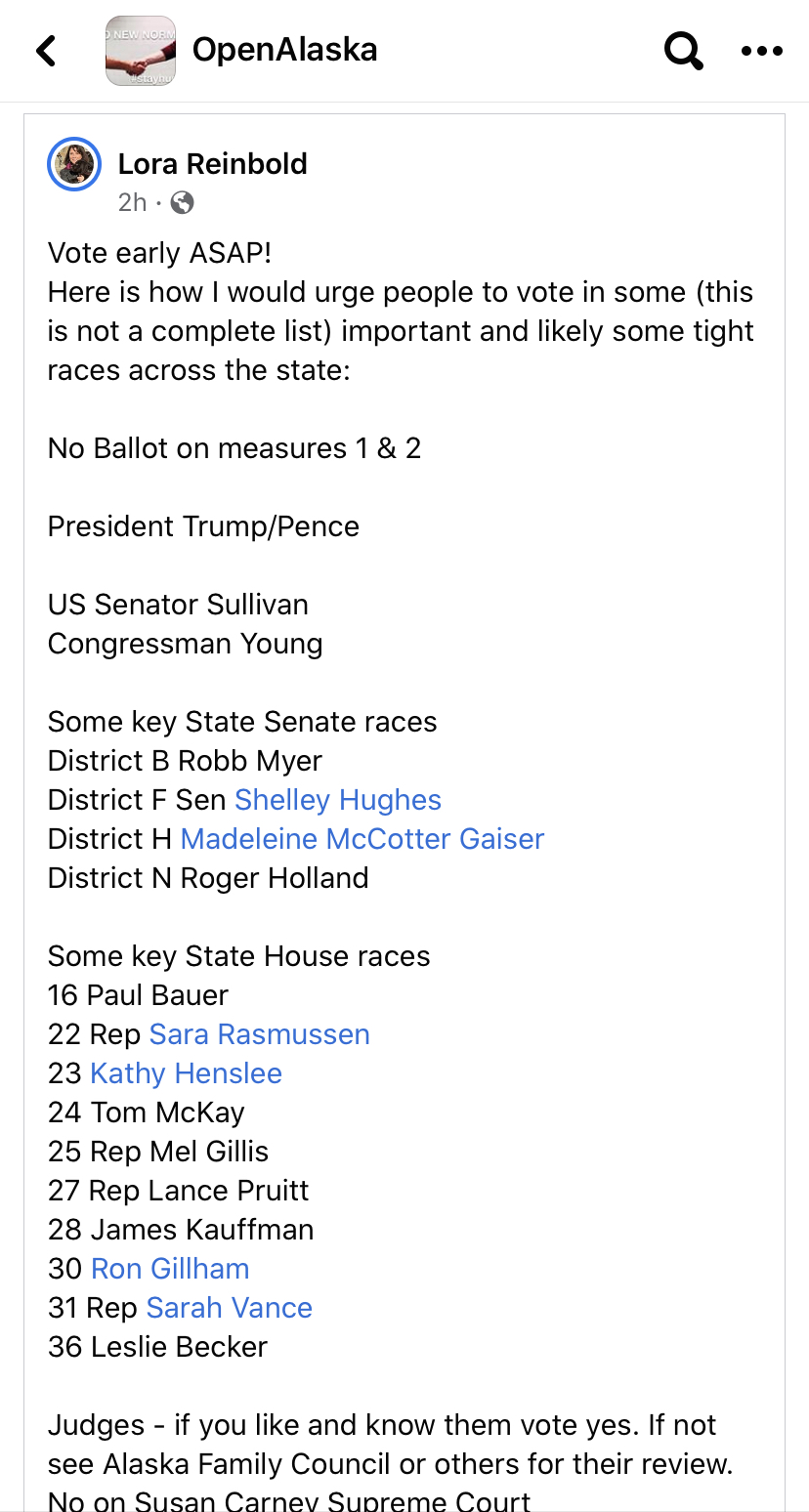 If you are paying attention you have likely seen some ads against Alaska Supreme Court Justice Susan Carney, as well as some other judges. If you are not familiar, Alaska has a unique way of selecting judges. It is through a process that involves the Judicial Council. Our framers created what many believe, including myself, is a very good system of selecting judges. Electing them is a bad idea. So what we have instead is a selection process and then a retention vote. Some conservative groups are targeting certain judges because they don't like their rulings or feel they are "activist judges." In reality that is exactly what they want, just ones that rule how they want. I recommend voting yes to retain all of the judges. If there were a serious problem with any of the judges up for retention, the Judicial Council would recommend the public vote to not retain. As has happened in the past.
This Week's Loose Unit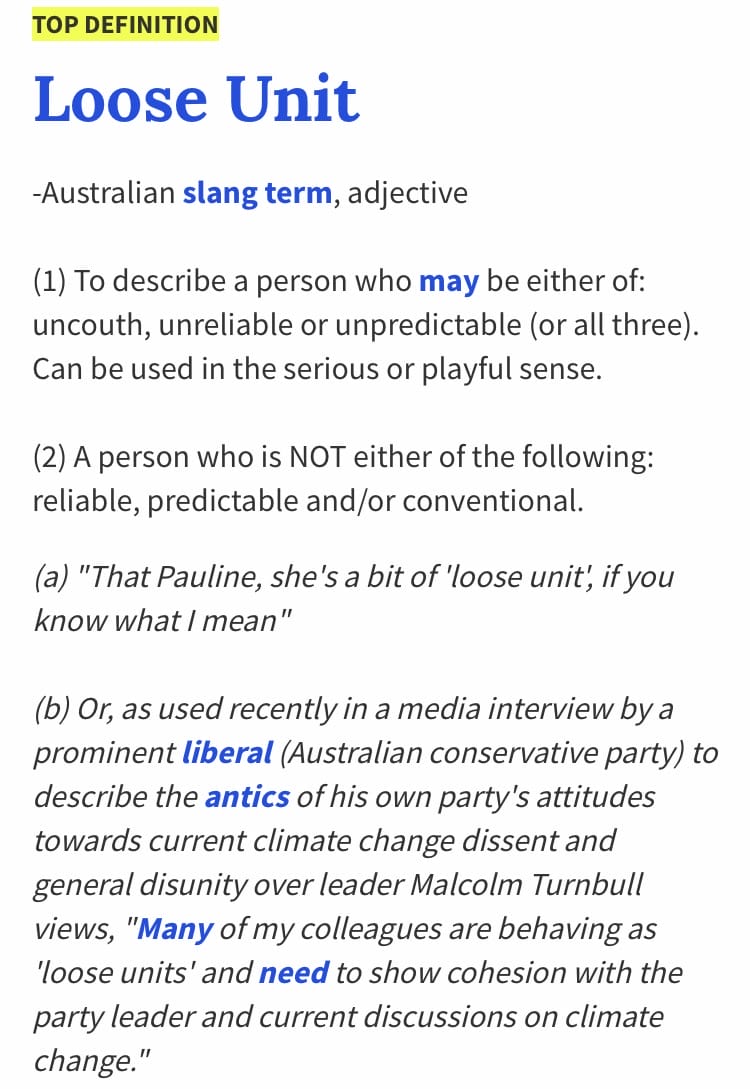 A week before the election there are bound to be a lot of Loose Units. But one definitely stood out. This week's Loose Unit is Madeleine Gaiser. She is the Republican challenging Senator Bill Wielechowski (D – Anchorage). She has run a lackluster campaign. Until this week. On Friday she posted a Facebook video with a bizarre and wild allegation against Wielechowski. The video had nothing to do with the allegation and she offered no proof of his "alleged affairs." The video was mostly about crime. In the description she did talk about how her ex-husband forced her into bankruptcy so she could take care of her daughter. It sounds like an episode of Jerry Springer is happening in East Anchorage! Very loose.
But Gaiser was not done. The same day her campaign sent out a mass text message repeating the same allegations. Again, nothing to back it up. Just wild and crazy allegations. It also included the ex-husband stuff. Classic Loose Unit! My bet is Wielechowski beats her by at least 10 points.
Update: After hearing from several people and thinking about it, I decided to remove the screenshots of Gaiser's crazy and unfounded accusations.
If you have a nomination for this week's Loose Unit, or if you have any political news, stories or gossip (or any old pics of politicians or public officials) please email me at jeff@alaskalandmine.com.