Happy Mother's Day to all the moms out there! The constitutional session limit is just ten days away, and there is no end in sight. Legislative skits happened this weekend. Great job to all the staff who put them on. Not only were they really funny, it was the first time things felt completely normal. I attended both nights, hence the late column today. The Anchorage mayoral runoff election concludes on Tuesday. The new mayor's term will begin on July 1.
A friendly message and reminder to all our readers, the Landmine is made possible by myself and a team of awesome Alaskans. It takes a lot of work to provide the content we do. I am now in Juneau for the session, which means paying rent for the place I'm staying at. If you enjoy the content we provide, please consider making a one time or recurring monthly donation. You can click here to donate. We have a donation system that makes it super easy. We would really appreciate it. And thanks to everyone who has been supportive!
The Legislature 
The constitutional session limit is ten days away. Neither body has yet to pass a budget. The House is again taking up the operating budget tomorrow. It was kicked back to the rules committee last Sunday after it looked like the House did not have the votes to pass the budget. This piece I published on Friday goes into more detail about the dynamics of the House and Senate, and how there is no clear endgame in sight. To extend ten more days requires a 2/3 vote of each body (14 Senate, 27 House). While the Senate likely has the votes, the House does not. If every member of the majority, and Representative Sara Rasmussen (R – Anchorage) voted yes, five minority Republicans would need to vote yes as well. I could see Representatives Steve Thompson (R – Fairbanks), Bart LeBon (R – Fairbanks), Mike Cronk (R – Tok/Northway) and Ken McCarty (R – Eagle River), but I don't see a fifth. The alternative is Governor Mike Dunleavy (R – Alaska) calls them into a special session if they fail to pass a budget and/or only fund a small PFD. We should have a clear idea of where things are headed at the end of the week.
HB 34, "An Act naming the Vietnam Helicopter Pilots' Memorial Bridge" by Representative Laddie Shaw (R – Anchorage) passed the House this week 36-2. The two no votes were Representatives David Eastman (R – Wasilla) and Christopher Kurka (R – Wasilla). After, as a gesture of support, representatives were asked to sign a picture of Shaw by a helicopter in Vietnam. When it came to Eastman and Kurka, Shaw told them he did not want their signatures on the picture because they disrespected him by voting no. Damn. And Eastman is a veteran too. The fiscal note for the bill is $6,300.
There is a joint session of the legislature scheduled for Tuesday at 11 am to vote on Governor Dunleavy's appointments to boards and commissions. I'm told there are around 100 people to vote on. Some of the high profile ones will be nominees the the Board of Fish, the Board of Game, Kristie Babcock to the Alaska Judicial Council, and Lucinda Mahoney as Revenue Commissioner.
Other Happenings
The Anchorage mayoral runoff election between conservative Dave Bronson and progressive Forrest Dunbar will conclude on Tuesday. Both sides are raising and spending a lot of money, as well as independent groups. The following is an excerpt from this week's edition of the Alaska Political Report. If you would like more information about the report or would like to subscribe, email me at jeff@akpoliticalreport.com.
Anchorage's mayoral runoff election has seen a deluge of money in the past few weeks, with the two candidates raising a combined total of more than $500,000, plus additional five-figure fundraising totals reported by an array of independent spending groups, according to a new round of disclosures filed with the Alaska Public Offices Commission (APOC).
Conservative candidate Dave Bronson reported a substantial fundraising advantage over progressive candidate Forrest Dunbar in the past month, with $300,000 in income between March 28 and May 1. Dunbar reported raising $222,000 over the same period. Bronson spent a little more money during the reporting period — $273,000 to Dunbar's $250,000 — but Dunbar has a cash advantage going into the last week of the campaign, with $95,000 on hand to Bronson's $67,000. Dunbar also lists $100,000 in debts, though an official said the campaign was simply reporting amounts agreed to be paid, in accordance with a recent Alaska Supreme Court decision. Bronson's campaign, meanwhile, reported no debts.
Disclosures filed with APOC indicate that Dunbar has a substantial advantage among the independent groups spending money on the mayoral runoff election. Those groups report spending some $170,000 to either support Dunbar or attack Bronson, and just $70,000 to support Bronson or attack Dunbar.
Notable contributions to independent spending groups in recent days include $2,000 each to a group supporting Bronson from Bob Penney and son Henry, while transportation executive Jim Jansen gave $2,000 to a different group supporting Bronson. Dunbar's campaign, meanwhile, reported that two other progressive candidates gave him sign-building materials leftover from their own campaigns: Kelly Lessens, who won a school board seat, and Bill Falsey, who lost his mayoral campaign.

The Alaska Municipal League held an outdoor picnic today at Sandy Beach. There was lots of food and a DJ! Several legislators were in attendance, as well as Kristie Babcock. She's in town trying to get votes to be confirmed to the Alaska Judicial Council.
The Lumberman, the boat that was stuck in Gastineau Channel for years, has finally been disposed of. It was towed out into the ocean and sunk. They even used a deck gun to finish the job! You can watch here. This Alaska Public Media article goes into more detail. We did a video story on the Lumberman two years ago. No one ever took us up on our offer…
If you want to see some next level wokeness, read this letter to the Anchorage Pride Committee from all kinds of hyper woke people in Anchorage. Some of the best excerpts ar below. Keep in mind, this is not satire.
Identity and the Pride Committee chose a theme that played off the word CONQUERED. To Conquer is to "take control of a place or people by use of military force," a concept most often used historically by white men to steal from Indigenous peoples around the world. The Indigenous peoples of Alaska have had their culture, lands and people stolen from them. This theme creates violence not only against the Indigenous peoples of the land we live on today, but all BIPOC people who make up the majority of the queer community. This is a form of cultural erasure. The theme chosen was inherently racist and misogynist. When Identity & the Pride Committee unveiled the theme, much resistance emerged from both BIPOC and anti-racist white people. Since pulling the theme, neither organizing body has claimed responsibility and has blamed an invisible someone else.
A BIPOC community member was told at a Pride Committee meeting that there wasn't time to deal with this issue, get community input, or have a dialogue/conversation. This BIPOC person was invited into an unsafe space where their labor was exploited and their voice was dismissed, causing additional harm to other community members.
Update: On 5/13/2021 I was asked by one of the writers of the letter to remove the link because it had been altered, which I agreed to do. The Google Doc, which was sent to be by several people before I included it in the column, was open to edits. When I went to remove the link, I clicked on the it to see what was written. When I was contracted I told the person that it could have edited by anyone, and I did not appreciate the accusation. This is what I found when I clicked on the letter. What great people!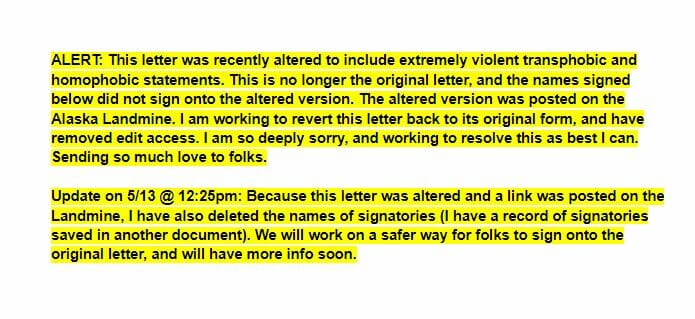 Things got loose last night after skits at the Imperial. I was at the Lucky Lady, so I missed it.
Things got extremely loose at the Imperial last night. A man who was upset because he said legislators "stole his land" decided attacking a female lobbyist in front of several of them was a good idea. It wasn't. He was aggressively removed from the bar. #akleg

— The Alaska Landmine (@alaskalandmine) May 10, 2021
This Week's Loose Unit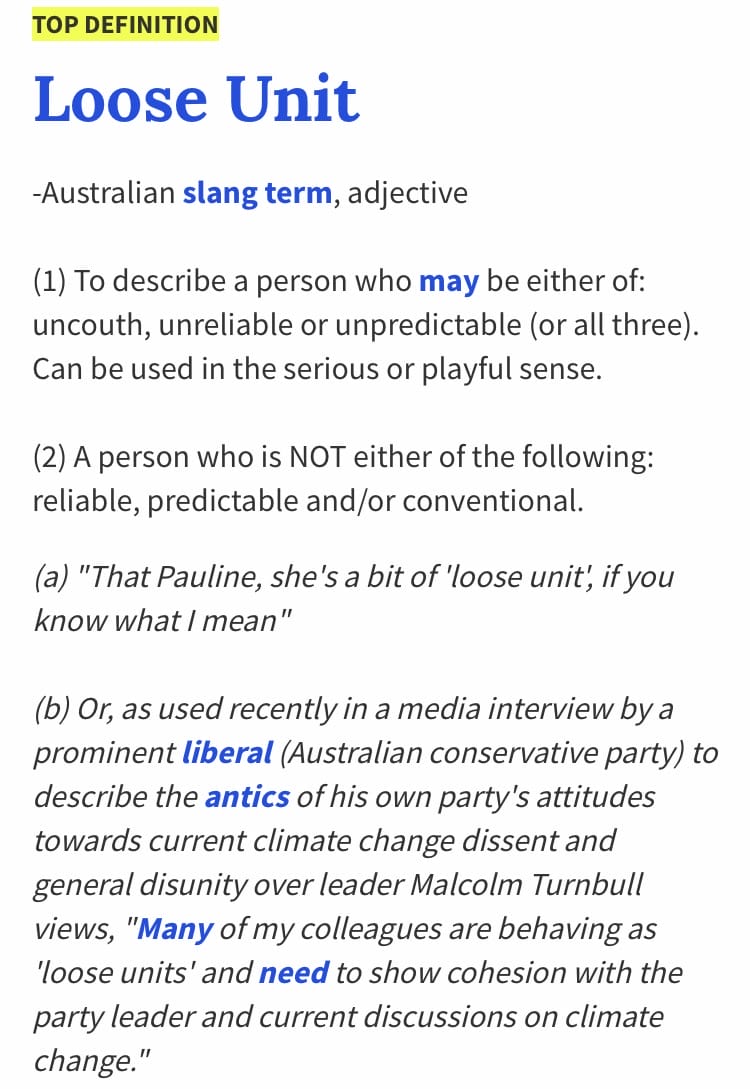 There were several contenders this week. But a development on Friday made this week's designee clear. This week's Loose Unit is Kristie Babcock. On Friday afternoon, Babcock was spotted in the Capitol trying to set meetings with legislators to talk about her upcoming confirmation vote to the Alaska Judicial Council. Babcock had permission to be on the third floor (governor's floor) but not the rest of the building. The Capitol is still closed to members of the public. Several confused staff and legislators took note of Babcock wandering the halls. So loose. Babcock then went to the wrong office. Her last stop was at Representative Sara Hannan's (D – Juneau) office. Hannan chairs Legislative Council, and probably is not a big fan of Babcock. Hannan then booted Babcock from the Capitol! Classic Loose Unit.
If you have a nomination for this week's Loose Unit, or if you have any political news, stories or gossip (or any old pics of politicians or public officials) please email me at jeff@alaskalandmine.com.