The 121-day constitutional session limit is less than two weeks away, and there is no end in sight. The House kicked the operating budget back to the rules committee on Sunday after it became clear they did not have the 21 votes to pass a budget. Tension between the mostly Democratic House Majority and Republican Minority came to a boiling point on Sunday when minority members complained that all of their amendments were being not heard. One of those members, Representative Steve Thompson (R – Fairbanks), stated that he had intended to vote yes, but changed his mind because of the process. But Thompson was the one who motioned to adjourn on Saturday night, meaning the budget would go into third reading the next day. When a bill is in third reading, amendments cannot be heard, only debate on the bill itself before a final vote. Thompson knew this. And he was told at the time that several minority amendments had the votes to pass. Thompson frustratingly stated, "I'm done!" So why did he motion to adjourn, and then change his mind about voting for the budget the next day? That's hard to know, but it shows how chaotic things are. An attempt on Sunday to roll back to second reading so more amendments could be heard failed 20-20.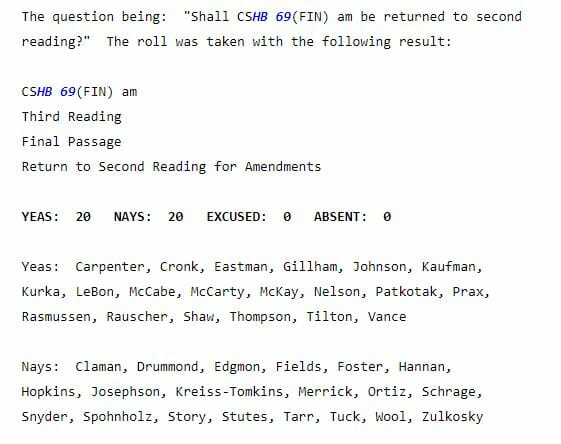 Two noteworthy votes were Representatives Josiah Patkotak (I – Barrow) and Sara Rasmussen (R – Anchorage). Both expressed frustration about minority amendments not being heard. But keep in mind, Thompson, a member of the minority, was the one who motioned to adjourn on Saturday. Patkotak was the sole member of the House Majority to vote yes. Rasmussen, who is not part of either caucus, also voted yes. The House Majority is a non-binding caucus, and only has 21 members – meaning any member can effectively act as a veto to stop a bill from passing.
Rasmussen is friendly with the House Majority, but depending on her vote to pass the budget is risky. The real question is what is Patkotak up to? He voted for several minority amendments, frustrating the more progressive members of the House Majority. Several sources also report that his relationship with Representative Bryce Edgmon (I – Dillingham) is not going well, creating a strain on the four-member Bush Caucus. Representative Kelly Merrick (R – Eagle River), who co-chairs the House Finance Committee, also voted for several minority amendments. Five minority amendments, including one from Representative David Eastman (R – Wasilla) to cut funding to the legislature if they don't open the Capitol to the public by May 19, passed on Saturday. This created further tension within the fragile 21-member majority.
If the legislature does not finish by May 19, the constitutional limit, they could extend for ten days. But that requires a 2/3 vote of each body (14 in Senate, 27 in House). If every majority member and Rasmussen voted for it, they would still need five Republican votes. And the Republican Minority has said they do not support it. Alternatively, the legislature could call themselves into a special session, but they face the same 2/3 problem. What will probably happen if a budget is not passed by May 19, which does not seem likely to happen, is Governor Mike Dunleavy (R – Alaska) will call them into a special session. He has one hour to do so after the second body adjourns. If he waits more than one hour, the soonest he can call them back is in 30 days. A budget needs to be passed by July 1 to avoid a government shutdown.
The Senate is working ahead on their version of the operating budget. The normal process is the House passes the operating budget and then sends it to the Senate. After the Senate makes their changes it goes back to the House for a concurrence vote, which rarely happens. It then goes to a conference committee, where both bodies negotiate a final budget.
There is a potential second option. On April 22 the House passed HB 169, a bill that forward funded education. It is now in the Senate Finance Committee. This is an appropriations bill. So the Senate Finance Committee could roll up their version of the operating budget into this bill. Then the Senate could pass it and kick it back to the House. Because the House already passed the bill, they could not make any changes. They could only vote to accept or reject the changes. This option would only happen if Senate and House leadership were in agreement. While it's not likely to happen, it does offer an alternative plan to pass a budget.
However, there is still disagreement on the fundamental issue – the Permanent Fund Dividend. An amendment for a full PFD failed to pass in the House 20-20. The Senate is also divided. The Senate Finance Committee, which will start hearing amendments next week, could go either way. Senators Bill Wielechowski (D – Anchorage), Donnie Olson (D – Golovin) and David Wilson (R – Wasilla) are yes votes. Senators Bert Stedman (R – Sitka), Click Bishop (R – Fairbanks), and Natasha von Imhof (R – Anchorage) are no votes. Senator Lyman Hoffman (D – Bethel) is the deciding vote, and he can go either way. He wants the Power Cost Equalization Fund protected. So he could use this vote as leverage to make that happen. Whether or not a full PFD passes the committee, there will still be a vote on the Senate floor –  either to add it back or take it out. While things could change, the Senate likely has 11 votes for a full PFD. This issue will create major stress on the Senate Majority.
Then there is the 3/4 vote for the reverse sweep (15 in Senate, 30 in House). If this does not happen several state programs will be disrupted after July 1. This occurred in 2019. Sources confirm the House Minority Leader, Representative Cathy Tilton (R – Wasilla), told House leadership in exchange for minority votes to get the 3/4 vote, she wants:
All minority budget amendments heard
Representative Kevin McCabe (R – Big Lake) back on Legislative Council
Another minority seat on Ways and Means
Passage of an amendment by Representative DeLena Johnson (R – Palmer) to cut nursing funding
That is not going to happen. And Tilton does not seem to be in control of the Republican Minority anyway. McCabe, who is on the most vocal minority members on the floor and in public, appears to be more in control of the minority than Tilton. The 3/4 vote got exactly 30 votes in the House last year, and this was after Senator Stedman tied it to a larger PFD. At this point it does not appear the House will have the 30 votes for the reverse sweep.
One scenario is the legislature passes a budget that includes a small PFD or no PFD at all, and no reverse sweep. Then Dunleavy calls them back into a special session to deal with the PFD, and possibly the reverse sweep. But the more likely scenario is they do not pass a budget by May 19, and then Dunleavy calls them back into a special session. If there is an end in sight, few can see it.