It's Cinco de Mayo! Calm down social justice warriors and enjoy some tacos and margaritas. It's also May, which means summer is fast approaching. The end of the regular legislative session may also be fast approaching. Most agree the session will be over by May 15, but that does not mean there won't be a special session. The question is where will it be held. Please make it Wasilla.
A friendly message and reminder to all our readers, the Landmine is made possible by myself and a team of awesome Alaskans. It takes a lot of work to provide the content we do. There are now additional costs that I have temporarily located to Juneau. If you enjoy the content we provide, please consider making a one time or recurring monthly donation. You can click here to donate via PayPal. We would really appreciate it! And thanks to everyone who has been supportive.
The Legislature
The Senate passed their version of an operating budget this week 19-1. Senator Jesse Kiehl (D – Juneau) went full Eastman and was the sole no vote. It included a $3,000 dividend and also a $1.2 billion deficit. Senator Natasha von Imhof (R – Anchorage), one of the co-chairs of the Senate Finance Committee, wasn't happy about the big PFD and deficit, but she voted for the budget anyway and also declared herself a "true fiscal conservative." Ok.
Senator Chris Birch (R – Anchorage) introduced an amendment to reduce the dividend to $1,200, which would have balanced the budget. It seemed several of his colleagues in the Majority wanted him to withdraw the amendment, but he did not. Birch is a honey badger. It failed 3-17. Senators von Imhof and Kiehl were the other two yes votes.
The budget then went over to the House for concurrence. The House failed to concur 1-37. Representative Gabrielle LeDoux (R – Anchorage) pulled a reverse Eastman and was the sole yes vote. Because the House Majority is a binding caucus, her vote means she is now out of the caucus, which means she will lose her committee chairmanships. She said it was probably the only chance she will get to vote for a full PFD. During her remarks on the House floor, she read a letter from May 20, 2015, addressed to then Speaker Mike Chenault. It advised against resorting to Permanent Fund earnings for government and said that any changes to the dividend should go to the voters. It was signed by six people, including Representatives Bryce Edgmon (D – Dillingham), Neal Foster (D – Nome), Louise Stutes (R – Kodiak), LeDoux, and two other former members. Savage. Edgmon switched his registration to Independent this session.
The budget will now go to a conference committee. It is comprised of three members from both the House and Senate Finance Committees. It is likely the dividend will be less than $3,000. There is not much will for new revenues and the budget can't be realistically cut enough to deal with the deficit. It will be interesting to see the budget that comes out of the conference committee. Then it will be up to Governor Michael J. Dunleavy (R – Alaska). Will he get fast and loose with his red pen?
The House Finance Committee introduced a committee substitute for House Bill 49 on Friday (5/3/2019), a crime bill. It includes many of the elements of Governor Dunleavy's crime bills. But the House Rules Chair, Representative Chuck Kopp (R – Anchorage) is not keen on gutting many of the elements from SB 91, and he controls what bills go to the floor. With less than two weeks left in the constitutional session limit, it's looking very likely there will be a special session on crime.
One note about a potential special session. The rule on receiving per diem is that the legislator needs to live more than 50 miles away from where a session is being held. So if it is in the Valley, the Anchorage legislators and Valley legislators won't qualify for per diem. Maybe that is Big Mike's plan!
The Senate passed SB 80 on Thursday (5/2/2019) 15-4. This is a bill from Senator Birch dealing with ballot initiatives. Basically it says that if any part of a ballot initiative is deemed unconstitutional then the entire initiative is dead. Many argue that it is not constitutional. But before it passed things got a bit weird. Two days prior it was being debated in the Senate. Senator Bill Wielechowski (D – Anchorage) introduced an amendment that basically said the State cannot spend money to influence the outcomes of any elections. It passed 10-9. The three Senators in the Valley Delegation (VD) plus Senator Lora Reinbold (R – Eagle River) joined the Minority and voted yes. This came as a surprise to many. Then it got real weird. An at ease was called and the entire Senate Majority left the floor and retreated to a committee room. So much for transparency! They came back and tabled the bill. But I guess they didn't have the votes to rescind the action on Wielechowski's amendment because the bill ended up passing the Senate two days after. It now goes to the House.
During a Thursday hearing on a constitutional spending limit, Representatives Zack Fields (D – Anchorage) and Jonathan Kreiss-Tomkins (D – Sitka), asked State economist Ed King about robocalls from "the Koch Brothers" and emails with an Alaska government email address that many offices have been getting. King didn't seem to know anything about it. They are trying to figure out if this is at the direction of the Governor's office. Weird.
I'm just going to leave this one here.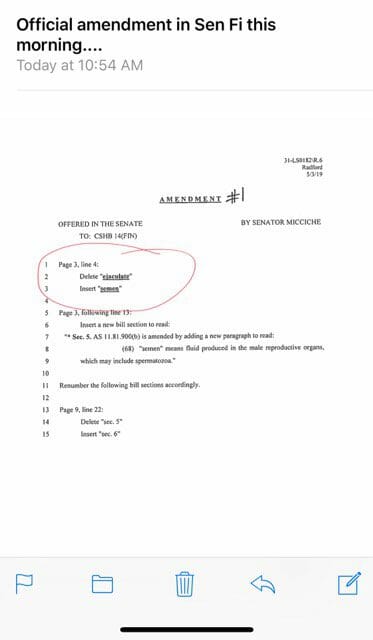 Check this out! Gotta love public testimony.
During a hearing on Friday (5/3/2019) in the House Finance Committee on a bill from Representative Adam Wool (D – Fairbanks) about requiring companies like Turo pay a rental car tax, it got a bit loose. Michelle Peacock from Turo was testifying against the bill. Folks, she is a talker! Representative Tammie Wilson (R – North Pole) had to tell her, "Ms. Peacock. Ms. Peacock Mam!" in order to get her to stop talking. Then later, after she wasn't really answering a question from Wilson, Wilson commented that she wasn't sure if Peacock had too much coffee or not. YES! You can watch the whole thing here.
Other Happenings
Governor Dunleavy has yet another lawsuit to contend with. It is about the forward funding of education money that he thinks he can veto. Even the Legislature thinks he can't do it. Here is an ADN article about the lawsuit. He now has this to deal with this lawsuit plus the API lawsuit plus the ACLU lawsuits involving Libby Bakalar and the two doctors from API who were let go after Dunleavy took office. It's a great time for lawyers in Alaska!
Speaking of Libby Bakalar. The ACLU hosted an event in Juneau this week at Amalga Distillery to raise money for her lawsuit. It was a pretty packed event. I'm sure the Governor and his people were thrilled…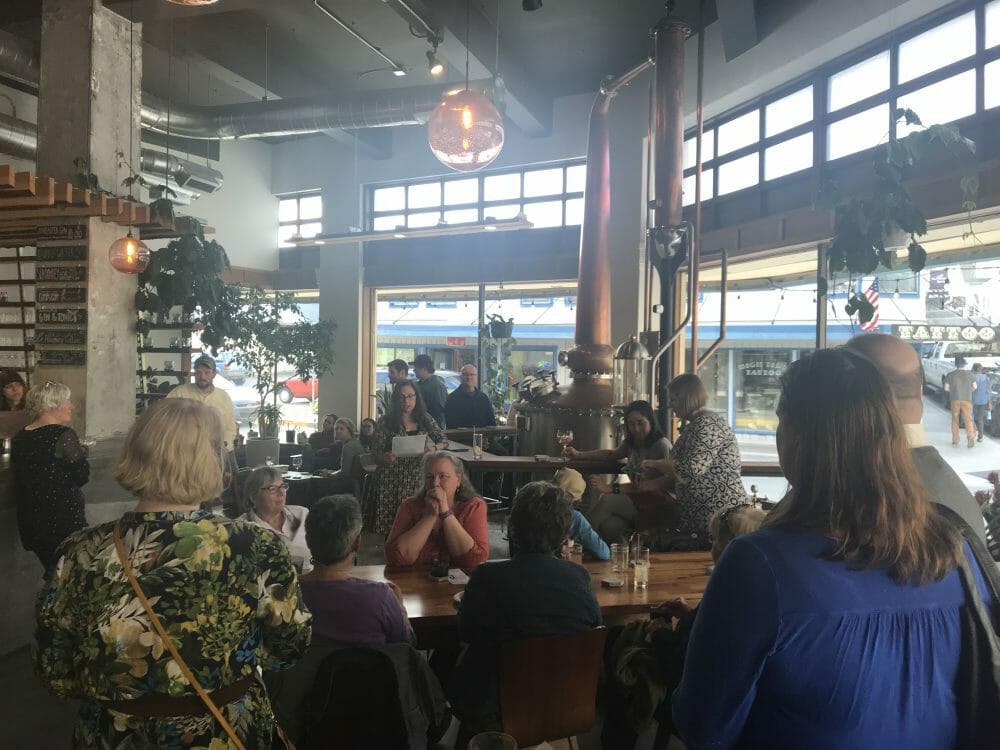 Jay Parmley announced that he is leaving his position with the Alaska Democratic Party. The Bernie Bros are really excited about it.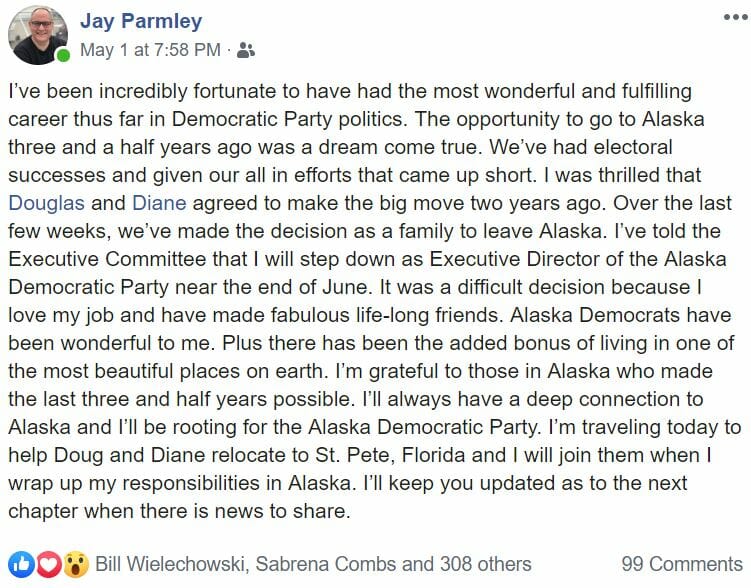 Former Representative Les Gara was spotted in the Capitol this week. I checked and his Zack Fields endorsement stands!
Amanda Moser started as the executive director of the Anchorage Downtown Partnership this week. She formerly worked as the communications director for Governor Bill Walker and as the deputy clerk for the Anchorage Assembly. Congrats and best of luck, Amanda!
Is it campaign season yet? Check out this mailer a Republican in Representative Jennifer Johnston's (R – Anchorage) received. Very weird. Notice there is no paid for by. $100 says Ross Bieling had something to do with this lol.
Nat Herz wrote a good article this week titled, "Dunleavy administration pick for $94,000-a-year labor relations manager comes without labor relations experience." Basically this 25 year old guy with zero labor relations background is now the labor relations manager for the State. Vince Beltrami has been negotiating labor contracts longer than this guy has been alive! Pretty bizarre. He also worked on Dunleavy's campaign. What I really took away from this is many of the same people who are defending him being hired for the job are the exact same people who criticized Bill Walker for hiring John Henry Heckendorn. Another young up-and-comer who had worked on a campaign before being hired. Gotta love the hypocrisy.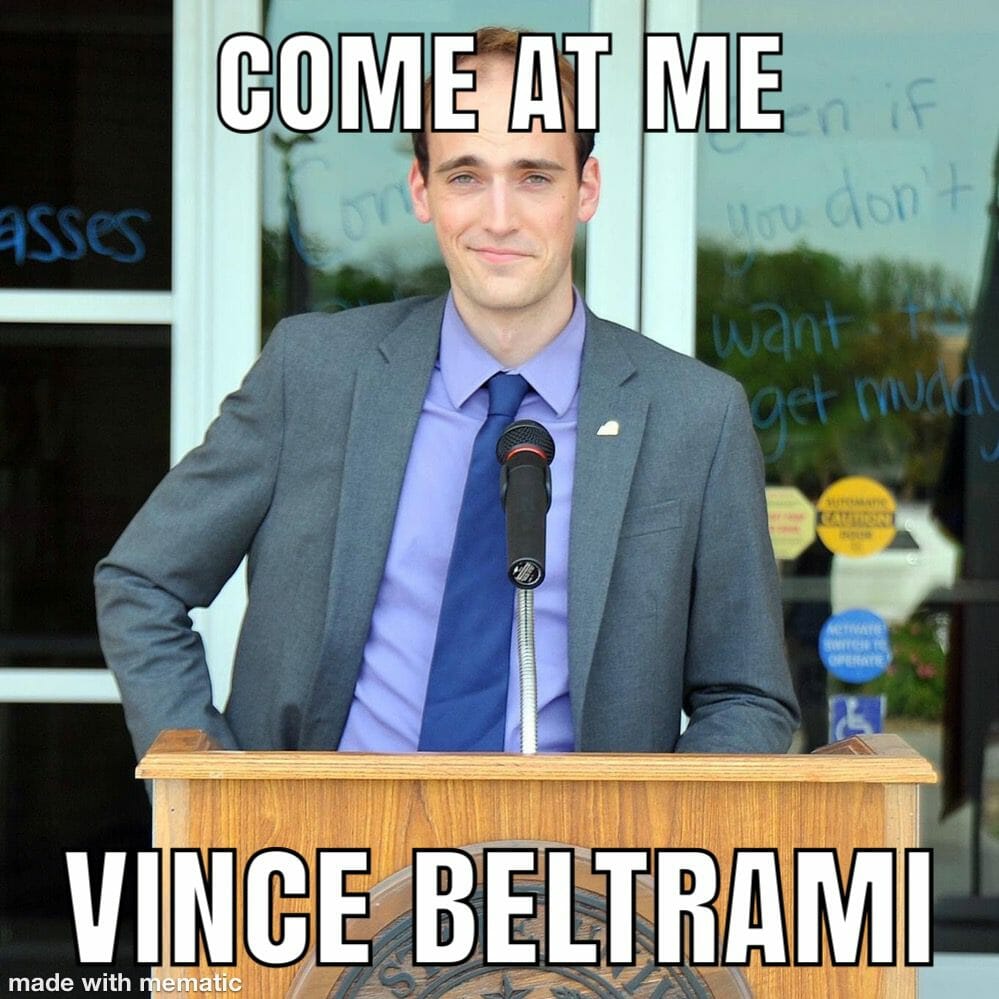 Remember how Public Safety Commissioner Amanda Price talked up how she is a victim rights advocate as one of her biggest qualifications? Check this out. The Alaska State Troopers posted some pictures on their Facebook page commemorating the deaths of Troopers Sergeant Scott Johnson and Trooper Gabe Rich. Just one small problem, many of their family members were not invited or made aware of this. Many of the comments on the Troopers Facebook post have been deleted. What a great message for victims rights. At least the Troopers and Price got a nice photo op.
This Week's Loose Unit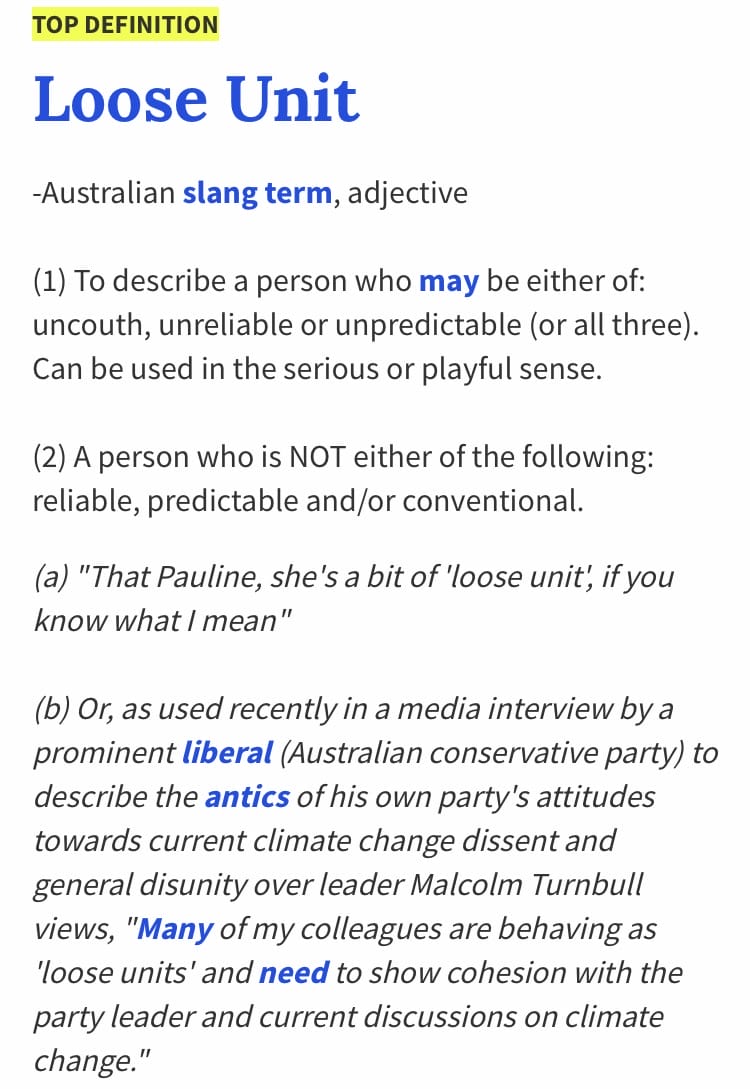 This was a real tough week. As the session comes to an end, there will surely be more and more Loose Units. It was too hard to pick just one so this week's Loose Unit is a three-way tie between the 19 Senators who voted for a $1.2 billion deficit, Gabrielle LeDoux for voting for concurrence on the budget and leaving the caucus, and Tammie Wilson for throwing a tantrum and almost leaving the caucus.
First, the Senators. Alaskans were pumped about the news of receiving a $3,000 dividend. Most legislators are very disconnected from the average Alaskan. They don't understand that only about 1% of the public closely follows what happens in Juneau and understands the games. For example, I was getting my teeth cleaned in Anchorage on Thursday. The House was debating concurring on the Senate's budget. I asked the hygenist if she minded if I listened to it. She was cool. During it she commented to me how great it is her and her family are getting a $3,000 PFD. I explained to her that was not for sure yer. She exclaimed, "But I read we were in the news!" I also explained to her that the Senate's budget included a $1.2 billion deficit. Which she responded, "Well that is not responsible." This all while many of the Senators are talking about how fiscally conservative and responsible they are. Very loose.
Next we have Gabrielle LeDoux. I gotta say I kind of respect what she did. She was the sole yes vote for concurrence. Gabby doesn't give a shit about what party or political bosses think. Case in point Tuckerman Babcock when he was running the Alaska Republican Party. Nevertheless, she agreed to be in a binding caucus and then voted against the caucus. Very loose. Also, I think she expected others to vote yes as well but it ended up just being her. And that letter from 2015 she read that was signed by many of her colleagues. Loose!
Update: The agreement in the binding caucus is you agree to vote for the budget and agree to leave the caucus if you vote against the caucus on the budget. LeDoux will also probably be the only member of the House to say she voted for a full PFD.
And finally we have Tammie Wilson. Wilson stormed out of a caucus meeting this week and said she was leaving the caucus! She was reported to have been packing her office up after. This was all over an issue with crime bills in the House. However, I guess she decided to say just kidding because the next day she was co-chairing the House Finance Committee. Very loose. And one more thing. A lot of people were mad at me for reporting what happened. I was told by some staffers and some legislators that this kind of stuff is common and happens all the time at the end of session. I said that is all the more reason to report it. It's a new day with me in the building. The public deserves to know when our leaders behave like this. They are in charge of our laws and billions of dollars in spending. Many legislators often say we need to run government more like a business. Well let me tell you, from what I have witnessed in just three months of being in Juneau, many of them would not last very long working for or running a business. Very loose.
If you have a nomination for This Week's Loose Unit, or if you have any political news, stories or gossip (or any old pics of politicians or public officials) please email me at jeff@alaskalandmine.com.