Summer has finally arrived! The legislative session ended Wednesday (5/18/2022) night with the Legislature passing a budget with only hours to spare. A narrow vote in the House reduced this year's dividend from $3,850 to $3,200. I packed up all my stuff and headed back to Anchorage on Saturday. I was exhausted yesterday, hence the one day delay in this week's column. The June 1 candidate filing deadline is just nine days away, and the Anchorage Senate districts are still being litigated. Look for lots of new candidate filings between now and the filing deadline. And Governor Mike Dunleavy (R – Alaska) announced Nancy Dahlstrom as his running mate earlier today.
A friendly message and reminder to all our readers. The Landmine is made possible by myself and a team of awesome Alaskans. It takes a lot of work to provide the content we do. I am back in Juneau to report on the Legislature. Living in Juneau for session is not cheap. If you enjoy the content we provide, please consider making a one time or recurring monthly donation. You can click here to donate. We have a donation system that makes it super easy. We would really appreciate it. And thanks to everyone who has been supportive!
The End of Session 
The second session of the 32nd Alaska Legislature ended late Wednesday night. It was a wild week and a much more classic end of session compared to 2020, when COVID-19 resulted in the Capitol being closed and a budget being passed in late March. Lots of bills were in play right up to the constitutional deadline of midnight. The end of session was compounded by three factors:
It was the end of the second session, meaning all the bills die when it's over. When the first session ends, the bills stay alive until the following year.
It's an election year.
It's a redistricting year.
Because it's an election year during a redistricting year, a lot of people won't be returning next year. So there was a real rush to get stuff done. Other than the budget, a bunch of bills were passed at the last minute. Senate President Peter Micciche (R – Soldotna) finally got his alcohol bill passed after ten years of getting really close. The Senate stuffed the Alaska Reads Act into another education bill and passed it unanimously. There was doubt whether it would pass the House, but it did by a one-vote margin. It was a big win for Governor Dunleavy and Senator Tom Begich (D – Anchorage), who were both big supporters of the bill. It was a loss for Representatives Bryce Edgmon (I – Dillingham) and Tiffany Zulkosky (D – Bethel), both of whom were vocally opposed to the bill. Five majority members voted for it, including Speaker Louise Stutes (R – Kodiak), Representative Chris Tuck (D – Anchorage), the majority leader, and Representative Neal Foster (D – Nome), the finance co-chair. This has caused a big rift between Democrats, who are divided on the bill.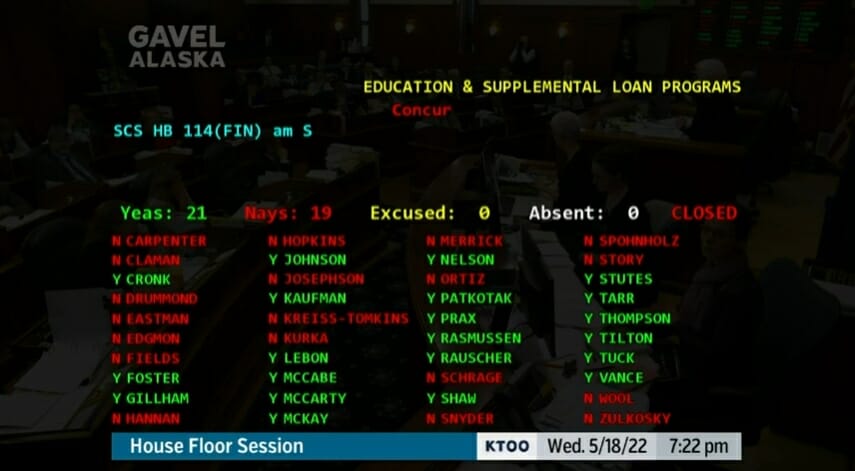 Where it got weird was in the final hours leading up to the end of session. In the afternoon, the Senate voted 19-1 to accept the conference committee report for the budget. Then they voted 15-5 for the Constitutional Budget Reserve (CBR) draw for half the $1,300 energy rebate. Fifteen was the minimum number of votes required as the CBR vote requires three-fourths. So the Senate did their part before 4 pm on Wednesday.
But the House did not take up the budget until after 10:30 pm! They were instead hearing bills about a variety of other issues, including license plates and firefighters. During this time, the Senate adjourned for a brief Senate Finance Committee meeting about a bill extending the Board of Pharmacy. Senator Bert Stedman (R – Sitka), who co-chairs the Senate Finance Committee and was a member of the conference committee, was shocked to hear the House had still not taken up the budget. Around 10:30 pm, the House finally got to the budget. Speaker Stutes was nervous someone would have moved to adjourn if they took up the budget earlier in the day. Adjourning only requires 21 votes, and with a very loose 21 member majority, there was no telling how that would go. The House eventually voted 33-7 to accept the conference committee report for the budget. Then, after a delay, they took up the CBR vote for half the $1,300 energy rebate. That failed by ONE vote. Representative Grier Hopkins (D – Fairbanks) waited until everyone had voted, and then voted no. This was probably a bit of a veiled message to Dunleavy. Hopkins' new House district is effectively unwinnable by a Democrat. All of the 11 no votes are from people who can't stand Dunleavy. Three of them aren't running for re-election (Kriess-Tomkins, Wool, Zulkosky). Look for that vote to be a campaign issue from the opponents of those that voted no and are seeking re-election.
The good news is both bodies passed the effective date clause, meaning there will be no issue with the budget going into effect on July 1. Dunleavy has 20 days (not including Sundays) to act on the bill once he receives it. It has not been transmitted to him yet as it's still being reviewed by the Legislature's lawyers. Look for some punitive vetoes from Dunleavy for those who voted against the reading bill and half the energy rebate.
Another weird thing that happened was a conference committee was appointed for a bill that would compensate firefighters who have cancer. The House failed to concur with the Senate's changes pretty late at night. So Stutes appointed a three-member conference committee. We all thought it was a joke. Once the Senate realized what happened, Micciche quickly appointed a three-member conference committee. While staff was rushing to get a compromised version of the bill printed for the conference committee (then both bodies would need to accept that), Senator Shelley Hughes (R – Palmer) sat in Senate President's Micciche's chair so he could give a special order about his mom. The whole thing was surreal. The firefighter conference committee, chaired by Senator Roger Holland (R – Anchorage) then held the one of the most bizarre and brief meetings I've ever seen. Holland had a hard time getting everyone's names correct and even knowing what to say. Everyone was really tired. Once the committee voted for the new version of the bill, staff rushed to get copies to the House and Senate. In the middle of this, there was an attempt in the House to rescind action on the 3/4 CBR vote for half the energy rebate, but that failed. The firefighter bill ended up passing both bodies at the last minute.
And one more loose event in the middle of all of this. The Senate Finance Committee stuffed Reprersentive Calvin Schrage's (I – Anchorage) campaign contribution limits into an Alaska Public Offices Commission bill from Representative Sara Rasmussen (R – Anchorage). Schrage's bill languished in Senator Mike Shower's (R – Wasilla) State Affairs Committee for months. He kept telling people it would pass out of the committee but it's obvious he had no intention of doing that. There were several floor amendments in the Senate, but there was not enough time left. Senator Bill Wielechowski (D – Anchorage) said he waited 22 hours for an amendment form legislative lawyers that, he said, would have resulted in a compromise for the bill. The bill did not get out the Senate and back to the House for a concurrence vote, resulting in unlimited individual-to-candiate campaign donations this cycle.
Unfortunately, I was on the House side when this epic interaction happened. I can't believe I missed it. I was told it got really loose during the at ease!
Unfortunately the Landmine was not in the room for this epic interaction between Sens. von Imhof, Wielechowski, and Reinbold at the absolute end of session. Was told it got even nastier during the at ease. Very loose! #akleg pic.twitter.com/ueCmFL2CEQ

— The Alaska Landmine (@alaskalandmine) May 24, 2022
By midnight, both the House and Senate had adjourned sine die – meaning it's all over unless a special session is called. The most disappointing thing was both the House and Senate majority refused to do a press conference after. This was standard in the past. But neither majority have done press conferences this session because of how screwed up they both are. They don't want to answer questions on camera because they don't have any good answers. Stutes' press people said she was too tired to talk to the press. But after the House adjourned, they held a gift giving party in the Speaker's Chambers that lasted an hour. There was plenty of drinking and partying going on – which I am totally fine with. But that should have happened after they held a press conference and answered questions. You can watch this live stream I did outside the chambers during their party.
Other Happenings 
Governor Dunleavy announced former Representative and now-former Corrections Commissioner Nancy Dahlstrom as his running mate earlier today. The announcement was made at the Division of Elections in Anchorage. You can watch a Landmine live stream of the announcement here. This makes eight tickets so far in the race for governor. You can see who has filed so far here. Dahlstrom was not a surprise as politicos had assumed she was his pick for months. In fact, I tweeted about it three months ago to the day.
Lots of chatter about @GovDunleavy looking at former legislator and current Corrections Commissioner Nancy Dahlstrom as his running mate. #akleg

— The Alaska Landmine (@alaskalandmine) February 23, 2022
Representatives Ivy Spohnholz (D – Anchorage) and Tiffany Zulkosky (D – Bethel) both announced they will not seek re-election. This adds to the number of legislators who are done with Juneau. Stay tuned for a Landmine article and live stream (after June 1) where we break down all the races and candidates.
This Week's Loose Unit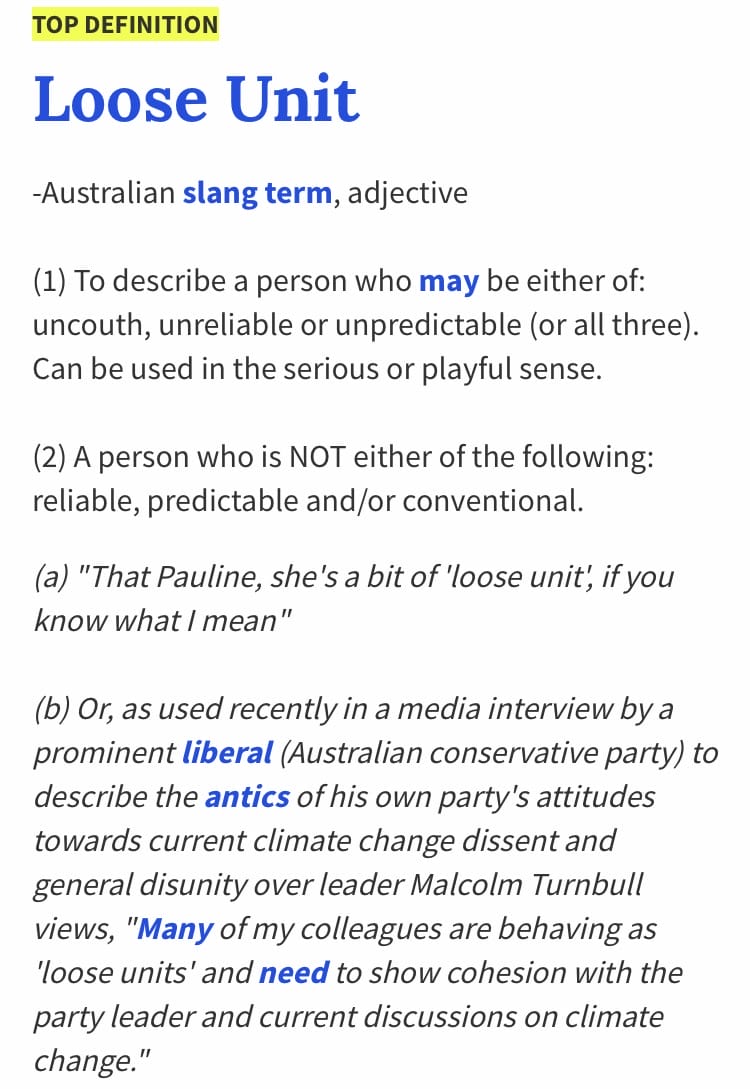 Just like last week, there was no shortage of Loose Unit candidates this week. But one definitely stood out! This week's Loose Unit is Senator Bert Stedman. On Tuesday (5/17/2022), Stedman literally barricaded himself and the conference committee in his office when Senator Natasha von Imhof (R – Anchorage) placed a call on the house. She wanted him and Senator Click Bishop (R – Fairbanks) back so she would have the votes to table the transgender bill. This Landmine article goes into more detail about that loose situation. The call resulted in the Senate sergeant-at-arms to showing up with security! Stedman was adamant the committee finished its work so the budget could get passed by the constitutional session deadline. As we saw, he was right about the time crunch. At one point, probably joking, Stedman said, "Tell em to call the troopers!" Senator Wielechowski, who was in the room, even suggested putting a book shelf in front of the door! Hyper loose. Talk about team cohesion. But Stedman was just getting started. Later that day, during an official public meeting of the conference committee, a mix-up resulted in next level looseness.
During the official conference committee meeting, Stedman was informed that someone placed a call on the House. For some reason, the House members on the conference committee were not excused from the House during the conference committee meeting. Stedman thought they were maneuvering and ordered his staff to barricade the door! Barricading the door to a public meeting is next level loose. It turned out the call was about some other missing members and was not a maneuver. But it took a few minutes for everyone to realize that. Unrelated to the House mix-up, Senator Tom Begich was outside the door trying to get in to talk to Wielechowski. He was trapped between both sets of doors! Begich was trying to get in, causing people to think the House sergeant-at-arms was trying to get in. The wildest thing about it was Stedman didn't miss a beat. He just kept running the meeting like nothing was happening. While definitely loose, it's also legendary. The other crazy thing was all the people in the room watching the meeting (staff, lobbyists, other legislators) just ignored what was happening. It was like being in a movie. Stedman turned out to be correct. The budget did not get back to the House and Senate until after midnight on the last day of session. Overall very loose.
HOLY SHIT. THE DOOR IS BARRICADED! There must be a call in one of the bodies. No one coming in or out. The Landmine is inside! MAXIMUM LOOSE! People trying to get in! #akleg pic.twitter.com/QqZkiPih7Q

— The Alaska Landmine (@alaskalandmine) May 17, 2022
If you have a nomination for this week's Loose Unit, or if you have any political news, stories or gossip (or any old pics of politicians or public officials) please email me at jeff@alaskalandmine.com.