Happy Mother's Day to all the moms out there! Businesses around Alaska are continuing to slowly reopen, yet some of the rules are still unclear. The legislature has failed to yet act on the $1.25 billion in federal COVID money – money that is sitting in the bank. We will see if they decide to act this week or if they will continue to fail Alaskans.
A friendly message and reminder to all our readers, the Landmine is made possible by myself and a team of awesome Alaskans. It takes a lot of work to provide the content we do. If you enjoy the content we provide, please consider making a one time or recurring monthly donation. You can click here to donate. We have a donation system that makes it super easy. We would really appreciate it. And thanks to everyone who has been supportive!
COVID
The big story this week is how the legislature has failed to act on the $1.25 billion in federal COVID aid that Alaska received. More than two weeks ago Governor Mike Dunleavy (R – Alaska) announced how he was allocating the money. Since then the legislature has only authorized $125 million, or 10%. Legislative leadership refuses to return to Juneau because they don't want to deal with another protracted fight over the dividend. So Dunleavy asked the Legislative Budget and Audit Committee (LB&A) to approve the money through an alternative legislative process. But they say that his requests are not constitutional, and they have the power of appropriation. So they won't go back to do their job but they also won't allow an alternative process to work. Meanwhile communities around Alaska and Alaska businesses are waiting for relief – from money that is sitting in the bank waiting to be handed out. It's incredible when you really think about it. I spent the last two sessions in Juneau. I learned the absolute length many of them will go to for political survival. I also learned how many of them will do almost anything to prevent their rivals from getting credit for something. That's honestly one of the single biggest issues with the legislature. Dunleavy said it best in a Facebook post this week.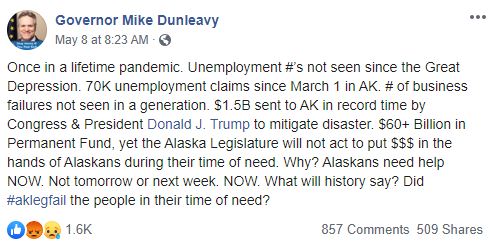 Dunleavy's administration spent last week rewriting dozens of authorization requests to LB&A – at the request of the legislature. The Committee was supposed to meet on Wednesday but that was cancelled. They are scheduled to meet tomorrow. We will see what happens. Keep in mind the legislature is still technically still in session. They are just at an extended recess. They could easily go back to Juneau and deal with this, they just refuse to. It would take some time but they have proven that they can act fast when the circumstances call for it.
The State of Alaska announced phase two of reopening Alaska would begin this week. It started on May 8. This link provides details. More restrictions on businesses have been relaxed and other businesses are now allowed to partially open. The Municipality of Anchorage will begin their phase two tomorrow. It's so much information and it is constantly changing. Good luck figuring it all out!
Other Happenings
Former Alaska Lieutenant Governor Byron Mallott passed away this week of a heart attack. He was 77. Mallott combined forces with Bill Walker in 2014 in what became known as the unity ticket. Walker narrowly defeated then Governor Sean Parnell. Mallott resigned on October 16, 2018, less than a month before the election, for what was only described by the Walker administration as "inappropriate comments." They never went on to explain what happened, causing some in the media to publish inaccurate rumors. During his political career Mallott served as lieutenant governor, the mayor of Juneau and Yakutat, the executive director of the Alaska Permanent Fund, and the president of the Alaska Federation of Natives. He also worked for Alaska governors and senators.
The Alaska Supreme Court ruled 5-0 this week that the recall campaign against Dunleavy can move forward. Now the issue is getting enough signatures. COVID-19 has made that much more difficult. And Dunleavy is not nearly as unpopular as he was before COVID-19, in large part thanks to Dr. Anne Zink. With campaign season fast approaching my bet is if the recall campaign regains its momentum it won't be until early next year.
A previous version of this column stated the ruling was 4-1. It was 5-0. It has been corrected.
Matt Greene, the former data and technology director at the Alaska Democratic Party, has rejoined Jay Parmley, the former executive director at the Alaska Democratic Party. Parmley became the executive director for the South Carolina Democratic Party. Greene is now their data and technology director. Greene was let go by the Alaska Democratic Party in January for reasons they never stated. Best of luck to him in his new role.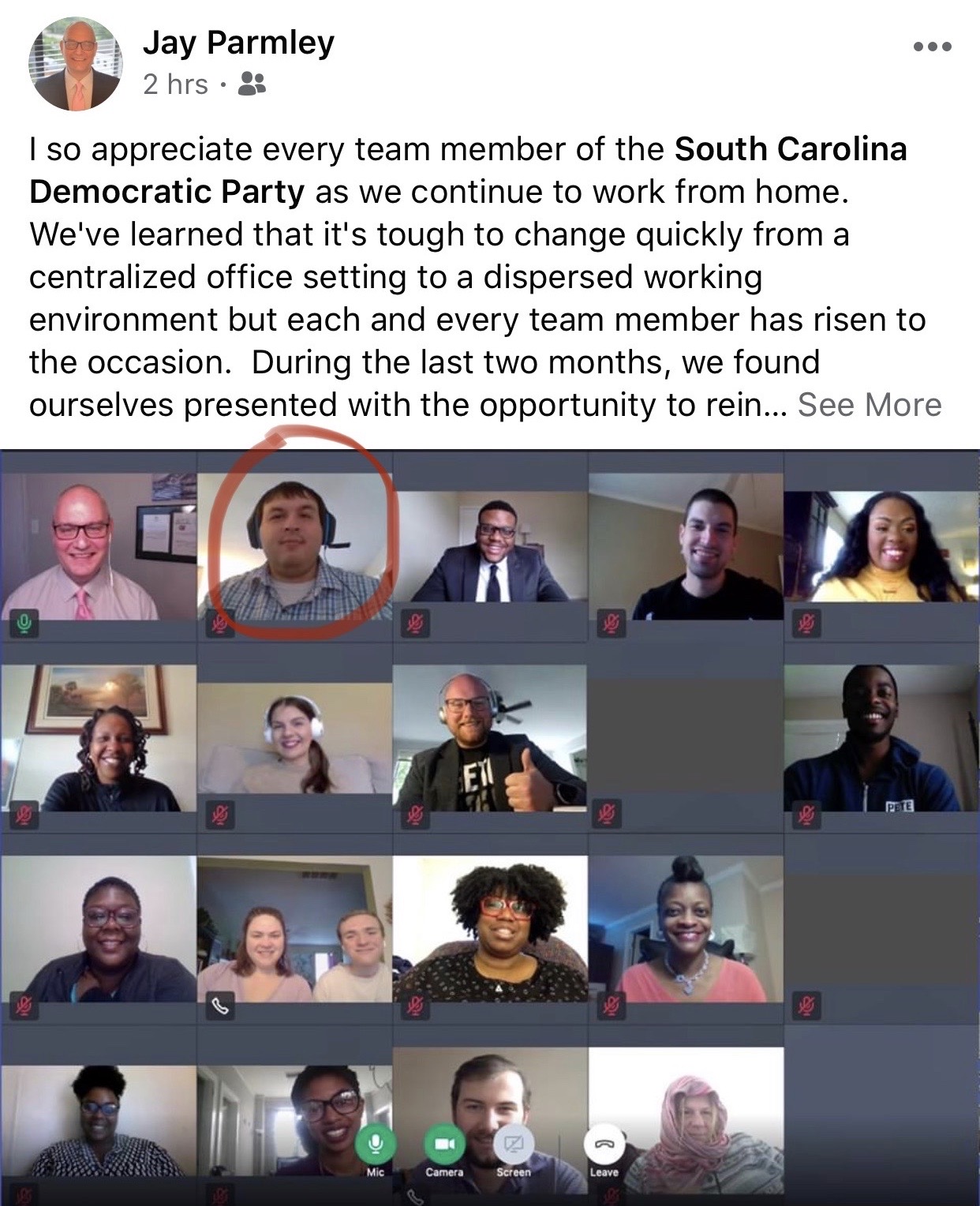 Here is something rich. On the Vote Yes for Alaska's Fair Share website there is a picture of a guy named Mark Hopkin with a testimonial about why he is voting for the oil tax initiative. Mark Hopkin is the president of Porcaro Communications. Guess who is not doing the media and communications for the group opposing the oil tax ballot measure, One Alaska? You guessed it, Porcaro Communications. It's easy to take either side when all you care about is money.
Alaskans for Don Young announced this week the appointment of co-chairs, Nicholas Begich and Rhonda Boyles, to head up his re-election campaign. Troll level 1000 on getting a Begich as a campaign co-chair. According to the press release:
Nicholas Begich, is an entrepreneur and early stage investor, having formed a number of businesses including ventures in mining, rural grocery, and technology. Through the years, Nicholas has also been active in conservative policy development efforts within Alaska. Reached for comment, Nick stated, "Don Young has been a tenacious defender for Alaskans. Now more than ever, we need his experience as we fight to preserve and expand access to our resources. As a longtime friend and supporter of Congressman Young, I look forward to seeing him return to Washington to represent us." Nicholas is a resident of Chugiak and the grandson of the late Congressman Nick Begich.
Rhonda Boyles, is a longtime Alaskan and past mayor of the Fairbanks North Star Borough, a retired business owner who is heavily involved in the community and women's organizations. "I am 100% committed to Don Young's re-election. His effectiveness is unparalleled. He delivers for Alaska and has earned my support. It's a pleasure and an honor to be involved in his campaign," stated Rhonda Boyles in commenting on her new appointment.
If you follow Senator Lora Reinbold (R – Eagle River) on Facebook then you have seen her really go off the deep end this week on COVID-19. She made this post yesterday. She deleted my comment as well as many other comments from people who either pointed out how absurd the post was or people who just asked her to explain what she was saying.
She then sent this email to her colleagues yesterday. You can read her resolution here. It's a real doozy. The hypocrisy is not lost on her citing the first amendment in her resolution while at the same time she, a state senator, is deleting comments on a public post from an elected official.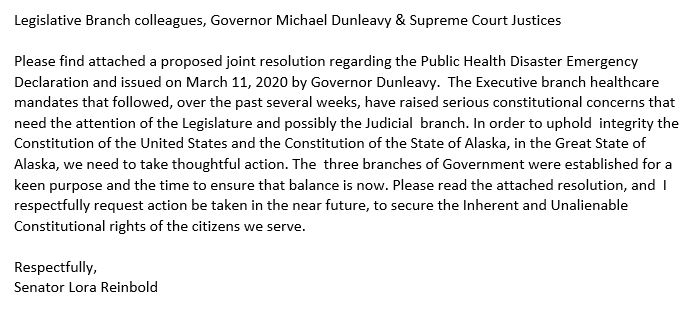 Ross Beiling filed a Letter of Intent this week with the Alaska Public Offices Commission. He is again challenging Representative Jennifer Johnston (R – Anchorage) in the Republican primary. He unsuccessfully challenged her in 2016 and 2018. Clifford Murray also has filed to run for that House seat in the primary. I am told he is a Republican but not sure as I cannot find any campaign information and have not been able to get a hold of him. Pretty sure he is this guy, a well known swimming coach. At this rate Johnston looks to be in good shape if there is a three-way primary. However, there is still three weeks left for candidates to file.
Sources report that Anchorage Assemblymember Forrest Dunbar has raised over $75,000 for his mayoral campaign. That election is not until next April but he seems to be building up a war chest. Other notable candidates that have filed are former Representative Eric Croft and former Assemblymember Bill Evans.
The Office of Management and Budget has two new administrative service directors. Michelle Vuille is now the ASD for the Department of Administration and Brian Fechter is now the ASD for the Department of Revenue. Congrats to them both. Fechter is moving to Anchorage from Juneau. He was previously a chief budget analyst with OMB.
The Mat-Su Borough School District Board met this week and failed to rescind their action on their very unpopular book ban. Check out this Facebook post from Palmer City Councilwoman Sabrena Combs!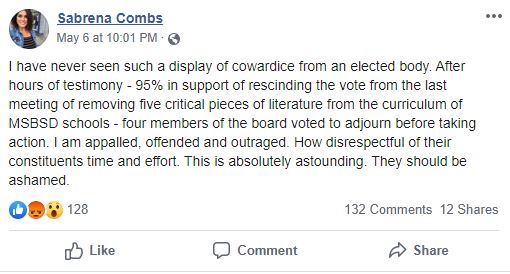 This Week's Loose Unit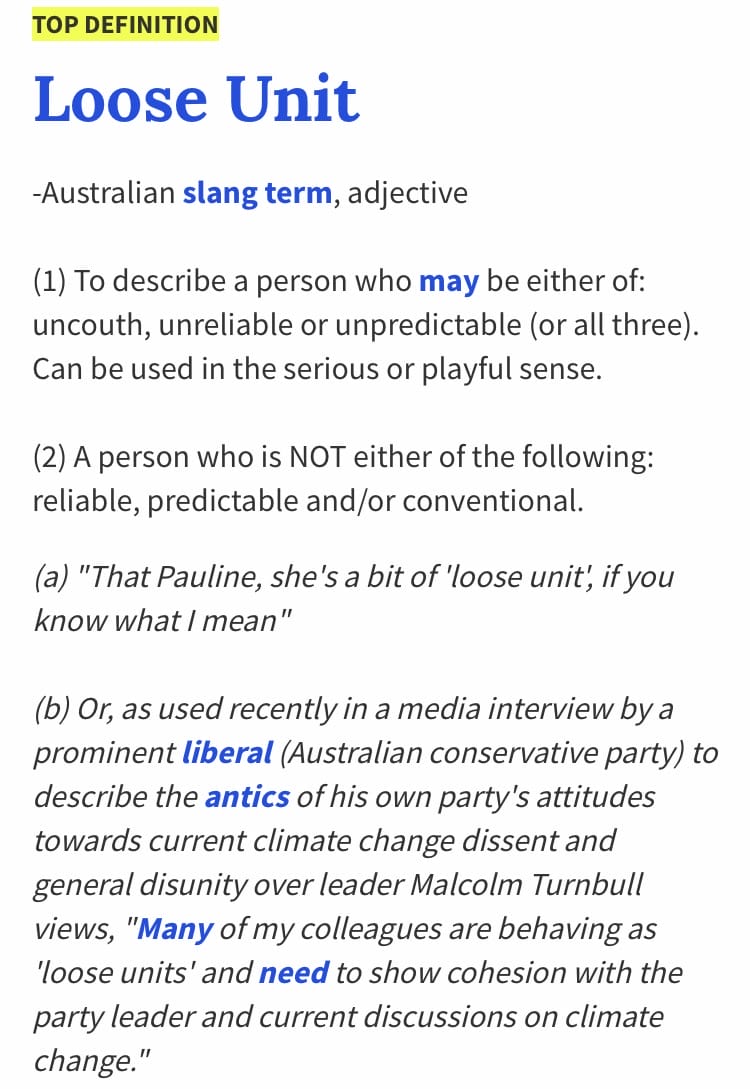 This week was an absolute no brainer. And it only got better. This week's Loose Unit is Dave Logan. Logan serves as the executive director for the Alaska Dental Society. I was forwarded a series of emails he sent regarding health mandates the dentists are unhappy about. Logan was very unhappy after a Zoom meeting with Alaska Chief Medical Officer Dr. Anne Zink. In several emails he referred to Zink as "Queen" and "her majesty" for the way he felt she was handling the COVID-19 situation. So loose. But where he got real loose was when he suggested a GoFundMe to hire a pilot to write "FU Dr. Zink." Beyond loose. You can read all about it in this Landmine article. But it gets better!
Logan quickly became aware of the article. In an email the next day he owned his actions but ended by saying that forwarding the emails to a blogger is an "indication emotions are running high and there are different agendas at work." Loose. But it gets real good when the next day he refers to the person sending the emails as an "ass clown." Classic Loose Unit. And you have to love the fax part of the guy's signature.
If you have a nomination for this week's Loose Unit, or if you have any political news, stories or gossip (or any old pics of politicians or public officials) please email me at jeff@alaskalandmine.com.