It was another busy week for Alaska politics. This week marked the halfway point of the "90-day" legislative session. Because it took a month for the House to organize, and because they almost always go over 90 days anyway, look for this one to go into May. The legislature is allowed to go to 121 days before having to go into special session. 90 days hits on April 15 and 121 days hits on May 16.
A friendly message and reminder to all our readers, the Landmine is made possible by myself and a team of awesome Alaskans. It takes a lot of work to provide the content we do. There are now additional costs that I have temporarily located to Juneau. If you enjoy the content we provide, please consider making a one time or recurring monthly donation. You can click here to donate via PayPal. We would really appreciate it!
The Governor
Governor Michael J. Dunleavy (R – Alaska) continues to face criticism for his budget. During the second Anchorage Caucus meeting yesterday, the vast majority of people who testified were against cuts to education. During a townhall in Homer, Representative Sarah Vance (R – Homer) heard from a room full of constituents who were very unhappy with Dunleavy's budget. It got very intense. I'm no expert but I would think paying Mary Ann Pruitt $185,000 a year to run communications for the governor would result in some actual communication and messaging on her boss's budget.
Dunleavy also dealt with a not so warm welcoming at the UAA vs. UAF Governor's Cup when he dropped the puck at the Sullivan Arena. Check out the message from some people in the stands. Not exactly a packed event though.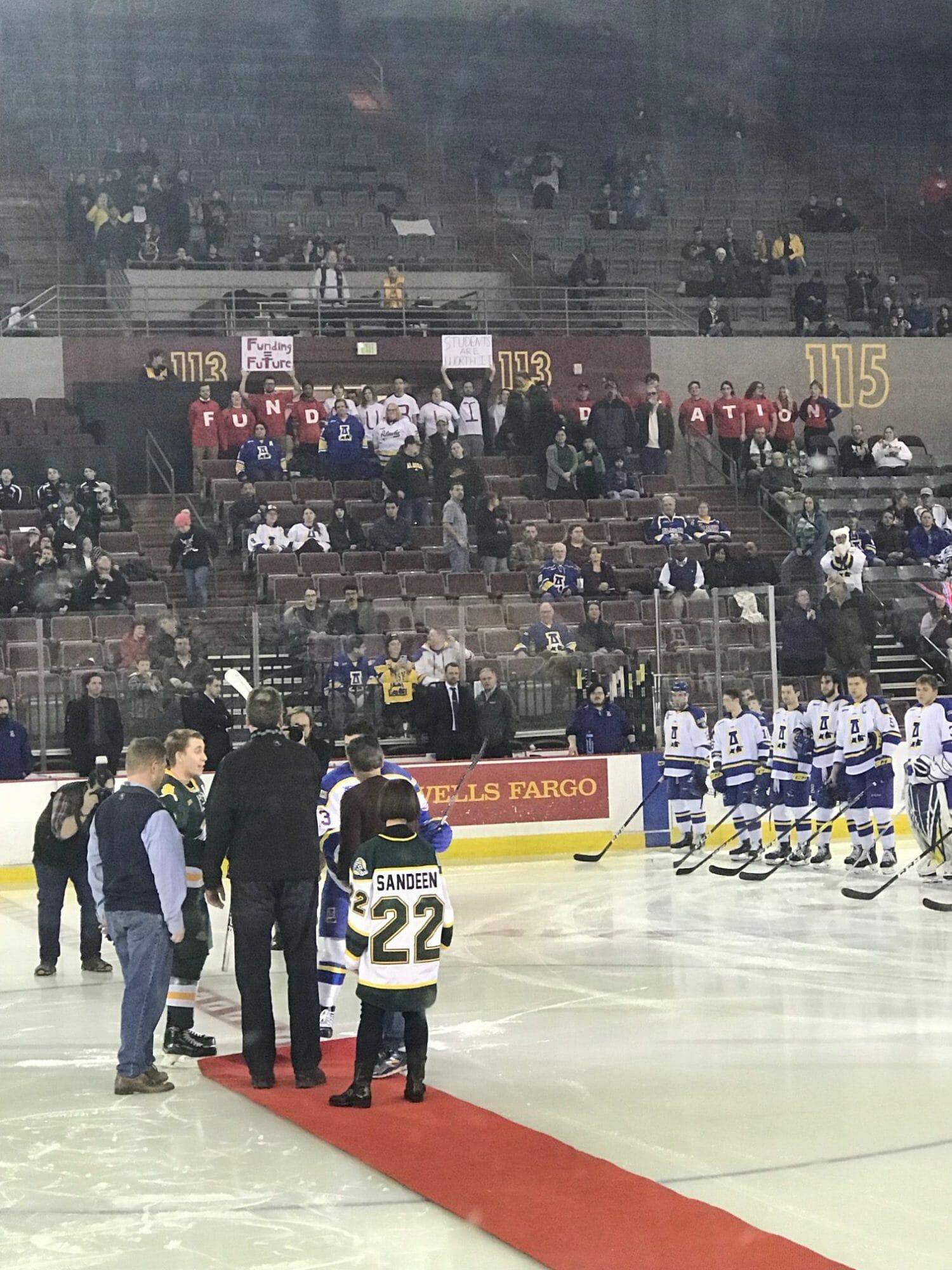 On a more positive note, Dunleavy met with President Donald J. Trump (I wonder if the J middle name thing came up) on his way back to D.C. from peace talks with Kim Jong-un in Vietnam. Trump showed Dunleavy some major love during his remarks. At one point he said, "Look at that man, he's all man. Look at him." Legendary. Imagine what he would have said if Sarah Palin was governor? I have some ideas but I will leave it to your imagination.
Dunleavy also had some fun at Fur Rondy this weekend. He participated in the famous Running of the Reindeer event. Check out the dude in front of him. Is he facetiming with someone with Big Mike behind him? Love the jacket, Mike.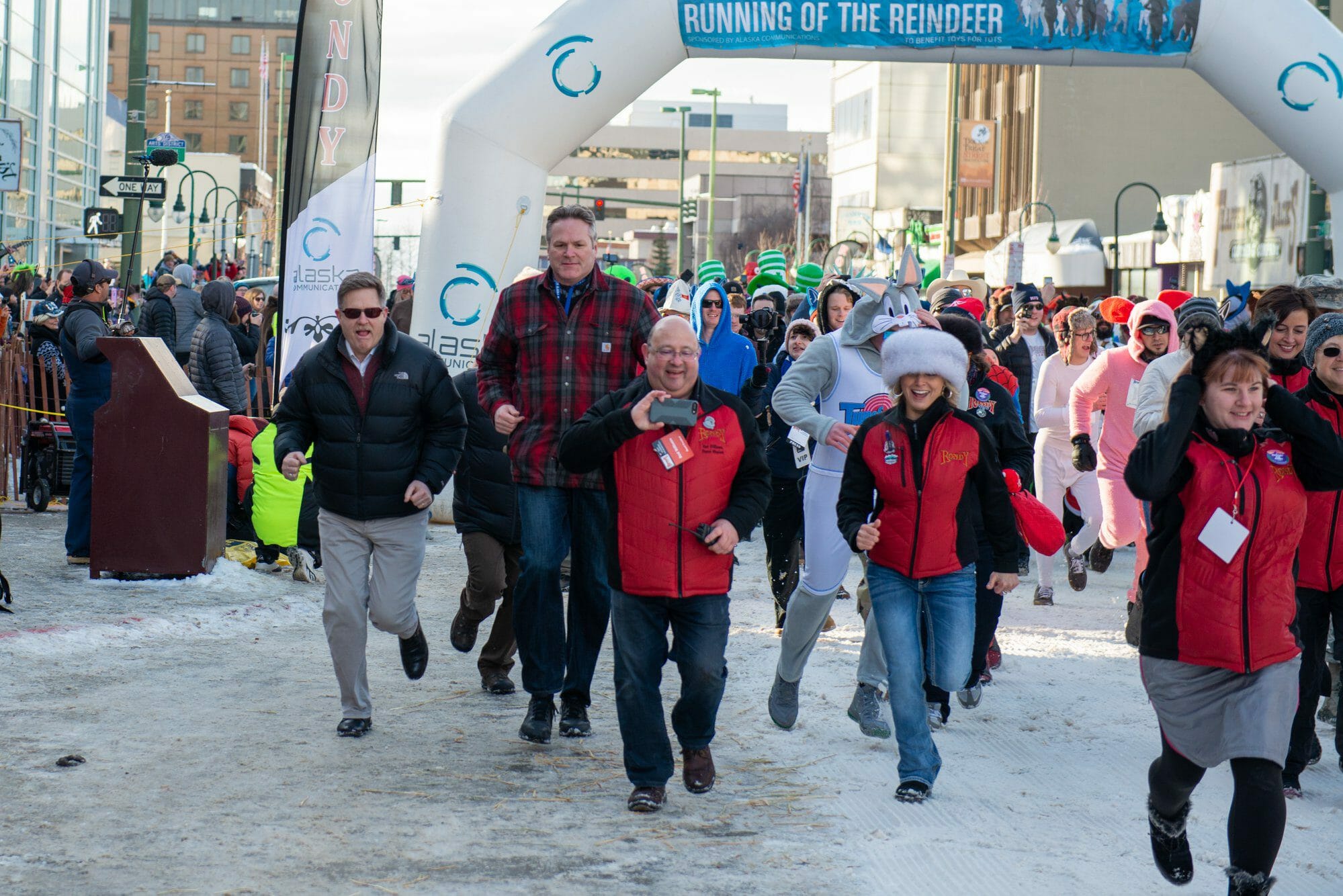 The Legislature
The big event this week was public testimony on Governor Dunleavy's proposed PFD repayment bills. Public testimony in the Senate State Affairs Committee started at 6 pm on Thursday and went to 8 pm. People were 2 to 1 against the repayment if it means cuts to State government. Senators Mike Shower (R – Wasilla) and Peter Micciche (R – Soldotna) enjoyed some tasty pizza during the testimony. Shower, who chairs the committee, announced more public testimony next week. Gotta rally those troops!
Before the public testimony on the PFD repayment bills, the committee heard some crime bills. It got very loose. First, one of Shower's staffers, Scott Ogan, testified on the bills. You may recall Ogan resigned from the Senate in 2004 after a conflict of interest arose on a business contract he had. Only in Alaska. Anyhoo, it was definitely amateur hour. Amendments kept getting introduced, withdrawn, and confused. At one point Senator Lora Reinbold (R – Eagle Rive) said, "Wait are we on amendment 6 or 7?" A rule book or parliamentarian would have been helpful.
Governor Dunleavy's second pick for Commissioner of the Department of Administration, Kelly Tshibaka (ok, we finally know it's pronounced Chewbacca) had a confirmation hearing before the Senate Finance Committee this week. When Senator Lyman Hoffman (D – Bethel) asked her about her experiences in rural Alaska she commented her experiences were limited to hunting trips and visits to the oil fields in the North Pole. Wait, wtf. That is exactly what Senator Donny Olson (R – Golovin) thought. When it was his turn he asked her about her trips to the North Pole. She said, "Up to the Arctic Circle. The oil fields." Olson then engaged in an epic facepalm. The strange thing is she said she grew up here and used to spend time with her mom at work, at ConocoPhillips in Downtown Anchorage. Bizarre. Kelly, you need to have a chat with Representative Tammie Wilson (R – North Pole).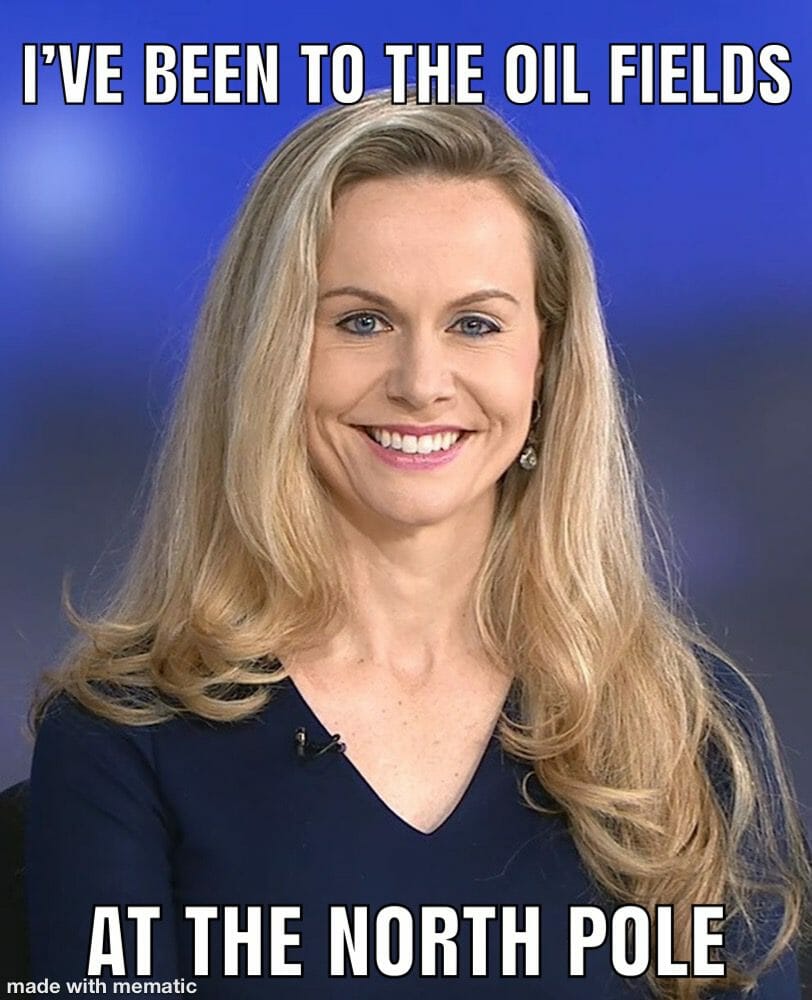 Former Lieutenant Governor Mead Treadwell was in Juneau this week. He testified before the Senate Transportation Committee about a rail line to Alberta. The guy who was testifying with Treadwell, Sean McCoshen, the CEO of Alberta to Alaska Railway, looks like a guy I want to party with.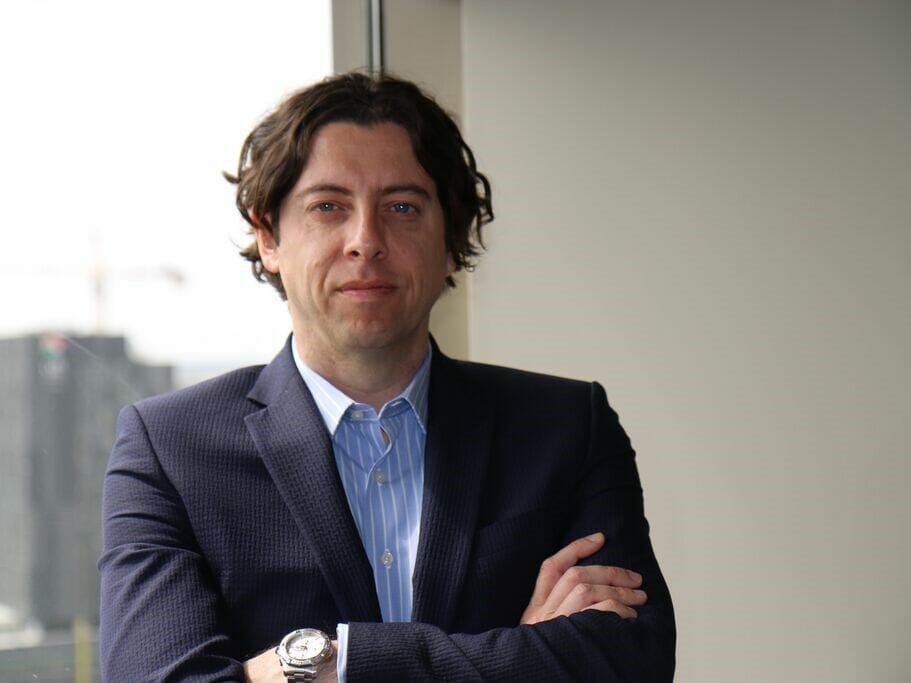 The Rainbow Swamp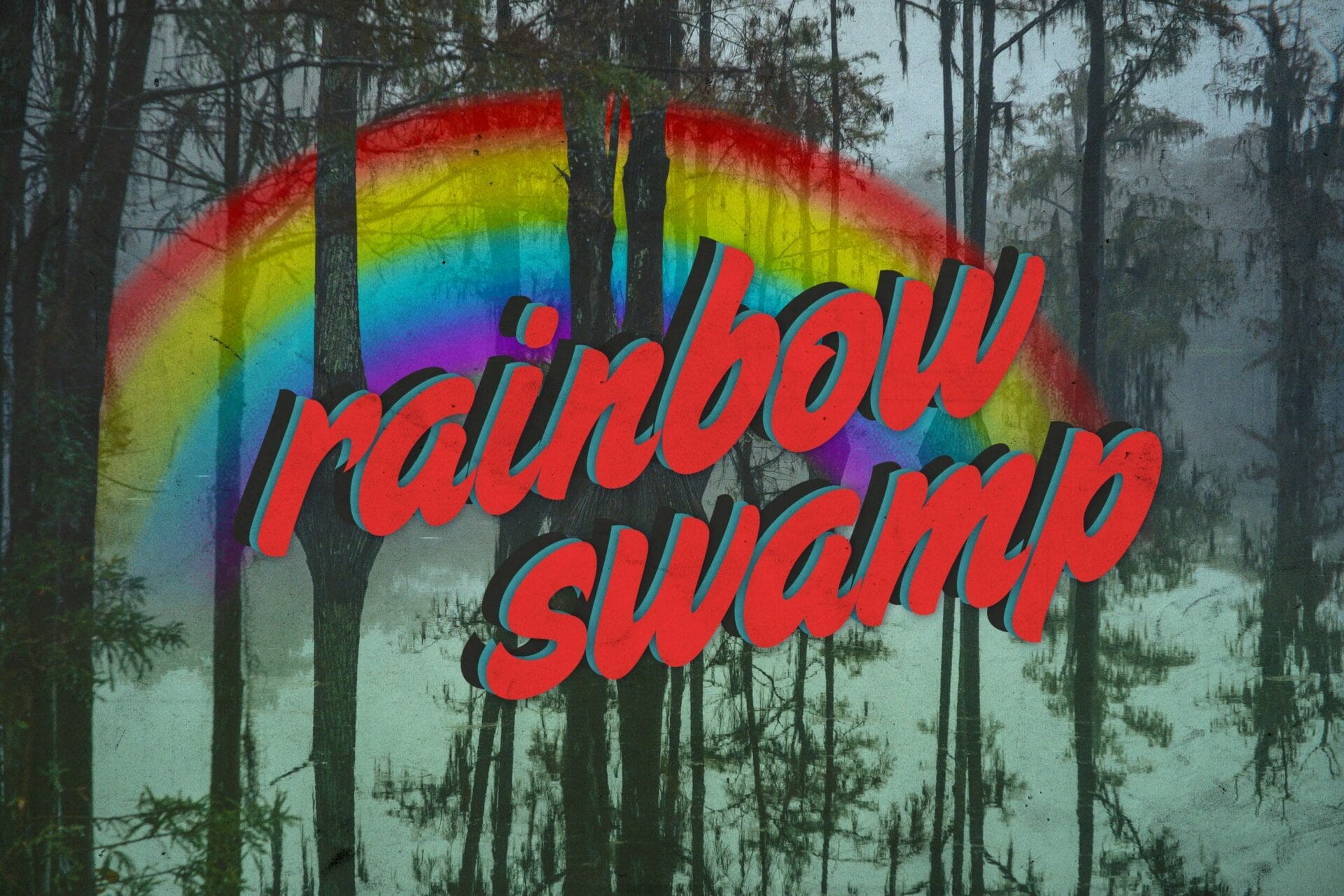 The drama with the Rainbow Swamp continues. More bullshit rumors about me, most likely from Wendy Chamberlain, continue to come out of the Rainbow Swamp. For those of you who don't understand my issue with the Rainbow Swamp, let me explain. A few weeks ago I reported that Wendy Chamberlain, one of the owners of the Rainbow Swamp building, was giving free space to Alaska Republican Party and Dunleavy administration propagandist Suzanne Downing. I consider Downing an extremely vile individual. She has written countless lies about good people. Last summer, when I was heading up a PAC for Josh Revak, she wrote a series of articles about me where she said I was a misogynist and inferred I abuse women. She listed my employer at the time as well as my boss by name in the articles. There are many other examples of trash articles she has written.
The public deserves to know about anyone who is aiding and abetting Downing. I would have ended it a few weeks ago but after I reported that Chamberlain and her cabal (Eldon Mulder, Heather Brakes, Dianne Blumer) were in bed with Downing, false rumors about me began. So now it's game on, Wendy. And the best part is all the people who have contacted me about Wendy. I even got a letter in the mail with a check from someone who was so happy someone was finally calling out Wendy. Wendy, I've heard some great stories about you!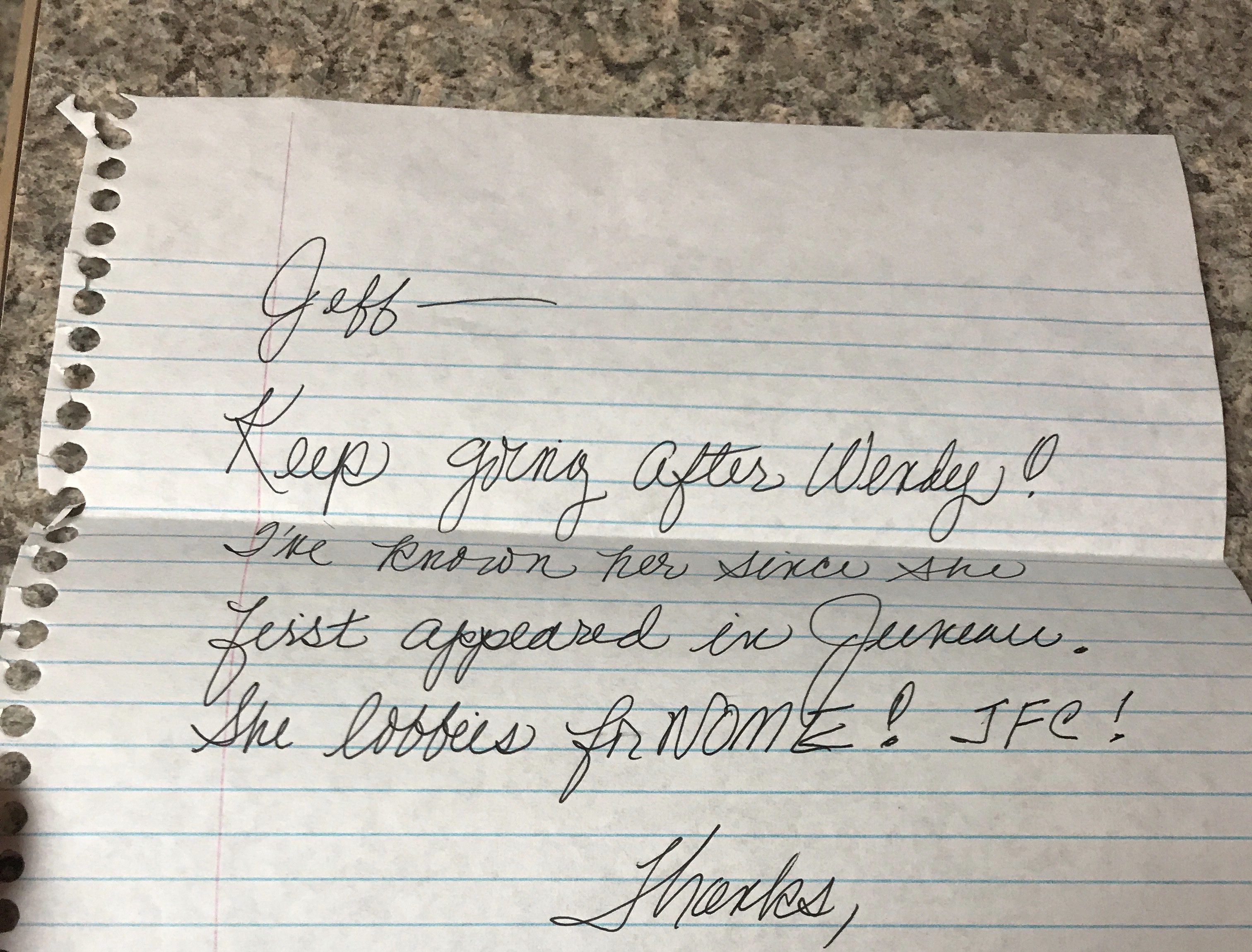 This whole thing has also inspired me to start a new weekly feature, Wendy Wednesdays! Last Wednesday was the first one. Stay tuned for the next Wendy Wednesday. It will be a real doozy.
Other Happenings
The search for Chief of Staff Tuckerman Babcock continues. If anyone sees him, tell him I'm looking for him so I can give him his well deserved award. Comparing Governor Bill Walker to Kim Jong-un last year really locked it up for Babcock.
Speaking of Tuckerman Babcock. Word around the Capitol is that he has been aggressively meddling in the dealings of the House. Sources have reported that Representative Lance Pruitt (R – Anchorage), whose wife Mary Ann Pruitt is getting paid $185,000 a year to do "communications" for the governor, has been providing Babcock with intel. Word is other Republicans were going to join the House Majority but they got calls from Babcock saying they, along with their Districts, would pay if they did. Tuckerman would have fit in great in 1970s Chicago.
The State has hired the firm Clapp Peterson to represent Governor Dunleavy and Tuckerman Babcock in lawsuits brought by ACLU Alaska from exempt State employees who were fired by Dunleavy. The employees are Libby Bakalar, a former State attorney, and John Bellville and Anthony Blanford, two former doctors at the Alaska Psychiatric Institute. State attorneys can't be involved in the case because nearly all of them used to work with Bakalar. I just love that name of that firm, Clapp Peterson. Now Tuckerman and Dunleavy got the Clapp! We got the clap, you got the clap!
Chad Padgett accepted the job as State Director for the Bureau of Land Management. Padgett has worked as Congressman Don Young's (R – Alaska) State Director for the last 10 years. Chad is quite the legend. Congrats! Here is the full announcement from BLM.
Former Representative Charisse Millett was spotted (by me) with Representative DeLena Johnson (R – Palmer) this morning at the Sandpiper. Charisse walked right by me and did not say hi. Sad! Many are wondering if Charisse is lobbying while in Juneau. She took a job with the Public Safety Employees Association. Legislators are barred from lobbying for one year after they leave office. See you in the Capitol, Charisse!
Senator Lisa Murkowski (R – Alaska) went full Alaska yesterday at Fur Rondy. Fucking epic.
One more thing about Senator Murkowski. She appeared in the crazy conspiracy QAnon this week. Does that mean she has made it? Check it out here.
The Fairbanks City Council passed a controversial equal rights ordinance this week. After, Mayor Jim Matherly announced he would veto the ordinance so the voters can decide. Very loose. But what is even more loose is what Councilman David Pruhs said at a meeting at Denny's in Fairbanks. The same Denny's that Schaffer Cox and his ilk used to hold court. Check out this audio. At 3:15 he says people who came forward with their experiences with discrimination were "full of shit." At 8:03 he called the Hrrrl Scouts "a very militant lesbian group." To be fair, they are an extremely liberal feminist group in Fairbanks, but damn, David.
OMG West Anchorage Assembly candidate Liz Vazquez really went for it with a new video ad for her campaign. If you have not seen it you HAVE to watch it. In the ad she is mugged and robbed of her purse by a masked man on a ski trail while she is filming a campaign video. She then chases him down and TAKES HIM OUT! I have so many questions. One, where did the little dog go? Two, what was in that purse? Three, was she initially going for a gun? It looked like she was cocking that purse like a shotgun. And a pro tip, Liz. Memorize your lines or put the cue cards BEHIND the camera. Word is the video was made by Landmine favorite Joseph Lurtsema. YES!
This Week's Loose Unit
In any other week, David Pruh's calling the Hrrrl Scouts "militant lesbians" or the Liz Vazquez ad would be a shoe in for the Loose Unit. But something happened this week that is so loose. And not only that, the person was a previous Loose Unit for the same bullshit. This week's Loose Unit is once again Erika McConnell. McConnell is the Director of the Alcohol & Marijuana Control Office (AMCO). She earned Loose Unit status last July when she tried to strip the Anchorage Ski Club of their recreational site license. Here is that column.
McConnell would be better suited running the alcohol and marijuana office in Saudi Arabia. This is the same woman who is trying to strip the Alaska State Fair of their site license. Imagine being at a party with her. This week she really went for it. This week she denied licenses to Taku Lanes, the Alaska Club Summit, Denali Arts Council, Alaska Travel Adventures, and the Alaska State Fair. I heard about the Taku Lane one because this is where legislators and staff hold their weekly bowling league. This week there was no alcohol. I think it's safe to say McConnell has zero self awareness. My god this is loose.
Since she has taken over as Director of AMCO in March of 2017, investigations, walk-throughs, and inspections have dramatically increased. There was a total of 7,274 in 2017 and 11,904 in 2018. Loose! How she is still there is beyond me. Legislators, staff, local officials, people in the alcohol and marijuana industries, can't stand her. The only people who seem to like her are total squares and prohibitionists. This is why we can't have nice things.
If you have a nomination for This Week's Loose Unit, or if you have any political news, stories or gossip (or any old pics of politicians or public officials) please email me at jeff@alaskalandmine.com.