It's finally June! Summer is fast upon us. The first special session of the 31st Alaska Legislature continues in Juneau. Not much has really happened. The dividend issue is still stuck in the Senate, although it sounds like there may be some movement on that this week. Legislators have not been collecting per diem because they did not pass a budget by day 121. Which must be tough because Juneau ain't cheap in the summer.
A friendly message and reminder to all our readers, the Landmine is made possible by myself and a team of awesome Alaskans. It takes a lot of work to provide the content we do. If you enjoy the content we provide, please consider making a one time or recurring monthly donation. You can click here to donate via PayPal. We would really appreciate it. And thanks to everyone who has been supportive!
Special Session
The Senate passed the Conference Committee's report on House Bill 49, the crime bill, 18-0. The House passed it the week before. It now goes to Governor Michael J. Dunleavy (R – Alaska) to be signed.
The House and Senate both approved authorization granting Legislative Council the authority to litigate the forward funding of education issue. Last year the Legislature passed a bill to forward fund a portion of education funding. Dunleavy thinks the funding is subject to veto. The Legislature does not. Dunleavy has threatened to withhold the funding if the Legislature does not put it in the upcoming budget. Talk about an odd issue for Dunleavy to take a stand on.
It looks like the Senate Finance Committee is going to introduce a bill tomorrow for a $1,600 PFD, pulling the dividend out of the current operating budget. There is no constitutional requirement for the dividend to be in the budget. The House and Senate have basically come to an agreement on the budget but the Senate Majority can't come to an agreement on the dividend amount. There will likely be an amendment in the Senate to increase it to $3,000. It appears the Senate has the votes for that. However, Senators Mike Shower (R – Wasilla) and Shelley Hughes (R – Palmer), who both support a full PFD, won't be in Juneau. In a Facebook post, Shower said he has excused himself from a call of the chair because of his job. That last sentence tho. Look for things to get very loose in Juneau this week.
Update: I was informed that Senator Hughes gets back to Juneau tonight. So she will be there for the dividend debate.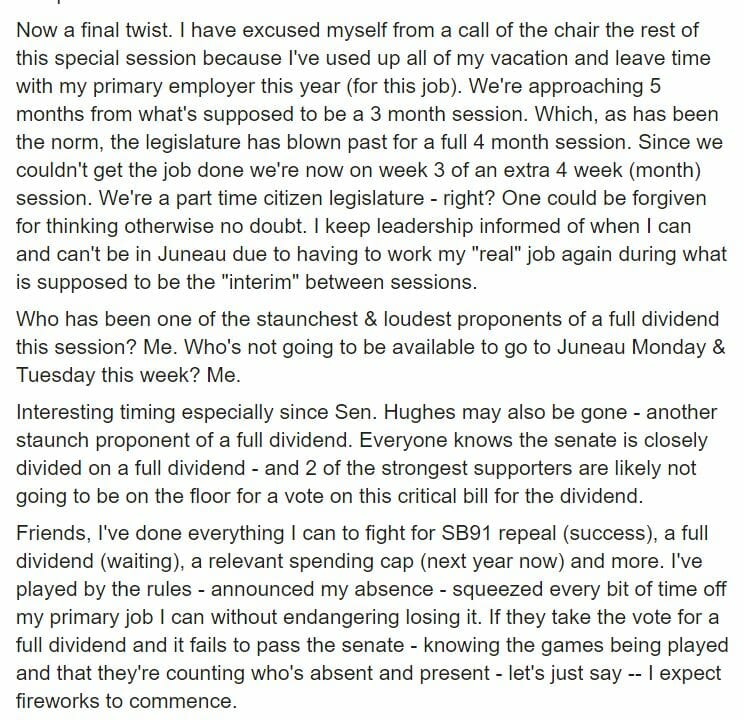 Governor Dunleavy held his second Facebook Live town hall this week. You can see it here. He appeared to be much friendlier with the Legislature. This is a much better approach than publicly attacking them.
The Health and Social Services Division Director sent out this letter to Medicaid providers this week. This will have a big impact on smaller hospitals and providers. Many have criticised it as a scare tactic from the administration.
The Landmine has obtained a letter from the HSS Division Director to Medicaid providers. Looks like Medicaid payments to hospitals and doctors are going to be delayed due to a budget shortfall. This will likely have a big impact on smaller health providers and hospitals. #akleg pic.twitter.com/fv9F2Gm7U7

— The Alaska Landmine (@alaskalandmine) May 31, 2019
Other Happenings
Attorney General William Barr was in Alaska this week. He toured the State and met with rural leaders about the ongoing issue of violence and sex crimes in rural Alaska. It's clear we have been unable to address and solve this problem on a State level. Hopefully the Federal Government can offer some solutions.
Sometimes you can't make stuff up. Check out this post, on social media, from the Mat-Su Republican Women announcing a rally in the Valley on Thursday. Note the part at the bottom that asks that people to not share on social media. YESSSS!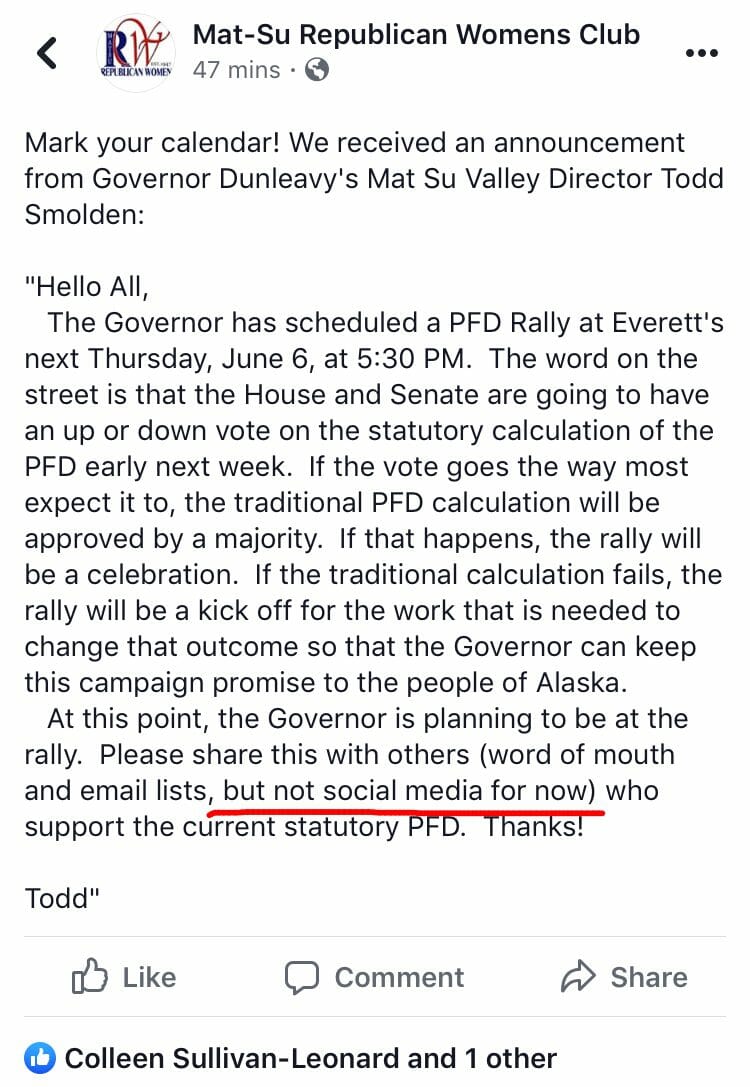 The Alaska Oil and Gas Association (AOGA) hed their annual conference on Thursday (5/30/2019) at the Dena'ina Center. The big announcement was the BP and ExxonMobil have committed $10 million each, along with the Alaska Gasline Development Corporation, towards obtaining the Federal Energy Regulatory Commission (FERC) permit for the gasline. With record level exploration and new oil discoveries, many in the industry are very optimistic about the future. #HighEnergy!
Mr. Sole Source himself, Clark Penney, was spotted at the AOGA conference. He must have been doing some high level networking to earn that $8,000 a month contract he got.
I would like to give a shout out the the Fairbanks chapter of the Public Relations Society of America. They had me up to speak at their monthly lunch on Wednesday. What an awesome group! I spoke about how I started the Landmine, the people that have been involved, how it has grown, and what it was like being in Juneau for the session. About 95% of people in attendance were women. After I was done speaking several of them asked to take a picture with me. One exclaimed, "I'm a total Landfield groupie." I've made it.
Tuckerman Babcock shared this article yesterday. Yes, it's true that radical Muslims commit terrible atrocities in many places in the world. But this is from four years ago. He has yet to post anything about the recent massacre at Virginia Beach. I wonder why that is?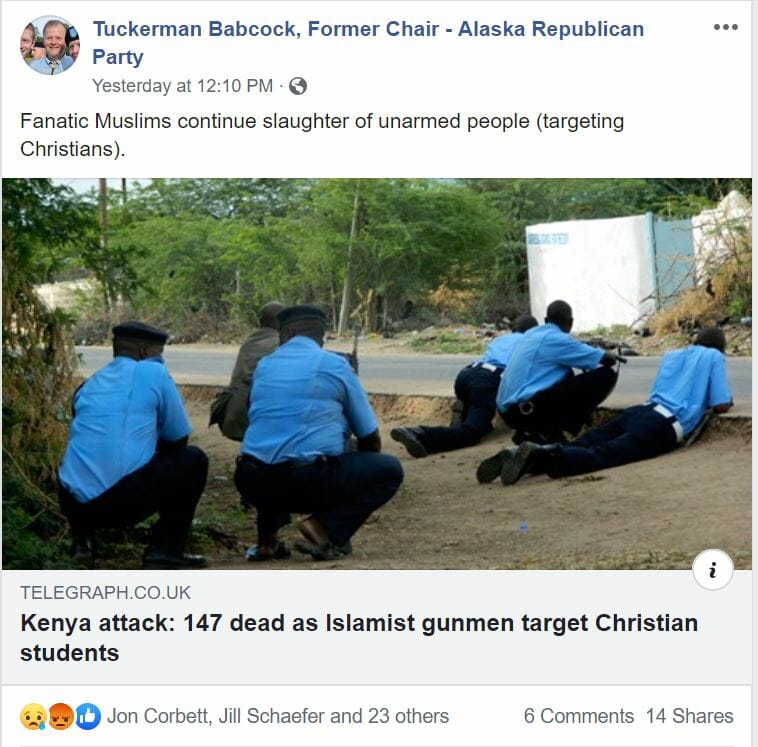 Check out this contract Grace Jang, former Governor Bill Walker's deputy chief of staff, got from the City of Valdez. The contract is to:
Develop and execute a strategic communications and coalition engagement plan in response to Governor Mike Dunleavy's proposal to eliminate a municipality's ability to tax oil and gas exploration, production and infrastructure (SB 57/HB 59).
The contract is for $15,000/month, not to exceed $45,000. Grace is making some moves!
Carolyn Hall left her job with the University of Alaska this week. She is going to spend more time focusing on the media company, Jensen Hall Creative, her and her husband own. Which is great for me because the Landmine has been doing a lot with Jensen Hall lately!
John Henry Heckendorn will be leaving Alaska this week, at least for a while. He was offered a job with Airbnb in California. Congrats, John Henry. Very high level! I expect to be getting some great deals soon lol. He said the team at Ship Creek Group will continue to kill it in local politics.
This Week's Loose Unit
This week, like many others, was a no brainer. This week's Loose Unit is Tom Boutin. Boutin is the CEO of the Alaska Industrial Development and Export Authority (AIDEA). He recently sent a letter to Representatives Zack Fields (D – Anchorage) and Jonathan Kreiss-Tomkins (D – Sitka). The letter was in response to a letter from them about the $441,000 sole source contract to Clark Penney, grandson of major Dunleavy donor Bob Penney. It's one of the most bizarre letters you will ever read. Very loose!
You can see the letter, as well as an article from the Landmine here.
He starts off by referring to Representative Kreiss-Tomkins as Representative Tomkins. Cool. He opens by saying he is respond to their undated letter. Passive aggressive much, Tommy? Boutin says he does not consider the sole source contract to be for $441,000. He considers it to be for $8,000 a month.  Very loose. Keep in mind this guy is in charge of AIDEA, who have over a billion dollars in assets. Hey AIDEA, are you guys hiring?
He also touts how awesome and smart Clark Penney is as justification for the sole source contract. But later in the letter he says he only met Clark earlier this year. Loose! Clark must have that kind of Christian Bale hustle from the movie American Hustle. Grandpa donating over $350,000 to get Dunleavy elected probably didn't hurt.
The best part is probably the end of the letter. He says, "Restoring trust that Alaskans once had in government will require more transparency that we sometimes saw in recent years." Nothing says trust and transparency more like a sole source contract for economic development, from the Dunleavy administration, to the grandson of a guy who donated over $350,000 to get Mike Dunleavy elected governor. Talk abou loose!
If you have a nomination for This Week's Loose Unit, or if you have any political news, stories or gossip (or any old pics of politicians or public officials) please email me at jeff@alaskalandmine.com.