The Summer Solstice is Tuesday, which means the days are about to start getting shorter. Summer is never long enough in Alaska. With more votes counted in the special congressional primary election, the top-four remain the same as on election night. The Legislature finally transmitted the budget to Governor Mike Dunleavy (R – Alaska), nearly a month after it was passed. Vetoes are expected to be announced this week. And the deadline to withdraw from the primary election is on Saturday.
A friendly message and reminder to all our readers. The Landmine is made possible by myself and a team of awesome Alaskans. We are working hard to provide in-depth election coverage for all of the ongoing races. If you enjoy the content we provide, please consider making a one time or recurring monthly donation. You can click here to donate. We have a donation system that makes it super easy. We would really appreciate it. And thanks to everyone who has been supportive!
Special Election 
With more than 150,000 votes now counted, the top-four candidates in the U.S. House special primary remain the same as when the first round of voted were counted.
The current top-four are:
Republican Sarah Palin (27.59%)
Republican Nick Begich (19.27%)
Independent Al Gross (12.65%)
Democrat Mary Peltola (9.44%)
The top-four last week, when more than 108,000 voted were counted, was:
Republican Sarah Palin (29.77%)
Republican Nick Begich (19.31%)
Independent Al Gross (12.47%)
Democrat Mary Peltola (7.45%)
Begich and Gross' percentages barely changed. Palin lost more than 2% and Peltola gained almost 2%. With the new votes counted, Republican candidates still total nearly 60% of the vote, but it dropped a few points since the initial count. The final vote count will be on Tuesday (6/21/2022), and the election is set to be certified on Saturday (6/25/2022). Democrat Emil Notti, who is at just over 1%, announced he's dropping out and endorsing Peltola. Democrat Chris Constant, who is at 3.7%, has also said he will withdraw. Expect Republicans John Coghill and Senator Josh Revak (R – Anchorage), who are at 2.44% and 2.37% respectively, to also withdraw from both the special general election and the regular primary election.
There is a lot of speculation about how ranked choice will impact the outcome. A recent Landmine poll on Twitter, which is not scientific but includes a high percentage of likely Alaska voters, shows 46% of people only plan on ranking one or two candidates. What is going to happen is conservatives will vote for Palin or Begich, or both, and progressives will vote for Peltola or Gross, or both. But a majority of both groups likely won't go past that. Think about it. Republican primary voters won't want to fill in a bubble for Gross or Peltola. And Democratic primary voters surely won't want to fill in a bubble for Palin or Begich. (Keep in mind, this could go differently in the regular November general election where there will be a lot more voters than in the primary election. But the special general election will be on the regular primary ballot). Ballot exhaustion will create a situation where the winner will end up with less than 50% plus 1 of the vote. This is because ballots will be discarded when the fourth place finisher's votes get recycled, and again for the third place finisher. This assumes no candidate gets over 50% on the first or second round. Based on the current numbers, Palin should easily win the special general election. There simply aren't enough progressive voters in the state to propel Peltola or Gross to the top.
All this assumes Palin does not implode or have some kind of meltdown, which we all know she is more than capable of. If that happens, all bets are off. It's going to be a loose next few months.
How many candidates do you plan on ranking for the U.S. House special general election on August 16? #akleg

— The Alaska Landmine (@alaskalandmine) June 16, 2022
Other Happenings 
The withdrawal deadline for the primary is on Saturday (6/25/2022). So far, Senator Tom Begich (D – Anchorage), Senator Peter Micciche (R – Soldotna), Representative Chris Tuck (D – Anchorage), Republican Rick Castillo, who was challenging Representative Laddie Shaw (R – Anchorage), and Republican Jim Wright, who was challenging Representative Kevin McCabe (R – Big Lake), have all officially withdrawn from the primary. Independent Jennifer Sonne, who is running for the open South Anchorage House seat, announced she's withdrawing and endorsing Independent Walter Featherly, but she has not yet officially withdrawn.
Mike Insalaco, a Libertarian running in the open Bayshore House district, has a pretty big language mistake on his website. One missing word can make a big difference…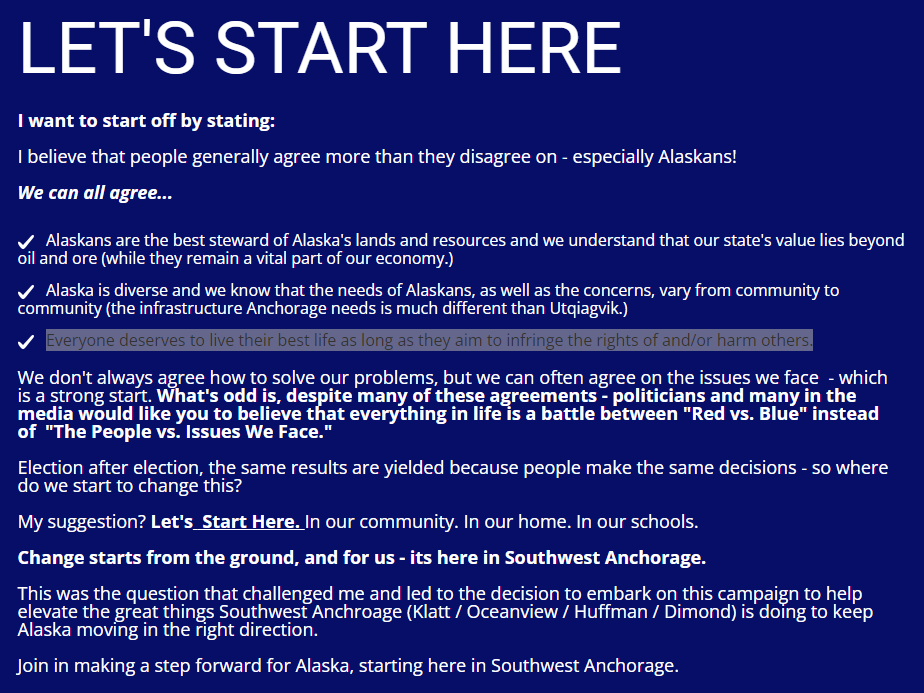 Check out this email from Dr. Megan Clancy to her colleagues at Providence Hospital. This screams Karen. Here are the best, or really the worst, parts:
People. You are healthcare workers. You do not work at JC Penney.
These are the reasons to take off a mask: you are actively eating or drinking (I promise I won't bust you for eating at a nurse's station, I know you don't get breaks), changing in between different masks, having respiratory issues, or going to the bathroom.
"Don't like it? Not fair? Go work somewhere else." 
Imagine having to work with her.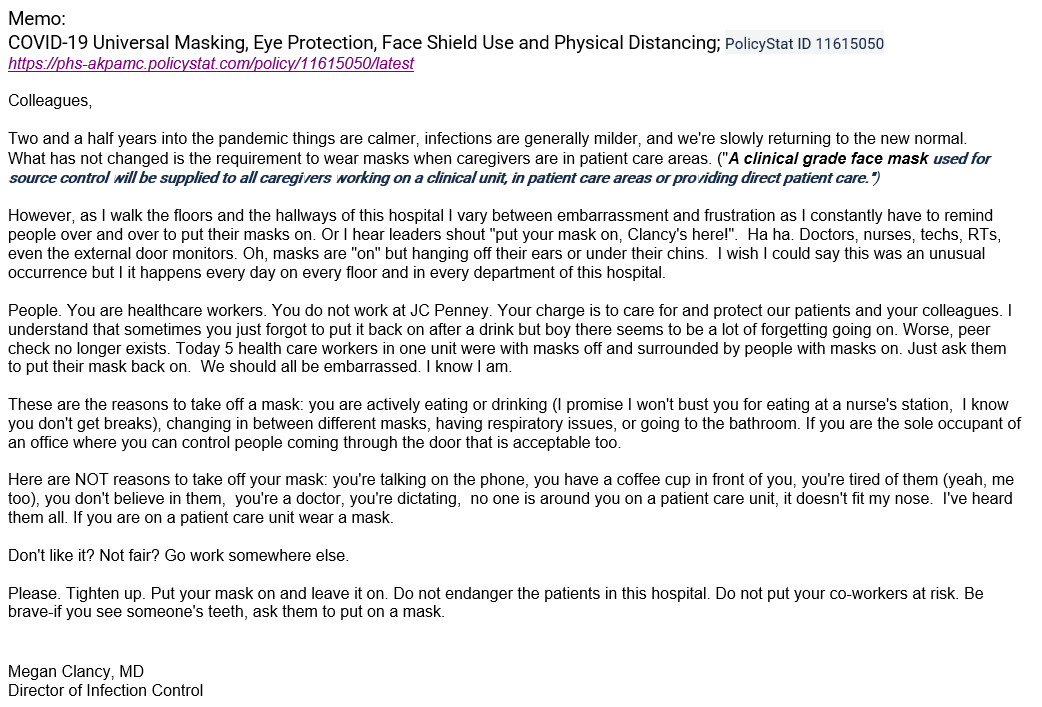 File this one in the super bizarre category. Jesse Bjorkman, a Republican running for Senator Peter Micciche's (R – Soldotna) Senate seat, held a joint "Tribute to Hobo Jim" and a "meet State Senate candidate Jesse Bjorkman" event in Soldotna. Who does that? And Hobo Jim died over eight months ago.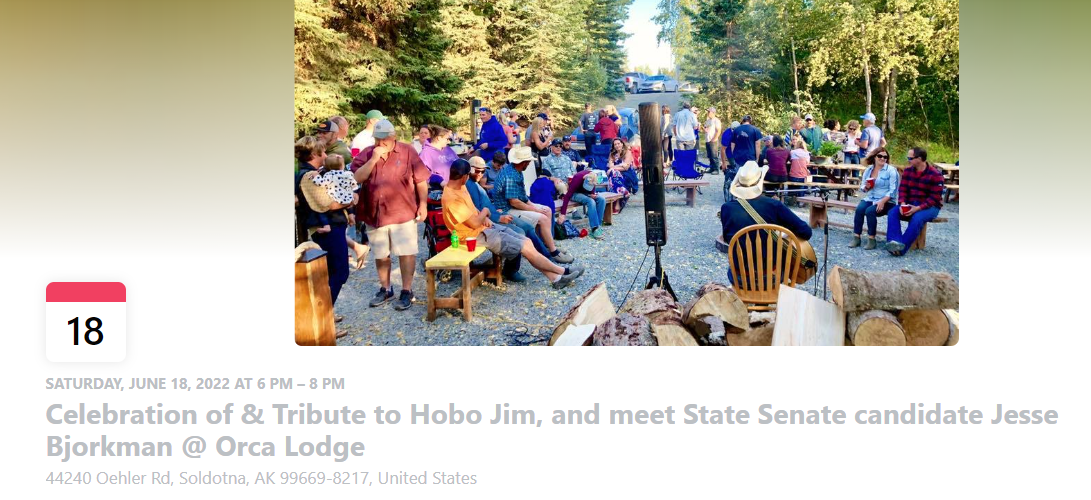 Governor Dunleavy appointed Ellie Rubenstein to the Alaska Permanent Fund board this week. Rubenstein is that daughter of billionaire David Rubenstein and Alice Rogoff. David Rubenstein is co-chairman of the Carlyle Group, a financial servicers firm that manages hundreds of billions of dollars – some of which includes Permanent Fund money. This ADN article provides more information. Rogoff owned the Alaska Dispatch and later bought the ADN, which nearly went bankrupt under her ownership. Ellie Rubenstein co-founded Manna Tree, some kind of investment firm that deals with food. I'm sure her success and appointment to the Permanent Fund board, which does not require legislative confirmation, has nothing to do with her billionaire dad (whose firm manages Permanent Fund money) and well-connected socialite mom. Of all the people in the state to choose from, he picks the daughter of a billionaire whose dad's company manages Permanent Fund money. Next time someone talks about Russian oligarchs, think about the American oligarchy.
This Week's Loose Unit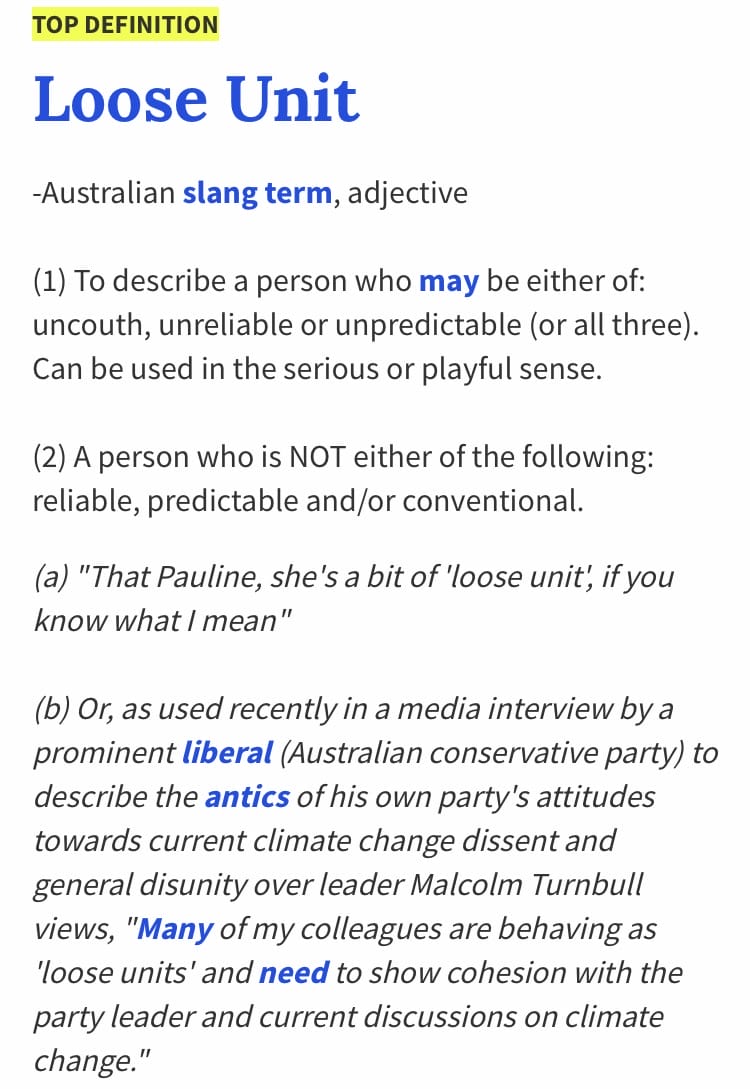 The appointment of Ellie Rubenstein, daughter of the billionaire whose company manages Permanent Fund money, to the Permanent Fund board was definitely loose. But a development late in the week made this week's designee clear. This week's Loose Unit is Anchorage Mayor Dave Bronson. First, some background. If you were paying any attention to the legislative session you were aware of how hard Bronson was pushing for money for the Port of Alaska. He went to Juneau several times to lobby for hundreds of millions of dollars for the port. Each time he was told no by Senator Bert Stedman (R – Sitka), co-chair of the powerful Senate Finance Committee. He wrote an op-ed asking for $600 million from the Legislature. He released a highly produced video calling on the Legislature to fund the port. The Senate, which rolled the capital budget into the operating budget, included just $25 million for the Anchorage port. A floor amendment, which was opposed by both Senate finance co-chairs, raised the amount to $200 million. It barely passed, with both co-chairs voting no. This is extremely rare. It would have almost certainly been cut in the conference committee. Except for the actions of one person, Representative Kelly Merrick (R – Eagle River).
Merrick, who co-chairs the House Finance Committee, fought hard for the Anchorage port money. Her co-chair, Representative Neal Foster (D – Nome), wanted money for the port in Nome but the Anchorage port was not a priority for him, or for that matter, the House majority. Merrick was the only person who pushed for the money for the Anchorage port. And in the end, against all the odds, she got it. So how does Bronson show his appreciation? He endorses her opponent, Representative Ken McCarty (R – Eagle River) – who did absolutely nothing to ger port money, by saying we need "honest" leaders in Juneau. It doesn't get more loose than that. Bronson could have been smart and stayed out of the race. But instead he endorsed the opponent of the one person that helped him get a big win. Some people understand politics and have a sense for it. Dave Bronson is not one of those people. Think about the next time Bronson goes to Juneau and asks for something. Talk about a total Loose Unit.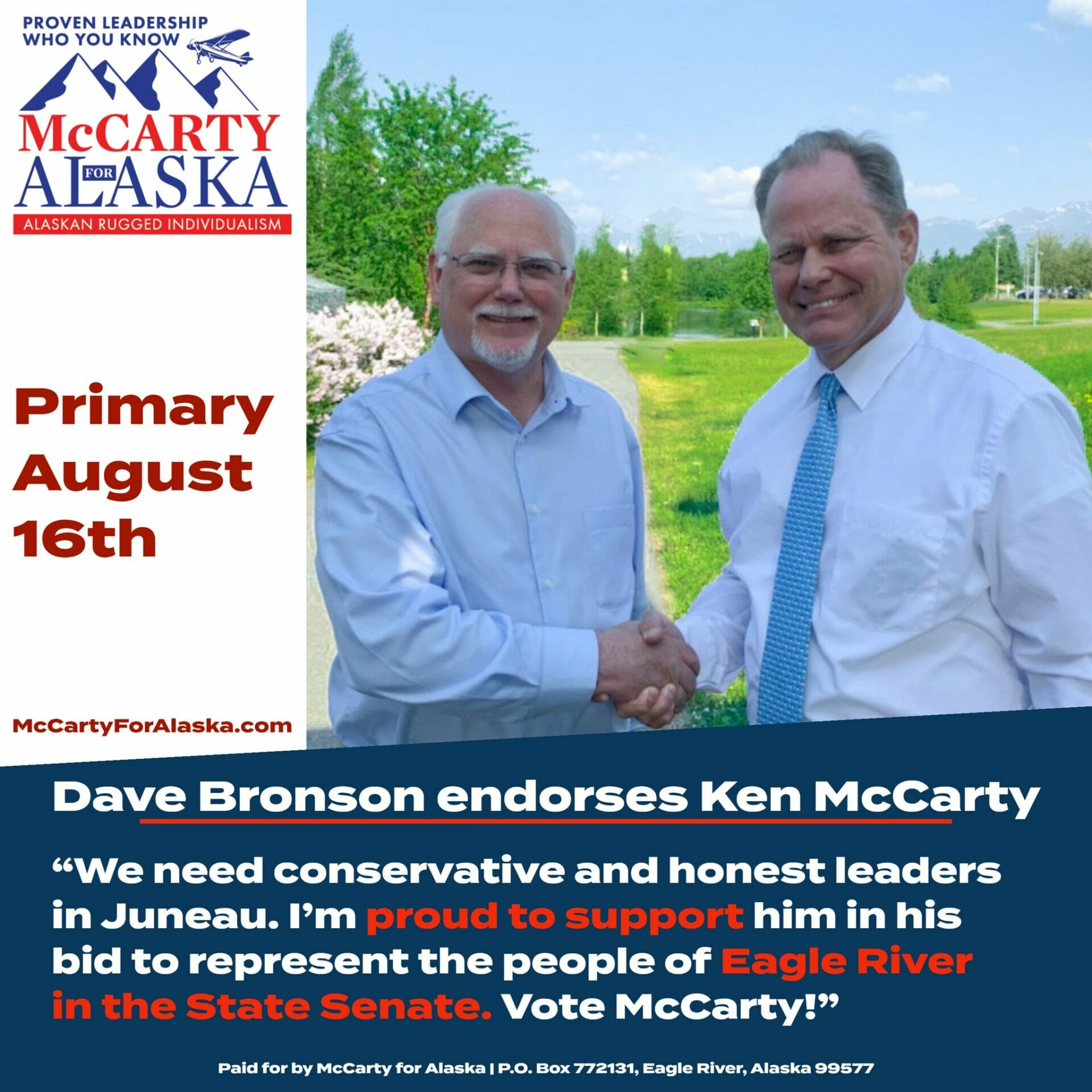 If you have a nomination for this week's Loose Unit, or if you have any political news, stories or gossip (or any old pics of politicians or public officials) please email me at jeff@alaskalandmine.com.