It's almost August, which means the August 18 primary is just over three weeks away. Because of COVID, a lot of Alaskans will be voting by absentee this year. The weather today in Anchorage has been amazing, but not so much in Juneau. Unfortunately, today saw 231 new cases of COVID (186 resident, 45 non-resident). Stay safe, folks.
A friendly message and reminder to all our readers, the Landmine is made possible by myself and a team of awesome Alaskans. It takes a lot of work to provide the content we do. If you enjoy the content we provide, please consider making a one time or recurring monthly donation. You can click here to donate. We have a donation system that makes it super easy. We would really appreciate it. And thanks to everyone who has been supportive!
Campaign Updates
Several members of the House Republican Minority went door knocking on Friday in the Valley for Jesse Sumner. Sumner is challenging Representative David Eastman (R – Wasilla) in the Republican primary. Many House Republicans have grown tired of Eastman's tactics and blame him for them not being able to organize a majority after the 2018 election. The legislators included Representatives Cathy Tilton (R – Wasilla), Kelly Merrick (R – Eagle River), Sara Rasmussen (R – Anchorage), Laddie Shaw (R – Anchorage), and Mel Gillis (R – Anchorage). I hear there will be a video coming out soon.
Eastman also has people going door knocking for him. Except they are part of an independent expenditure from Virginia called Make Liberty Win Alaska. The group registered on June 26. Sources report they flew people up who are campaigning for Eastman. According to a recent APOC filing, Make Liberty Win Alaska shows a debt for $36,210 to a company in Virginia. Sumner has put in over $60,000 of his own money into his campaign. This is shaping up to be a real expensive House race.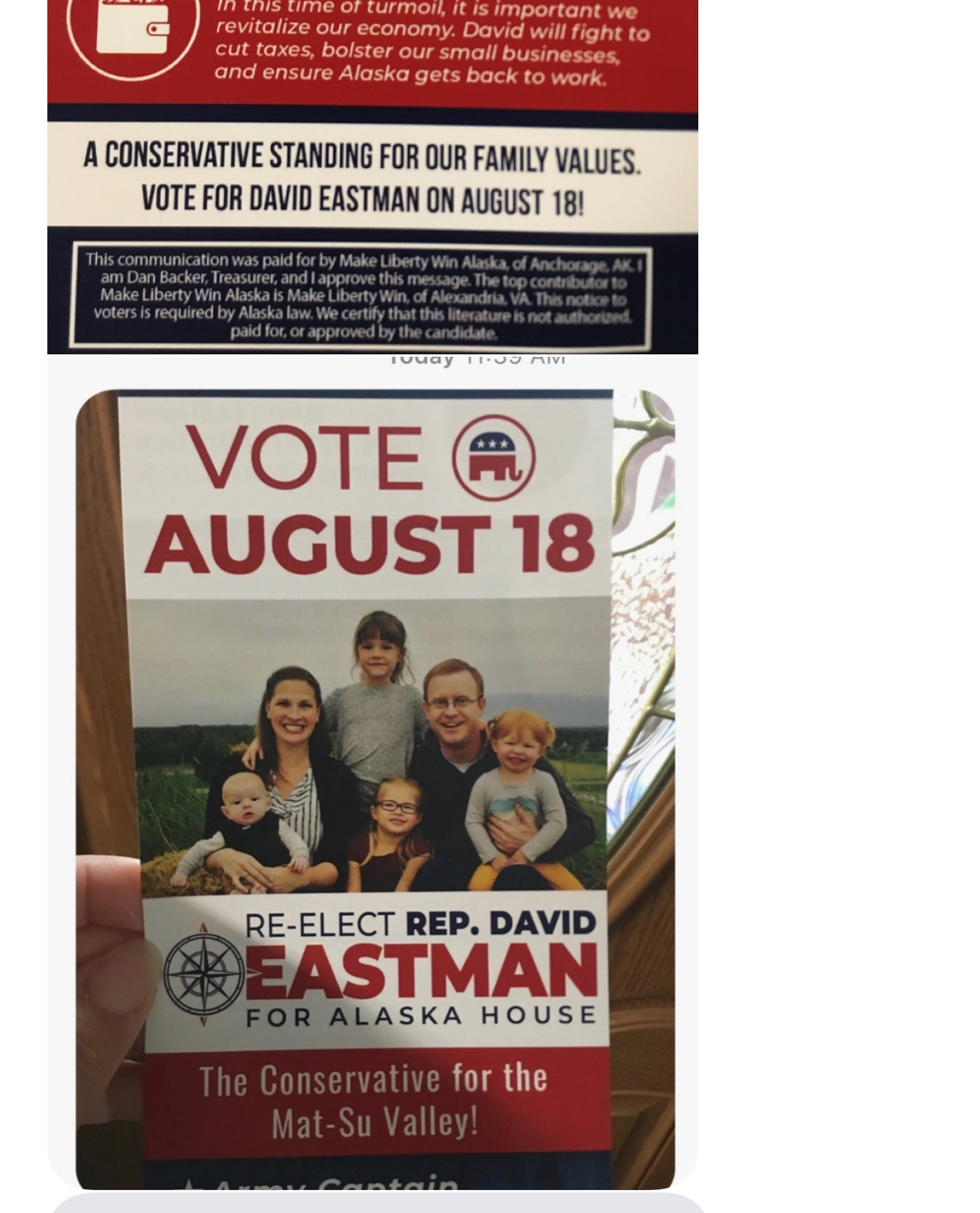 According to Senator Cathy Giessel's (R – Anchorage) primary opponent Roger Holland's Facebook page, he has been endorsed by Senators Lora Reinbold (R – Eagle River) and Mike Shower (R – Wasilla), as well as Representative Laddie Shaw. Shaw is still steaming because he was not confirmed for the Senate seat. Giessel has been running radio ads and, as usual, running a hard campaign. The outcome of that race will depend on turnout and whether or not Holland can get his message out to primary voters.
If you want to see a really animated candidate, check out Politadick's interview with Huhnkie Lee. Lee is one of five people challenging Senator David Wilson (R – Wasilla) in the Republican primary. Lee starts out by saying, "I am running to save the world." He then added, "One day I want to be president of the United States." He would definitely bring some high energy to the Senate.
The Alaska Policy Forum sent out an email this week opposing the ranked choice voting ballot initiative. It included a website, Protect My Ballot, that is in partnership with other think tanks. They also included an op-ed from former Senator Mark Begich and former Governor Sean Parnell against ranked choice voting. File that one in the bizarre category. This tweet about sums it up.
Other Happenings
If you missed this Landmine story, it's worth a quick read. Senator Shower asked for a legal opinion about the binding caucus from the Department of Law, and what he received was NOT what he was hoping for. I was able to obtain the memo.
KTUU reporter Sean Maguire (my favorite Aussie in Alaska) has relocated to Juneau. He is still the political reporter for KTUU, now just a lot closer to the action. I will miss him at the Driftwood.
The Atwood Building in Anchorage was closed this week after someone tested positive for COVID. According to an email sent to state employees, it will reopen tomorrow.
Anchorage has a new health director, Heather Harris. After all the hard work and long hours Natasha Pineda has put in during COVID, she could use a well deserved break. For those who have been around Anchorage for a while, Harris is the daughter of a parking fairy. Which is awesome!
The Alaska Republican Party (ARP) announced this week that they have a new lawyer, Miranda Strong. According to a Must Read Alaska article, their longtime lawyer, Stacey Stone Semmler, resigned as the Party's lawyer. Which, according to several sources, is not the case. Sources tell me no one in the executive committee was informed about this decision. They also report that they later learned that Semmler was informed by the Party her services were no longer required. The Must Read article quotes ARP Chair Glenn Clary saying, "Many of you will remember that Lane Powell represented 'Stand Tall With Mike.' Miranda has practiced in the area of administrative and regulatory law, with a focus on compliance." Which is interesting because Lane Powell represented Stand Tall With Mike in the Recall case before Strong worked there. It seems clear to me that ARP Vice-Chair Ann Brown pulled the trigger on this. Her daughter is good with friends with Strong and Brown has not been a fan of Semmler for some time. Brown is also not happy that Semmler's firm, Holmes Weddle & Barcott, employs Scott Kendall and is representing Alaskans for Better Elections. Many in the Party report that Brown has taken control of all party functions and has nearly consolidated power. Whatever the case, all the best to all of the parties involved!
Public testimony concluded this week at the Anchorage Assembly on the proposal to purchase several buildings around Anchorage to combat homelessness. The Assembly will meet tomorrow night to start debating the ordinance. It got pretty loose when Eddie Burke refused to stop testifying after his time ran out. Assemblymember Austin Quinn-Davidson, who was running the meeting, had to call security over and call a break. Burke backed down as soon as the security guard came over.
This Week's Loose Unit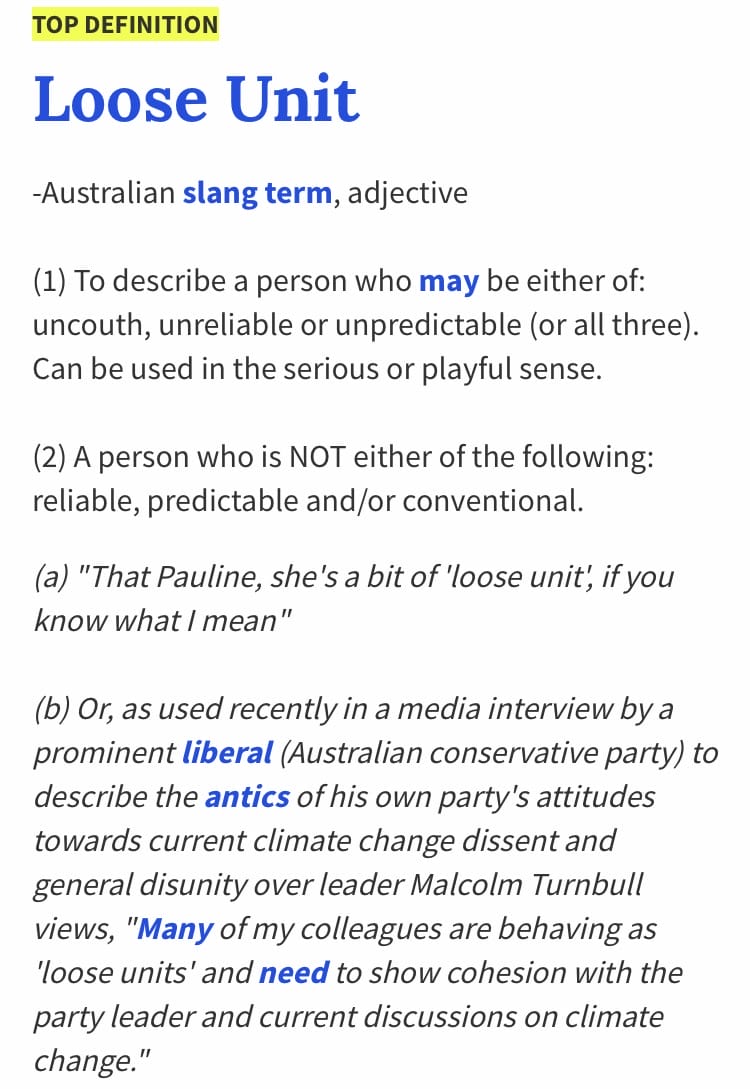 As the primary election quickly approaches, the number of Loose Unit candidates increases exponentially. But a move by a legislator this week locked in this week's designee. This week's Loose Unit is Representative Jennifer Johnston (R – Anchorage). Johnston sent out a mailer this week that could have easily been confused as satire by politicos. Check it out! "Help Jennifer Johnston Take Back the House." It does not get more loose than this. Johnston is a Co-Chair of the House Finance Committee, making her a member of House leadership. So loose. Johnston was one of several Republicans who, after a month of the House not organizing, joined with several Democrats to form a coalition in the House. Rather than defend and explain her decision, she is hoping primary voters don't pay enough attention to the details and vote for her because she is a Republican who wants to "Take Back the House." Classic Loose Unit! The saying "there is no I in team" comes to mind. Imagine what her colleagues in the House Majority think about this. Well I can tell you. They are not happy.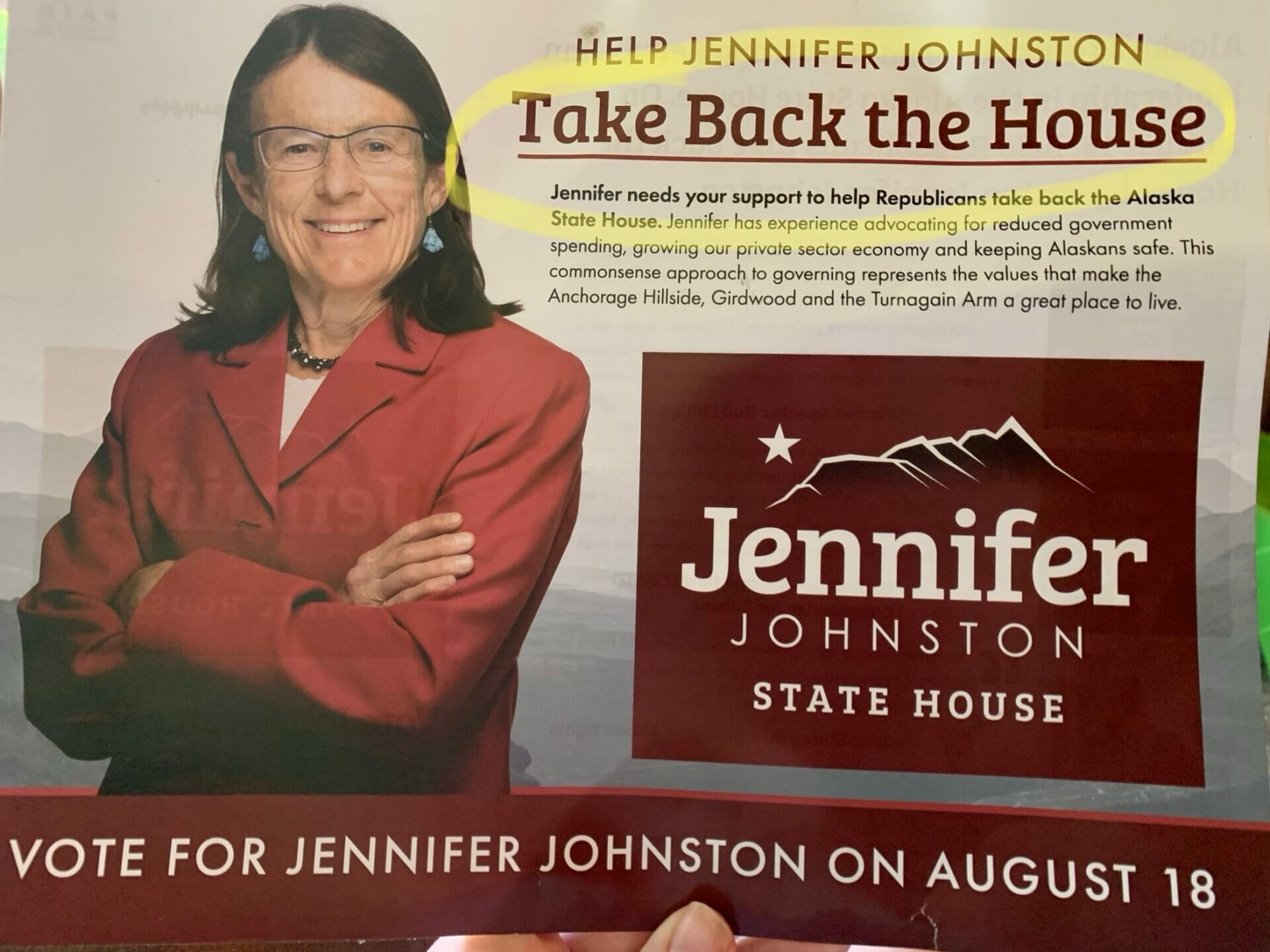 The situation is even looser than the mailer itself. The Alaska Stalker, who lives in Johnston's district, got the mailer at her house. She made the yellow circle and sent it to a few people. Well, soon enough it had made the rounds. The Stalker started receiving her photo as a tip from a lot of people! It continued all week. So loose. And one more thing. Tom McKay, who is challenging Representative Chuck Kopp (R – Anchorage) in the Republican primary, sent out a mailer with identical language. Kopp is a friend of Johnston and also a member of House leadership. Imagine if Johnston and McKay were to both win. Here is how I think the phone call would go:
McKay: Hello.
Johnston: Congratulations, Tom. Let's take back the House!
McKay: Good bye. (hangs up)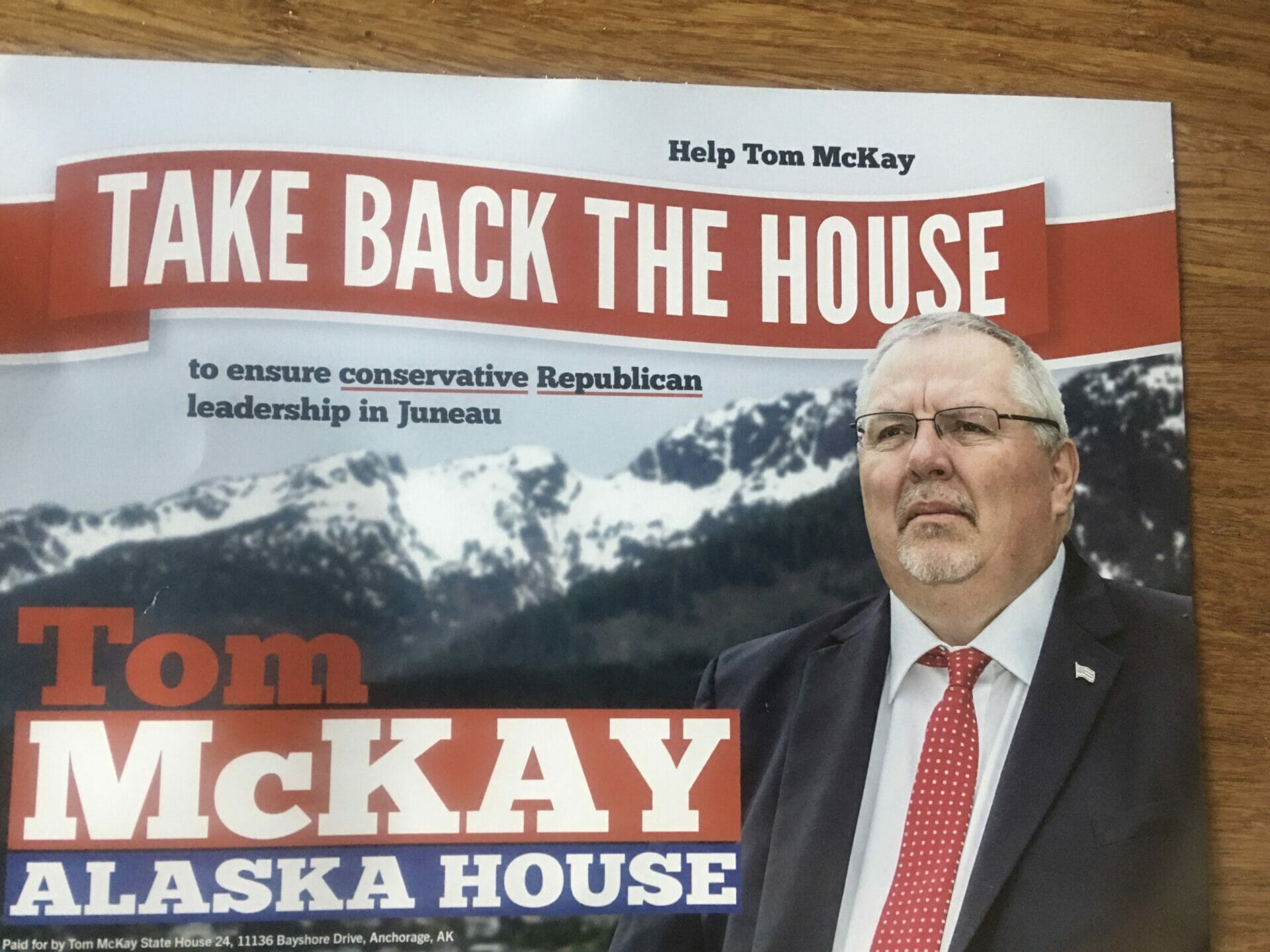 If you have a nomination for this week's Loose Unit, or if you have any political news, stories or gossip (or any old pics of politicians or public officials) please email me at jeff@alaskalandmine.com.