The battle over the location of the second special session ended this week when Governor Mike Dunleavy (R – Alaska) amended the location of the call. He decided to change it from Wasilla to Juneau. Several Republican legislators heeded the call of their dear leader and met in Wasilla, while everyone else was in Juneau. The Wasilla group never had a quorum and it got pretty weird. Anchorage is also having some serious issues with a group of people protesting cuts to homeless programs.
A friendly message and reminder to all our readers, the Landmine is made possible by myself and a team of awesome Alaskans. It takes a lot of work to provide the content we do. If you enjoy the content we provide, please consider making a one time or recurring monthly donation. You can click here to donate (or on the image below) via PayPal. We would really appreciate it. And thanks to everyone who has been supportive!
I am writing this one from Juneau. I got here last night and will be here for the week covering the craziness. Hotels aren't cheap here in the summer, so anything you can do would be a big help!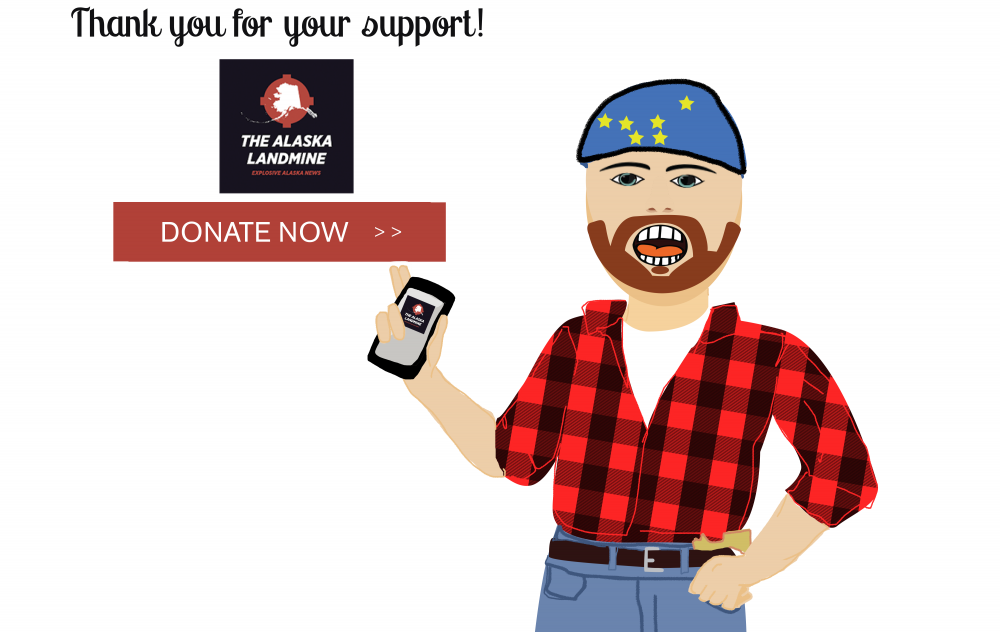 Back to Juneau
After Dunleavy amended the location of the second special session, most of the legislators that were meeting in Wasilla came to Juneau. However, several are still not here. Today, seven Republicans were absent from the floor session where they debated the bill to fund the capital budget and reverse the sweep. Absent were Representatives Sara Rasmussen (R – Anchorage), Laddie Shaw (R – Anchorage), Josh Revak (R – Anchorage), Dave Talerico (R – Healy), Ben Carpenter (R – Nikiski), George Rauscher (R – Sutton), and Mark Neuman (R – Big Lake).
Yesterday, the Senate passed the bill 19-0. The House Finance Committee then heard it and passed it out of committee 7-3. Passing the bill is critical to getting nearly a billion dollars of federal matching construction funds, which needs to happen before the end of July. It would also reverse the sweep of things like the Power Cost Equalization Fund, Performance Scholarship program, and many others. The House passed the bill today 27-6, but then failed to get the 30 votes (the vote was 25-8) for the 3/4 threshold for Constitutional Budget Reserve draw. So, still no funding for the capital budget, crime bill, and no reverse sweep. Tensions are very high in Juneau right now.
Senator Lora Reinbold (R – Eagle River) is not happy about being in Juneau. #TeamWasilla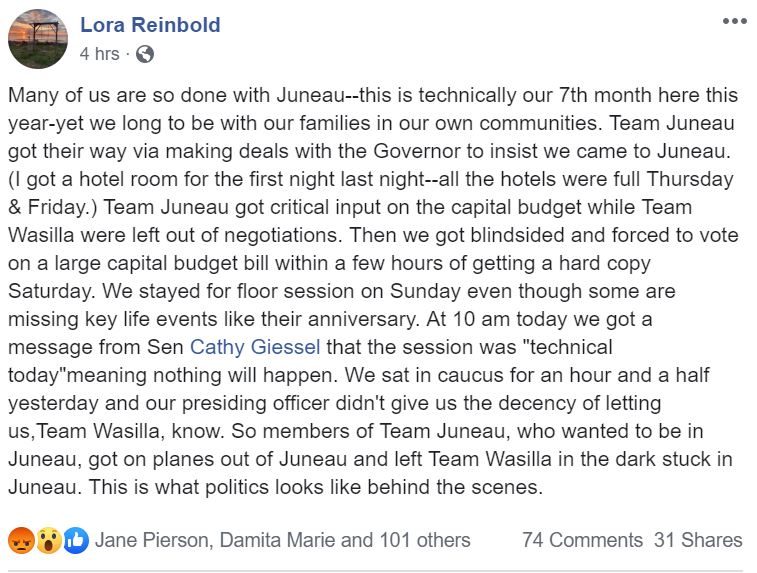 Anchorage Homeless Protest 
Things came to a head on Friday night between protesters and Anchorage police at Valley of the Moon Park. The group started out camping at the Delaney Park Strip to protest Governor Dunleavy's vetoes. They soon grew to include actual homeless people. They were given a 72-hour abatement notice by police. They then moved to a park near Westchester Lagoon. They were told by police to leave by 11 pm that night, when the park closed. The leaders of the group moved them and their stuff – by van and truck – to Valley of the Moon, which also closes at 11 pm. They were told by police that if they were in the woods they could stay. Many police showed up. They had their shift change at Valley of the Moon. Some of the protestors were shouting at police and refusing to go to the shelter. The police said there was currently 100 beds open. I predict this issue will get a lot worse before it gets better. Here is a link to the Landmine Facebook page that shows our videos.
I did several Facebook Live videos at all of the locations, and the Landmine crew took the photos below at Valley of the Moon Park:
Images from the "Camp Here: Occupy to Overcome" protest at Anchorage's Valley of the Moon Park. These images are available for free public use via the Alaska Landmine's Flickr gallery here.
Other Happenings
Remember the selfie seen around Alaska? Well, it didn't take long for that to be used against Representative Lance Pruitt (R – Anchorage). These were placed on doors all over his district.
Remember Jonathan Quick? He was appointed Commissioner of the Department of Administration by Dunleavy in December, but was withdrawn when some serious inconsistencies on his resume came to light. Well it looks like he is now running for the Kenai Peninsula Borough Assembly. Good thing a resume is not required to run for office lol.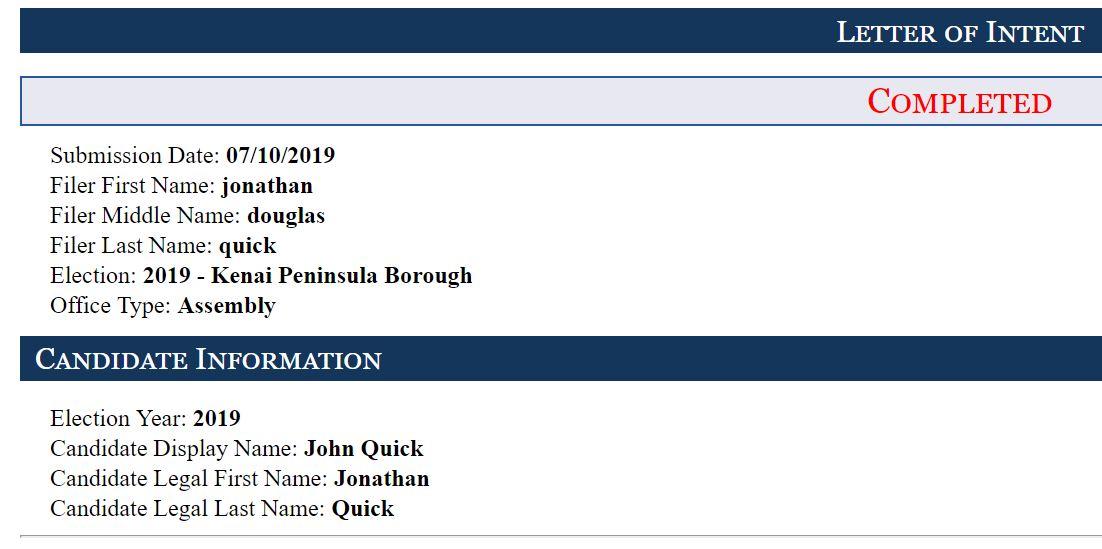 The Recall Dunleavy group hed an organizational meeting on Monday (7/15/2019) at the Writer's Block in Spenard. There were about 50 people there, including Representative Harriet Drummond (D – Anchorage). They seem to still be figuring out exactly what their grounds for recall will be. But, according to the organizers, they have the "top legal minds in Alaska working on it." It was pretty funny when the crowd was told that if Dunleavy is in fact recalled, Lieutenant Governor Kevin Meyer (R – Alaska) would become governor. Many in the room were not excited about that prospect. The organizers said it shows that their effort is non-partisan.
Rina Bretz (Salazar), the executive assistant to the First Lady. was spotted at the Governor's Office in Anchorage at the Atwood Building working behind the front desk. I guess her First Lady duties don't take up that much time.
The Alaska Policy Forum had a fundraiser at the home of Bob Griffin this week. In attendance was Governor Dunleavy, Chief of Staff Tuckerman Babcock, Deputy Chief of Staff Jeremy Price, Attorney General Kevin Clarkson, and many others, including KFQD radio host Dave Stieren. Mary Ann Pruitt was not in attendance…
Senator Lisa Murkowski (R – Alaska) spoke at a packed Commonwealth North lunch this week at the Dena'ina Center in Anchorage. She gave an update on many of the federal issues facing Alaska. Her father, former Governor Frank Murkowski, was there sitting next to former Governor Bill Walker. I recorded another podcast with Governor Murkowski later that day. He has some legendary stories.
My buddy Logan Birch changed jobs from CEO of Alaska Growth Capital to CFO of ASRC Energy Services. Congrats, Logan!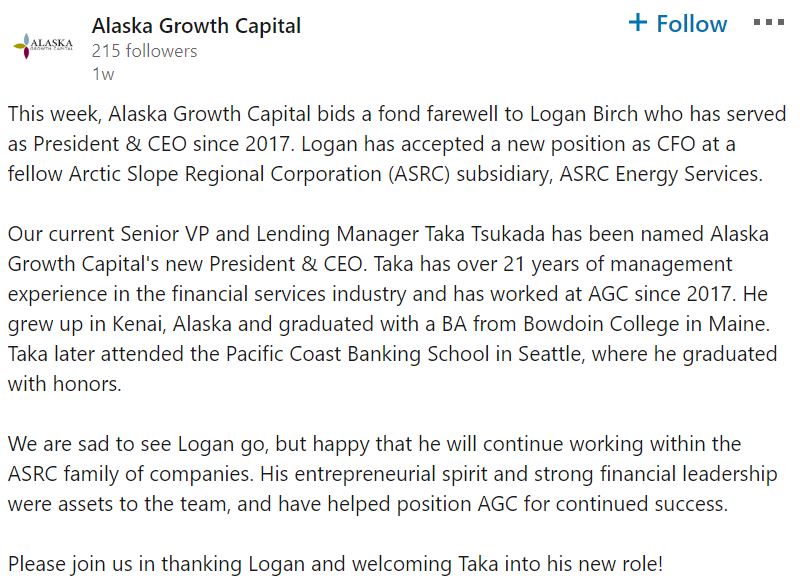 A new group, Defend Alaska, recently formed. They will be targeting legislators who supported Governor Dunleavy's budget vetoes. Sources confirmed they raised over $5,000 after only launching a Facebook page. They said, "If the Governor's office is doing digital ads and mailers, we'll do it right back…and then some."  Sounds like they are gearing up for some aggressive fundraising efforts and creative spending.
There is some chatter in Juneau that singer Donny Osmond is in SE Alaska this week on a fishing trip with his five sons. OMG, I need to get a podcast with that guy!
Marylou Whitney, the Grand Dame of Saratoga, died this week at age 92. According to this article, "In 1997, at age 72, Whitney married for a third time, wedding John Hendrickson, then a 32-year-old tennis champ and former aide to the governor of Alaska. Hendrickson had proposed to his bride at Buckingham Palace." To put that into perspective, that would be like me marrying Gabrielle LeDoux right now. Almost the same age difference. Hendrickson was an aide to former Governor Wally Hickel. Hendrickson's mom still lives in Alaska and there are some tennis courts in Turnagain named after him. Word is he is well taken care of.
This Week's Loose Unit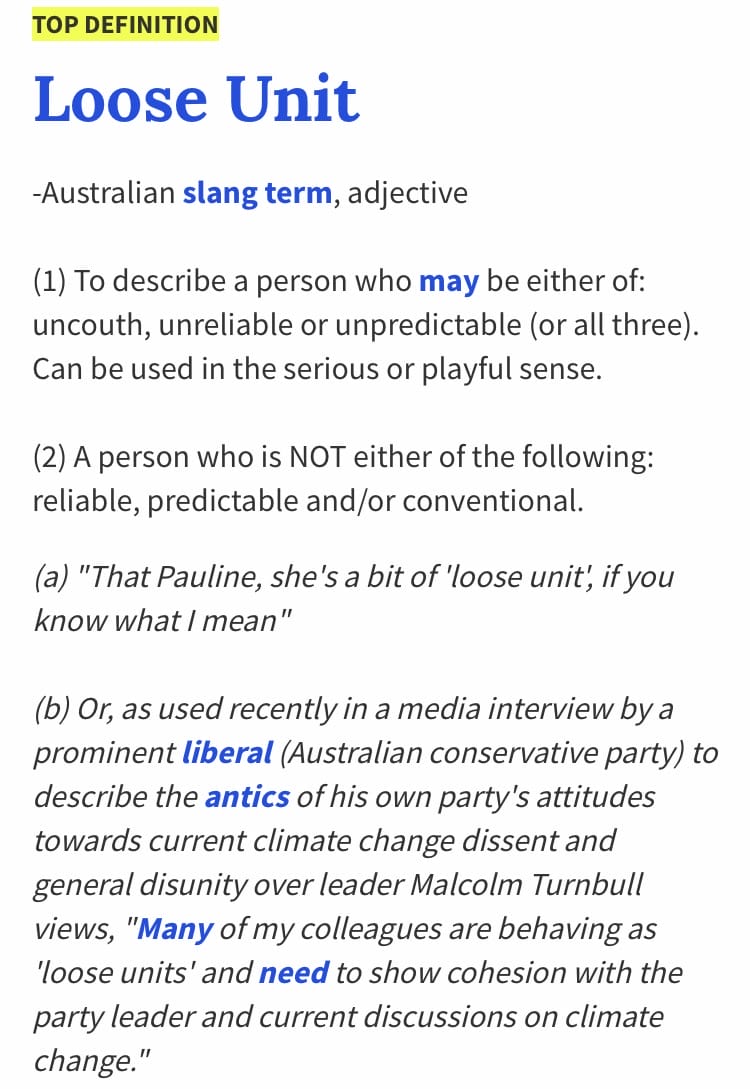 As usual, there were many deserving candidates this week. But something that went down this week locked up this week's designee. This week's Loose Unit is Matt Hickman. Hickman is the General Manager and Editor of the Anchorage Press. We have some history, and he is definitely very loose. But check out the title of a piece he published this week!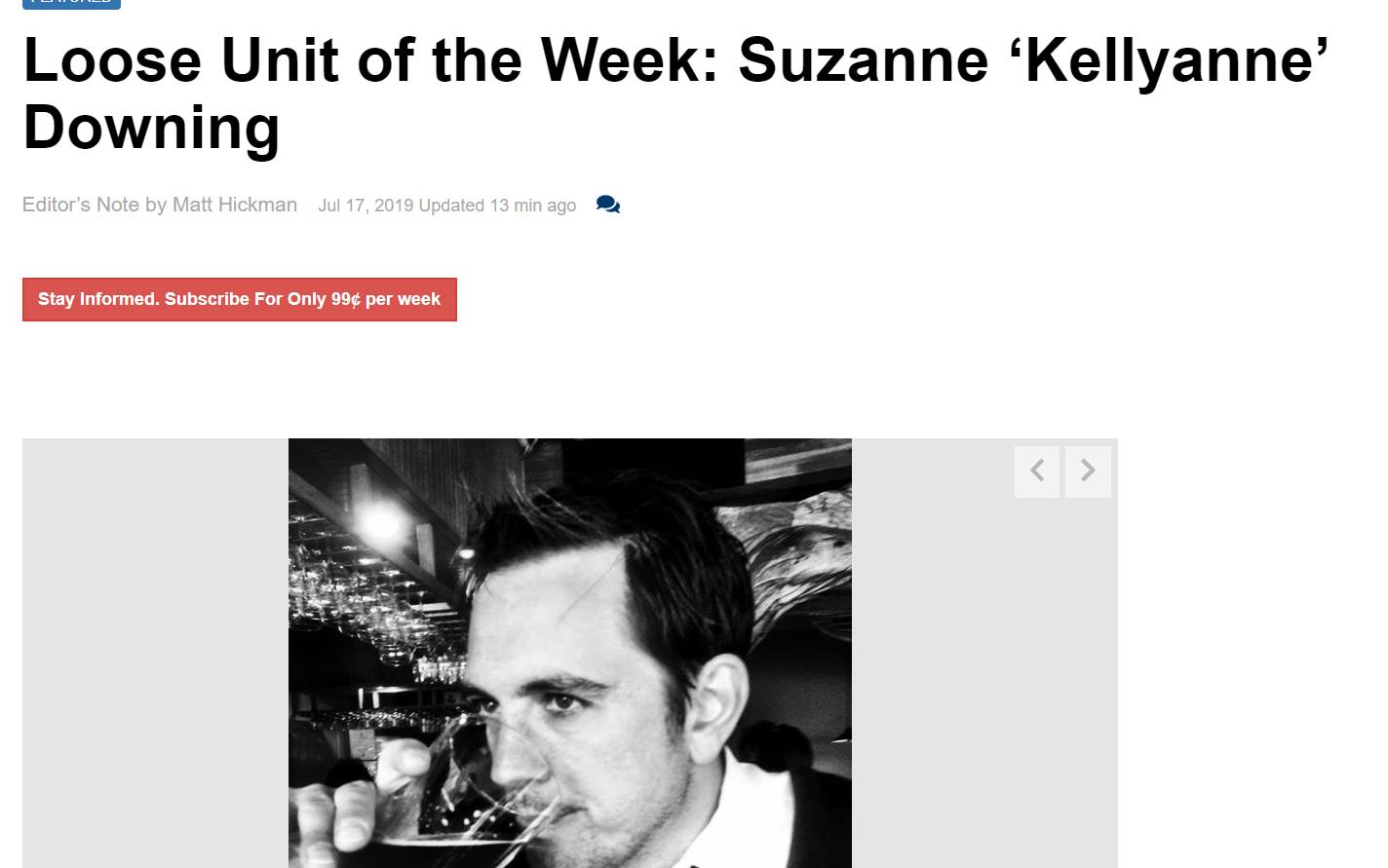 Super original, Matt. I started using that a year and a half ago. Matt, have you ever been to Australia, mate? But that's not all. I think you all know I am no fan of propagandist Suzanne Downing. But in his attempt at a Loose Unit article, he wrote some real bullshit. He wrote:
As much as I might like to take credit for breaking the story about the Prometheus rumors, the fact is the story was broken by Downing's fellow blogger Jeff Landfield, of Alaska Landmine fame, who, in an unprovoked and altogether bizarre blog attack, posted that I was about to release salacious details about rumors surrounding the Republican candidate for governor.
The literal name of the article I wrote was, "Matt Hickman and Bernadette Wilson Peddle Untrue and Salacious Rumors About Mike Dunleavy." Here is one of the things I wrote to point out how stupid that rumor was:
The second rumor – and this is for real – is that Dunleavy is a closet homosexual whose lover used to work at the Sheraton Hotel in Anchorage. It only gets better: according to this rumor Dunleavy's lover was paid off by his brother Frances to move to Arizona and stay quiet. And best of all, Mike Dunleavy's code name in the gay community was allegedly "Prometheus." If so, that is legendary. Who seriously thinks that a 6'7" Alaska State Senator could somehow maintain total anonymity in an active sexual community by renaming himself after a Greek Titan?
There is loose, and then there is Matt Hickman loose. Keep trying, Matt. You might get there one day, mate!
If you have a nomination for this week's Loose Unit, or if you have any political news, stories or gossip (or any old pics of politicians or public officials) please email me at [email protected]