The election is just under three weeks away, which means it's the time for a classic "October surprise." For several months rumors have circulated about Republican gubernatorial candidate Mike Dunleavy. I've heard them all. They are as salacious and unbelievable as rumors can be, but over the last week or so they seem to have really caught fire. I was not planning on writing about these rumors because, unlike some media outlets, I try to make sure that the information I publish is actually true.
The Anchorage Press has taken the lead in seeding these rumors into public discourse. On Wednesday, the Press published this editorial, It's time for Walker to quit his campaign and throw his support behind Begich, by their "Editor" Matt Hickman. The subtext of the title reads "October Surprise coming for Dunleavy likely tied to alleged affairs."
I made the below comment on the Facebook link with the article. It was immediately removed and I was blocked from making comments on the Anchorage Press Facebook page. Super credible.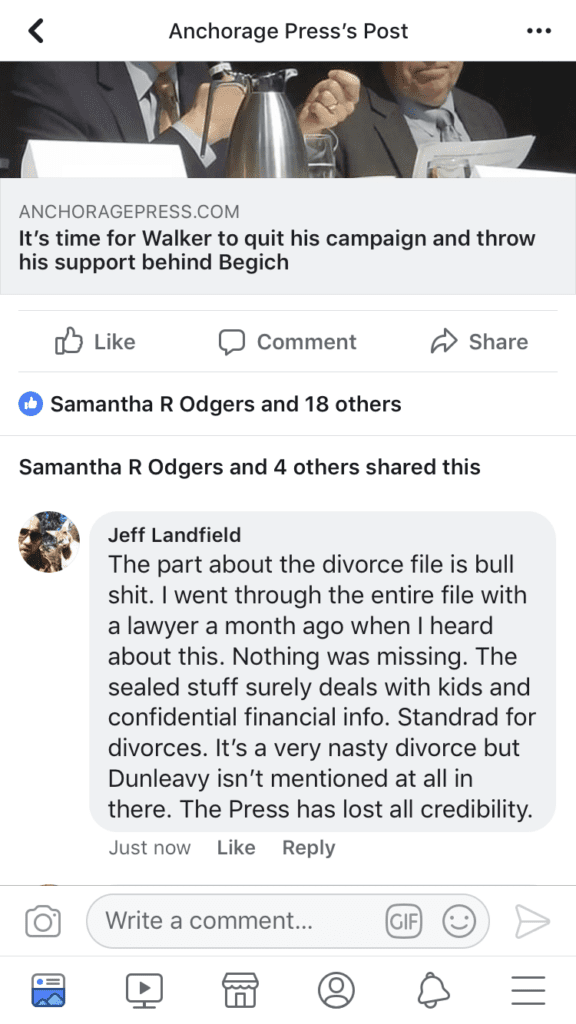 Just last month, Hickman incorrectly reported that Mark Begich had withdrawn from the governor's race at a press conference Begich held. Rather than apologize and correct the record, Hickman doubled down and posted that Begich had "teased" a resignation. Some news organizations attended the Begich event and reported on it accurately. Savvy politicos noted that Begich had quietly planned fundraising events for after his press conference, making a withdrawal announcement highly unlikely. But then there was Matt Hickman, so eager to believe rumors of a Begich resignation that he simply published them as fact, reality be damned.
Hickman often shows up at political events, wanting nothing more than to be a player. There is just one problem. He doesn't seem to know what's going on. He recently asked an off topic question at the end of a very awkward press conference where Governor Walker announced Byron Mallott had resigned as Lieutenant Governor. Grace Jang, Walker's Deputy Chief of Staff, responded with, "I'm sorry, you are?'
Another person spreading rumors about Mike Dunleavy is Bernadette Wilson. Wilson used to have a conservative TV show (cancelled) and a radio show (fired). She now – and this is not a joke – runs a trash business. Someone should tell her to leave her work at the office. I sent her a text asking for a comment about the rumors she has been spreading about Dunleavy. She did not respond. Shocking.
Before Ethan Berkowitz ran for mayor in 2015, he and Wilson co-hosted a radio show on KFQD. During Berkowitz' mayoral run against Amy Demboski, Wilson started a bizarre rumor that Berkowitz supported incest. Keep in mind she was friends with him for years. She talked about the existence of an audio tape that would end his campaign. Conservatives rejoiced. Days before the election she released an audio clip of Berkowitz that turned out to be an academic discussion about sharing medical benefits between family members during a medical emergency. Berkowitz went on to win the election by nearly 20 points.
So, what are the rumors about Mike Dunleavy? There are two. The first alleges that Dunleavy had an affair with a woman who used to work in state government. The origins of the first rumor are from an anonymous letter that was sent to a news organization, an elected official, and others, back in August. The letter actually states the affair is a rumor and requests that the recipients "establish the truth." I was made aware of this rumor as well back in August. I went to the Court House with a lawyer friend to check the divorce file to see if there was any mention of Dunleavy. It is one nasty divorce. Among other things, the husband alleges the wife had an affair, and even names the man. However, there is no mention of Dunleavy.
Hickman references the divorce case in the above article. He writes, "On Wednesday, I spoke with a woman whose name has been mentioned in connection with these allegations against Dunleavy. She denies that any affair took place." He also says the file was incomplete and contained sealed information. First, how would he know if it is incomplete? Second, Hickman seems unaware that it is standard for financial information and information about children to be sealed in divorces. Instead, he insinuates that there may be some kind nefarious of cover up. Good work, detective.
The second rumor – and this is for real – is that Dunleavy is a closet homosexual whose lover used to work at the Sheraton Hotel in Anchorage. It only gets better: according to this rumor Dunleavy's lover was paid off by his brother Francis to move to Arizona and stay quiet. And best of all, Mike Dunleavy's code name in the gay community was allegedly "Prometheus." If so, that is legendary. Who seriously thinks that a 6'7" Alaska State Senator could somehow maintain total anonymity in an active sexual community by renaming himself after a Greek Titan?
The origins of the second rumor are harder to trace. I first heard about this a few months ago by a high level campaign operative. I have since heard it from many people, and according to several people with first-hand knowledge, many of these threads of rumor lead back to Wilson.
I have been doing this blog for a year. Believe me, I hear crazy shit all the time. Sometimes it turns out to be true or partially true. More often than not it's simply wrong or made up. I think it's important to follow up on leads. I do my best to determine the truth. One thing I don't do is publish all the rumors I hear and then let the readers decide what to believe. I take this platform seriously. Truth and credibility are crucial.
I'm not writing this as a Dunleavy supporter. In fact, I have been very critical of his missing debates and forums and agreeing to an interview with me, only to go radio silent after the primary. But spreading and "reporting" on ridiculous and absurd rumors about political candidates as if they are facts is insulting and toxic to political discussion. The story here is not the rumors themselves, both of which are unfounded or ridiculous. The story is how people acting in bad faith, desperate for attention, spread these rumors for personal gain. Matt and Bernadette: give it a rest.
A friend recently shared a quote with me. "If someone says it's raining and another person says it's dry, it's not your job to quote them both. Your job is to look out of the fucking window and find out which is true."